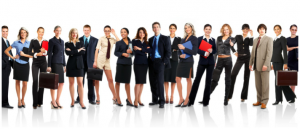 I realize that this is a pretty bizarre first (proper) post, but timing is never something I've had particularly great control over so, here goes: there's an upcoming television series called Office Life (or OFFICE LIFE if you are as fond of caps as the show's producers), and my office has been shortlisted to appear.
How short is the list? Well, I'm being interviewed along with several other employees tomorrow. I'm sure I'll post updates as I hear them, but essentially we'll be followed around by a camera crew as we go about our daily work days, and the footage will be edited and assembled into half-hour weekly installments. This should sound familiar, as it's the exact same setup as the heartbreakingly brilliant British comedy The Office. It's also the same setup as the preposterous live action American cartoon of the same name.
I'm not sure what to think of this, really. Part of me, obviously, is quite excited. When you know you are being considered for television the camera becomes much less intimidating than, say, when you're sloppily consuming chili dogs at a baseball game. So there's a bit of excitement, sure. And there's a lot of flattery, considering the fact that I was picked (alongside several others) to represent the company out of a pool of about seventy. That's very nice, and some very kind things were said to me by the managers who chose me.
But the casting notice is a bit worrying.
"Of course we are looking for offices that may have some drama," says Brendon Blincoe, President of Iconic Casting. "Nearly every office has a staff of characters that make it unique, from the 'office flirt' to the 'office know-it-all' to the 'office brown noser'. We want all kinds of people and all sorts of businesses, but you must work in a conventional 'office' setting with cubicles, suites and be in an office building or office park."
The grammarian in me is first concerned by his bothersome usage of the term "unique" to describe a situation in which all of those present fit into predetermined archetypes, but mainly it's that first sentence that worries me.
Drama. Personally, I'm not afraid of drama. I sprinkle it everywhere I go, like Johnny Appleseed. But for the company? I'd hope they'd think twice.
Evidently they spoke to the casting folks, though, and were assured that they weren't here to rake muck, and we've got veto power over this whole shabazz anyway, but part of me still does question the wisdom of this thing.
The other part of me just knows he will become a huge television celebrity and live in a mansion with robot butlers.
Anyway, I'll keep you posted. And since everyone's bound to wonder, the answers are Malcolm and Toby.