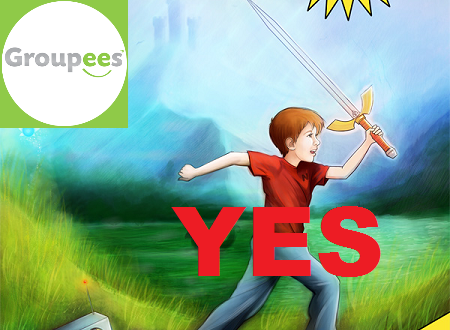 So, first things first…I really, really didn't want to miss posting ALF this week. In fact, I have the notes and screenshots all ready to go, but I haven't had time to sit and write it. My bad. It will return next week, and continue uninterrupted from there.
But something warranted an interruption, I felt, and I hope you'll agree. Ready?
The Lost Worlds of Power is getting a second volume!
…but it's not volume two. In fact, it's going to come out before the main volume. Like, next week.
Yeah!
What happened is this: Groupees was interested in featuring The Lost Worlds of Power in an upcoming bundle. Unfortunately, there was no way the book would be ready by then. So we emailed back and forth, and ended up deciding that I would provide another, exclusive volume to Groupees, which could be ready by next week.
So this isn't one volume and a sequel, or anything like that. The original volume is still coming, more or less on schedule. It's just that now there will be a complementary volume available elsewhere, featuring 100% unique content.
You'll get a shorter — but just as potent — taste of Lost Worlds of Power much sooner than you expected.
What's more, Ron DelVillano is illustrating the five stories in this exclusive Groupees collection, and Sindi Johnson is providing another cover. The turnaround time on this is super tight, and I'm genuinely touched that they both not only agreed to work on this as well as the other book, but that they're excited to do so. There's a lot of love going into these collections, and I hope that this is received as good news.
I don't want to disappoint anybody, and hopefully I have not. Remember, the original plan is proceeding just as we expected. But now it has a major opportunity to gain exposure to thousands of readers who would not have otherwise known about it.
It's a chance for a few more authors to have their work spotlighted, and the original authors to find a larger audience. On top of that, it's five more stories for all you folks who were already interested. This is a big win all around.
By all means, please let me know your thoughts in the comments. And mark your calendars. In one week you'll be able to read these, and I couldn't be happier that so many others will be joining you.
The Lost Worlds of Power Expansion Pack:
"Mario is Missing!" by R J Burgess
"Kirby's Adventure," by Chris Gomez
"Balloon Fight," by Lucas Hale
"Ring King," by Robert Holt
"Tetris," by Philip J Reed
More information to come. Wish me luck. There's always a chance I won't get this done to make it into the bundle in time, but I'll do my best to make sure I will.