Hello all –
This is Casey Roberson, one of Philip's friends. I've hesitated to make a post here, as I have no intention of acting like this blog is mine to do what I want with, and certainly don't want to create that suspicion by posting. But you all deserve an update on what's going on with the site, and some of these updates have a timeframe attached. And there will certainly be more updates in the future. So my plan is to simply edit this post as things come up, so that Philip's work does not get pushed down–or worse, off–the front page.
At the moment, there are three things I would like you to know about.
One is that a book Philip wrote will be published through a Kickstarter campaign. The DieDie Books series will be similar to the Boss Fight Books series–but each book covers one horror film, rather than one video game. Philip wrote a book on the 1941 film The Wolfman. You can support the Kickstarter campaign here and order a copy:
I hope that link works. If it doesn't, type "how to search for Kickstarter campaigns on Google" into your favorite search engine.
The Wolfman, I hope, will be the first of a few posthumous books by Philip.
Two (this is two in the list of three things I mentioned above) is that we are putting together a retrospective of Philip's work on the Xmas Bash!. We are going to show six Christmas specials – one from each year of Philip's Bash!es – as well as some of the music videos and other media that (I think) were the most memorable. I also have some hosting segments from previous years which I will include. I'll do some hosting segments myself, to introduce the things we show, and these will be more serious in tone. It could get heavy at any moment–grief is like that–and I will make a video file of the Bashtrospective available that you can watch any time.
It will, like last year's Xmas Bash, take place on Discord, at this link:
https://discord.gg/HETBCPvAye
It will happen Saturday, October 29, from 7PM to Midnight, Eastern time.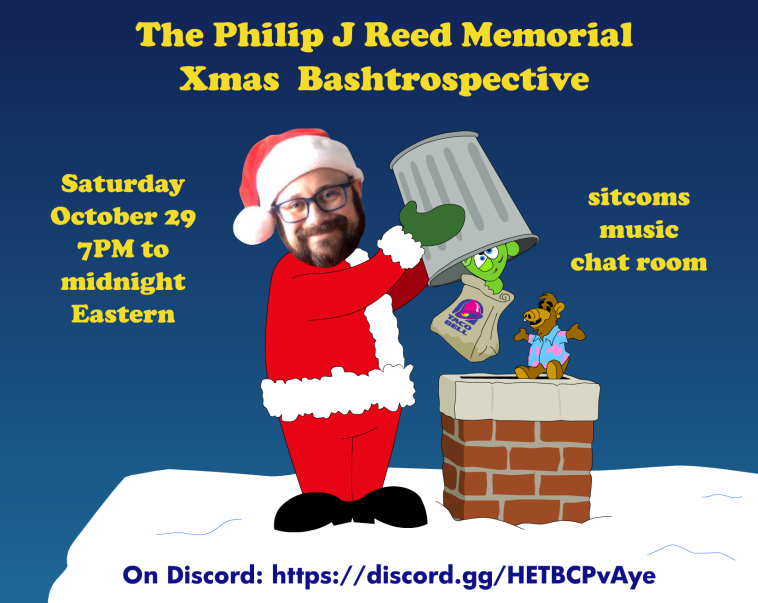 (Two and a half is that there will be an Xmas Bash! this year, and I will give more details about that one after the Bashtrospective has taken place.)
Three is that we are working on making sure the site stays up. We, in this case, is myself and Philip's family, trying to get access to Philip's email, so that I can move Noiseless Chatter over to my hosting plan. We don't know when the current hosting now expires, so if we don't get it in time, commenter Aidan has backed up the whole site here:
https://noiselesschatterarchive.blogspot.com/
I think I remember someone else making a backup too. I just can't find it at the moment, and the past two months have been rough, so my apologies for forgetting who did it and where it is.
I hope you are all well, and if you'll permit a small personal note, thank you for being Philip's friends. He exists in your memories now, so please take good care of him.
–Casey
P.S. If you feel that this post is unwelcome–tell me to fuck right off in the comments, and I will fuck right off.