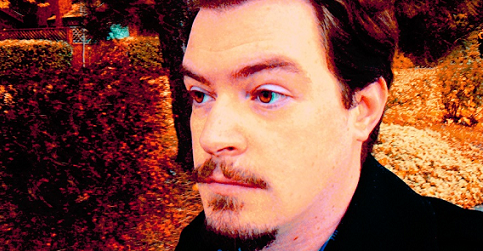 You may recognize the name Adam Lore, as he comments here pretty regularly. I've known Adam for several years now, and he's always been a fascinating — and compulsively creative — person that I enjoy checking in with now and again. Recently he offered me a copy of Abyssian Squelch, his latest album, and I was happy to receive it. In return, I told him that I would write a review on this blog.
Fast forward to me actually listening to the album, and realizing that it was, more or less entirely, beyond the scope of any words I could possibly find. It's a fantastic and involving listen…but it wasn't something, I felt, I could adequately discuss. So I figured I'd turn to the man in charge, and use his words instead. Hence, the below interview, which I hope you enjoy. If you have any questions for Adam, feel free to leave them below.
And Abyssian Squelch is brilliant. Just putting that out there.
1) How many songs have you recorded as of today? Have you lost count?
It's difficult to put an exact number on it.. I have written 48 albums but only about 10 of them have decent presentable finished recordings currently. So somewhere between 100 and 600 songs, depending on what you want to count.
There are a few more albums I have worked on in collaboration with others, too.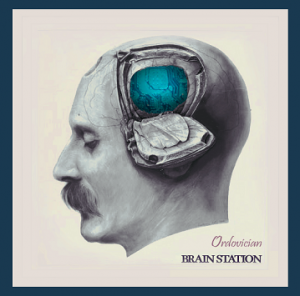 2) Is there something particular about your creative process that causes you to be more prolific?
I think it has a lot to do with saving most of the stuff I work on regardless of how good it is and organizing it all into albums after the fact. And most of the music I write is pretty simple and repetitive, so it's not a lot of work to come up with material.
For music, it's easy to create an album in separate pieces and then assemble them together after the fact. Comic strips work that way, too. For other things, like writing a book or making a graphic novel or a musical or something, you really can't do that, so I tend to not finish those types of projects as much as writing individual songs.
3) Describe the journey from your initial inspiration to your final edit.
I'll use a particular song for an example. I was watching the movie Jack, starring Robin Williams, for those of you who don't remember it, in the movie Jack has some kind of disorder that makes him age much faster than normal children, so he is in elementary school but he looks 40 years old or something.
There is a scene where Jack is on the playground sitting alone and a basketball rolls toward him. And there's that moment where he is on the spot, and he picks up the ball, and everyone is staring at him, expecting him to throw the ball to them. And it's just such a simple task to just throw the ball back, but it's like this huge celebrated achievement that you are thanked for so graciously for just returning a ball.
Something about that really resonated with me, and I could relate to it on a very deep level for some reason.
I was also reading a lot about fairy tales at the time.
The next day I was walking to my friend's house and these kids where playing with a ball, and it almost rolled into the street, and it landed at my feet! I thought "I'm Jack!" which was immediately followed by the thought "and you're the beanstalk". After tossing the ball back I had a pretty solid idea for a song.
There's really not much to it after that. Write the lyrics down, add a bridge or something. Find the chords that fit with the tune in your head. Record a demo.
That's not a good example of the journey to a final edit, though, because I still haven't recorded a final version of that song.
If I'm collaborating with someone it is a lot more interactive. If I am working with Mr. Door we usually focus on writing out more of a full song with multiple verses, which I tend to just rush through when I'm working alone. Collaborating with other people, like working with Mitch Guss, for example, it can be a lot more spontaneous and experimental. We may just hit record and start screaming.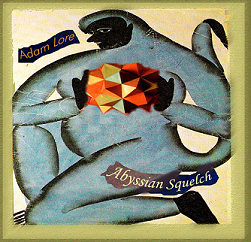 4) When listening to Abyssian Squelch, I hear a lot of influence from They Might be Giants and The Flaming Lips. Who would you say your primary influences are?
You're right on the money. They Might Be Giants are a major influence for my music. My main influence, for sure. The Flaming Lips have been very influential, too. I draw a lot of inspiration from Daniel Johnston and James Kochalka as well. I won't go into a huge list or anything, but I have also been influenced by stuff like TV theme songs, movie soundtracks, and music from Nintendo games.
5) You recorded a soundtrack for Dino Golf, an NES game that never existed. If you could conjure the perfect video game out of thin air, what would it be like?
I always want to play Dino Golf. It's too bad it's not a real game.
I don't know about the perfect video game, but I think there are a lot of great things you could do with geometry and topology in a video game that aren't being taken advantage of.
I'd love to see a game where you could explore extra dimensions, or see time as part of space or something like that. Maybe controlling and manipulating the laws of physics within the game.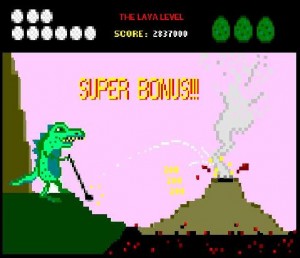 6) What game (or games) have the best soundtracks in your opinion?
I love the music from all the Mario games (including Yoshi's Island), Zelda, and Mega Man (especially Mega Man 3 and X), Final Fantasy has great music. The Moon level on Ducktales for NES is one of the best for sure. Bubble Bobble and Kirby have really fun soundtracks. Dr. Mario, too. I'm envious of the music from Rygar, Metroid, Dragon Warrior, Punch Out, Castlevania. Too many to list.
7) If you could sit down with any musician, alive or dead, and write one single song with them who would it be and why?
Believe it or not, I would love to collaborate with Justin Bieber. I think it would be so fun and interesting to combine our different styles and approaches to music. And I think seeing Justin Bieber dancing around and singing passionately about marrying an invisible dinosaur from the future or something would just be hilarious and wonderful.
8) What is your favorite musical moment in any film?
If I can pick three, I'd go with:
1) Will Ferrel's "Whole Wide World" scene in Stranger than Fiction
2) the "Let My Love Open the Door" scene from Dan in Real Life
3) The Squid and the Whale, when Walt performs "Hey You", claiming he wrote it
If I had to choose the best musical moment, though, I'd probably go with The "Wise Up" scene in Magnolia. So good!
9) You also draw comic strips. Do you see any overlap between creating visual art and music?
I think in theory it always seems like a really great idea to combine the two. But I don't see them as being easily compatible. I do think a lot of the creative energy comes from the same place, though. With animation, on the other hand, you can do it well. I think animation would be the perfect medium if it weren't so difficult and expensive to produce.
I love the montage scenes of comic book art in the Crumb documentary, though. Maybe it's just a matter of finding the right music.
10) What single album has spoken more deeply to you than any other?
Probably Apollo 18 by They Might Be Giants.
11) What instruments can you play?
Pretty much anything that's based on a keyboard. And basic chords on the guitar. Though I tend to avoid electric guitars entirely. I can play the accordion to a limited extent.
12) What single instrument that you can't play would you most like to learn?
It would be fun to learn how to play a theremin.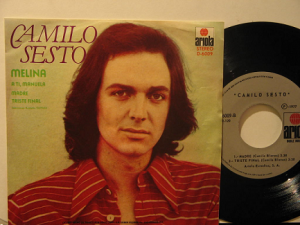 13) You're on a desert island with your iPod. There's no hope of rescue and you'll only be able to listen to three more songs before the battery dies. What's on this short playlist?
1. "Part of Your World" from The Little Mermaid
2. "Si Me Dejas Ahora" by Camilo Sesto
3. "The End of the Tour" by They Might Be Giants
14) If you could be remembered for one thing — anything, whether or
not you actually did it — what would it be?
To have formulated a unified theory of quantum gravity.
5) Favorite Bob Dylan song?
I'm not really a big Bob Dylan fan. At least not yet. "The Man in Me" from The Big Lebowski soundtrack is a good one, though.
16) Describe the Adam Lore of 2022.
The Adam Lore of 2022 is a big Bob Dylan fan.
He has written over 100 albums and has recorded 14 of them.
He has published two best selling graphic novels and lives
with his beautiful wife Jessica Alba.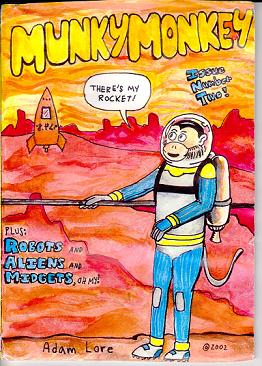 17) Describe the Adam Lore of 2002.
In 2002 I was finishing up high school. Had very long hair.
I was in a band called Trojan Horse which was good fun.
Working on issue #2 of a mini-comic called Munky Monkey.
18) What's your next — or current — project?
I'm always working on a bunch of different stuff at the same time, but most noteworthy is probably the upcoming album Ordovician Brainstation. I'm also re-recording my third album Columbis and working on some more Toad Road comics. Chipping away at a lot of other ongoing projects here and there.
19) If you had to choose between being blind or deaf, which would you choose? Why?
It would be horrible to be deaf, but I'd definitely rather be deaf than blind. Just doing everyday tasks and even walking would be far more difficult. Being deaf wouldn't be nearly as debilitating.
20) Due to an accident, you can no longer write or record music. How do you cope?
I'm not particularly devoted exclusively to music over anything else. I think of myself as a visual artist first and an amateur musician second or third. As long as I could express myself in other ways I would be alright.
It is having an idea and not being able to get it down that really drives me nuts. So if I came up with songs in my head, but couldn't write them or record them, that would be torture.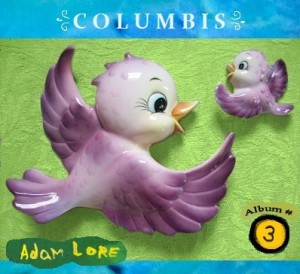 BONUS: Say anything to the readers that you haven't gotten to say yet.
If you are interested in seeing what I am working on check out my YouTube channel at http://www.youtube.com/adamlore
And you can see my comics and other artwork at http://adamlore.blogspot.com
And some of my music is available for free on http://last.fm/music/Adam+Lore
Thank you for your time. As Allen Ginsberg said, follow your inner moonlight and don't hide the madness.