This is a story I meant to share a while back, but I didn't have the time to actually write it up. Now, with the big kerfuffle between Steve Whitmire and seemingly everyone else Steve Whitmire has ever met, it seems like a good time to actually post it. Hopefully this reminds folks that while the people operating the Muppets may be flawed and sometimes shitty human beings, what the characters teach us still makes a difference.
A few weekends ago, I spent some time at Denver Comic Con. I enjoy conventions for one major reason: vendors.
I've had conversations about this. About the fact that I'm paying admission just to go buy things…and about the fact that anything I'll find there will be available — in some way — online anyway. And, really, I can't argue with that. But I keep going, every year. Sometimes I'll hit other conventions as well. I think part of the appeal for me is the feeling that comes with being part of an event, but there's also the more logistical appeal: seeing the vendors in person, with their inventories spread out before them, allows me to browse.
Sure, whatever books or DVDs or figurines I pick up at Comic Con are exactly what I could find online later. But would I find them online? As much as I love Amazon (and I do love Amazon), I still like spending hour after hour in physical book stores. That's because Amazon is a great service when I know what book I want, but bookstores are great for browsing…for when I have some approximate concept of what I'll enjoy, but am otherwise open to new titles, new authors, new experiences I can't even imagine yet.
Comic Con, to me, offers a vast array of great experiences I might never find it I didn't have the chance to browse. And every year I come home with a bag of stuff I didn't know existed. Rarely am I disappointed with my haul; not everything I find there will change my life, of course, but I always feel at least a little more enriched for having read, seen, or listened to whatever it is I discovered.
This year I did my normal thing of walking around the various booths, seeing what was on offer before I spent any money. You can count on seeing largely the same kinds of products from year to year, but sometimes there's a surprise. And fairly quickly I found my first and favorite surprise of the year.
What caught my eye was a big banner with the Sesame Place logo on it. One guy sat behind the table, and there were stacks of books in front of him. Just seeing that banner brought back a lot of memories I don't often think about. They're from my childhood, so they get excluded along with much of what I actively try to forget.
For those of you who don't know, Sesame Place is a Sesame Street theme park in Langhorne, Pennsylvania. I'll always remember the name of that town, because I grew up in Southern New Jersey and remember seeing the commercials constantly. Here's one I remember quite well. It was my first experience of the song "Short People," by the way, and if you watch this video maybe you'll understand just a bit of my shock the first time I heard the actual song on the radio.
Langhorne, Pennsylvania seemed like a special place. Had Sesame Place existed in Pittsburgh or Philadelphia, the town name wouldn't have registered the same way. We knew those cities already. They were just places on a map that contained things. But Langhorne wasn't a name I ever heard in any other context. Langhorne was Sesame Place. And that was magical.
At some point, I got to go. I'd guess I was around 10 years old. I could have been 8. It was me, my brother, and my mother. We were joined by our neighbor and her two kids, Jennifer and Brian. According to Google Maps, Langhorne was a drive of an hour and a half from where I grew up. As kids it felt like much longer, or maybe that was the anticipation magnifying everything. I remember playing a game in the car that I don't think I played at any other point in my life. We'd take turns using our fingertips to "draw" on somebody else's back, and they'd have to guess what we drew. These were definitely the days before I had a Game Boy.
By this time, I'd been to Disney World, which is unquestionably the larger and more significant family theme park. But…I didn't love Disney. I had nothing against it, and of course I could recognize Mickey Mouse and Donald Duck easily enough, but I wasn't actually a fan of any of their films. To be honest, I'm still not. It wasn't until the Disney Afternoon introduced me to Duck Tales and Chip 'n Dale: Rescue Rangers that I became an active fan of anything Disney. The Muppets, on the other hand…I loved those guys. And I was excited about the trip.
So, of course, I went over to the table and talked to the man selling books. He introduced himself as Guy Hutchinson, one of the authors of Images of Modern America: Sesame Place.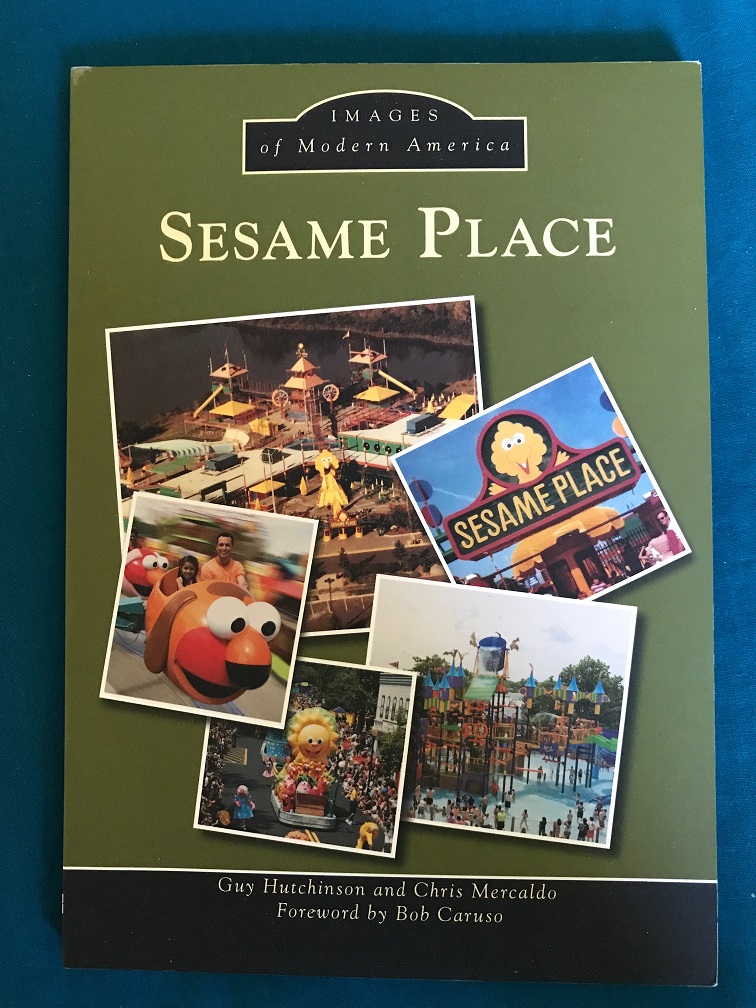 If you've traveled around America, you've probably seen books with this identical cover design everywhere. I don't think I've ever picked one up prior to this, let alone purchased one, but they're out there. Visit a decent-sized town or city and there will be some equivalent of this book with photos of old railroad bridges, buildings that are no longer there, significant construction projects…you get the picture.
I always figured they were more souvenir than anything. You'd pick one up as a memento, the same way you would a refrigerator magnet. I didn't really care. Then again, I didn't really care about railroad bridges or construction projects in general. The Muppets, on the other hand…
Guy — who shares his name with a Sesame Street Muppet — started to tell me about Sesame Place. Not specific facts or trivia about the park, but rather a very basic introduction to the fact that it exists. He likely wasn't expecting many people in Denver to know about it. He'd have to start with Sesame Steet's familiarity and move on from there.
But I told him that I knew about it, and that I'd been there. He was clearly enthusiastic, and I wasn't trying to deflate him as much as I was trying to let him know that he could skip the introduction and get right to the really exciting stuff.
And he showed me his book. Which was, I admit, really exciting.
Again, I haven't picked up other books in this series, but this seems to support my assumptions about them. There's very little straight writing…in keeping with the Images of Modern America theme, they're almost entirely visual, with very informative cutlines.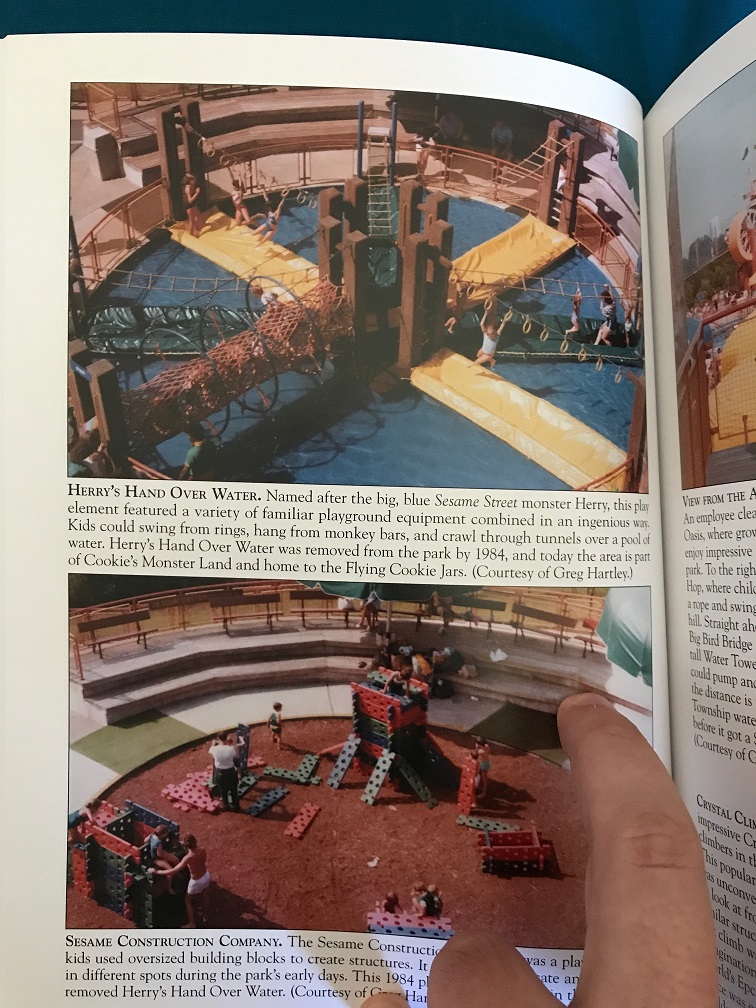 To be frank, I think I could have read and loved a 500 page book about the history of Sesame Place whether or not it contained photos at all…but I understand that I'm mentally ill and other people might prefer pictures of the rides.
I immediately knew I'd buy the book, but we talked for a while longer. He talked about how cooperative everybody was at the park, how they provided photos and information for him, how they described attractions that were planned but never made it to the public.
This book might be a souvenir, but it was also a fascinating one…and just talking about it transported me back to that trip I took as a child…one of which no photos exist. But the book — broken down into eras in the park's history — provides the next best thing to me.
One of the things the park provided to Guy was master artwork of Buford T. Higgenbottom, a Muppet who was created specifically to serve as the park's mascot. Guy used this to have stickers made — among other things — and he very kindly gave me one.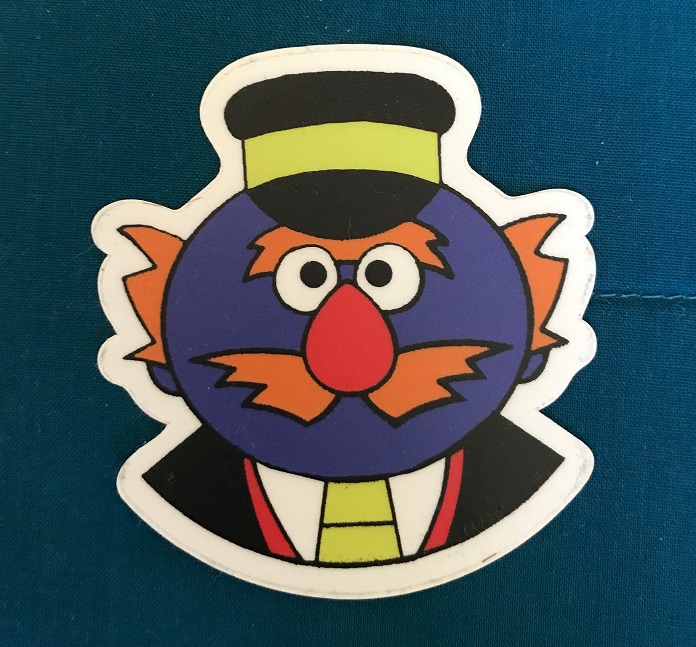 That might not sound too interesting on its own, but while Buford has a page on the Muppet Wiki, there's no image of him there. And a Google image search turns up completely dry as well. The park was really his only hope for getting that art, as it doesn't seem to exist in any quality anywhere on the internet.
Of course, now Noiseless Chatter will show up in a search for it, which WAS MY PLAN ALL ALONG.
I told him about my few memories of the park. About a clear little rubber ball with Big Bird and the Sesame Place logo inside that I had for many years and finally lost. And mainly about one particular attraction, which I've always wondered about.
Remember, I was a kid, so my memory is not reliable. But I recall some kind of attraction in which you had to cross a long, narrow platform, suspended a terrifying height in the air. I remember there was water below, and I think more was falling down like a fountain. I remember the platforms being yellow and, for some reason, I remember it being themed after Count Von Count. In my mind, it was a very dangerous activity and I was afraid I'd fall and die. That's not the work of excited imagination, mind you…that's the work of actual fear. I was scared while navigating that attraction and still retain an image of what it looks like in my memory.
He wasn't sure what attraction I was remembering, but he did tell me about a Count-themed Halloween show that evidently was scary enough to earn the park some complaints.
I told him I'd buy a copy of the book, and he smiled and said, "I've got some swag to share with you, too."
One bit of that swag was another, more general, Sesame Place sticker: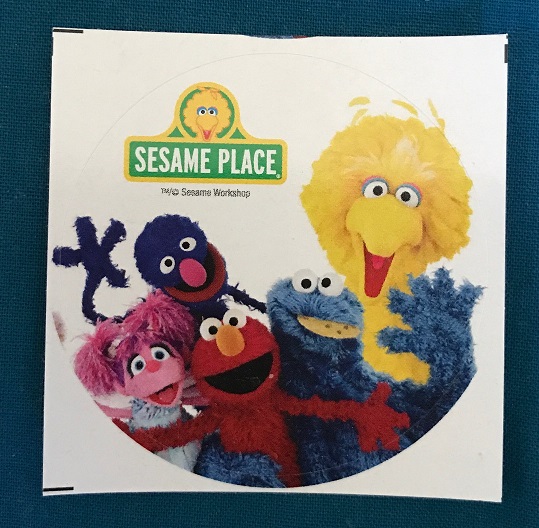 Then he gave me some really cool things.
Evidently when the park launched, there was — for lack of a better term — an arcade. There may still be one, I don't know, but it was less of a traditional arcade than it was a computing area, where kids could learn and work at computer stations. Something like that would be much less of a novelty today than it was in the late 80s, but it was apparently pretty cutting edge at the time.
Guy gave me four tokens from that computing area. While doing his research, the park revealed that they had buckets of them collecting dust. That was a lucky find for him, and then again for me.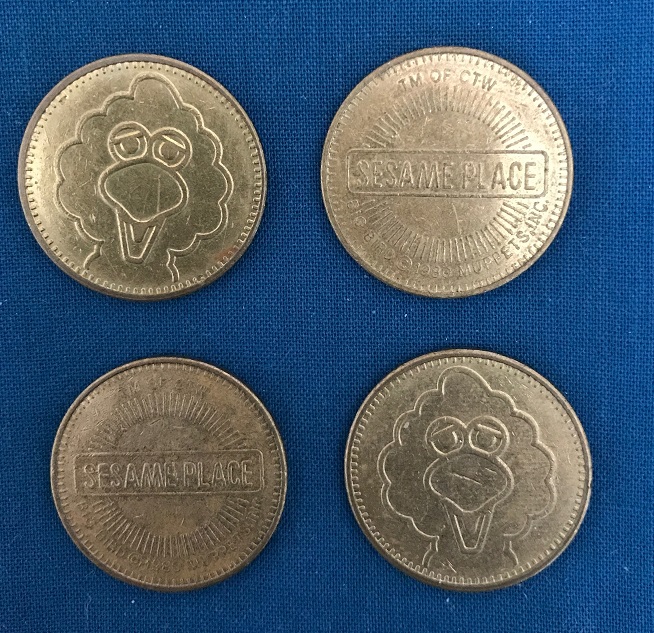 Those are really great. They're all the same design; I just flipped two of them over to show off both sides. But even better were these season pass badges: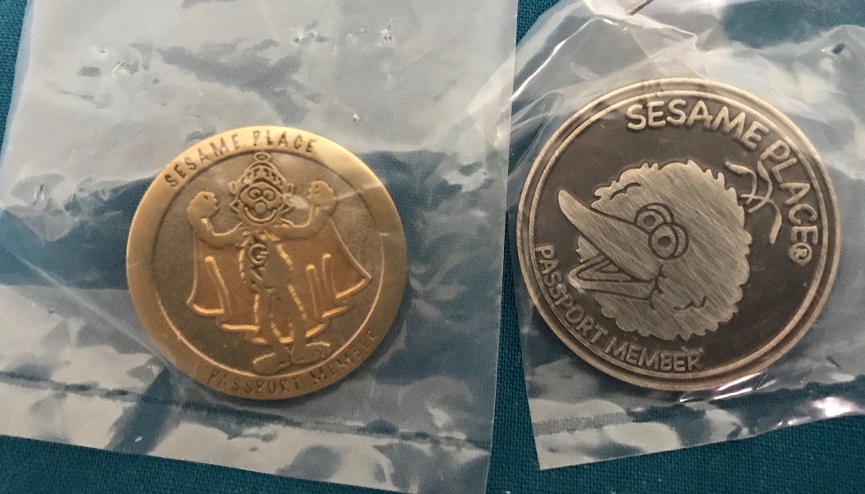 These are two different designs: Big Bird and Super Grover. They are slightly different sizes and colors in addition to the different character, so I don't know if one entitled the wearer to more perks than the other, or if you just got to choose which one you liked best when you bought a season pass. I don't know if Sesame Place even has season passes anymore, but if they do I'm sure they're just little cards you keep in your wallet.
But…man. These things are incredible. They're beautiful. I love these.
When he gave me these, I laughed. Grover was my favorite character as a kid, and I loved his Super Grover persona. In fact, when I was little I had a Grover doll that was almost as big as I was. Here's a photo of that and proof that I used to have hair: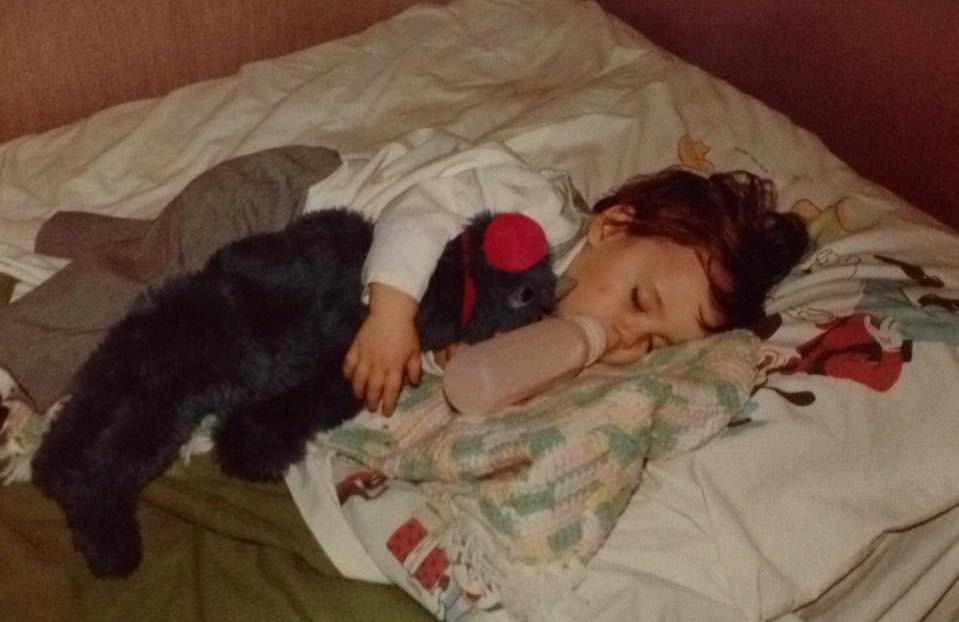 Guy told me that Grover was the one everybody liked, and nobody involved with the park or the show seemed to realize it. I'd believe him. He said that the park wanted the badges to feature Big Bird and Oscar the Grouch, as they were assumed to be the two most popular characters. But somebody had the idea to actually ask people which character they liked best…and we ended up with Grover.
I didn't want to eat up Guy's entire morning, but I thanked him for his kindness, and for some really incredible vintage goodies I never would have expected to have in my entire life. It was like getting a chance to visit the park again in 1986 or whenever I went and having the foresight to keep all these little things you never would have thought would matter to you. It actually meant a lot to me, and I told him he made my day.
He signed my book before I left, and drew Cookie Monster. Why Cookie Monster? Because, according to Guy, he's the only character you can draw without worrying about his pupils. If you draw Big Bird or Bert or Elmo or somebody and their pupils are slightly off, they look wrong. But with Cookie Monster, who has crazed eyes that wander constantly and asynchronously whenever the puppeteer moves, you can put the pupils anywhere and they'll look right.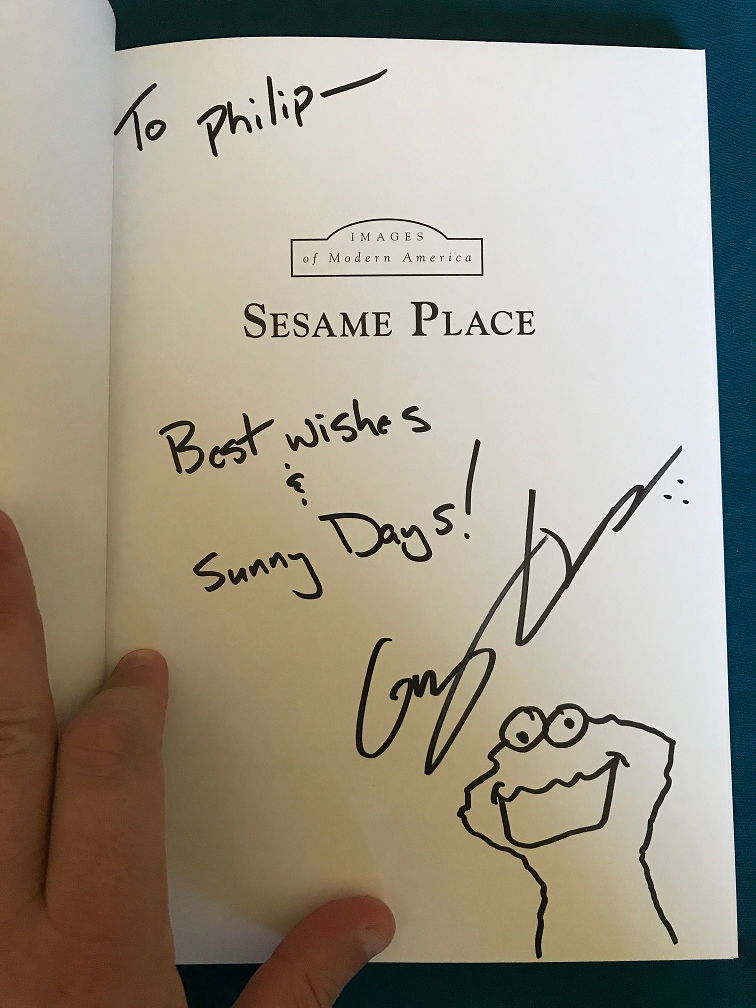 I felt really lucky to meet Guy that day. Not only was he a friendly and interesting person, but he clearly loved the work he had done. And he relished the chance to share it with someone who could appreciate it. I hope he met a lot of those someones over the course of the weekend.
What I do know is that he reminded me of a positive childhood memory, and gave me vintage trinkets that, miraculously, survived the decades that passed since the park was founded.
I hope he enjoyed speaking with me as well…if only because I could then feel like I repaid the favor somewhat.
I have a friend who is pretty busted up about the whole Steve Whitmire thing. About the negativity that's been passed around among people he admires. About the ugly underside to what are supposed to be comforting and reassuring productions. About the fact that it's impossible to know who's in the wrong…Steve Whitmire, or everybody else who's ever lived?
But meeting Guy…interacting with him…listening to him talk and watching him get excited about an amusement park…this is what the Muppets are all about. Someone who grew up loving them so much he wrote a book about them, and someone else who grew up loving them buying that book. The two of them meeting and sharing memories. Two strangers who may have nothing else in common in the entire world sharing a moment over something that's given them both so much joy. That's offered such valuable escape. That's guided them through difficult times and helped shape them into who they are today.
The Muppets have allowed me to connect with and bond with more people than I can probably count. (Ah, ah, ah!) Those of us who grew up with them remember them not as characters on some shows we used to watch, but as early friends who helped us understand that however different we are, whatever our strengths or weaknesses, however small we might feel at times, we each had something unique to bring to the world.
Guy reminded me of that.
He could have sold me his book and moved on. I wouldn't have blamed him. That's what vendors do.
Instead he showed me great kindness long before I expressed interest in buying anything.
That's more valuable than the book could have been to me or the money could have been to him. In scary, uncertain times, it's important to remember that there are still little rafts of sunlight out there to find. I credit the Muppets. And no amount of behind-the-scenes idiocy will change that.
—
The book is available for purchase from Amazon here, if you're interested.