The Lost Worlds of Power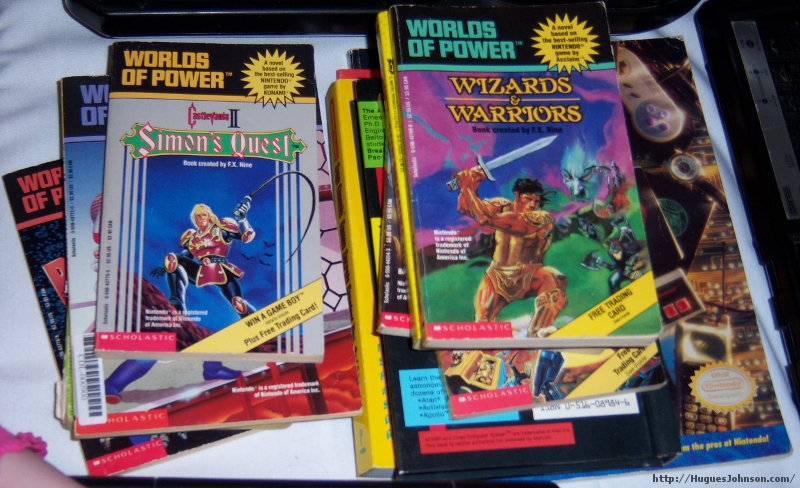 This is the original announcement post and FAQ for The Lost Worlds of Power. For more posts on the subject, and the discussions that follow, click here!
Calling all writers / humorists / parodists / gamers / whatever else you are. I will be spearheading and editing a one-off fiction anthology that I will be assembling, and I need your submissions!
The anthology is called The Lost Worlds of Power, and we would love to get as many submissions as possible, so please pass this on to any writers you know who might be interested in being published in a collection.
THE LOST WORLDS OF POWER
The Concept: Worlds of Power was a series of notoriously awful and totally inaccurate novels based on popular video games. What we're doing is writing more of them! We want you to choose a video game (see the rules below) and novelize it. If you aren't familiar with Worlds of Power, you can read a bit about the series here. You can also read my reviews of two of the books (with excerpts) here and here.
The Final Product: The Lost Worlds of Power will be an electronic, one-off fiction anthology. We will not sell it, and will make no profit off of it. In fact, I will pay out of pocket to have it professionally designed and formatted…and hopefully illustrated. We will host it here for free download, and we'd encourage anyone interested to host it and distribute it themselves as well. It should be something a lot of people can enjoy, and your submission should see a wide and appreciative audience!
The Style: You'll be writing a "lost" installment in the Worlds of Power series! The obvious route here would be to write something intentionally bad, but that's not the route you have to take. All styles, lengths and degrees of artistic merit are wanted. If you want to be outlandish and silly, that's perfect. If you want to write a heart-stopping work of emotional brilliance based on T&C Surf Designs, that's equally perfect!
The Length: There's no hard and fast length requirement. Use as much or as little space as you like. The original Worlds of Power books were only around 100 pages long, with large type, so probably around 40 or 45 pages of traditional text. You can shoot for that, or you can let the spirit move you. Personally, I'd encourage you to do the latter.
The Rules: Read carefully, and make sure you adhere to the following rules when submitting:
- Your "novel" must be based on a game that was released on the NES. It doesn't have to be a game exclusive to the NES, there just needs to be a version of it that existed for the NES (or Famicom). If it was something that was originally an arcade game or was later ported to the SNES or Genesis, that's fine!
- Games that were actually adapted into Worlds of Power books are not eligible. (Remember, the idea is to write a "lost" installment in the series.) Therefore Blaster Master, Metal Gear, Ninja Gaiden, Castlevania II, Wizards and Warriors, Bionic Commando, Infiltrator, Shadowgate, Mega Man 2 and Bases Loaded 2 are all off limits. You can, however, base your submission on a different game from those series.
- Only one adaptation of any given game will be selected for inclusion. In essence, if we get five submissions based on Super Mario Bros., we will only select one of them to be included, even if they're all very good. For this reason it's probably best to either choose something relatively less popular, or make sure you're confident that the adaptation you're writing will be the absolute best we receive!
- Be creative! Don't just write out the events of the game…have fun with them! Get things wrong. Grossly misunderstand your protagonist's motives. Skip over the best fights and spend time on mundane interactions with townsfolk! The Worlds of Power books are legendarily off the mark, so warp your filter a little bit! Do your Goombas look like carrots instead of mushrooms? Is Link's traveling companion a rapping leprechaun? Does the dog from Duck Hunt travel through time and solve mysteries? Are your ideas better than these? We hope so, and we can't wait to find out!
- You retain the rights to your submission (barring, obviously, any trademarked characters or titles you incorporate). We will only have the rights to collect and distribute it if you are selected for inclusion.
- Multiple submissions from the same author are allowed.
- We reserve the right to edit submissions for spelling, punctuation and formatting reasons.
What if I Don't Know Anything About Video Games? The original Worlds of Power authors didn't either! Just use the characters, settings, and / or plots as a springboard. From there, this is your story to tell!
The Prize: There is no financial or physical prize…just inclusion in the one-off Lost Worlds of Power collection. Still, it'll be fun, and being published in a fiction anthology, no matter how small, is something that will be a great credit toward getting your future work published elsewhere! You'll also be eligible for the title of First Person to Ever Brag About Writing a Worlds of Power Book.
The Deadline: Januaray 31, 2014. We know. That's soon. Believe us, that's a good thing. The Worlds of Power books aren't known for being particularly well thought-out.
All submissions and questions should be sent to reed.philipj at gmail.com. We're not picky about the format of your submission, as long as it's a common file type (.doc, .rtf, .txt, etc.) and you've taken the time to proofread before sending it in.
We look forward to seeing your submissions!
Credit to James Lawless, die-hard Worlds of Power fan, for the idea!
FAQ:
How long should the submissions be?
They should be as long or as short as you need them to be in order to write the best (worst?) adaptation you can. It's a digital publication, so we won't have to worry too much about the length of the final product.
Can I novelize more than one game?
Yes, and I encourage you to do so! It heightens your chances of getting one of them selected for inclusion, and gives us more to choose from. Everybody wins.
Do I have to be true to the game's story or content?
Absolutely not.
Can I publish my story elsewhere?
Yyyyy…no. Or, rather, we'd prefer it if you shared the final volume with folks instead of just your story. Of course, if it turns out that your story is not selected for inclusion, you can do anything you like with it from there. It remains your property.
Can we "sign up" for games so that nobody else can do them?
No. Sorry. The problem with that is that someone might sign up for a game and then never actually write it, or write something that isn't selected for inclusion. That means anyone else who might have done a better job writing about it will lose their chance to blow us away. We'd prefer for that not to happen.
Do I need to adhere to the "no violence, no profanity" nature of the original Worlds of Power?
You do not! You can, of course, but this is your story. You can write it as you please!
Can I adapt a game that was only released in Japan?
Yes you may!
Can I adapt a game that was never released?
A few games made it to prototype phase but were never released into the market. As long as it did make it to a verifiable, playable prototype phase, though, I'd say it's fair game. If it only existed as sketches in somebody's notebook…then no.
Can I adapt a licensed game?
Yes indeed!
Do I have to use my real name?
You do not. Feel free to use a pseudonym.
I sent you my submission, but I didn't hear back. Is that okay?
No! I'll make a point of replying to your submission the moment I get it. If I don't reply, it's because — for whatever reason — it didn't come through. Try emailing me or commenting below and we'll make other arrangements to get the file.
Will physical copies be available?
No promises…but keep an eye on this section.
Leave any additional questions below, or email reed.philipj at gmail dot com, and we will answer them as quickly as possible!