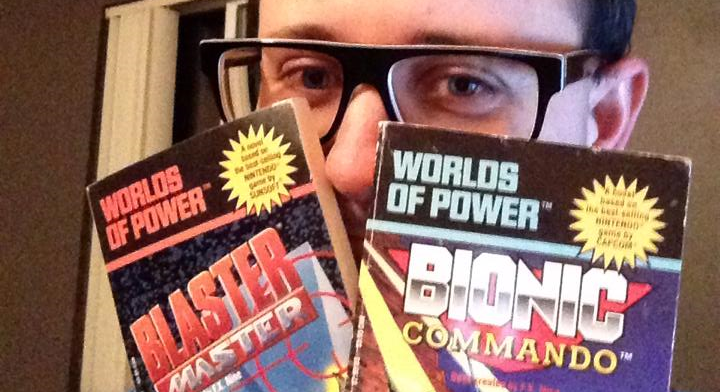 Friends, Hyrulians, Donkey Kong Countrymen…the deadline to get your Lost Worlds of Power submission in is fast approaching! You have until Friday the 31st, which is just under a month from now!
That might sound like bad news if you haven't started writing yours, but don't worry! The original Worlds of Power authors could have cranked out dozens of them in that time.
For the complete rules and guidlines for producing your deliberately awful literary adaptation of an NES game, refer to this post.
As of right now I've received a good number of submissions…and most of them are very strong contenders for inclusion. As of now I'm thinking we will select the best 10 for the anthology. That specific number is subject to change, but regardless, if you'd like to be considered (and I know you would!) be sure to email your submission to reed dot philipj at gmail dot com as soon as you can!
…and I shouldn't be telling you this, but if you think you'd need another day or two to get your submission finished, well, shoot me an email and we'll talk.
Anyway hurry! Your one and only shot at artistic immortality awaits!
Also, as you may have noticed, things look a little different around here. Here's a list of what I done tinkered with…
– Simplified tagging system. Now only general categories and recurring features get tags. This still covers everything on the site, but it should make the tags more useful. (More specific searches can still be performed in the search bar at the top of the page.)
– Reduced the number of articles that pre-load on the main page from 10 to 5. This was done since I've been posting a lot of image-heavy stuff, and I want to be fair to folks on slow connections or on mobile devices.
– Updated lots of stuff on the backend that, in all honesty, should have been updated ages ago. This should help performance.
– Added Facebook widget to the sidebar so that social media luddites can still see what I'm posting there. You can also "like" the Facebook page there (and I'd appreciate it if you did!) without having the navigate to the page itself. COOL HUH.
These improvements came mainly from the feedback you provided me in my visitor's survey last year. So…I'm not the fastest hen in the bunch, but I get there in the end. And please do let me know what other improvements you'd like to see. I'll get to them. Eventually.