Hello, and welcome to the first-annual Noiseless Chatter holiday gift guide! The idea here isn't like most gift guides, being as I can't personally vouch for every product here, nor have I received any form of payment or exchange for including what you see below.
So what is this? Well, I've got a large number of very talented friends, and I wanted to take an opportunity to spotlight their wares specifically. If you still have shopping to do, I hope something below will appeal to you as a potential gift for a loved one. There should be plenty of time to receive any of the below before the holidays.
In order to avoid any appearance of favoritism, I won't single out any of the products I can vouch for, but I will say that I can vouch for each of these individuals personally. They're all great people, and if any of the below looks like it would make a good gift for somebody (or yourself), make the seller's Christmas, too, by buying it through them.
If you are interested in anything below, and would like information regarding shipping and availability, be sure to contact the seller directly!
BOOKS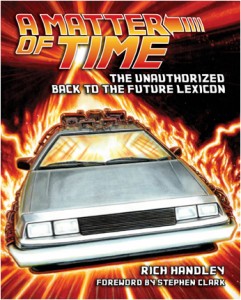 A Matter of Time: The Unauthorized Back to the Future Lexicon
The Back to the Future films are more or less the gold standard for sci-fi comedies (though Ghostbusters might give them a fair run for their money). Which probably makes this a good gift for somebody on your shopping list, as it's likely you know at least one major fan. This very thorough book contains information on every character, item and location in the series, and expands far beyond the movies, taking into account the official ride, the video games, the animates series, and more.
Where to Buy: At Amazon here, and you can read more about the book here.
Multiples of Six
Written by a friend of mine (whose name I won't mention because this is published under a pseudonym and I don't know if revealing it would make him want to beat me up), this is the first book in a series of three. The first two are available for purchase in both physical and ebook formats, but I'm spotlighting the physical because seriously, guys, don't kill the industry. Multiples of Six is a familial mystery centered around one man who gradually learns more about his siblings…including one he didn't know he had. It's absolutely the type of story that will resonate strongly for a certain type of reader…and if you have that type of reader on your shopping list, give it a shot.
Where to Buy: At Amazon here, but if you're opposed to shopping with them for any reason there's a host of other options here.
The Garbage Pod: A Collection of Red Dwarf Fan Writing, 2003 – 2011
The Red Dwarf fan-site Ganymede & Titan (linked in perpetuity in the sidebar here) goes through long periods of relative inactivity, but when it's actually cranking out articles it's pretty great. There's a stellar team of devoted writers that manage to blend genuine enthusiasm with a fair, clinical approach to the show, and this book collects a number of essays (some of them updated since they were published online), and would make a great gift for any fans of the show on your list. Be warned, though…their enthusiasm for the show is eclipsed only by their enthusiasm for creative profanity.
Where to Buy: At Lulu here, where it's also available as an ebook.
FASHION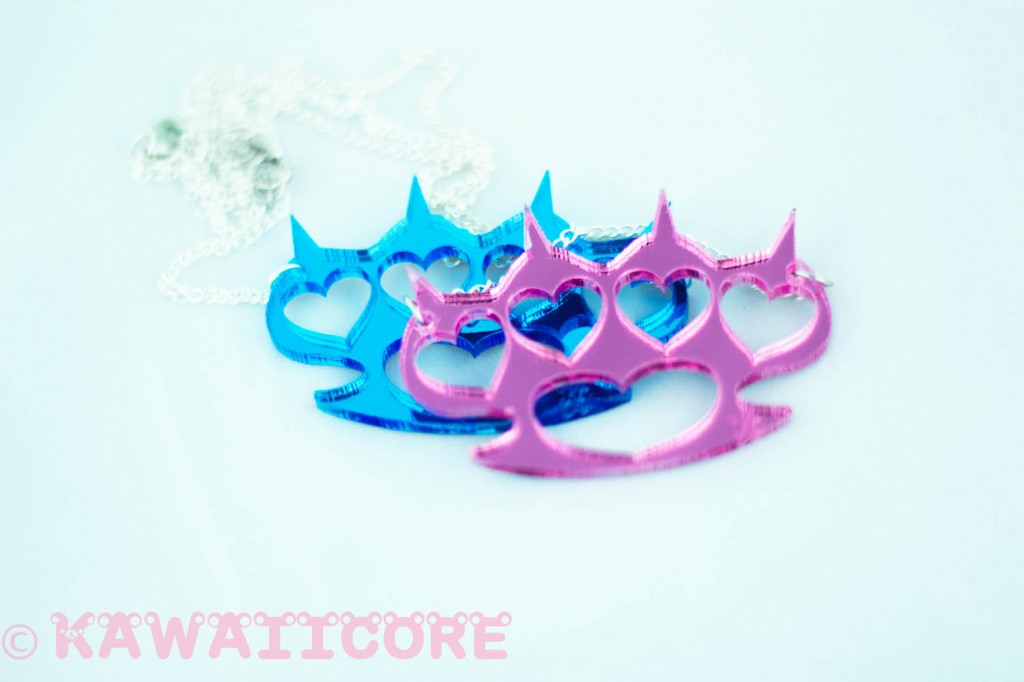 Kawaiicore
"Creepy-cute" is their self-selected descriptor, and I'd have to say that's pretty accurate. Run by probably one of the most talented people I've ever met (which, believe me, is saying something) there's a very unique assortment of rings, earrings, necklaces and more here, and all of it is original to Kawaiicore. I have to recommend the heart-shaped knuckle dusters, because come on now. HEART SHAPED KNUCKLE DUSTERS. It's not the kind of product that's going to have universal appeal, but the folks it does appeal to are likely to go bananas over it, and that's what matters.
Where to Buy: Right here.
BerryPolish
Handmade nail lacquer from two very talented, all around awesome sisters. Their shop only launched in late October, so they only have one style up for sale currently. This will change, though, as they gauge demand for other styles. It's a tiny endeavor right now, which is why I'm very happy to spotlight it and watch it grow. They were also tossing in those great little monster fingerpuppets with orders placed by Halloween, so there's every chance you'll find a special surprise included with your Christmas order as well. (Not a guarantee. I really don't know.)
Where to Buy: At their etsy store here, and you can help them select future styles at their Facebook page here.
Jules' Jewels Jewelry
A great artist that I went to high school with. She has an etsy shop, but there's nothing on display quite yet. However she does work on custom pieces of art and jewelry, and she has samples of her work on display at her Instagram page, which is linked below. Due to the nature of her work you'll need to contact her ahead of time and discuss prices and details, which might sound a little cumbersome but I can promise you she's a pleasure to deal with.
Where to Buy: You can request a custom order through her etsy shop here, or browse her work and contact her through Instagram here.
Origami Owl — Olivia Bellano, Independent Designer
Charming, customizable jewelry available through a very good friend of mine. She's actually running a special deal outside of the main shop, which she asked me to post here. Unfortunately I couldn't think of a good way to display the image due to the fact that I'm not the designer here, so you'll have to click this for the details. But if you are looking for a gift (or several) it's worth checking out. Again, that's a special deal, so if you'd like to take advantage of it make sure to contact her directly instead of placing the order yourself.
Where to Buy: At Origami Owl here, or contact her directly through Facebook here
DIGITAL GOODS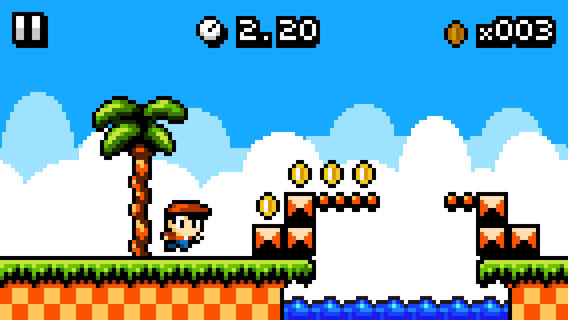 Kid Tripp
I've already tipped my hand a bit on this one, as this isn't the first time I'm mentioning Kid Tripp on Noiseless Chatter, but go read some reviews of this game. It wouldn't be fair of me to say lots and lots of nice things about it here, but I do think it's fine to encourage you to read the other nice things people had to say at the page linked below. It's a side-scrolling touch-screen game with automatic movement, and it's difficult. It also has a pretty fantastic soundtrack, and would make a great (and inexpensive) gift for the gamer on your shopping list.
Where to Buy: From the App Store here.
A Brief History of Time Travel
A Kickstarter success story, A Brief History of Time Travel is a six-episode science fiction radio comedy, also available with a making-of documentary and a companion book pdf. It's a great buy for the comedy fan on your list, or for anyone already used to listening to radio shows, audiobooks or podcasts on their commute. (At least, that's the only way I ever listen to them.) It's worth mentioning here that the stuff you can buy digitally is going to be distributed in different ways depending upon where you make your purchase, so if you are shopping for someone else, make sure you keep that in mind during the checkout process so they actually receive it! Of course, you could also be buying this for yourself. And, yeah, you kinda should.
Where to Buy: From the official site here, though there is an option to buy it from iTunes there as well, if you trust that more for whatever reason.
Somos las Bolas
The closest thing to a conflict of interest on this list. This is actually a short film based on a story of mine, but I had nothing to do with making it and I receive no percentage of its profits. (I wasn't even paid for the rights to the story. I'll be seeing the director in court.) It's the live action version of a tale about growing up, falling in love, and lots and lots of Ping-Pong. It also has a really awesome soundtrack that I used to have as a zip file but I can't find it anymore so the guy should probably send me another one OKAY? If you care, I did do a commentary track for the film after it was finished, and I was pretty strung out on DayQuil when I did. So if you ever wanted to hear me ramble in semi-consciousness about things I barely remember writing, this is the DVD for you.
Where to Buy: At Amazon here. It's available as a physical DVD, but I listed it here because I don't have enough for a DVD section, and you can buy it for viewing on demand.
Zombie Simpsons: How the Best Show Ever Became the Broadcasting Undead
An ebook by the team over at Dead Homer Society, which is also linked in my sidebar, and probably always will be. It's actually available in its entirety at that site for free, but you can buy the official pdf cheaply enough that it may well be worth it for those who want to enjoy it without having to be connected to the internet while being reminded of how much worse The Simpsons is now, and has been for a long time. It's not as venomous and hate-filled as the main content on that website (though I do mean those things as compliments), and is actually a rather intelligent deconstruction of the show's trajectory. Worth a buy for anyone on your list who stopped buying the DVDs after season 10.
Where to Buy: At Amazon here.
Jump Leads
More sci-fi comedy in the form of an ongoing webcomic. I could have sworn physical copies were available but I couldn't seem to find them anywhere anymore so I'm linking to the electronic versions. It focuses on two characters in the Lead Service, fumbling their way through parallel universes, hostile creatures and accidental witchcraft. I'm going to leave it to Ben to show up here and let everyone know where physical copies can be grabbed, if they can indeed still be grabbed, but in the meantime, the electronic versions make a good substitute for anyone who enjoys their graphic novels in digital format.
Where to Buy: At Wowio here.