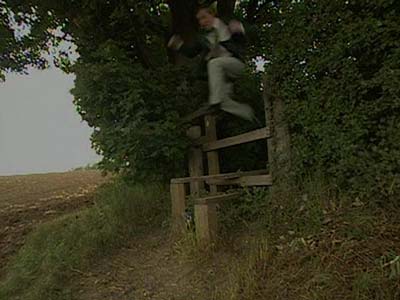 As ever, a few items of business in place of a proper update. BUT READ ON ANYWAY BECAUSE I AM LINKING TO SOME THINGS WHAT I WROTE AND YOU WILL LIKE THEM MAYBE.
– Please take my readers' survey! Click here to do so. Seriously. This will help a lot, and it will give you a chance to let me know what you do and don't like about this blog as we move into year two. It should take around 5 minutes at most to fill this out, so please, please, please do take the time. Again, that survey can be found here. And it's as mandatory as a voluntary thing could ever be.
– Spam is outta control, and it's not unique to my site at all. In fact, I'm sure I get a relatively small amount of it by sheer virtue of the fact that nobody knows this site exists. (See? I know it would come in handy!) Anyway, the long and short of it is that I will no longer be sifting through the spam queue to find legitimate comments. I'm sorry for that to be the case, especially since I have found actual comments buried in there, but as of right now I have over three thousand comments waiting for review, and there's no way I can get through those, followed tomorrow by another three thousand. So if your comment doesn't post, please try again, or email me about it specifically and I'll dig it out. In the absence of someone contacting me specifically though, it won't be happening. I apologize.
– Reviews of self-published and indie artists should be happening here more frequently now. It's something I've always wanted to do with this blog, in order to give small writers a platform for review — I know how difficult it is — so expect to see more of those. If you know someone whose work could use a review, or if you have something you yourself would like me to review, please contact me. I'll be adding a tab to the main navigation bar soon explaining my policy and linking to past reviews, but there you go.
– I wrote about Bob Dylan for Ben Likes Music and you can find that post right here. It's called Blood on the Tracks and the Emotional Paradox of Talent, and it's my way of thanking Ben for all the great stuff he's contributed to this blog right here, and also writing about Bob Dylan. I hope you enjoy it.
– I also wrote about Terry Pratchett for Dave Wrote This, which is available for your snobby reading pleasure at this place. It's called On Reading Pratchett as a Massive Snob, which explains why I phrased the previous sentence the way I did. So while it may look like I haven't been writing much, that's just an illusion. I've been writing SHITLOADS and just not putting it anywhere that you would see it. You idiot!
Anyway, thanks as always to Dave and Ben for their great stuff here, and I hope these pieces both repay them for their work on this site, and make up for any lack of updates. As always there's some great stuff in the pipeline, so stay tuned!