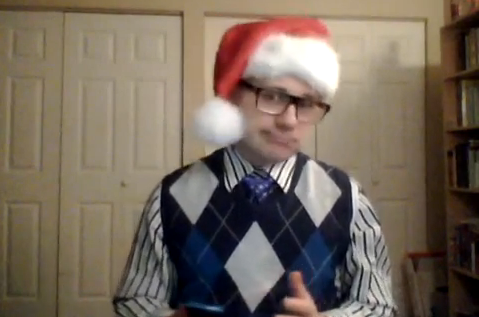 Don't forget! You have plans tonight! Tell your wife to fuck off! We're having an online Xmas party, and you gotsta be there!
WHAT: The First Annual Noiseless Chatter Xmas Party!
DATE: TONIGHT! Monday, December 23
TIME: 8:00pm Eastern time (calculate the time for your location here)
WHERE: http://www.twitch.tv/philipjreed <--there. DETAILS: We'll be streaming the first-season Christmas episode of ALF, as well as seven (count 'em!) other mystery Christmas specials from various "classic" television shows.
A live chatroom will be open throughout the stream, but I think you need to sign up for a twitch.tv account if you'd like to participate in that aspect. (You can do that by clicking "Sign Up" here.) I suggest you do…it's quick and easy. Aaaaand…
If you do log into the chat, you'll be eligible to participate in the all-night Christmas trivia contest! With real prizes! You might not want any of them, but they are real!
Additionally I've recorded an hour's worth of host segments to link the shows together, so you can count on some great comedy. Even if you don't like it, it's great, and the problem is with you.
IN SUMMARY: ALF. Other terrible shows. Comedy. Trivia. Fabulous prizes to be won.
REGISTER: Not necessary to do so, since I'll be sure to bake enough gingerbread men for all, but if you like you can register for the event on Facebook, and then you'll get a reminder or something, I think. I don't know. Either way, though, you should like the Noiseless Chatter page on Facebook. I post lots of horse shit there. Even more than I post here.
I'll see you tonight! Don't be late! Or early! Learn to manage your time better!