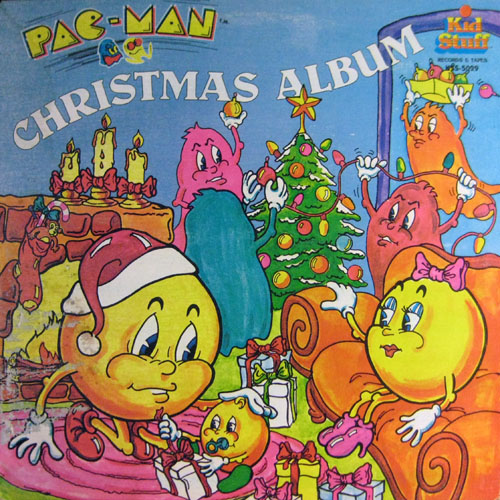 Happy Xmas, everyone! I hope you don't mind that I'm giving you your gift early…
Yes, this was real. No, this is not a hilarious joke. (Though, truth be told, it is pretty hilarious.)
In 1980, the Pac-Man Christmas Album was released, and thanks to friend of the website Ed Adams, I've got a digital version of the original, long out of print LP for your downloading and listening pleasure.
Grab The Pac-Man Christmas Album here.
The interesting thing about this, to me, is that Pac-Man — while undoubtedly iconic — doesn't really have a distinct personality, or roster of rich characters. An in-character album of new Christmas tunes and covers of old classics seems crazy to me, since Pac-Man can sound like anything and say anything because we have no idea who Pac-Man is.
It's not like a Super Mario Christmas album or something…which I'm sure would be just as awful, but would at least have had some vaguely-defined characters upon which to base its conceit. Here it's just a yellow circle singing about Jesus with his family of yellow circles. That's distilled insanity right there.
Anyway, I hope you enjoy. Actually, no I don't. "Under the Tree" is a masterpiece, though. Who would have thought Pac-Baby would have such potential as a lyricist? And it's worth listening to simply because it climaxes with the ghosts feeling the Christmas spirit for the first time, and apparently orgasming loudly.
God bless us, every one.
The Pac-Man Christmas Album
1) The Magic of Christmas
2) Snowflakes and Frozen Lakes
3) Under the Tree
4) Dialogue 1
5) Deck the Halls
6) An Old Fashioned Christmas
7) Dialogue 2
8) Some Days Are More Important
9) Dialogue 3
10) Friends Again
11) We Wish You a Merry Christmas
(Download)
Never before has 25 minutes felt like such a long, lonely lifetime.