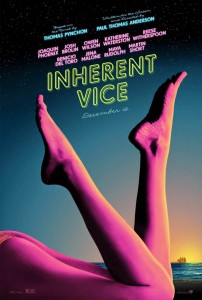 This past week, the trailer for Inherent Vice — the first film Thomas Pynchon has ever allowed to be adapted from one of his books, hit the internet.
If you know me, you'll know to expect a trailer analysis. And that is indeed coming. While I work on it, though, I thought I'd throw you a little curio: the complete Inherent Vice soundtrack!
…okay, it's the soundtrack of the book, not the film. But, so what? It's Inherent Vice, and I spent a lot of time a few years ago putting this together for my own enjoyment. I might as well spread it 'round.
This was my second attempt at compiling a comprehensive playlist of all songs directly mentioned in a Thomas Pynchon novel, but unlike my experience with Vineland, I've actually managed to finish this one.
Below is every song mentioned by name (or quoted by lyric) in Thomas Pynchon's Inherent Vice. It was a lot of work on my part (and on the part of a helpful friend or two), but man was it worth it. Many of these are songs I never would have listened to otherwise, and all of them do an excellent job of setting their respective scenes, and I hope the film can measure up to this standard.
Many thanks go to the (sadly incomplete and periodically inaccurate) song list at the Pynchon Wiki. It missed out some very obvious ones, in my opinion, but that's neither here nor there. This was still a helpful resource.
Also, Pynchon himself has compiled a playlist of songs featured in the book at amazon.com. It's far from complete, though, and it contains a few of the fictional songs he wrote himself, so I think this would be more of his personal — and impossible — mixed CD than anything else.
Oddly enough, Pynchon lists "Telstar" by The Tornados, even though it's not mentioned anywhere in Inherent Vice (and since it's an instrumental, I'm sure nobody quoted it either).
My guess is that he just really likes the song and thinks it'd fit somewhere in the background of one of many conversations. I'm cool with that; the song is a pretty awesome rocker, and I stuck it at the end of my playlist. Do with it as you please.
Anyway, enough of that. Enjoy the complete literary soundtrack. Maybe eventually I'll get the Vineland one done, too. (The Crying of Lot 49 is another possibility, but I have a feeling it'd be very short…more of an EP. And I'll take notes on music references in Bleeding Edge when I finally get around to a re-read.)
Download the Inherent Vice soundtrack:
https://www.sendspace.com/file/cl5463
1) Can't Buy Me Love — The Beatles
2) Sugar Sugar — The Archies
3) Runaround Sue — Dion & The Belmonts
4) The Big Valley theme — TV Theme
5) The Great Pretender — The Platters
6) "Bang Bang" (My Baby Shot Me Down) — Bonzo Dog Band
7) Strangers in the Night — Frank Sinatra
8) Oh Pretty Woman — Roy Orbison
9) Wouldn't It Be Nice — The Beach Boys
10) Fly Me to the Moon — Frank Sinatra
11) The Crystal Ship — The Doors
12) Blueberry Hill — Fats Domino
13) Little GTO — Ronny and the Daytonas
14) People Are Strange — The Doors
15) Gilligan's Island theme — TV Theme
16) Basketball Jones — Cheech & Chong
17) Wipeout — The Surfaris
18) The Other Side — Tiny Tim
19) Pipeline — The Chantays
20) Surfin' Bird — The Trashmen
21) Bam-Boo — Johnny and the Hurricanes
22) Tequila — The Champs
23) Leaning on a Lamp Post — George Formby
24) Leaning on a Lamp Post — Herman's Hermits
25) Donna Lee — Miles Davis
26) Here Come the Hodads — The Marketts
27) Eight Miles High — The Byrds
28) Runaway — Del Shannon
29) Happy Trails to You — Roy Rogers
30) White Rabbit — Jefferson Airplane
31) This Guy's in Love With You — Herb Alpert
32) Desafinado — Charlie Byrd and Stan Getz
33) It Never Entered My Mind — Miles Davis
34) Alone Together — Chet Baker
35) Samba do Avaio — Antonio Carlos Jobim
36) Crimson and Clover — Tommy James and the Shondells
37) Quentin's Theme (Dark Shadows theme) — TV Theme
38) Something Happened to Me Yesterday — The Rolling Stones
39) Grande Valse Brillante — Frederic Chopin
40) There's No Business Like Show Business — Ethel Merman
41) One Fine Day — The Chiffons
42) Wabash Cannon Ball — Roy Acuff
43) Wunderbar — Jo Stafford and Gordon Macrae
44) Haunted Heart — Sammy Kershaw
45) Viva Las Vegas — Elvis Presley
46) El Paso — Marty Robbins
47) The Flintstones theme — TV theme
48) (You're Not Sick) You're Just in Love — Ethel Merman
49) Tiptoe Through the Tulips — Tiny Tim
50) Everything's Coming Up Roses — Ethel Merman
51) All Shook Up — Elvis Presley
52) That's Amore — Dean Martin
53) Interstellar Overdrive — Pink Floyd
54) Tears on My Pillow — Little Anthony & The Imperials
55) When Somebody Cares For You — The Mike Curb Congregation
56) Que Sera Sera — Doris Day
57) Elusive Butterfly — Bob Lind
58) Yummy Yummy Yummy — Ohio Express
59) Hawaii Five-0 theme — TV Theme
60) Something in the Air — Thunderclap Newman
61) We Should Be Together — Shirley Temple and George Murphy
62) Help Me, Rhonda — The Beach Boys
63) Volare — Domenico Modugno
64) Java Jive — The Ink Spots
65) Super Market — Fapardokly
66) A Stranger in Love — The Spaniels
67) God Only Knows — The Beach Boys
68) Telstar — The Tornados