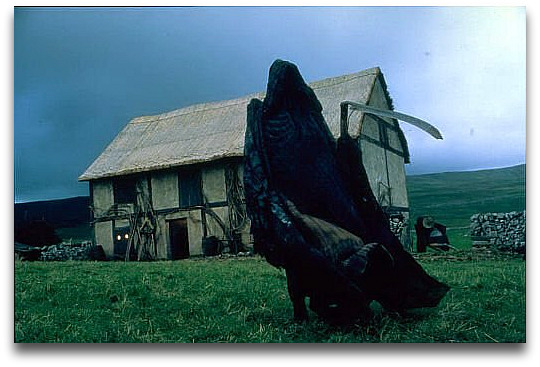 Just a partial return from me on Tax Day, the holiest and most introspective day of the year, to let you know that I intend to resume full service (and then some) next week. For now, Mr. Fabiola is letting his engine cool a bit.
I appreciate your understanding during this time, but I look forward to getting back into a routine again, and having specific things to write about. That will be a big help.
Losing my grandmother was rough…but seeing how it affected others she was close to — related and not — is what really hurt. The strained relationship I have with my family doesn't make it any easier, as I ended up without much of an outlet for mourning. It's hard…but it happens. It's a part of life. Specifically, it's the last part.
It's sobering when you lose a family member. I joke a lot with my friends that we don't really feel like adults. When does that start? I don't feel like a kid, either. I just feel like I'm somewhere in the middle…and many of my peers seem to as well.
I think you start to feel like an adult when the previous generation or two starts to pass on. As those lives wind down, you realize that yours is winding down as well. As those people go away and do not come back, you realize that, one day, that will be you, too.
And that's when you're an adult. When you realize that anything you're ever going to do, you need to be doing now. Fortunately for me, I realize that I am doing much of it now. The reminder that I don't have forever doesn't fill me with despair, but has rather given me a little more appreciation for what I have, and for where I am.
On the subject of taxes, I got unexpectedly hammered by the government. I owed a pretty large chunk of money, thanks to the (mercifully short) time I spent unemployed this past year. I sent in my tax return about a month ago and got an electronic acknowledgment that it's been accepted…but the money is still in my account, so I have no idea what to do now. I guess I'll just wait around until it disappears? Or should I let someone know?
You'll probably notice that I'm trying advertising again. This time I'm using Google Ads, so they should be pretty reliable and unobtrusive. If you'd like to toss a fraction of a penny my way, click one now and again. If not, that's fine too. The only thing that I do ask is that you let me know your thoughts. If you get some obnoxious ad or see something spammy, or it in any way interferes with whatever it is that keeps you coming back to this site, let me know, please. If I can defray the cost of webhosting, that's great. If I'm doing it at the cost of readership, that's far from great.
Years ago when I managed an appliance store, we hired somebody I knew when I was a kid. His name was Joe. He'd hit a really rough patch in his life…I knew little about it at the time, but when he re-emerged we brought him on as a delivery driver.
Only a month or so before he'd been involved in a serious car accident. His brakes failed on the highway, and his car went underneath the chassis of an 18-wheeler. The roof of his car — and much else — was sheared off. He ducked. His car veered into a ditch, where it crashed and caught fire. He doesn't remember being pulled out of it, but he was. I saw the photos of the car. It seemed miraculous that anyone could have walked away from that…let alone with nothing but some bumps and bruises.
Joe agreed, I guess, in his own way. He was going to get his life back on track. He said the same thing he said when he showed anyone those pictures. He said, "I shouldn't be alive, but I am. God wants me here for some reason."
He struggled with a lot, and I couldn't begin to express — or want to try to express — the nature of whatever demons he faced every day. But a matter of weeks later, still fresh off of his awakening, he died of a heroin overdose. He didn't come to work one morning. Later that day his roommate found his body.
The other delivery driver was named John. John knew Joe well. He was happy to see this man — who, at one point, was probably a friend — start taking his life seriously, and working toward something…even if that something was just a job and a steady check.
When John found out about Joe's death, he threw something on the ground. It could have been his clipboard. I don't remember. But I remember that he threw it. And that he looked up at the sky, raised a middle finger, and said, loudly, "Fuck you."
John wasn't a man prone to theatrics. He had his own kind of posturing and self-assurance, but these were small. He acted like a tough guy, but the kind of tough guy who didn't need to say much. When this facade broke, and he cursed whomever it was that he cursed, it hurt. It was scary. And I remember it — that moment, those words, the sound of those words and the gravity of that gesture — more vividly than I remember anything about Joe.
Seeing others dealing with unexpected death is always harder for me than dealing with it myself. In the latter case, I know someone's gone. It's sad, but, eventually, it's something you can come to terms with. When it's somebody else, though, the victim is still alive, and is carrying a new kind of pain. I can say with confidence that it's nearly always a kind of pain that nobody deserves.
Do something fun this weekend. Whatever you might consider fun to be. Have yourself a good time. One you can look back on and be happy about.
You may not die tomorrow, but somebody sure will.