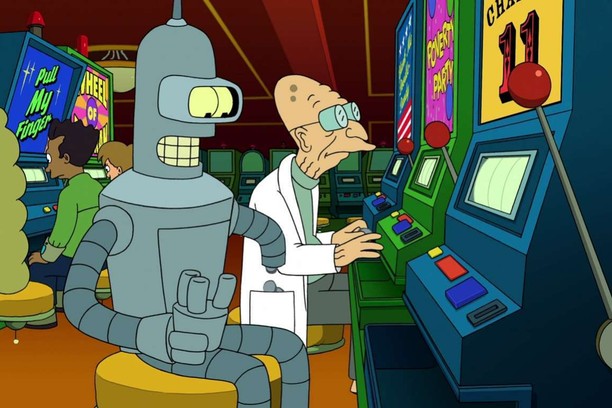 Before I leave on vacation I like to post a little "Behave yourselves!" notice. Not that you don't…it's just that I won't be around for a week to monitor posts, so try not to get angry at each other. If you do get mad at someone, track them down in real life and beat them up so we can keep Noiseless Chatter civil!
Also, if you notice any spam while I'm gone, trust me; I'll clean it up the moment I get back. Don't respond to it, please, because that makes it more difficult to delete after the fact.
So far, so similar-to-every-vacation-message-I've-ever-posted.
But that changes here! Because I'm not going to apologize for the lack of content; I've got loads of stuff locked and loaded, so stick around and enjoy! That includes new ALF reviews and the conclusion to Trilogy of Terror on Halloween, with a look at The World's End.
It also includes Arts in Entertainment author spotlights, so check those out, and please pledge to make this series a reality and get copies of these books for yourself. The Kickstarter is right here, and we still have a long way to go. Every single dollar helps, but for just a little bit more you can make out with a book or two as well. Thank you to everyone who has pledged…please help us make this a reality. Time is running out!
Speaking of Arts in Entertainment, we've added a potential seventh title as a stretch goal: journalist, game reviewer, and all-around great man Cody Muzio will be writing about the legendary SNES port of Street Fighter II. The best part: if we hit the stretch goal, everyone who pledges for the full-series subscription ($35 or above) will receive this book as well; they won't pay anything more for the seventh book. It's a way to make a great deal even better.
You can read more about that title on the Kickstarter page, and pledge as well. Remember, you don't get charged a dime unless we are fully funded, and not until November 15 at the soonest. So if you're waiting for payday…don't! Pledge what you can to help the series come to life, and you won't be charged until and unless it does.
And, finally, my destination: sunny, silvery, gaudy Las Vegas! If I hit it big, rest assured I'll pull down the Kickstarter and finance the thing myself. Of course, I only allow myself one pull on the nickel slots, so let's not bank on that, exactly.
One of the things I'll be doing in Vegas is shooting host segments for this year's third-annual Xmas Bash!!! Stay tuned for more details on that; we'll be picking dates and times soon.
Once again, you'll have an opportunity to donate directly to The Trevor Project. Once again, it won't be mandatory, but I hope you'll consider doing so. It's a charity that's dear to my heart, and if we can turn a night of hilariously bad television and brilliantly funny commentary into something positive for an organization that does so much for those who feel like they have nowhere else to turn…well, frankly, that would mean the world to me.
So I'll be back, little ones. And you'll be missed. Enjoy the place while I'm away, and replace any of the booze you drank with tap water. I'll never notice!