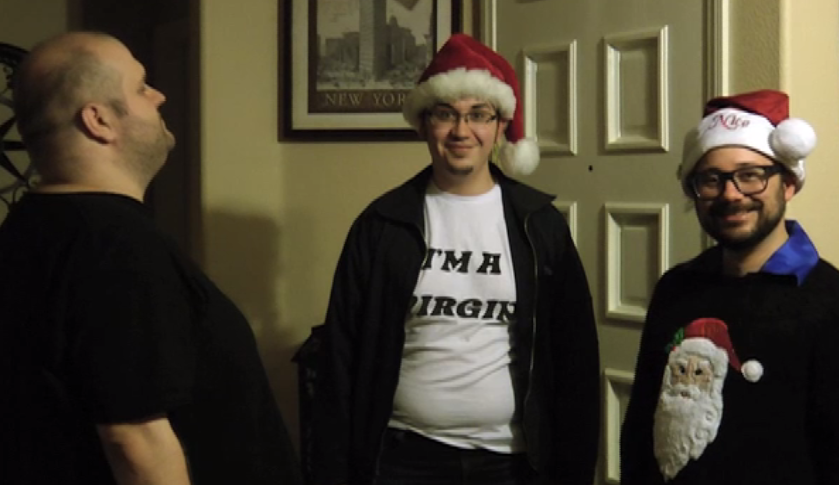 Hohohohohohoho!! I hope you are eating Thanksgiving foods, because it's time to talk about Xmas! Specifically, The Third Annual Noiseless Chatter Xmas Bash!!!
For those who don't know, the Xmas Bash!!! is pretty much the only reason anyone looks forward to the holidays. For the third year in a row I will be hand-picking an assortment of terrible, terrible, really, truly terrible Xmas specials, songs, and other curios from the annals of pop culture history. And we'll watch them live, together, making fun of them and keeping each other sane in real time.
Honestly, it's great. It's like being at an Xmas party without having to put on pants, and the people there are actually really nice and they're not wearing pants, either.
And once again, donations will be accepted for The Trevor Project, providing counseling and suicide prevention services for LGTBQ youths. It's an important charity to me, and if you can spare anything at all to help those who need such support the most, I'd appreciate it deeply.
All you need to do is come here on the nights in question, and you should see the video player ready to go. Tune in…and make a point of joining the chat room. Lots of you guys are hilarious, and I'll be drunk.
The dates and times are as follows:
Friday, December 18
8 P.M. Eastern Time

Wednesday, December 23 [encore stream]
8 P.M. Eastern Time
Yes, by popular demand I will be hosting the event two nights this year. It'll be the same stream each time, but obviously the live chat will be different each night, so if you decide to tune in twice, great! Hopefully this will be more convenient for people who weren't able to tune in last year.
The content itself is family friendly, so if you'd like to watch a string of cheesy Xmas specials on the big screen, you won't have to worry about your Cousin Joey having nightmares for a week. The chatroom is uncensored, however, so be warned: someone may joke about farts.
There's no way I could possibly oversell this fact: this is going to be the best Xmas Bash!!! yet. I've been dredging up specials over the course of the past few months, and they're incredible. It'll be a batch of seven, and you won't be able to forget any of them, no matter how hard you try!
Why seven? Well, the first year our party got shut down by the anti-Xmas Bash!!! po-po, even though the stream wasn't over. That meant that only seven specials were screened…but that was actually a pretty cool number, so I picked another seven last year. It's tradition! AN XMAS TRADITION
What will you see when you tune in? I don't want to spoil any surprises, but I do like to make lists of things, so here's everything we watched at the previous two events. Hopefully this will make you really upset if you missed either of them. Oh, and it might give you some idea of what to expect this year.
The First Annual Noiseless Chatter Xmas Bash!
ALF, "Oh, Tannerbaum"
Lassie, "The Christmas Story"
Sabrina, the Teenage Witch, "Sabrina Claus"
Major Dad, "The Gift of the Major"
Charles in Charge, "Home for the Holidays"
Lost in Space, "Return From Outer Space"
Family Ties, "A Keaton Christmas Carol"
The Second Annual Noiseless Chatter Xmas Bash!!
ALF, "ALF's Special Christmas"
The Fat Albert Christmas Special
Mighty Morphin' Power Rangers, "Alpha's Magical Christmas"
Christmas Comes to Pac-Land
The Partridge Family, "Don't Bring Your Guns to Town, Santa"
Santa's Magic Toy Bag
Nestor the Long-Eared Christmas Donkey
This year I think we'll have the best balance of well-intentioned garbage and out-and-out crap yet. And nothing, I promise, is as unwatchable as Santa's Magic Toy Bag. Seriously, what an irredeemable pile of shit that was.
Anyway, tune in! You'll see more reminders in the weeks to come, but I wanted to get you the dates and times as soon as I could, so that you could tell your loved ones that you'll be unavailable to speak with them.
If you have any last-minute requests, demands, or threats, get them in now.
The Third Annual Noiseless Chatter Xmas Bash!!! I'll see you there!