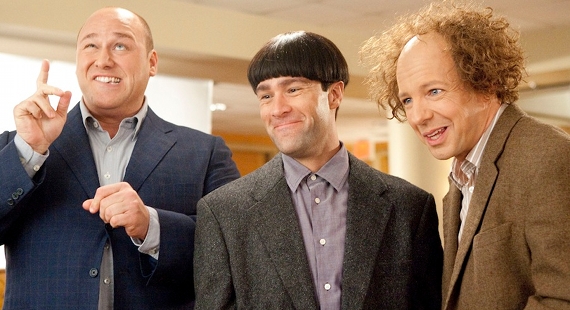 The Farrelly Brothers have been promoting their movie The Three Stooges by saying that first and foremost they wanted to pay tribute to the originals. Well, their movie is out this weekend, and from all accounts it doesn't sound like all that flattering a tribute.
Personally, here's how I'd pay proper tribute. I know it's complicated, so I've tried to break it down into simple steps.
1) Take some time and go through all the surviving Stooge shorts. From these, take about 80 minutes' worth of the best and most memorable material. You can narrow it down to a few complete shorts, or mix and match sequences from however many you like. I can see pros or cons either way. The important thing is, you're using the originals, and not some lesser, artless stab at joyless re-creation.
2) Get someone knowledgeable and well-respected in the film industry to record an introduction for you. Roger Ebert won't do for obvious reasons, but I'm sure you can find somebody important to speak for a minute or two about what the Stooges did for comedy, and how they influenced just about every physical comedian to come. This will be the first thing audiences see, because it'll be comparatively boring and we want it out of the way early. Allot time for a pie in the face.
3) Draft a bunch of your Hollywood friends and colleagues to record new and interesting linking material. If they were willing to commit to humiliating cameos in the backyard horseplay you call a tribute film, I'm sure they'd be at least as willing to do this instead. Some of them might even come away from the project with some measure of self-respect, which would make for a nice selling point by comparison.
4) Edit it all together into A Celebration of The Three Stooges, or something. I don't care. Call it a Tribstooge if you want. It doesn't matter. Just as long as your centerpiece is original material, lovingly restored and considerately presented, featuring sincere reminiscences and discussions by contemporary stars and artists who appreciated them. Release it for one night only, or maybe schedule several showings over one weekend, to spur ticket sales and contribute to an overall sense of being part of an appreciative community.
5) There is no five. There are only four steps. This is fucking easy.
Of course, such a gambit might not make as much money as a major Hollywood film, but it would certainly cost a hell of a lot less than the monstrosity we have instead…and the profits on that one are yet to be determined anyway.
Then again, what do I know? We're obviously in the hands of capable professionals.