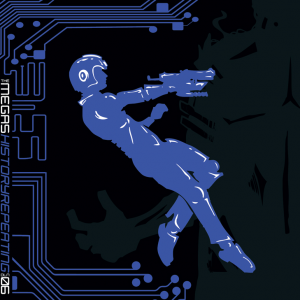 The mere fact that I'm writing this review sort of gives away my feelings, as I didn't intend to write anything — or, at least, not much — about it at all. But History Repeating – Blue absolutely shocked me with its quality. For anyone who'd like to purchase it before reading my spoilers, be my guest. I recommend it outright.
History Repeating – Blue is the first half of the Mega Man 3-themed rock opera by The Megas. It's been years in the making, which for a long time had some folks wondering if it would ever see release. It was not only worth waiting for, but it represents an enormous step forward for the band in both their writing and musicianship.
The fact that History Repeating is being released in two parts is my only real disappointment, but stick with me because I'll negate that disappointment before this review is through.
The 10 tracks on this album suggest that the Mega Man 3 rock opera is going to be significantly longer than its Mega Man 2-inspired predecessor, Get Equipped. After all, that album only had 13 tracks, and two of those were less than 20 seconds long. Here we have four robot master themes (Top Man, Magnet Man, Spark Man and Snake Man), two Wily themes, a long intro theme (split in half) and a gloriously meditative tune built upon the simple Game Over theme.
I can't stress enough how impressive it is that the band weaves such an emotionally-invested story based on the Mega Man games. Those titles were famously slight on the storytelling. There were hints of themes and continuity, but, overall, they were just an excuse to dodge traps and shoot things. That's fine. What The Megas choose to explore is the mindset of somebody trapped within such an existence. On the surface, it's a fun game. On the inside, though, what is happening? What kind of thoughts would he have? How would he cope with them?
The Megas have now covered three Mega Man games, and the psychological progression of the protagonist is noticeable. Throughout the EP based on the first game, Mega Man is silent. He's been told to destroy the enemies of Dr. Light, and he does that. The closest thing to an emotional response comes from Dr. Wily, who pleads with Mega Man to acknowledge the destruction that he himself has caused in his mission to take the old man down.
Throughout Get Equipped Mega Man is similarly enthusiastic about his quest, but the album ends on the tellingly introspective "Lamentations of a War Machine." It's here that Wily's words seem to have at last gotten through to him. As Mega Man's body count rises, is there any reason that he can't be tarred with the same brush? The refrain sees Mega Man questioning his creator, Dr. Light, and pleading for some justification of his actions, or at least reassurance that he did the right thing. We don't hear an answer. Mega Man's concerns go unresolved as the song ends, and the rain begins again to fall.
Here, in History Repeating – Blue, Mega Man opens the album by openly wondering how many more times he'll need to do this. (If he's feeling this way now, I can only wonder how exhausted he'll be by Mega Man 10.) His future seems to be set in this cycle of torment, this unending gauntlet of villains and a race of people that turn only to him when they need help. He's still going about his work, but he's at least aware that there are alternatives…which is why "Continue" works so well at the end of the disc.
I was a bit worried about the interruption of narrative flow that would occur with a split release, but "Continue" is as perfect a disc-1 conclusion as anyone could ever hope for. Sung by an unknown figure (Dr. Light? Roll? Mega Man to his reflection?) it gives our hero a chance to consider an alternate path for his life. He never would take such a path, the song assures us, but he's starting to notice that it's there. Mega Man is, three games and albums later, finally acknowledging the paradox in his prime directive to fight for everlasting peace. That kind of self-questioning is a beautiful sentiment, and it's handled with impressive atmosphere and emotion.
The fact that it comes after Mega Man is tempted by Snake Man — who, with a smart move, is portrayed here more as a Biblical serpent than with the more naturalistic connotations of a true-to-life snake — to defect and join Wily's team. While there's no chance of that happening on disc 2, the question is more important than the answer. Snake Man weaves a tale of murder, hatred, coldness, blindness and…well…evil. But it's a tale he's weaving about Mega Man. Both Dr. Light and Dr. Wily send out their creations to destroy and to kill. Can one be inherently better than the other? Their intentions may be different, but their methods are not. Is Mega Man just as culpable for the war? It's an interesting question, and it's clear that Snake Man's words would indeed resonate for the super fighting robot.
One other fascinating theme is continued from Get Equipped, and it has to deal with the concept of surrogate children. In Get Equipped one of the standout tracks was "The Message From Dr. Light," which revealed that Dr. Light created Mega Man not as a peace keeper or a war machine, but as a son. Unable to have one of his own, Light created a mechanized replacement. He feels a great deal of affection for his creation for that reason, and Wily by this point has decided to adopt and corrupt that idea as well, and has also begun referring to his own creations as children. This leads to a humorous, almost Sonichu-like, frequency of artificial creations addressing humans as "father."
Dr. Light legitimately wanted a son and transferred that dormant love to Mega Man. Dr. Wily, by contrast, saw how well that helped keep Mega Man in check, and began employing it himself. It's a brilliant way of subverting the protagonist's driving force. He fights for his father because he cares about him…but is that any different from his enemies, who are also fighting on behalf of their father? As Snake Man observes, the lines are blurring between wrong and right. Things are starting to look pretty similar on both sides of the fight. Mega Man takes a walk in the sand halfway through his journey — unlike Get Equipped he can't even finish his mission first — and looks inward. That's "Continue," and it's one of the album's many accomplishments. We don't know what he sees, but we know he doesn't like it.
Elsewhere we have a pair of swirling, rocking Wily tunes as he preps Gamma, his latest WMD, and the other three robot master songs. Top Man's is a relentlessly danceable masterpiece of mindlessness and Spark Man's is a militaristic call to arms, but the real winner here is Magnet Man's, which characterizes the villain as something of a delusional romantic, who may or may not have actually had a fling with Mega Man's sister, Roll. It's funny, catchy, and probably the most accessible tune in the collection.
I was prepared to be disappointed by this release, as I thought it would feel like one half of a greater piece. However it just feels like an extremely cohesive and exciting first act. There's more to come, and we've likely got a pretty long intermission, but it's already worth waiting for.
I used to wonder what it might have been like when Frank Zappa released his masterpiece Joe's Garage in 3 parts, with delays in between. How did it feel to have that one story, that one work of art, that one musical journey, interrupted and dispersed over a much longer period?
Now I have a much-smaller-scale analogue. It feels pretty great. It's a sense of creative excitement. And it gives me a chance to focus my attentions more strongly on a first half that, very likely, could have otherwise been buried beneath the impact of the conclusion.
As such, I'm left with a paradox of my own. I can't wait…and yet I hope The Megas take their time. I'm happy to savor this as long as I can.