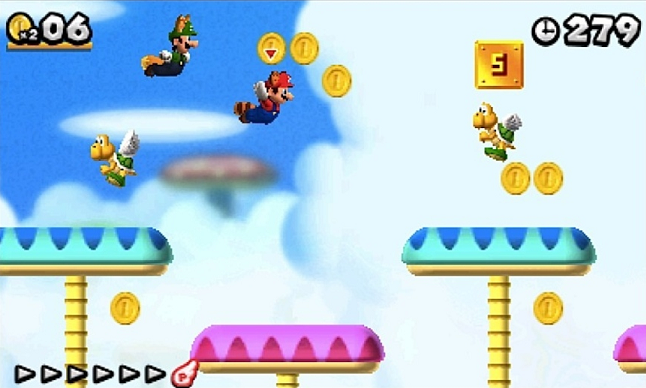 Philip's Note: Please welcome Jacob Crites to the Noiseless Chatter team. He's going to provide some great articles to carry you through the times when I'm not posting meandering, unfocused bullshit. I hope you don't mind.
New Super Mario Bros. 2 is the best 2D Mario game since Super Mario World. I'd say it was better, but my nostalgia won't let me. That's the thing when it comes to comparing and contrasting Mario games — nostalgia. The ones that mean the most to us are typically the ones that came during formative years in our lives.
Super Mario World, for example, was the first video game I ever played; not surprisingly, it's also my favorite. Because, for a lot of us, Mario was our Mickey Mouse — Mario was the embodiment of youthful optimism and sprightliness that was missing from our cynical, assembly-line cartoons; as a result, the thought of any game being "better" than those formative, child-hood-defining games, be it Super Mario Bros. 3, Super Mario World, or Super Mario 64, is ridiculous.
But take those childhood favorites off the pedestals we've placed them on and look at them for what they really are — brilliant, creative platformers with hearts of solid gold — and it's plain to see that New Super Mario Bros. 2 is every bit as good, if not quite able to overtake those special corners of our heart.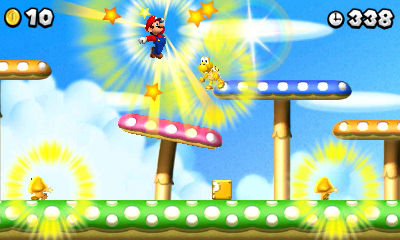 Where most major franchises are striving to imitate Hollywood and take notes from the language of film, Mario's games feel more like ballet. There is less a story here than there is the suggestion of one; our emotional attachment to the character springs not from dialogue but from the grace of movement, form and balance in association with vivid musical compositions. The music informs the movement, the movement informs the level design, and so on; each individual element crafted with what must be exhaustive meticulousness to tie into a larger whole. When combined with brightly colored, vivid stereoscopic visuals that make you feel like you're staring at a magical shoebox diorama come to life, New Super Mario Bros. 2 becomes something quite special: a video game that knows it's a video game, that likes the fact that it's a video game, that joyfully uses and expands upon the language of video games. When one attempts to explain what makes pressing a series of buttons that causes a virtual Italian man to jump on fishes with bright, golden trails of coins trailing from their butts fun, one has realized how indescribably different this medium can be from any other when it rejects Hollywood and embraces its gamey-ness.
New Super Mario Bros. 2 also has fully embraced its formula, which may not be as bad a thing as you think. The game has been accused as being formulaic, which I find to be an odd thing to accuse a Mario game of being. It is the universal familiarity with the Mario formula that allows the game to play with our expectations and surprise us just when we think we've slipped into a groove — the surprise, this time around, being that coins actually matter. A lot.
Your unofficial goal is to collect a million of the things, and this idea alone brings with it a myriad of potential issues that Nintendo masterfully sidesteps. Namely: how do you create a game based on collecting things without it turning into a collect-a-thon? The trick, Nintendo shows us, is to make the collecting a natural extension of the platforming experience, rather than a bland, Easter-egg-hunt-like distraction.
A new fire-flower variation, for example, causes Mario to shoot a projectile that turns whatever it hits into a sparkling explosion of coins; passing through bright, golden rings will cause every enemy on the screen to leave a shiny golden trail of coins behind them. All of this could have ended up looking disastrous and chaotic, from a purely aesthetic standpoint, but what elevates the game into something of a masterpiece is how gorgeously fluid and downright symmetrical Nintendo makes it all look. Seeing a sea of fish leaping out of the water in perfectly synchronized alternating patterns with shimmering strings of gold trailing behind them is was of the more astonishingly surreal sights I've seen in a game all year…until I got to the next level and Nintendo found an even more wonderful way to surprise me.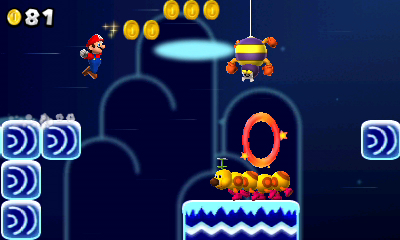 A screenshot or Youtube video can't do these moments justice; in fact, New Super Mario Bros. 2 is a strong argument against antiquated reviewing systems that assign individual scores to Gameplay, Graphics and Sound. Because here, once again, each element relies on and informs the other, and it is only by working in tandem that the game is able to achieve such visceral pleasure.
It would have been easy, I think, with this goal of collecting one million coins, to inadvertently turn Mario into a greedy punk like his brother(?) Wario; and yet this, too, Nintendo has sidestepped. Mario isn't tasked with collecting a million big ones to buy something, or to unlock some expensive reward; but rather because…well, collecting all those sparkly coins is kinda fun. And that's the real accomplishment of this game: Fun.
New Super Mario Bros. 2 is a game full of artistry and masterful craftsmanship, but the only thing it really wants to do is entertain us. To put a smile on our face.
When I play these games, I'm reminded of classic Disney Mickey Mouse cartoons; Walt would construct these stories on big moving steamboats or massive clocks that required insanely complicated animation…and that was the point. Walt Disney understood that animation worked best when it concentrated on, well, animating — which is to say, movement. The more complicated it was, as long as it contained charming, loveable characters, the more fun it was to watch. The physical humor found in early Mickey Mouse cartoons is still second to none, and it could have only be done in that medium.
Mario has been likened to the Mickey Mouse of the video game world, and it's a comparison he's earned. Mario's games come from a good place; they encompass a child-like sense of wonder that no other developer has been able to surpass, because no other developer is willing to try quite so hard to make us smile.
New Super Mario Bros. 2 doesn't try to redefine the medium, and it shouldn't have to; it's perfectly content to remind us of why it makes it so great.