On the fourth day of Christmas Philip (that's, uh…me…) gives to us…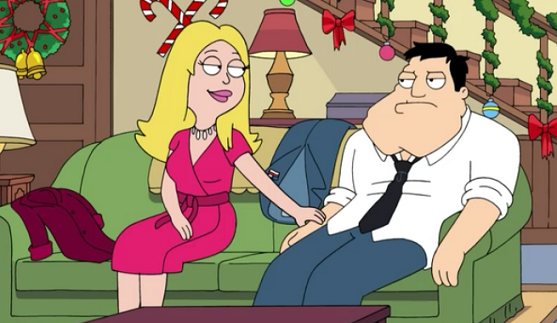 I sincerely dislike Seth MacFarlane…and yet I love American Dad! It's seemingly a contradiction, I know, and as much as I'd like to do so, I'm not sure I can explain it.
It's not that the man is entirely without talent. I liked the first few seasons of Family Guy. You know, before it devolved into humorless recreations of other people's work, and when its jokes came from characterization rather than relentless cruelty. And he is a genuinely funny — if not especially versatile — voice actor.
My issue, perhaps, is that he seems to gravitate toward laziness. If Family Guy or The Cleveland Show can resort to a cheap gag, it will. They don't seem to have any incentive to work harder, to find something more clever, opting instead for a shrug and a wink at the camera that says to the audience, "We know this is stupid. But we're doing it deliberately, and that's enough."
American Dad! resorts to cheap shots as well. And it also spins its wheels by extending moments that, strictly speaking, should not be extended. But the difference is that I understand these people to be characters. They're not just gag delivery systems; they're silly, and rarely realistic, but they're characters all the same, with sturdy traits, consistent hopes, and perceptible dreams. American Dad! gets away with the sillier stuff in a way that its sister shows do not because it's always operating on a rigidly constructed framework, and when it wants to do a truly bizarre episode, it does so with its characters and logic intact. It doesn't abandon them, and it wouldn't dare; it's much more interesting to see the madness through a familiar lens.
"Rapture's Delight" is absolutely one of the strangest episodes of American Dad!, and I also feel it's among the most successful.
Its plot begins with a typical run through standard territory, but quickly takes a turn for the strange. Stan is a punctual and God-fearing Christian, and he becomes flustered — and cruel — when Francine makes him late for church. That's bad enough, but when they arrive he can't even find a parking spot, due to all of the "lesser" Christians clogging it up around Christmas. By the time he finally does get inside, he's found that the service has already started, and there's nowhere for him to sit.
Seeing Stan's distress, Francine decides she'll give him his Christmas gift early, and seduces him in the janitor's cupboard. When they emerge, the church is silent; The Rapture has occurred, and Stan missed the ascent into Heaven.
It's exactly the kind of absurdity American Dad! does best. It begins in a rooted, logical place, and spirals rapidly out of control without ever sacrificing that rooted logic. Even something as outlandish as The Rapture makes perfect, rational sense in Stan's mind. Francine may dismiss it and Roger may ridicule it, but on this cold Sunday morning, Stan looks into the sky to find his neighbors ascending without him, and they realize he was right all along.
Stan himself doesn't need to realize this, because there was never any doubt in his mind. When he believes something, he takes it with him to the grave, no matter how many times reality should cause him to question it. In this case his bull-headedness just happened to lead him in exactly the right dogmatic direction. And — tragedy of tragedies — he missed his chance for it to do him any good.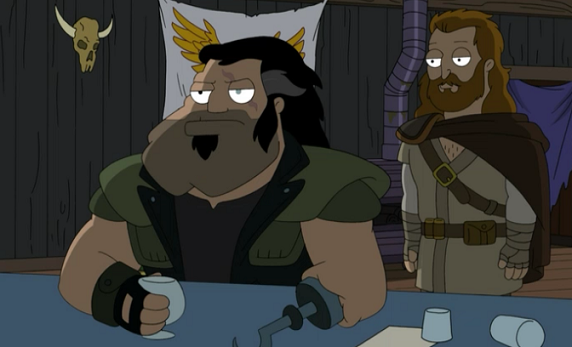 The Christmas episodes of American Dad! are always a treat, as the writers go out of their way to embrace science fiction and horror as a means of celebrating — rather than simply mocking — the holiday season. It's another seeming contradiction, as festivities give way to mind-bending time travel, afterlife legal troubles and, in this case, the nightmarish hellscape the Earth has become following The Rapture.
The second act break in "Rapture's Delight" is one of the most shocking the show has ever done. Before the commercial we're laughing at Stan still trying to get to Heaven and Roger trying to rebuild his spaceship. Then the advertisements end, and we're seven years in the future. Global war has decimated civilization, Stan is a lone and wounder warrior of the streets, and Francine has run off with Jesus.
The animation in this sequence is brilliant, as it manages to be gruesome and genuinely scary, even while remaining true to the crisp and simple American Dad! style. But what's really great about it is just how clever the religious jokes are.
Another seeming contradiction, perhaps, as we'd expect the jokes to be scathing. Religious humor, after all, tends to be cruel. We're wired to laugh at religion, rather than at clever jokes about religion. What's more, we expect any jokes about religion that aren't outright cruel to be…well…just not that funny.
"Rapture's Delight" hits the sweet spot perfectly, and while I'm sure there are many who found it offensive simply because Jesus was in it and there were jokes about him, anyone willing to see past the superficial fact of that statement will find some genuinely strong humor here, and it's humor that manages — remarkably — to be respectful of its source material.
When Stan slaps Jesus, Jesus literally — and coolly — turns the other cheek. When Stan slaps that as well, Jesus grabs his face and shouts, "Ow! My other cheek!"
That's sincerely brilliant.
And when the gang manages to track down The Antichrist, we find that he's Jesus's opposite in every way…most amusingly when his death machine falls apart and he feels obligated to explain that Jesus was a carpenter, therefore The Antichrist, as his opposite, isn't really very handy at all.
It's just good writing. I'm not one to get offended at religious humor, but I do routinely get offended at lazy humor…and religious humor often is. If this were Family Guy I'd expect Jesus to get a diarrhea attack or something…or perhaps fight a giant chicken for a tedious 6 minutes or so. But American Dad! looks for a more rewarding avenue to explore, and so we have Jesus clumsily donning sunglasses and attempting to coin action-movie worthy catch phrases, simply in order to live up to his own image.
It's gentler, but it's also funnier. And, what's more, it leaves room for the episode to pull in a more emotional direction.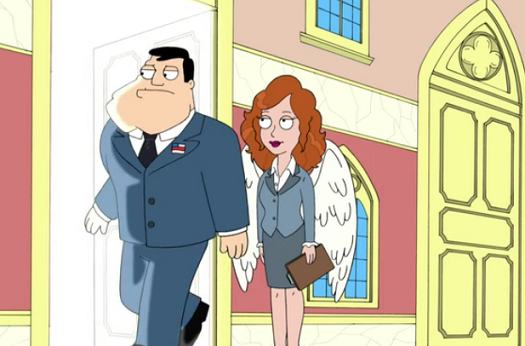 Because, at the end of the day, this is still a Christmas special. And so while the first major part of the episode plays with the ridiculousness of the Left Behind mythology and the second strands us seven years forward in the midst of holy war, the episode still has to end. We've had our fun, but next week the Smith family needs to go on an unrelated adventure, and so, somehow, this will all have to be undone.
Of course, an episode like this can always just excuse itself. The Simpsons does it annually as well, only they do it on Halloween. Nobody wonders why Groundskeeper Willie still appears on the show even though we've seen him get his spine severed (three times), because when an episode deviates that far from normalcy, we're willing to view it as an isolated moment, separate from the main flow of episodes. It's an experiment, a way for the writers and audience to blow off steam, one night a year that we don't have to take seriously.
"Rapture's Delight," however, doesn't take the easy way out. Stan sacrifices himself in the lair of The Antichrist so that Jesus and Francine may live on. His selfish obsession with being left behind is what caused Francine to leave him for The Lamb of God in the first place, but as he lay dying, Francine sees that he's kept their wedding rings on a necklace for the entire seven years. He lost his wife and everything else he ever had, but he always wore their rings beside his heart.
He dies, and is shown to his own private Heaven…an eternity designed to his own subconscious expectations. And he walks through the door to find…
…the beginning of the episode. Francine has just finished getting ready, and he's still late for church, but he's just happy to be with her again. In fact, it's literally Heaven to him.
It's a sweet ending, and holiday appropriate, but also an extremely loaded one. This single scene both provided the episode with its decidedly tangential moral and wrapped it back into the main flow of American Dad! stories, but it also tells us that Stan is dead…that the show, though it still marches on, now takes place in the main character's afterlife.
When we see Stan get shot through the heart by The Antichrist we know — know — he won't die. How can he? The show's not over.
And yet, he does die. American Dad! doesn't brush it aside, and it wasn't done for the purpose of a joke. This really happened. The Rapture did occur. The Earth was razed in a postmillenial firestorm. And the main character was shot to death.
That all happened. And here we are, back at home. But it's not because the reset button has been pressed…it's because Stan's Heaven is just life as it's always been. For better, or for worse. In sickness, and in health. This is what Stan wants, and after fighting the good fight for seven grueling years, this is what he's earned: exactly what he already had.
Very few shows would have the guts to do this. Even fewer would make it canon. And only one would do it on Christmas. Thank God for American Dad!.
Tomorrow: The unlikely appeal of the aluminum pole.