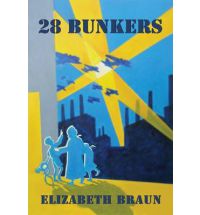 FTC Disclosure: I received a copy of this book in exchange for review. No money changed hands and all opinions presented here are my own.
Writing about World War II, in a fictional sense anyway, is tricky. Its real life horror is well documented, for one, so it's hard to find much new to say. It's also a difficult subject within which to inject fictional characters and events without cheapening the tragedy. It should be a writer's dream: a looming, charismatic villain…the large-scale restructuring of an empire…a world populated with victims, bystanders and heroes…classic battles…and the ultimate, incredible triumph of the good guys. But, instead, it's a minefield. After all, when the real-life version of events appears to adhere so strongly to classical form, what can a writer do but oversimplify?
It's easy to write war wrong, and with the possible exception of Vietnam there's no war more clearly ingrained in the social consciousness than World War II. The bar has been set, but — oddly enough — it's been set by the way things actually played out in the world we currently inhabit, and not by the artists who have sought to set their stories there.
Cheapening tragedy is something we do all the time, whether it's a school shooting trivialized by the media so that we don't wonder if, maybe, unhinged American citizens don't need to be carrying assault weapons everywhere they go, or the mass extermination of six million Jews being used as the backdrop for some saccharine love story. We do it easily.
Effective war writing is much harder. We already know the main players, the key events, and the general chronology. We know where it takes place, we know the major moves made by each side, and we know who won. There's not much room to play with the formula, and if you don't play with the formula then what's the point of setting your story there?
Yet three of my all-time favorite novels utilize World War II as their backdrop: Gravity's Rainbow, Catch-22 and Mother Night. And each of them, not coincidentally, tell stories that really do use World War II as a backdrop. All three novels feature active participants on both sides of the conflict, but their own conflicts are internal: struggles over their understanding of self, over their identity, over their place in a world that could allow this largely unseen tragedy to unfold. They all also, interestingly, all take place at the height of the war. It's already come too far by the time we meet any of these characters, and they're already scrambled. We watch them piece themselves back together again…or not. World War II is not cheapened. It's there, unfolding, seething, devouring in the background. The characters that we follow in these novels are too small to deserve our attention…but that doesn't mean they cease to exist. They're beyond insignificance in a world with greater problems than they'll ever have…and yet their personal problems are everything. Some of them come out the other side stronger for the conflict. The rest come out ruined and undone.
That's how you write a World War II story that works. Don't set it in a concentration camp, because there's nothing you can say that won't cheapen the reality. Don't set it in Hitler's bunker, because those aren't characters you'd be able to handle. And don't inject some American superhero into the conflict to help turn the tide in favor of the Allies, because there are real-life heroes who lived and died to do exactly that themselves, and they don't deserve to be replaced by your self-serving cartoons.
All of which is a long-winded way of saying I was nervous about reviewing 28 Bunkers by Elizabeth Braun. Especially after both of the previous books I reviewed by self-published authors were total garbage. Braun had an uphill struggle ahead of her, but I liked 28 Bunkers. In fact, there are a lot of things about it that I really liked.
It's not without its issues, but don't worry, we'll dwell on the positive aspects as well, if only because it's a relief to finally have some.
28 Bunkers is a story, according to its back cover matter, about an American fighter pilot named Ray who flees to Canada so that he can enlist with the RAF and do his part for good. It's actually, however, about Erich and Gerda Müller, a German couple who live in Ludwigshafen, which receives particular attention from Allied bombers due to the presence of high-priority target IG Farben.
It's impossible for me to review this book intelligently without giving away at least one large spoiler, and that's this: around a third of the way through the book, Ray dies. His plane is shot up by enemy fire, and while he makes an emergency landing in a farmer's field his plane flips over and he dies of his injuries. Just like that, the character who has been set up as both protagonist and audience surrogate is gone. Dead. No longer alive.
He is replaced in the narrative by a second American flier, named Tom. Ray was a bit green and so eager to do the right thing that he took to the skies before his country even wanted him to. Tom, on the other hand, is a family man, with a loving wife and children waiting for him at home. Shortly after we meet Tom he receives mail similar to that which Ray received…a crayon drawing of himself from a younger relative. We also find out that he sent home similar Christmas gifts to his loved ones. It feels here as though Braun is doing something very brave in a narrative sense, setting up these pilots as individuals, but ultimately allowing their details to blur so that we, as readers, can see them as unwittingly interchangeable. After all, if one pilot dies, the Allies simply send up another. As a writer, if one protagonist dies Braun simply sends in another.
Unfortunately this isn't a pattern she sustains throughout the book, which makes it feel like a grand stroke of metatextual bravery that is toyed with but never quite comes to pass. For that reason it's difficult to see her roster of Allied pilots as much more than personifications of the good-heartedness and loyalty that may have been misguided in particular cases but ultimately won the war. That's a disappointment because with just a small tweak, the stakes could have been raised substantially, and the moral could have been a bit more complex.
Instead the best writing is reserved for the Müllers, who find their simple lives dismantled, piece by piece, by their coincidental proximity to an important target. Erich and Gerda raise their children Emilie and Lukas amidst the ongoing destruction, and though their optimism wavers they never lose sight of the fact that though this isn't the world they'd choose to live in, it's the only one they have. Their chapters, which alternate with those centered upon the American fliers, are interesting little character studies, with wrinkles added with appropriate pacing…just as they adjust to their latest setback, something else makes a great impact on their lives, and it's not always a bomb. It's Uncle Matthias returning home from the war, one-armed and gangrenous. It's Irene and Michael, two children with nowhere to go, being added to the family by bureaucratic oversight. It's Lukas being drafted to shoot down Allied planes. It's — in short — always something.
And it's also the best writing in the book, because it manages to use the real-world horror of World War II as an effective backdrop for some very personal stories. We hear about Hitler on the radio, just as the characters do. We see German Jews shut down their places of business and flee the country, but the reason is too horrific to spell out. And we're privy to the gallows humor that gets them by. The war is real, but life must go on…and whatever that might entail today is different from what it might entail tomorrow.
The title refers to the 28 bunkers that still stand in Ludwigshafen, but not all of them play a role in the story. Instead the book contains 28 chapters, and I'd like to think of the title as referring to these 28 pockets of humanity amidst the chaos, where life goes on even when it doesn't. With some tweaking, 28 Bunkers had the potential to be great. The American flier chapters are good, but suffer from unnecessarily lowered stakes. The German family chapters are far better, but characters sometimes end up speaking like news bulletins in order to remind the reader of where in the war we are at any given time.
None of these criticisms are particularly important ones, but I do think they represent the difference between effective writing and great writing.
Braun makes a special note of the fact that the three main American fliers are all based on family members and their actual stories, while the Müller family is of her own invention. Let that stand as further evidence that the best World War II writing comes with inventing conflicts on the sidelines. Braun may have wanted to pay tribute to the actual heroes in her lineage, and there's nothing wrong with that. But the real tribute comes where it's least expected, with two parents terrified of what every new day will bring, who nevertheless have to hold their world together for the children who will inherit it.
It's worth reading. But it always seems to be reaching for an even higher standard, and I do wish it managed to get there.
FTC Disclosure: I received a copy of this book in exchange for review. No money changed hands and all opinions presented here are my own.