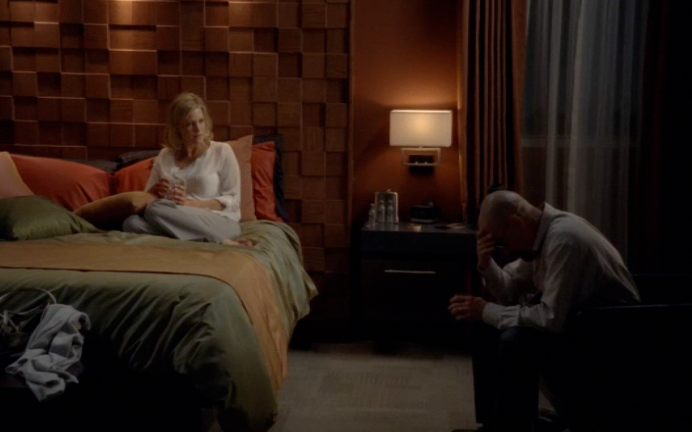 As much as I want to like "Rabid Dog," there's a structural problem I have with it, a serious one, and I'm finding it difficult to move past that. See, Breaking Bad has always, until this point at least, been written and edited to suit an hour-long time slot. With commercial breaks factored in that gives us around 45 minutes per episode, and by and large the show has worked very well to make the most of its time.
But, for whatever reason, Vince Gilligan and his team decided this late in the game that "Rabid Dog" would be only 11 minutes long. And that's a problem. By short-changing us on a full episode this close to the end, Breaking Bad has cheated its audience. And while "Rabid Dog" does a lot of things right, it's difficult to…
…hold on. Wait. I just checked and the episode was indeed about as long as any other.
My apologies. It only felt like it was 11 minutes long, and seemed so convincingly short that I actually said the word "No…!" when the credits faded in.
Yes, those first two paragraphs are just a hilarious joke. "Rabid Dog" continues the season 5 back-half tradition of every episode being significantly better than the already great episode that came before. I loved "Rabid Dog." It managed, somehow, to be so packed with plot developments and artful narrative stalling, yet still felt incredibly short. That's what happens when every second of your episode is used to its fullest potential; you get the whole chapter, but it's still not enough.
For starters, before we even get into anything that happened here, I want to take a moment to appreciate the framework of "Rabid Dog." The episode begins as a Walt story, which unfolds in a straight-forward manner, looking neither to the left nor the right, until suddenly we snap right back to where the episode began…and this time it's a Jesse story*.
The paths converge toward the end of the episode, giving us a genuinely effective sense of impending clash. While the twin narratives do inform each other and fill in the gaps that we need in order to know exactly what happened, the point at which they come together is graceless by design, and dangerously so. The clean ending that we could have had is butchered by circumstance. A whole universe of "What if…" is born, and immediately dissolves before our eyes. First Walt and then Jesse are pulled along by the strings of fate, toward what could have been — whatever shape it would take — a full and complete resolution.
For better or for worse both Jesse and Walt are given more time to ponder the kind of ending they want this story to have.
Part of me — and I don't mean this negatively — wondered if the structure of "Rabid Dog" wasn't born in the edit, with someone getting the legitimately bright idea, in post-production, to split the two narratives and follow them both in isolation rather than cutting between them. I wondered this simply because Breaking Bad hasn't really employed story-telling trickery like this before. It's never needed to. I'd argue that it still doesn't need to.
But the more I think about it, the more I feel that "Rabid Dog" does need this. Walt is in isolation, with Skyler his only source of potential guidance. And Jesse is also in isolation, with Hank his only source of potential guidance. Neither of them want to take advice from these people…but neither of them have anybody else anymore. Cutting between the two would have worked just fine, I think, but by separating them completely we become privy, at least to some extent, to how that isolation feels. And what it means. Both Walt and Jesse are sleeping in strange beds. They're cut off from the worlds they knew, and still don't know what world they'll know next. They're stuck.
Then there's also the glorious reveal that Walt arrived with his handgun literally seconds too late to see Hank and Jesse pulling away from his house. That's something that can't have been born in the edit; that's great planning. If only Walt had trimmed down his stammering bullshit about the Coke machine last week…another universe of "What If…"
I guess if I did have anything to complain about here, it would be a very minor gripe that, suddenly, Steve Gomez knows that Walt's Heisenberg and that's that. In one episode he doesn't know anything, in this episode he knows everything. That's a conversation that I would have really liked to hear, especially since we've spent three episodes dancing around the fact that Hank couldn't tell anybody.
Now he can. And did. And we didn't see it and oh well I guess.
Again, though, that's nothing major…just a step that I really didn't expect to see skipped.
Four episodes down in the final batch, and four to go. Skyler wants Walt to kill Jesse, and Hank is prepared to get Jesse killed in service of his own agenda. The scene, by the way, in which Hank reveals to Gomez that he couldn't care less what happens to Jesse was perfect. I like that as easy as it would be right now to turn Hank into a paragon of virtue — and as much as we'd like to see him that way as an audience — the show is making sure that we still can't root for him without reservation. There is no good guy left on the show…at least not truly good. Just different degrees of bad…and different kinds of bad…for different reasons. Shades within shades.
I wish I had more to say about "Rabid Dog," but there's almost nothing to do apart from list the things that I loved. Like Jesse unsure of whether Marie was Hank's wife. Saul's only, but absolutely classic, scene in the car. Skyler's "What's one more?" rationalization. The pump malfunction. The little girl hugging her daddy.
I would have loved to have heard that conversation between Walt and Jesse on the bench. The one we were promised, and the one we all wanted.
But Jesse stops before he gets there. He has another idea. Hank — and we — are frustrated. That's what we needed to happen.
Don't worry, Jesse assures Hank, speaking for the writing staff. He, and they, have something better in mind.
And I, for one, believe them.
I just hope the next episode is a full 45 minutes.
—–
* Is there any other show in the world, by the way, that achieves such tension even when nothing is happening? Walt combing the house with his gun is just a gigantic mislead, and not even a surprising one, but the entire sequence is tight as a fist. Thinking back, the show has had a lot of moments like this — the twins sitting on Walt's bed come instantly to mind — and they're all incredible. How many shows can successfully make nothing feel like a heart attack?