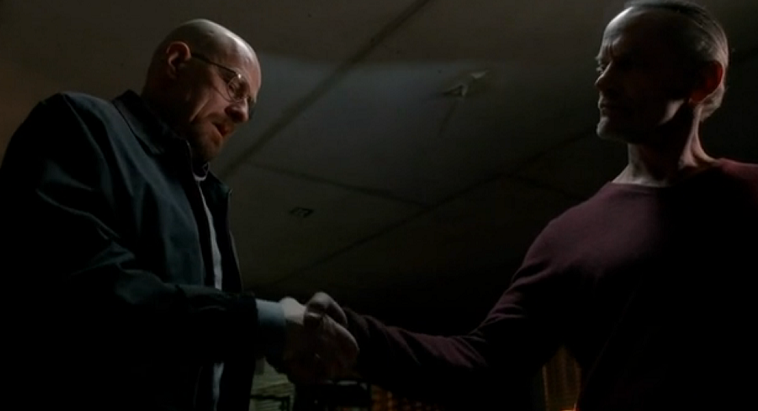 One of the things I loved about the British version of The Office was its willingness to admit that however realistic it would have liked to appear — and however "actually real" it was within the show's own universe — every episode was, necessarily, a fabrication. It's all summed up in a great speech by Tim, in which he invites the camera crew to come back in a few years and check on him then. An ending isn't an ending unless you choose to see it that way. The cameras stop rolling, the credits come up…but these people still go on with their lives.
That was Tim's point. Maybe it looks tragic now, but come back later and things might look great. Sure enough, the cameras came back later and things looked great…but that wasn't an ending either.
An "ending" is just a dividing line. A boundary. It's a structural necessity because nothing can go on forever. We can drop it at a moment of triumph, or we can drop it at a moment of sadness. But whatever we do, wherever we put it, it's a choice. And it's a choice that informs our reading of everything that came before.
When we end on a downbeat, we feel as though everything we've just seen was the prelude to a fall. When we end on an upbeat, we know we've been building toward a crowning moment of glory.
The ending is important. Not to the characters, who will continue with their fictional lives long after we've stopped paying attention, but to us, as an audience. Because we want what we've experienced to have meaning. And, for better or for worse, we turn to the ending to help us find it. We also, unfortunately, end up oversimplifying the work as a whole. The ending matters…but it shouldn't be all that matters.
I've always been fascinated by this. Hypothetically, if we had a story that followed, say 50 years of prosperity in a man's life followed by a shorter time frame, a final two years or so, in which he was broke, unloved, and homeless…if he went from riding high to dying in the streets…we'd read that as a tragedy. On the other hand, if we had a story that followed 50 years of a man living as a bum, without a penny to his name, and he suddenly found himself flush with cash and living a life of luxury for the final couple of years of his life, we'd see that as triumph.
Why? Because of the ending.
In neither case does the bulk of the story matter*…it's the ending. It doesn't matter that 50 years were spent high on the hog and only two in the gutter…we focus on the gutter, because that's where it ended. We view stories in terms of trajectory, rather than in terms of "time spent in any given situation." We don't measure…we follow. We want the characters we like to end high and the characters we dislike to fall low. How much time, energy or effort it takes to get them there is secondary; we want to know where they end up.
Endings have always been a strong point of Breaking Bad, with just about every one of them falling perfectly to serve as dividing lines on both sides: as an endcap to one chapter, and as an equally effective starting point for the next. When handled correctly — as this show almost unfailingly has handled them — they illustrate Tim's point: you can break this off whenever you like, but things keep going. Things keep happening. Maybe you'll tune in next week and maybe there won't be a next week…but an ending isn't really an ending.
At least twice during "To'hajiilee," the idea of endings weighed heavily on my mind…and that's not counting the episode's actual ending, which is unquestionably seductive enough to attract all of our focus away from whatever machinations and manipulations it took to get us there. If I were to ask you right now to tell me the first thing that comes to mind about this episode, would you have any answer other than the gunfight?
I doubt it. Even though "Rabid Dog" left us smacking our lips for a week wondering what Jesse's plan was, that's not what we remember most when we finally see it fulfilled. Because suddenly that ending, which was so important to us, means a lot less when compared against a newer ending.
Jesse's plan? Who gives a shit. This is where we are now.
Throughout "To'hajiilee" I kept expecting those credits to hit like a gunshot. Back of the head. No pain. But, as Uncle Jack knows, and Winston Smith before him, it doesn't work if you're expecting it. The time has to be right. And that's why the episode didn't end with Walt speeding away to save his money.
And that's why the episode didn't end with Walt cowering behind a boulder.
And that's why the episode didn't end with Walt in handcuffs.
And that's why the episode didn't end with Walt frantically trying to call off a hit.
That's why the episode ended with a gunfight. A gunfight that at this very moment — this moment, frozen in time — can go either way. But the next episode's in the can…it already has gone one way. It's already happened. We're behind. There's an answer, but for another week we're left only with a question.
And it's a question that informs everything that came before it. Will we re-watch "To'hajiilee" through the filter of Jesse's plan, or through the filter of screaming gunfire? Will we hear Hank's phone conversation with Marie as the relief that his investigation is over, or as the last thing he says to her before an undoubtedly fatal shootout?
There's a kind of cheapness involved when you break an episode at the peak of its action. It feels unfair…but I'm not sure "To'hajiilee" is unfair. I'm sure it feels that way…but it does seem also like the best possible ending; it says a lot about what came before, and it gives us a hell of a starting point for the next chapter.
What does it say about the episode? Well, I'd love to hear what you think…but for me, the way the entire hour unfolded felt a lot like what Kurt Vonnegut described in Walter Jr.'s favorite book, Breakfast of Champions. There Vonnegut discusses what it's like to control characters as you write for them…you don't just force them to do things; you guide their movements. You can "control" them in the sense that you are pulling their strings…but they're long strings, elastic, with a lot of slack, and while you can ultimately get them wherever they need to be, there's a lot that they can do on their own along the way…and they might be things you don't expect.
That's what "To'hajiilee" was about. Both Walt and Hank are at odds, but they're not at direct odds. They're both acting through intermediaries. Jessie, Andrea, Brock, Gomez, Huell, Uncle Jack…to some extent Skyler and Marie. Saul. These are people trapped in a game much larger than them, being played by two opponents who don't care how many pawns they lose if it can inch them closer to victory.
But it's not quite that direct. They can only guide their pieces. They can only suggest courses of action, and hope that they follow. Because when Walt tugs on that string, something happens. And there might be too much slack to get it to stop. The same thing happened to poor Hank when he pulled his own string by having Gomez cuff Walter.
Uncle Jack to the rescue.
I think Breaking Bad earned this ending, as much as I'd actually like to say that it didn't. I'd like to say that it was a cheap way to get us to tune in next week. I'd like to say that it was manipulative and artificial.
But in reality, it wasn't. The ending is earned, because the story could actually end here.
It doesn't, and we know that, but it could.
We wouldn't have to know who wins. It wouldn't matter. What would matter is how it informed the story that came before. And it would have to be a story of long-term manipulation and the impossibility of total control, of how innocent lives are used in the greater service of a reward that ends up unclaimed and under ground, of how the smallest decisions add up to the largest, most devastating consequence.
In short, it'd have to be the story that Breaking Bad has already been telling for five seasons.
It works. And we're going to focus on the ending, as we should.
But we shouldn't focus on it as the question of who wins…we should focus on it as the answer: it doesn't actually matter.
—–
* At least, not unless the artist makes it matter. I'm discussing writing here in a very general sense, and certainly you (and I) would be able to provide countless counter-examples. But I think it's still worth thinking about. When we reach the end of The Great Gatsby, do we think "Well, the guy at least got to have those awesome parties for so long"? When we reach the end of Of Mice and Men, do we think "At least for all those years, they had each other"? Or, in the context of this show…what do we remember about Old Yeller? Just about everything we read or watch or listen to gets filtered through its own ending. We award the final moments with a sense of paramount importance by default…and I've always found that interesting.