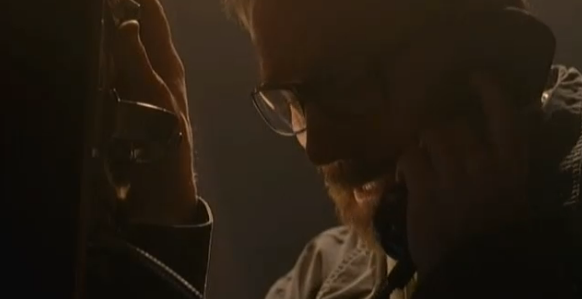 While not officially referred to as one, "Granite State" is the first half of a two-part series finale. It has to be, because as a stand-alone episode it doesn't really accomplish much.
That's not to say that nothing happens, but it is to draw the distinction between "movement" and "accomplishment." "Granite State" consists almost entirely of the former, and that's okay. It may well mean that the latter comes next week. There sure is a heck of a lot left to resolve, though, and that's what worries me.
Speaking of movement, I'm already ahead of myself, so I'll double back a bit.
The reason I say this episode doesn't work quite as well as a standalone is that we're in a new place. Or, rather, a hell of a lot of new places. Walt's new identity, Marie's life without Hank, Junior's knowledge of his father's doings, Skyler's dealings with the police and the Nazis, Jesse's slavery…everything's new. This is certainly the Breaking Bad we've been following for five seasons, but it's also, pretty clearly, a new situation, emblemized not only by the fact that Walt obtained a new identity at the end of "Ozymandias," but by the fact that Saul is quite literally cycled out of Walter's life now in favor of a new character in a similar — but not identical — role.
This isn't Mr. White visiting his lawyer for advice…this is Mr. Lambert being visited by his deleter* for basic sustenance.
It's a different show. Or I guess I should say a different story. Which makes "Granite State," for all it does right, feel unflatteringly like "Blood Money" to me. A lot of setup, a lot of maneuvering. Some great moments. Some indelible images. But it exists not for its own sake…it exists for the sake of getting all the pawns into the right place for the start of next week's episode.
It also doesn't really help that so much is left unresolved at this point. We have about 45 minutes left of the grand story to tell, but it doesn't feel like we're any closer to the end than we were a few weeks back. Hank's story, of course, is over, so I guess we're mathematically closer to having the loose ends tied up, but that's it.
The simple rock-and-a-hard-place situation Skyler suddenly finds herself in could have been good for a season-long arc. Now whatever happens will happen fast, and that'll be the end of it. Walt Jr. processing his emotions** should structurally come at about this point, but it's fending for screen time with everything else that's going on, so you get him called to the principal's office and that'll have to do. The break-in at Marie's house is conveyed by a speeding vehicle and a shot of the destruction. Even Saul's departure gets one (admittedly great) single scene, and the logistics behind deleting his identity are glossed over simply because we're almost finished here so, please, everyone, let's hurry up.***
I want to like "Granite State" a lot more than I do. Maybe it would have done them better to open with Walt a month or so into his exile, because following the process just makes it apparent how many holes there are. Jump ahead in time and we'll assume things, because we have to. Allow us to watch you at work, though, and we'll know when there are pieces missing.
This is all — do I really even need to say this? — without having seen "Felina." I could eat my words, and I look forward to doing so. Maybe viewed through the lens of the final episode, "Granite State" will reveal itself as a work of brilliance. At the very least, I'm sure it'll work better simply because we'll have a stronger sense of what the place-setting was in aid of. For now, though? It feels less like Breaking Bad and more like a series of skits about these characters, arranged like an FAQ.
If the Nazis know about the tape in Hank's house, won't they go and get it?
Yes. They will go and get it.
Even though Walt tried to distance Skyler from his crimes with last week's phone call, won't the police still try to get to him through her?
Yes. The police are trying to get to him through her.
Is Jesse still in the cage?
Good question. Yes, Jesse is still in the cage.
How is Walt Jr. handling all of this?
Here is a scene to show you how he's handling all of this.
It just seemed a bit…rigid. And for a storyline that's so obviously in flux, that's bizarre and disappointing.
Don't get me wrong…a lot of what it did worked, but it failed to cohere. Walt's last ditch effort to rope Saul into his revenge, the snowy isolation of New Hampshire, the conversation with his son, the IV dangling from a deer antler…this is all great stuff. The ingredients are there, and they're all mixed together, but nobody turned on the stove. And it culminates in what is probably the clumsiest bit of expository desperation Breaking Bad has ever resorted to: The Charlie Rose Show.
I like Charlie Rose. Awesome guy. It's nice to see him here. And it's nice to see him interviewing two characters from the early years of the show. I fault none of them…but I do fault the writing, which had Jessica Hecht (last seen in my single favorite episode) discussing the Heisenberg character as though she's reading from somebody's half-baked but well-intentioned YouTube comment on a "WALT IS A BADASS!!!!" compilation video.
End in the middle of a shootout, and I'll trust you to make good on it. End on one character metatextualizing another and I'm not going to be quite as confident. That was sloppy.
I did like a few of the misleads in this episode — from thinking Uncle Jack was angry that Todd never told him about the boy all the way through making it seem like Louis was going to be a character that served an actual purpose — but for all the shuffling and shifting around, I'm left a bit cold.
There are some nice thematic callbacks to the grander scheme of things, reminding us that as detached as "Granite State" feels it's still part of the same show. Such as Skyler phasing in and out during her discussion with the DEA, and Andrea joining the likes of Hugo, Gale, Gomez, Ted, and Jane's dad on the list of good people steamrolled by the momentum of Somebody Else's Evil.
I also liked how Jesse's escape toyed with us. We've seen him gradually become more and more valuable and intelligent as an ally, to the point that he was outthinking both Walt and Mike earlier this season. The magnets…the train robbery…the conviction that Lydia didn't betray them. Those were all Jesse. He was the cooler, leveler head…and he prevailed.
Granted, it doesn't take much in the way of intelligence to stack up a bunch of crap and hope it reaches the top, but that's okay. Because we want to read all of these things together. We want to see Jesse get out of the pit, and we want it to feel earned. We can read these things as foreshadowing so that it does…all we need is for Jesse to make it.
And, for a little while, it seems like he might. But there's a fence. And he's dragged right back down.
Which is a bit what it felt like to watch "Granite State." For a little while, it feels like it just might climb out of the hole it's dug. But it doesn't, and we end on an even lower point. It's up to "Felina" to get us out.
I am confident that it will. Just don't ask me how, or why it needed a lead-in so uncharacteristically graceless in order to do it.
—–
* Did anyone feel like it was just a bit of a stretch that this happened, by the way? I always got the sense that this character would take your money, furnish you with some new docs, and disavow all knowledge forever. If you fucked up after that, oh well; it's in his best interest to leave no connections, for just such an occasion. He did make a few comments to the effect that Walt was a special case, but I couldn't really buy that as an explanation. He's a special case, yes, but he's special in the way that you'd want to get him out of your life even more quickly, and you certainly wouldn't want to be establishing lasting links with the man.
** It sure was nice to see some "forgotten" characters back again though, I have to admit. Carmen, Gretchen and Elliott were welcome faces, even if they were wedged into an already overstuffed episode.
*** Seriously? I know the idea is to show that this deleter guy is Mike-like in his ability to GSD — or get shit done, as they say — but Goodman's a regional celebrity with a mountain of active clients and active employees on his payroll. Not to mention shifty business associates that relied on him and aren't going to be happy that he skipped town. And everyone's somehow supposed to forget about him in a couple of days? Nebraska's not the moon, and the kinds of people Goodman deals with are the kinds of people who would be perfectly happy to make the trip. These are steps that the show used to relish exploring, but now it feels like we're just skipping things.