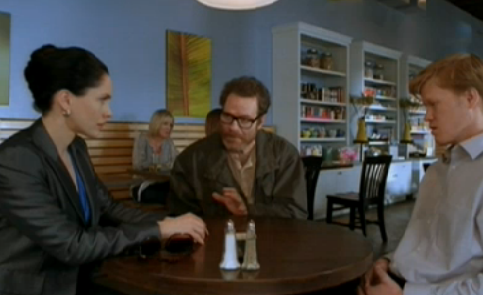 When I reviewed "Blood Money," I had concerns about pacing, and what felt, at times, like sloppy story-telling. It was an episode designed to get Walt and Hank into that garage, so that we could open there the next week and the fireworks could really go off, but watching it on its own merits, without its promise followed up for another week, it left me cold.
Last week I reviewed "Granite State," and all of the same things applied there as well. We had to gloss over a lot and stitch together the fractured storylines. We had to move Walt all the way out to New Hampshire…just so it could end with him coming back.
But like "Blood Money," "Granite State" paid off. It was worth it. Absolutely all of it was worth it.
I don't care how clumsy the re-introduction of the Grey Matter stuff was last week, because its payoff was one of the most graceful scenes Breaking Bad has ever done…a victorious exercise in gorgeous tension. Gretchen and Elliot joking and reminiscing and flicking on lights while Walt lurks in the shadows, closes the front door behind them, and admires their framed photographs.
You'll never catch me defending the Charlie Rose stuff, but I'm absolutely thrilled to say that any roughness around the edges was unquestionably worth it if that's where it led.
"Felina"…well, I'll just come out and say it. This is easily going to be one of my favorite episodes. Maybe top 5. It's impossible that it would be lower than top 10. For as much story as it felt like we were left with last week, the fact is there wasn't that much.
The money. The Nazis. Jesse. Walt's fate. And, if we have time, a proper farewell to the family. That's all we really needed. The "largeness" of the story was always one of Breaking Bad's quietly brilliant misdirections. At times it felt downright enormous. But step back (or pull back, as we did at the end of this episode) and it's really just one man.
It's one man who did a lot of terrible things in service of some very noble ones, and then later some very selfish ones.
But it's one man. The camera could have kept going. Beyond the meth lab. Up higher. Revealing the Nazi compound. And higher. Revealing the city of Albequerque. And higher, revealing all of New Mexico. The further we go, the smaller it all looks; the smaller it's all revealed to be. We expected a larger amount of threads to deal with in the finale, but, really, this is just one guy. One unassuming, unhappy chemistry teacher who manages to look to us, for five seasons, like the largest presence on Earth.
But he's not.
And he never was.
That bleeding body on the ground is Walter White. He was never actually any larger than he was in that final moment.
I loved "Felina."
I loved, loved, fucking loved "Felina."
The comedy of Badger and Skinny Pete* posing as snipers with their laser pointers, the phone call from Marie**, the positively heart-breaking final glimpse of his son before he's gone forever***, the warm flashback of Jesse making the box he talked about a lifetime ago with his therapist.
Oh, and it caps it all off with a scene that ensures I will cry every damn time I hear "Baby Blue" on the radio. Technically, that might qualify as the episode's biggest surprise.
I genuinely can't imagine a better conclusion. Walt managed to go out on his own terms, but without it feeling like a cheat. The entire Nazi arc was justified by the moment Walt tackled Jesse to the ground. We got to watch Todd get slowly strangled to death.
I'm having trouble discussing the episode because I keep lapsing into lists of things I loved about it. I think that's because I'm just in awe of how well it put a bow on the entire series. Going into this I think everybody was steeling themselves against at least some degree of disappointment. After all, you can't please everyone.
And I don't know if "Felina" will please everyone.
But it sure pleased the hell out of me.
As much as I wanted Jesse out of that cage last week, this was the way to do it. Walt passing Jesse the gun was the answer. It was the right way to end this. And the fact that it didn't end this…that Jesse actually did manage to break the cycle of manipulation that he became aware of back in "Confessions"…that was perfect too. Because now, as much as Jesse would have wanted it…it was really for Walt. They both knew that. And Walt admitted it. Jesse is unchained in more ways than one.
And Walt's left alone. His family is gone. His legacy is gone. All around him, just as they always have, machinations set into motion long ago keep turning without him. The empty gun never stops strafing. The massage chair comforts a corpse. It's easy enough to set things into motion; it's a much bigger job to stop them.
I didn't think this episode could redeem Walter in my eyes. And I'm not sure that it did. But it gave me a conclusion that didn't leave me hating him. And that, without exaggeration, is miraculous.
I guess that's all I have to say, as "Baby Blue" goes. Walter White spent over a year building up a hell of his own creation, and he didn't really deserve to escape that. But the others he dragged into that hell certainly did, and he did the best he could do, which was release as many of them as he could. Through death, through freedom, through financial security. He did what he had to do, and it cost him his life.
But whatever was going through his mind in those final seconds, as he caressed the machinery in the meth lab while the police closed in on him, I'm sure it was worth it. Those few, small moments at the very end of his life during which he could reflect on the relative good he managed to do. It's a far cry from all the chaos and tragedy he caused that he's had to reflect on since the pilot.
He could have gone out in a blaze of glory, but he chose a path that led to the fatal shot coming without fanfare. No dying breaths, no final monologues, no time for goodbye. He was here, and now he's not here. He went out in a blaze of self-sacrifice instead, choosing for the first time in what felt like ages not to be selfish.
He doesn't keep Skyler any longer than he promised. He lets his son pass without knowing he was there. He sets Jesse free, and he understands when Jesse says he won't kill him.
He's letting go.
He's letting himself let go.
And maybe that's what the whole show was about. Mike alluded to it earlier this season…if Walter had just kept his mouth shut and did as he was told he would have been fine. Instead he had to shake things up. Every time Walter takes command of the situation, he only — ultimately — makes things worse. He had his moments of triumph, and that's what would give him the confidence to seize control again. But it was always just a larger snowball, a bigger boulder, a scarier figure looming in the shadows. Any triumph was illusory. He was only constructing a more complicated coffin.
In "Felina," he lets go. And he dies a happier man than he ever could have otherwise. If only he had let go earlier…
Anyway, thank you to everybody out there who stuck around and read these reviews. It's been a great eight weeks, and I appreciate that you chose to spend them with me. This was a great show, on that we can all agree, and if we disagreed here and there — or everywhere — on the specifics, I'm just glad to know that so many great commenters and readers chose to spend their time reading my drivel, and giving me their much-better-articulated thoughts in response.
And I hope you stick around. Until then…
—–
* I knew some kind of reveal was coming (what with Walter being just a bit too jovial about the whole thing…we've seen him when he's about to take a life, and he's not nearly that chipper) but I was hoping it would be Kuby and Huell. Not that Badger and Skinny Pete were unwelcome sights…but man I'm going to miss Kuby and Huell.
** Which, by the by, is the right way to dump exposition right into the show without it feeling forced. Of course Marie's worried. Of course Marie would talk too much. Of course Marie would get just enough wrong in the way of detail that it still works as comedy. This is why the "he just so happens to be sitting here while someone changes the channels" crap last week felt sloppy. The show is better than that, and this is the proof.
*** I'm tearing up just thinking about that. Jesus Christ was this a brilliant, brilliant episode of television.