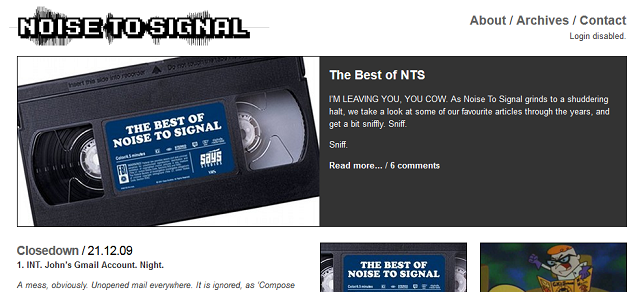 Over on his own excellent blog, John Hoare recently wrote up this piece about Noise to Signal.
I've alluded to Noise to Signal before, but never really spoke about it directly. There's a reason for that, and that reason is I'm still not sure what to say.
There are things about it that I loved. Adored even. And there are things about it that frustrate me to this day. (That probably says more about me than the site, I admit, but there you go.) And so it's difficult to just come out and say "Here's what went down…" because…well…I'm not even sure I know.
But John's belated farewell sort of inspired me to do one of my own. It's not an airing of dirty laundry or anything like that…but rather a chance to look back at a site that I helped shape in some way, and that I wrote for over the course of several years, and that still feels to me like a brilliant experiment that didn't go anywhere near where it could have gone.
It was a pop-culture website, but it was one — by design — without a particular focus. It covered music, movies, books, television, video games…is any of this sounding familiar? The fact that I carry an echo of the site in the title of my current blog wasn't deliberate, but it might still be less than coincidental.
It was good. We had an extraordinarily talented staff. But, as John says, "the remit was just too wide, and the tone inconsistent. By trying to cover everything, we ended up covering nothing well." (I'm excerpting there; I do encourage you to read the entire thing in context.)
And he's right. Absolutely correct. If I take issue with anything there it's that the remit was too wide, because I really don't think that was the problem…it was more in how we handled (or failed to handle) that freedom. But otherwise he's right. There was a variance in tone, simply because there were so many writers and no consistent style for which to strive. Everybody brought their own talents to the table, but there was no attempt made to join them together. I had A and John had B, and instead of figuring out how to maximize each of our skills we just stuck some A over here and some B over there. We could have done better.
And in terms of covering nothing well, he's right about that too. Apart from my day-after reviews of The Venture Bros. season three, I don't think I ever finished a series that I started. And while it would be bad form to mention anything another writer did or didn't do, I'm sure you'd find that they could name plenty of big plans they never saw through as well.
That seems to be a lot of what John pulled from the experience. What I pulled from the experience, though, is the importance of having an editor.
I blame nobody for that. I was at the point in my career (ha ha!) that I would have bristled at somebody telling me I needed to be clearer, or halve my word count, or — heaven forbid — choose a subject somebody might actually want to read about.
But that was the younger me. I knew everything. And because I knew everything, and because I had a website to which I could publish everything, I ended up spinning mountains of bullshit. Well-intentioned bullshit, sure…but that's still bullshit.
I got the job at Nintendo Life due to two articles that I wrote for Noise to Signal. I reviewed some WiiWare games and the Nintendo Life editors liked what I did, so off I went. What I found was an entirely different experience; this was a site that knew exactly what kind of content it was looking for, and it wanted writers that could produce content within those guidelines.
They hired me because they liked my writing…but I still had to play by the rules. They had certain points they wanted each review to hit. There was a format that needed to be respected. If I wanted to stick around, it was up to me to find a way that I could mix my A with their B. It took me probably a full year to finally adapt to that, and I'm amazed they stuck with me and my well-intentioned bullshit that long. But the fact was that it was a hard lesson to learn.
Having said that, it was also a tremendously valuable lesson to learn.
You don't become a great writer by pounding out ream after ream of nonsense. That gets you nowhere. You become a great writer by pounding out a ream of nonsense, having intelligent people look it over and reveal to you how far you ended up from your intentions, and then pounding out another ream of slightly better nonsense. And you repeat that. If you really care about writing, you repeat it forever.
There were behind-the-scenes issues at play as well (which John alludes to), and the kind of drama you'd expect from getting 10 or so strong personalities together without rules and saying "Publish anything!" But, ultimately, that was my takeaway. The value of editing. If you think the stuff I post here is vague and meandering…baby, you ain't seen nothin'.
I tried hard at Noise to Signal. We all did. And we had a great group of readers and commenters that it was really difficult to say goodbye to. (Of course some of them are here now, so…thank you.)
Ultimately, though, its formlessness meant it either had to adapt into something more solid, or dissolve totally.
It dissolved totally.
But I learned one of the most important lessons I've ever learned as a writer: that fact that I wrote it doesn't necessarily mean it's any good.
There's a reason Detective Fiction is working its way through the hands of so many proofreaders / editors / critics before I'll post even an except here. And that reason is that I finally know better.
Still though…it was a hell of a ride. RIP, NTS.