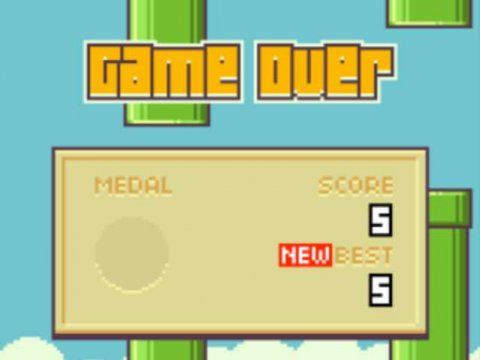 Some of you might have heard about Flappy Bird, a very simple iOS game that saw an unexpected spike in popularity over the course of the past week or so. If you're not interested in that game, don't worry; I'm not going to talk about it, beyond using it to provide some context.
What I am going to talk about is the importance of maintaining the distance between artist and audience, and that's something that Flappy Bird unwittingly illustrated quite well.
The simple game wasn't exactly a critical success, but it found a large and appreciative audience all at once. To play you'd tap the screen. That was really it, but the cumbersome nature of the titular bird meant that it was downright miraculous if you made it any further than a few seconds into the game before failing. One tap equals one flap, but the physics complicated things; avoiding obstacles meant maintaining steady flight, which was quite hard to do when your bird was front-loaded and tended toward a natural face-plant.
That was the game, but that's not why I'm talking about it. Why I'm talking about it is the fact that its developer, Dong Nguyen, has removed it as of yesterday from the App Store. His reasoning was both vague and clear; the game turned his life into a nightmare. Or, rather, those who played the game turned his life into a nightmare.
The kinds of messages Nguyen was receiving through Twitter and other media were absolutely out of line, but they were nothing compared to what happened after he announced the unavailability of his game: his life was threatened, the lives of his family and loved ones were threatened, and many in addition to that threatened to kill themselves. Whatever you might think of Nguyen's decision to remove it from the App Store, the subsequent behavior of those who ostensibly enjoyed his game retroactively justifies his move. Why should he worry about disappointing people who would threaten homicide upon a man they'd never met?
Presumably Nguyen had fun designing the game. Presumably he also made the decision to monetize it. (It was available as a free download, but ads were shown in game.) What happened was that the fun was over, and the threats to his life and those he cared about were not worth the money. His audience, in a very direct way, killed what they loved.
This is something I've been thinking a lot about lately, and the Flappy Bird debacle is just the most recent instance. While there has always been some amount of interplay between artist and audience, for the most part this flowed in entirely one direction: downhill. The artist composes upon the mountaintop, the audience waits below.
Of course there wasn't a perfect break between them. Artists still have (and have always had) families and friends. Agents, managers, publishers. There is always somebody around who will have a chance to provide their opinions and guidance to those doing the creating. But they made up a very small portion of the audience. They were necessary exceptions.
Now with Twitter, Facebook, email, forums, Reddit and the like, artists engage with fans much more directly. Rather than a handful of close friends, artists field feedback — and demands, and threats — from hundreds, thousands, or hundreds of thousands of members of their audience constantly. It gets overwhelming, I'm positive, and when issues do arise, things are compounded by the fact that the audience member providing feedback has the option of remaining anonymous. The artist has no such luxury.
While that's a topic worthy of discussion — it really is, though that discussion should probably be started by somebody other than myself — what really baffles me is why such a large number of people choose to employ this unprecedented level of communication for destructive purposes.
Why the threats? Why the insults? Why the demands? When artists came down from the mountaintop with their paintings, their sculptures, their novels, their poems, their double-albums in illustrated gatefolds, that's all the audience got. They could enjoy it and appraise it at their own pace in their own way, and only in very rare exceptions would they have a one-on-one audience with the artist during which they could register their opinions.
That was a good thing, because their opinions didn't matter. Artists unappreciated in their time have gone on to become legends, precisely because they did not take advice. They worked the way they must work; that is to say, they remained true to themselves, and to their vision. They weren't wrong to shut out the world…they were absolutely right, because it's very often the world that has some catching up to do.
Now very few artists could achieve any kind of following at all without some kind of public presence, and a public presence today carries with it availability. Artists shouldn't be personal entertainers, and yet we insist that they are. We don't want to wait, we don't want to be teased, and we don't want to be disappointed. We hold artists personally accountable, and when we disagree with something, we tear them to shreds. It's still the world that has the catching up to do, but we're quick to destroy, and by the time we do catch up, that entire universe of artistic potential has been crushed or derailed.
Even when we do like something we tend toward destruction. Quentin Tarantino recently shelved The Hateful Eight, which was to have been his next movie project, because somebody saw it fit to leak the script. Not because they hated it…but because they could. We seek, and we destroy. We take a level of direct openness and transparency with our favorite artists that fans generations ago would have killed for, and we use it to kill anyway.
I do think there's a debate to be had upon the merits of engaging with an audience. Certainly in some cases it seems to have worked out well…the DMX / George Zimmerman fight cancellation being a recent example of public outcry seeming to have turned a despicable publicity stunt into a rare moment of humble apology. There's also The Venture Bros., whose pair of writers not only monitor online discussion but have openly spoken about ditching plotlines and resolutions that fans saw coming. While this level of organic response frustrates me, the fact is that the show is great, and for all we know it never would have achieved the highs that it has had the writers stuck to their original (apparently easily guessable) plans. Then, of course, there's Ezra Pound, whose edits could well be the only reason we know T.S. Eliot today.
But, overall, I find it hard to believe that it's constructive, or conducive to creating great art. Fans don't know what they want; fans are fickle and reactionary on the whole. For everyone who quietly appreciates, fifty loudly rage.
Why? There's certainly an awful lot of art that I don't enjoy, and a lot of artists I make a point of avoiding, but I wouldn't see the benefit in attacking them, in obstructing their plans, or of vocally detracting. The world is large. The world is varied. If an artist makes a choice you don't agree with, the odds are good that there's another artist making the opposite choice that you do agree with. There's enough out there. It is no artist's responsibility to appease his or her audience, regardless of what the modern culture of constant interconnectivity seems to suggest; it's the audience's job to follow the artists that they enjoy.
In the past, if an artist read negative reviews of his or her work and got upset, the onus was at least partially upon the artists. After all, you don't need to read those. You can, but you realize you're making a choice to do so.
Now it's different. An artist wakes up to more messages from strangers than he or she does to messages from friends. That's a scary imbalance, and it's something I wouldn't know how to address. Online, accessible socialization is increasingly mandatory for up-and-comers. Without it, how could you amass a fanbase today? But with it, won't it get pretty tiresome trying to do the art you love when thousands of people you've never met are insisting you're doing it wrong?
We lost Flappy Bird. To many people, that will mean nothing, and that's okay. But that's only one example; there's no telling how much else we've lost, are losing, and will continue to lose by insistently stifling creativity. The Hateful Eight. Fez II. Whatever phantom episodes of The Venture Bros. never made it to production. All those unmade seasons of Chappelle's Show. All those concerts Ryan Adams walked out of rather than deal with hecklers. That inconceivably long initial draft of The Waste Land.
Art is the one thing that makes this world tolerable. Well, that and love. Some would argue — and I'd be one — that they're very similar concepts, and they're both easy to destroy in the same way.
Let them be. If you don't like it, move along to something you do like. Killing it gets you nowhere, and it just leaves the quiet, contemplative fans that much poorer for the loss.