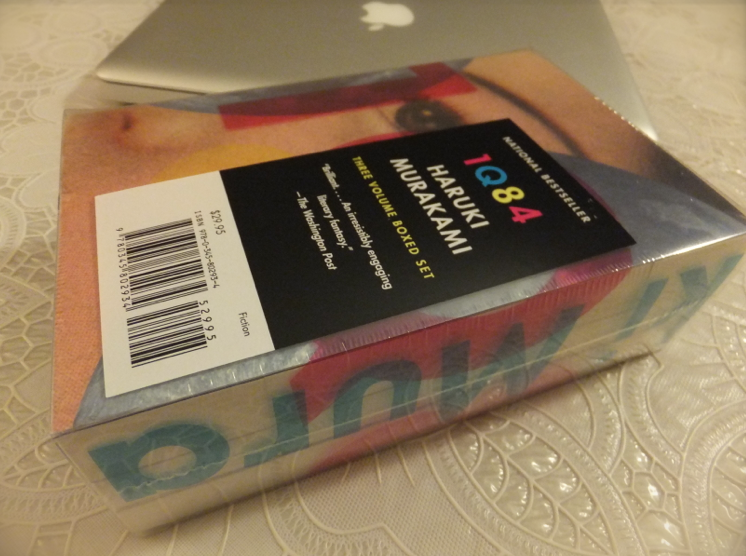 I actually finished reading 1Q84 a few weeks ago. I could have sat down to write my third and final piece on on the book (you can read the previous two here and here) the day I finished, because there was certainly enough in that final volume to discuss, but for some reason I didn't. I laid down. I let it gestate. I'd spent about a month with the book and 1,100 pages or so…another few weeks couldn't hurt.
And they didn't hurt, but neither did they clarify. I'm not complaining. 1Q84 is a masterpiece of indefinite postponement. It raises questions and funnels you toward answers, but never actually reaches them and constantly raises more along the way. 1Q84 initiates a kind of game between the reader and the book…the reader wants to keep composure and locate solutions, and the book wants to baffle continuously without ever making that bafflement felt. That's 1Q84's real achievement; you never know just how lost you truly are.
This game escalates in the final volume with the addition of a third focal character to the rotation. While the first two volumes alternated chapters centered on the mercenary Aomame and the writer Tengo, volume three promotes a minor character to center stage, and slots his own chapters right between them. This is Ushikawa, and it's no coincidence that in a long novel full of twisting questions and evasive answers that the final volume gives Uskikawa a chance to shine; after all, he is a private detective.
By opening the volume with Ushikawa and allowing us to follow him along on his investigation, it feels as though this is where the plot threads will be tied up. It makes sense. Two volumes of meandering, compulsive setup that results in a brilliantly unsolveable mess…followed by our introduction to the one man who can clear all of this up, solve the connections, and pace around the room on the final page delivering a long monologue that explains for us everything we just saw.
I don't think it's too much of a spoiler to say that doesn't happen.
The third volume, though, does contain my only two genuine complaints about the book…and one might be tied into the other, though it's impossible for me to know. For starters, it's the translation.
There was something "off" about volume three that I couldn't place for about a hundred pages. Then I took a look at the end notes — coincidentally — and found what is probably my answer: one person translated the first two volumes into English, and another translated the third. This was disappointing, because the trade-off was a noticeable step down. The sentences felt clunkier and more padded. The atmosphere was smothered with unnecessary words and clumsy metaphors. The book, all of a sudden, felt like it was being written by a different writer. It wasn't…but it was being translated by a different translator.
And that's the problem. While reading 1Q84 and enjoying it, I was always thinking about how much of the story I wasn't getting. I don't mean "understanding," but actually receiving. Certain words and turns of phrase wouldn't survive a direct translation, so we need to trust our middleman to provide the closest possible approximation of Murakami's meaning, and no matter how close you get, it won't be the same. That's okay…that's simply the price I have to pay for not being able to read the novel in the original Japanese. I know I'll be getting a lesser shade, but I trust that it will be a shade worth getting on its own.
Then volume three kicks in, and with the introduction of a new character — in a line of work and with a point of view very different from our previous two protagonists — I have no way of knowing if the perceivable difference in the narrative is due to the substitution in translator or a deliberate choice on Murakami's part; a shift in tone meant to evoke more clumsily written detective stories, or to comment on how different the world looks and feels when all of a sudden we're experiencing it through someone else's perspective.
I don't know. And that's bothersome. Because there's a big difference between recalibrating your distance from that source text and being in the hands of a single author who deliberately dims the light and removes your level of comfort.
My second issue is more a structural one, as in the previous volumes all of Aomame's chapters centered — front to back — on Aomame. All of Tengo's likewise centered on Tengo. In this volume, one chapter deviates from its central character to present a scene from somebody else's point of view, and I personally don't believe it either worked or was necessary. Again, perhaps this is a translation issue. Maybe it didn't happen in the original text, or maybe it did happen but was handled much better. Either way, in my edition, it felt like an unfortunate, too-visible blemish on what had for so long been a sleek, perfect surface.
Volume three is absolutely Ushikawa's story, as much as volume one was Tengo's (in which he rewrote the manuscript that set the entire plot into motion) and volume two was Aomame's (in which she murders a cult leader). It takes a while before it becomes clear why Ushikawa is important to the overall story, as opposed to why he's investigating it, or what he might be able to tell us, but it weaves together beautifully, with some surprisingly deep emotions running along the way.
One thing that worried me earlier on about 1Q84 was that its supernatural elements might outweigh the human drama. It wouldn't be a problem in itself if they did, but the fact that the human drama felt so sincere made it a little frightening that we'd lose it in favor of razzle-dazzle. When Tengo's father, for instance, hints that there's something he can't tell his son, Tengo assumes that they are not really related. It's a fair assumption, but the text doesn't buy into that explanation, which led me to believe that we'd be provided some other-worldly solution that would detract from the pathos of their tormented relationship.
In the end, however — I'm again avoiding spoilers — it doesn't matter whether the answer was human or superhuman, because whatever the reason, these are two people, hurt and damaged by their relationship to each other, and the details of that relationship become less important in the face of the palpable emotional fallout. Tengo might be at the bedside of his dying father for one reason, but what's important is what goes through their minds — both of their minds — while he's there. The incredible gives way to the agonizingly credible, rather than the other way around.
And there's a scene in which one character, in his final moments, finds his thoughts turning to a dog he once had. He didn't like the dog. There were no feelings of affection between them at all. And as his consciousness spirals away forever, this is what he remembers. He doesn't know why. He'll never have a chance to make sense of it. The question is raised, but as it is raised it's already too late to answer it. The moment ends, as they all do.
I mentioned in my first post that a few folks tried to get me to read something other than 1Q84 as my introduction to Murakami. I'll never know if this was the best first experience of the man, because it's the only first experience I will have.
But I will say this: 1Q84 was alternately thought-provoking, challenging, warming and horrifying. What it left inside of me will be gestating for a long time. Perhaps forever. I may never know what's growing in there, what it looks like, or even what it's for. Who cares?
I love the feeling of setting a novel down and realizing that it's probably always going to rank as one of my favorites. It doesn't happen often, but when it does, you know it. As sure as there are two moons in the sky, you know it.