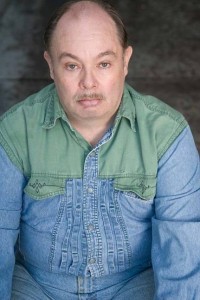 One of the things I really love about Facebook is that a huge portion of Tim & Eric's stable of actors is not only active there, but are given a platform to reveal themselves as what they are: really, genuinely awesome human beings.
Tim & Eric Awesome Show, Great Job! isn't just one of my favorite sketch comedy shows; it's one of my favorite shows, period. A huge reason for that is supporting cast. As exciting as it is to see Ted Danson, Jeff Goldblum or Fred Willard pop up for some silly skit, the actor star power is overshadowed by the minor stars, who gave the show much of its identity, and a bizarre, passive feeling of continuity.
One thing I've been wanting to do for a while is compile a set of interviews with the supporting cast, and I finally found a reason to kick it off: Palmer Scott — best known for "Sit on You" — is auctioning off his iconic Tim & Eric shirt on eBay. (You can find the listing here.)
With limited time and no preparation, Palmer agreed to a quick interview in order to promote his auction. So, if you're interested at all, please do click through and place a bid. In the meantime, enjoy my brief chat with Mr. Scott, and stay tuned…hopefully this will not be the last Tim & Eric interview you see here!
1) Tell us about yourself. Where did you grow up?
I was born in Salt Lake City. No, I'm not a Mormon. And I was raised in an unincorporated area called Kearns. I was very interested in mythology and astronomy as a child, and as I got older history and science fiction. In junior high I became enamored of The Lord of the Rings.
2) When did you decide you wanted to become an actor?
In the fourth grade I started entertaining other students by doing impressions of cartoon characters and The Penguin. This slowly led to doing theater.
3) Were you familiar with Tim & Eric Awesome Show, Great Job before you auditioned?
No, I'd never seen Awesome Show. I was only familiar with Tom Goes to the Mayor from one or two episodes.
4) How did they find you?
Well, I'm not — despite what has been said — an "internet actor." I've been working in Los Angeles since 1994, and was doing commercials and television in Salt Lake since 1991. Awsome Show was a regular audition. They asked for comedic actors doing dramatic monologues, so I cut a piece from a play I'd recently done and went in with that.
5) How do you feel about the enduring love for such a silly song about sitting on people?
I'm amazed by the attention "Sit on You" has brought to me, and it would be really ungracious of me not to appreciate what it's done for me.
6) Do you get recognized in public?
I've only had positive experiences from people recognizing me. I've been stopped on the street, the subway, buses, even in a hospital. I will always stop for a picture, preferably one where I'm sitting on the person!
7) Were you hired for Awesome Show specifically for "Sit on You"? Or was that just one of the things they wanted to have you do?
I was hired just for "Sit on You" only, but the fan reaction was so positive they brought me back.
8) Who are some of your biggest influences as an actor?
Zero Mostel and Jonathan Winters.
9) What was your response to seeing the lyrics to "Sit on You" for the first time? And for that matter, "Make My Bub-Bubs Bounce."
With both of those songs my first thoughts were "Where are they going with this?" and "I hope I can do what they want." I always try to be as professional as I can be on any set.
10) How much direction were you given for those skits?
The blank-faced character was from Tim Heidecker, but all the dancing is from me. Eric has always wanted me to be more bizarre and animated when I've done things for him.
11) What's your favorite Tim & Eric skit that you did not appear in?
I don't want to say, because many of the other actors from the show are friends. I don't want to be seen as favoring one over another.
12) If you had total creative control, what would be your dream project?
Someone is working on a project that is still in the initial phases that I really want to do. The only thing I can say is that it's a short film. As I'm not one of those actor/writer/director/producer types, all I want is a reasonably funny role in a sitcom. Maybe a college professor, or an office manager.
13) Tell us a little bit about working with Richard Dunn.
I only worked on one skit with Richard, unfortunately. It was the tennis game between Tim & Eric. But I did talk to him a few times. He was a sweet man and wrote a poem for me that I've misplaced, much to my chagrin.
14) Do you have friends or relatives that don't quite "get" the humor that had you sitting on people and promoting healthy shrim levels?
Yes, I have some friends and family that are totally mystified by the whole Tim & Eric phenomenon. But some of them weren't all that thrilled by my episodes on Nip/Tuck.
15) Your first major role was in an episode of Frasier. That seems like a pretty great start to a TV career.
It was wonderful! I had a three day contract, my own trailer and go to meet everyone in the cast. Peri Gilpin and Jane Leeves are beautiful with no makeup on. The only person I didn't get to talk to was Kelsey Grammer.
16) Which cast of Saturday Night Live was the best?
I have to go back to my youth and say the original cast was by far the best! Jane Curtin, Chevy chase, Dan Ackroyd, how could you go wrong?
17) It seems like you've remained friends with many of the other Awesome Show stars. Why do you think everybody became so close?
This business gathers many people who seem to be either really nice, or evil incarnate. For some reason, Tim & Eric always seemed to cast the nice ones.
18) Who on the cast do you wish you could have worked with more, and why?
Again, I'd hate to play favorites. All the people on Awesome Show are unique and gifted individuals.
19) Can you tell us anything about the pilot you recently shot with Adam Carbone?
It's not really my place to talk about it. Remember, an actor is just an employee. Adam and others have been working on this project for years, and it's not my place to spoil it for them. But it's really funny as hell.
20) You openly interact with fans on your Facebook page. How would you describe the Tim & Eric audience?
Tim & Eric fans run the gamut from teens who like the vulgarity of "Poop Tubes" to grandmothers who like to keep their minds fresh and not live in the past. The main thing they have in common is a broad sense of humor and the ridiculous, as well as a kindness of spirit.
BONUS: Say anything to the readers that you didn't get to say above!
Because of the state of the economy I'm still flogging my short book Sitting My Way Through Life, and I have the original "Sit on You" shirt for sale on eBay.