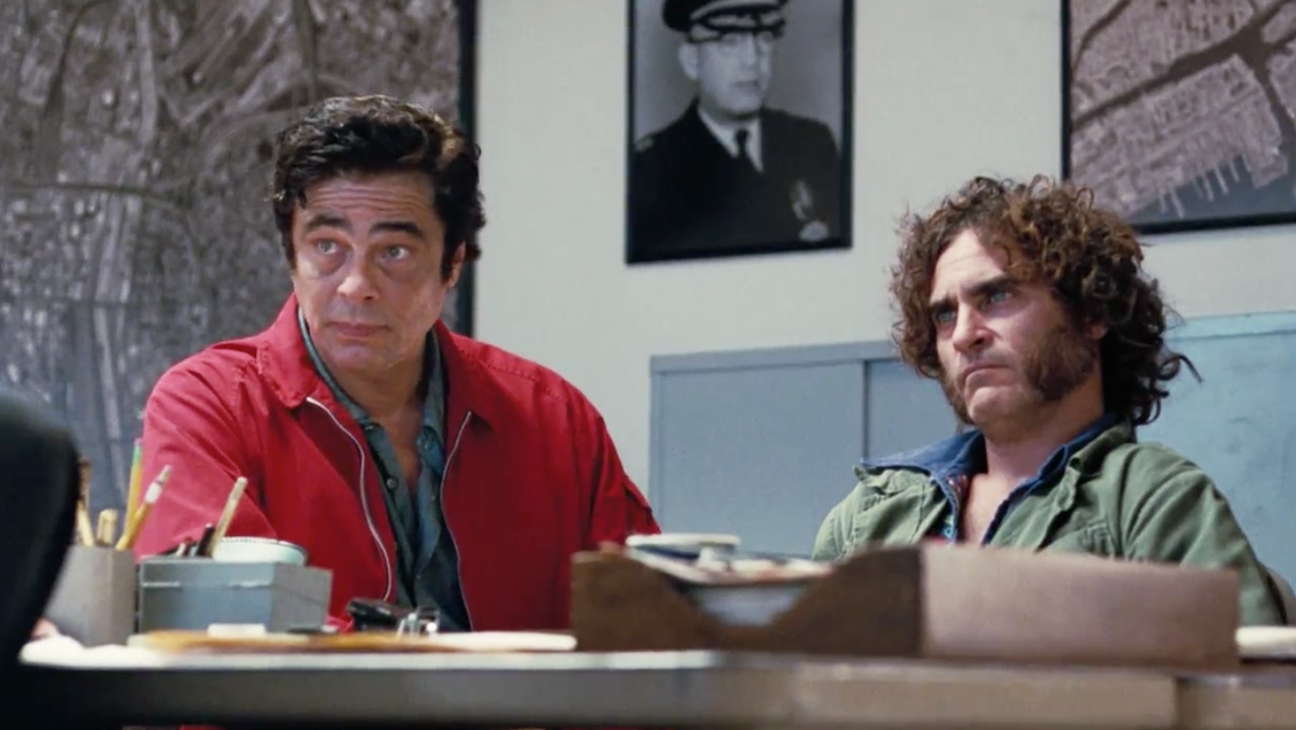 Let's get this out of the way right now: I love Inherent Vice. The novel, I mean. I've read it at least six times at this point…possibly more. It's by no means my favorite Pynchon, but when it was announced that for the first time ever the reclusive author allowed someone to adapt one of his works, I had to admit this was a good choice.
Inherent Vice, the novel, has a clear beginning, a clear ending, and a relatively clear journey between those terminal points. That's more than you could say for almost anything else the man's ever written. The fact that it also has a relatively small roster of important characters (again…a Pynchon rarity) and relies heavily on overt comedy makes it seem like the perfect Pynchon to bring to the screen.
I've now seen the film. In fact, I saw it with Paul Thomas Anderson in attendance, as he graced the humble Denver branch of the Alamo Drafthouse with his presence. I thought he might provide some insight into the film, or at least give me something that would make for a good story.
Instead he stood up to speak before the film, mumbled what sounded like a flat joke at the theater owner's expense, and then seemed to lose all confidence. He interrupted himself in the middle of a sentence and said something to the effect of, "I don't feel like talking. Let's just watch the movie."
Nervous laughter. Some shuffling. But, yeah, he was gone. I thought he made his way back to his seat, but when the houselights came up at the end of the film he wasn't there, so I have no idea if he even stuck around after that.
And, you know, that's okay. I'm not entitled to any special knowledge by virtue of getting a ticket to this particular showing. Hell, anything he might have said would have colored my impressions of the film I hadn't yet seen. So my enthusiasm wasn't dampened. I hope he wasn't having as lousy a night as it seemed like he was, but other than that, I was completely focused on seeing, for the first time, my favorite author's words come to life on the big screen.
If anything, that's actually my complaint.
Or the closest thing I have to a complaint.
There's too much Pynchon in this film. When adapting it's not uncommon to strive for fidelity to the source material, but I don't really see the point. The film should be good on its own merits, and if that means it needs to deviate from the plot, characterization, themes, or anything else that worked perfectly well in the book, that's fine. Anderson seems — for much of the film at least…read on — to want to be as true to the text as possible, and I think that hampers where it can go, and what it can achieve.
A pleasant surprise hit me early in the movie: this was Pynchon's dialogue. Not dialogue adapted from Pynchon's dialogue, but Pynchon's actual dialogue. And I felt supremely vindicated, as one common complaint from readers is that his dialogue isn't natural…that he has a tin ear for it. I can't bring myself to agree with that at all…and Inherent Vice, the movie, should put that criticism to rest. Reading it, yes, it might seem a bit artificial, but that's because Pynchon doesn't adhere to textual speech patterns; he adheres to human speech patterns. Hearing skilled actors delivering the same words demonstrates the impact they can have, at least once you tune in to their frequency and stop expecting them to tune into yours.
But it was followed by a much less pleasant surprise: this was Pynchon's narration. Not scenes adapted from Pynchon's narration, but Pynchon's actual narration. And it was overkill. The film by no means needed a narrator. Granted, the writing was solid, but it wasn't written to be spoken over images of exactly what it's describing. It renders itself redundant. We see that Doc is distraught, and we're told that Doc is distraught. It provides an unfair barrier between us in the audience and Joaquin Phoenix playing the character, as though the film itself doesn't trust his performance.
Now Inherent Vice has one hell of a difficult mystery at its core, and I could understand the desire to keep the narration if Anderson felt that it would help his audience to understand what was going on. But it's not the mystery that gets narrated…it's the emotion. The motive. The inner conflict. You know…all the stuff that actors get paid to portray without words. And I found the inclusion of so much narration to be a clumsy and distracting decision.
It's nice, I guess, that the narration was provided by Shasta Fay Hepworth, a character in the film, but what we see of Shasta doesn't really convince me that she thinks or speaks like Thomas Pynchon writes. It seems as though Doc might be narrating this entire thing in his head with Shasta's voice, but I just don't see the value as making up for the effort.
This does lead to a really nice moment toward the end of the film, however, when Doc asks Shasta what the phrase "inherent vice" means. She replies that she doesn't know. The narrator version of Shasta then defines it for him, and for us…which is a cutesy touch, but isn't nearly enough to justify the inclusion of the narration overall.
So, there. Now that I've got my big complaint out of the way, I can talk about what I liked…and there's a lot of it.
For starters, Katherine Waterston as Shasta Fay. She not only looked the part…but she was Shasta Fay. She embodied that character deeply and flawlessly…so much so that it was painful to watch. She was an absolutely perfect casting choice, and I can't imagine any other actor — at any point in time — would have handled it better.
Shasta opens the film by informing Doc — private eye, hippie, and her ex-lover — of a plot to kidnap her current beau, real-estate mogul Mickey Wolfmann. As in the book, Doc follows up on this lead and investigates other cases along the way…each of which seems to feed right back into Wolfmann's disappearance.
Along the way Doc clashes regularly with his law enforcement counterpart, Bigfoot Bjornson, who is played by Josh Brolin in the film's other perfect casting choice. Brolin could have settled for making Bigfoot a comic boob, and that would have worked perfectly well. Instead he adds layers of sadness to the character deeper than even the book managed. Whereas the novel plays Bigfoot's acting ambitions for laughs, the film turns them into a kind of ongoing silent tragedy. There's little sadder than watching him in the background of an episode of Adam-12, with no lines, hoping against hope that somebody, somewhere, will notice him.
I'll get back to Bigfoot in a moment, as I have a lot more to say, but the film itself manages to be very good without matching the greatness of Waterston's and Brolin's performances. Inherent Vice lags behind them, which is frustrating, because those two seem to have drifted into our world from a parallel one in which there exists a better version of this film.
The rest of the casting choices are very good without being revelatory. Martin Short as Dr. Blatnoyd is an expected comic highlight, even though he's only in around two scenes, and Owen Wilson handles himself quite well as a regretful saxophonist nobody's supposed to know is still alive.
Benicio del Toro plays the thanklessly efficient part of Doc's attorney, a substantial part in the book that gets reduced to an unfortunately paltry series of scenes here. I get the feeling more was shot and we'll see it on the eventual DVD, but for now Sauncho Smilax turns up a handful of times to sit near or walk beside Doc, and that's a big disappointment. In fact, I'd have recommended cutting the character altogether if his significance was so severely reduced.
That actually leads to another of my concerns: the concern for fidelity leads to a lot of characters making the jump to the screen without really having much to do once they get there. Sauncho is one of them, certainly. So is Tariq Khalil, who sets Doc on the trail of a man named Glen Charlock. Charlock turns up dead, and Khalil I guess just forgets he ever cared, because we never hear from him again. Later we meet Clancy Charlock, Glen's sister, for no real reason that I could discern, and then she's gone, too.
Having Doc meet with so many clients who immediately disappear is a bizarre choice. These characters have larger roles in the book, and while I understand that not everything can (or should) be carried over to the screen, it's disappointing that instead we get a kind of half-measure. "Here," the film seems to say. "Remember this guy?" We do, yes, but it's hard to get excited when the film doesn't do anything with him. In fact, the end credits are filled with character names that we never actually hear in the film. There was such a commitment to getting as much on the screen as possible that it didn't even matter if there was any significance to them being there.
This is especially problematic in the case of the film's main villains: Puck Beaverton, and Adrian Prussia. Puck appears several times in the film, but in the book he had his own entire subplot which helped to establish him as a credible — and ruthless — threat, as well as the kind of guy Doc should have nothing to do with. In the film he has a swastika on his face. Is that enough? Maybe. But if that's all you get, is he even a character?
Prussia is served even more poorly. The main dark force in the book, we meet him very close to the end of the film. There's no way to complain about this without spoiling it, but let's just say this is his only scene. The bone-chilling powerhouse in the book — who draws Doc into a climactic and comic shootout that spills out into the streets — is here, and then he's not. Some small attempt is made to weave him back into the things we've already seen, but it's too little too late. The scariest motherfucker in the novel is a complete non-entity in the film, and he's not really replaced by anything else. His a walking signifier of all the things missing from the movie. Not just as an adaptation, but as a movie period.
At one point in Doc's investigations he turns up the fact that Prussia was responsible for the death of Bigfoot's partner. It sheds a lot of light on Bigfoot's behavior in both the film and the book, but we last see Bigfoot in the book still following his desperate need for revenge, and it's so pitiful that we can't help but feel for him and hate him at the same time.
In the movie…well, that doesn't happen. It's replaced by a scene I'm not even sure I can explain. If you watch it, you'll know what I mean when you get there, whether or not you've read the book.
Inherent Vice will probably grow on me. I'm sure I'll watch it many, many more times. But as of right now, it feels like I've seen half of a film. Having read the book means I can fill in some of the blanks, but really what I wanted was a piece of art that could stand on its own merits…even if it had nothing in common with the novel but its name.
I'd have preferred a simplified plot to a rushed one, and a few different characters combined to loads of characters that have little or nothing to do.
The movie gets a lot right. The casting is never less than great. The soundtrack is perfect. The resolution of the dead saxophonist case — one of the very few things in this film that has a resolution — is genuinely sweet. There are excellent comic moments sprinkled throughout, and glimpses of a great film that somehow only managed to be very good.
I think my feelings about the adaptation can be summed up by looking at the ending. I won't mention any specifics; I just want to say that at the end of the book, there's a scene that seems irrelevant…and yet, reading it, I knew exactly how we got to that scene, and why. It mattered. At the end of the film there's a scene that seems very relevant, and yet I couldn't tell you why we ended up there. It has to matter, because it's the end of the film, but that's about all I can say for sure.
It's worth seeing, I'd say. But it's not the film it could have been.
Of course, I'm coming at this as a guy who read the book way too many times. Maybe my expectations, despite my best efforts, weren't properly aligned. To find out, tune in a little later; a friend who's never read the book but is deeply passionate about film will be providing a second review of Inherent Vice for Noiseless Chatter. I'm curious to see what he'll have to say, based only on the merits of what was on the screen.