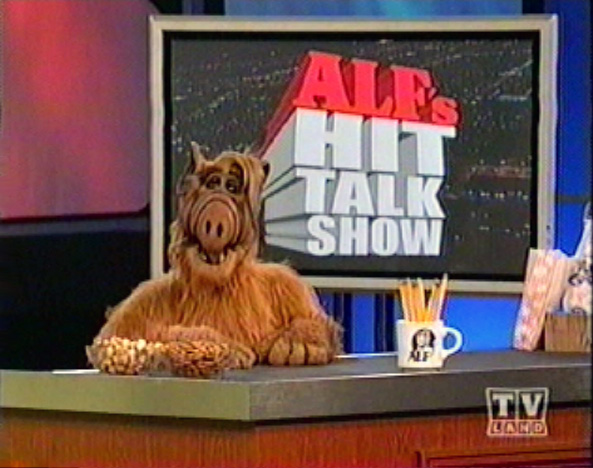 As you all know, I never do favors for anyone unless they give me even more in return. Since I'm away this week, the guy I wrote a Power Ranger sex thing for got roped into filling in for me. Eventually I might — MIGHT — take a proper look at ALF's Hit Talk Show. But in the very likely event of my death, here's Samurai Karasu of Ranger Retrospective to give it the coverage it doesn't by any means deserve.
I apologize for the break in your regularly scheduled ALF reviews my fellow ALFanatics. Mr. Reed has informed me he was on trial for murder this week so he needed someone to fill in his shoes.
Unfortunately, ALF wasn't a show I watched much of in its heyday. I had a good excuse though, I was -6 months old during the season finale's first airing. However I was familiarized with the show through reruns on various channels, as well as Paul Fusco's desperate attempts to shove his brainchild into any pop cultural limelight that granted him the opportunity to do so.
For whatever reason, I really enjoyed the show when I did watch it. Chalk it up to my obsession with puppetry and mushmouthed fathers, but it somehow managed to charm me through its attempt at style over substance. ALF managed to fool me into believing its central character was a really charming and witty figure that deserved my attention. The show somehow crafted a character that, upon reflection, was never really there. ALF was sold to my generation as a no-nonsense sass talking alien. In reality he was just a doughy asshole who molested half a family and informed the audience how often he was killing him.
Granted, I was a stupid kid and took all this garbage at face value. I thought ALF was the hippest character to ever grace T.V. So much so that I can still recall the most embarrassing t-shirt I've ever worn. I got it for my birthday when I was 12 and thanks to the internet's inability to let things die, here it is for you good people in all its terrible glory.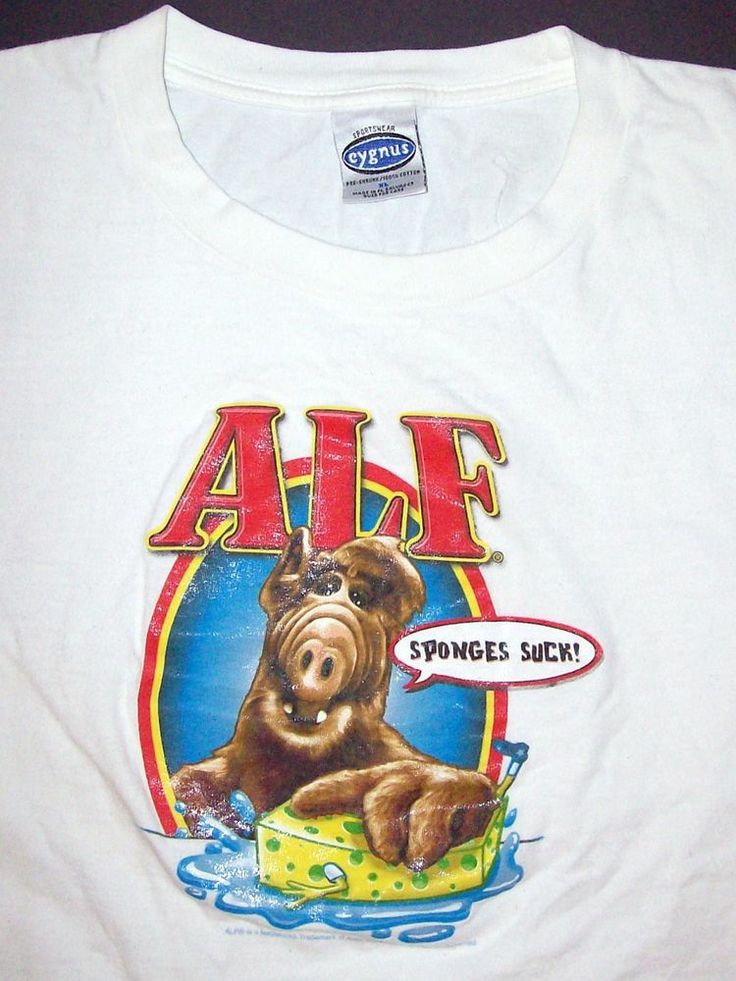 This shirt was supposed to tell everyone that ALF didn't give a FUCK about what was popular now, because he was where it was really at. I only mention this now because it's a noticeable trend with exactly how Paul Fusco made ALF function as a character.
Everyone had to look terrible compared to ALF. ALF is the king of the castle and every other living being in his vicinity has to look humbled by his snarky witticisms. The show is called ALF and if you don't like it you can get the hell off the stage. This is one of the key reasons for the failure of today's topic, ALF's Hit Talk Show.
When I saw TVLand was bringing ALF back in some capacity I was ecstatic. As time went on, it became clear that ALF ditched those total losers who gave him shelter and food back in the late 80's and was going to be rubbing elbows with the Hollywood elite. I specifically remember setting aside the time to tape the first episode where ALF interviewed Drew Carey and Dennis Franz. I stopped watching after this however, as the show was absolute abhorrent garbage, and bored me to no end.
What made the show so terrible? Well take a step back with me to the year 2004 where we can watch an episode of this mistake together. We'll unravel exactly why the concept of ALF as a talk show host was such a colossal failure. Today we're looking at the fourth episode of ALF's Hit Talk Show, which has been selected due to its illustrious celebrity guest. Strap in everyone!
Within the first 5 seconds of this episode I start laughing. Not because of any of the ALF related content, but because the voice over introducing it is Harry Shearer. All I can think is for someone who hated doing Simpsons as long as he did, he must have loathed even breathing the name ALF.
The credits sequence for this show is essentially Paul Fusco's ALF fanfiction. ALF rides in a limousine, gets chased by adoring fans, and scrawls his name on a star on the Hollywood Walk of Fame. All of this culminating in the title card for ALF's Hit Talk Show. That isn't the name of a T.V. show, it's a plea to the audience to believe in ALF's self aggrandizing hype.
The announcer for the show is, Jesus Christ are you kidding me?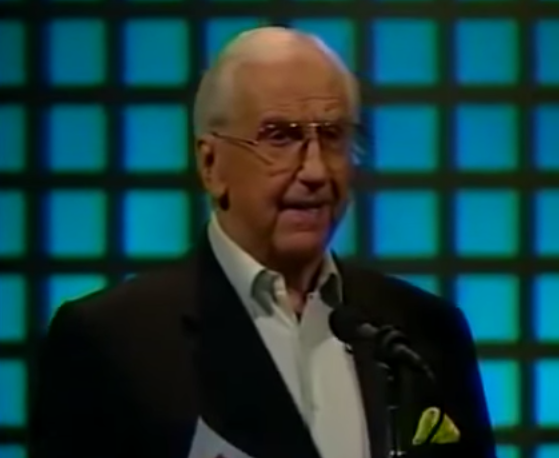 Ed what are you doing here? Why are you doing this Ed? Please just go home. You need to rest. This is the guy who had legendary banter with Johnny Carson and now he's forced to kowtow to Fusco and the thing that Fusco has his fist inside of. That poor man.
I realize that Ed McMahon also worked with Paul Fusco in the two part ALF episode "Tonight Tonight," but by no means did I think that was a rosy relationship he would want to revisit in the twilight years of his life. It's depressing watching this lame show drag out an amazing entertainer and tout him as this alien asshole's sidekick.
It all goes back to the ALF brand being style over substance and having nothing underneath all the bluster it brings at the audience. We've got Johnny Carson's co-host, but he's a tired old man who will only be on this planet for another 5 years. We're calling the show ALF's Hit Talk Show, but it's going to last a mercifully short 6 episodes. We've got a movie to conclude the series, but it's only going to air on T.V. and none of the original cast will be caught dead working with Fusco again.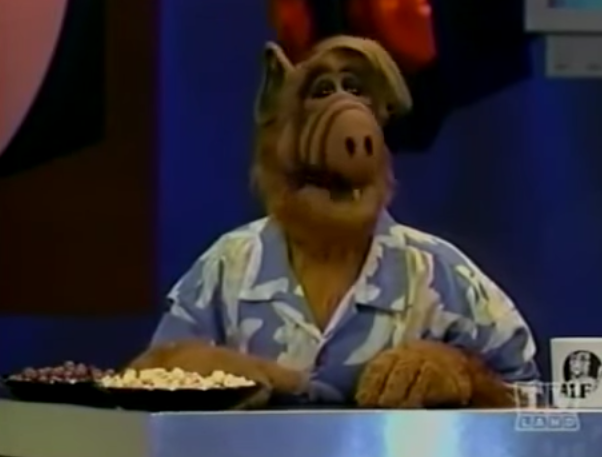 After being introduced by McMahon, ALF asks one of the world's most well renowned entertainers "Did you just call me Ralph?" So what follows is a scene of a floor mat in a Hawaiian shirt asking one of most famous second bananas of all time why he didn't get introduced better.
The worst part about this moment is it's very obviously not scripted, as Ed clearly just made a mistake and was taken off guard by Fusco calling him on it. What floors me is this show certainly wasn't shot live, so why the hell did they not refilm the intro? The attempt at improv between ALF and Ed is comprehensible at best, so it's not like we get anything amusing out of this. Ed flubbed his line and this show was too lazy and incompetent to redo it. Instead we get to waste one of the few precious minutes we have on this planet listening to ALF demand a television icon to say his name right.
Then ALF burps and the audience of living people laughs.
After a few terrible jokes, ALF discusses how he, as an alien, is noticing how gullible the people of Earth are. Not because they finance puppet based talk shows, but because they pay for designer water even though the planet is covered in water. Oh boy everyone settle in, time for another one of Old Man Fusco's pet peeves. Only this isn't just part of a terrible monologue, but a carefully calculated segue into an absolutely terrible bit.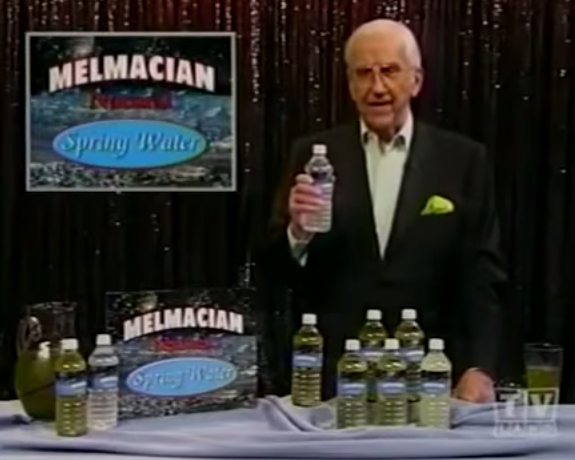 Yeah, ALF is selling his own water. He demands Ed help him sell what looks like water bottles filled with piss to the idiots watching this show. McMahon does a serviceable job reading his cue cards, it just so happens the writers forgot to put any jokes on them beforehand. Ed McMahon informs the audience this water comes from the misshapen glacier on Melmac, which inexplicably prompts a laugh. We even cut back to ALF guffawing over the idea, probably because Fusco wrote that line.
As Ed McMahon smiles holding a bottle full of Melmac urine, ALF asks him why he isn't drinking it. After looking understandably put off, Ed realizes the check won't clear unless he chokes down that glass. So, of course, we have to see an 81 year old man guzzle back a glass full of nasty looking water because an anteater monster told him to.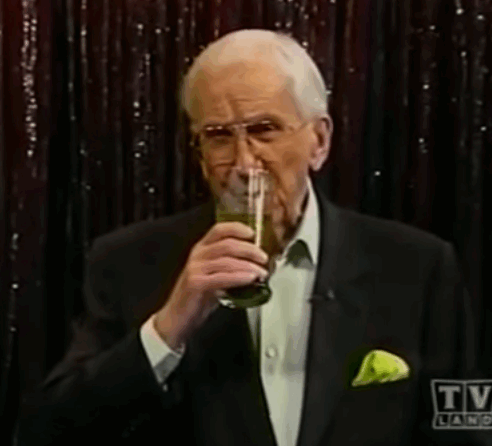 In all sincerity, Ed does the best he can with this terrible bit. If he didn't have ALF breathing down his neck the whole time interjecting with meaningless garbage about how the spring water is different colors during different seasons, we might get an actual joke out of this sketch. Instead, we get to witness first hand one of the worst problems this show has to offer. Paul Fusco cannot ad-lib to save his fucking life.
After Ed comes back to sit down after chugging prop alien piss, ALF tries to make a joke about how Ed has probably drank worse than that in his life. The problem is that Fusco repeatedly stumbles over his words and interrupts Ed when he tries to respond. It's some of the most uncomfortable banter I've ever laid eyes on and it's absolutely astounding to watch. Paul clearly loses track of where he is and just tries winding the conversation he started down, as it's going nowhere. The audience who found the idea of a misshapen glacier humorous is noticeably silent at this point, and my spine starts to freeze over while I wait for a laugh of any kind to emerge.
Thank God we're finally guaranteed some laughs with ALF's guest today. Here he is!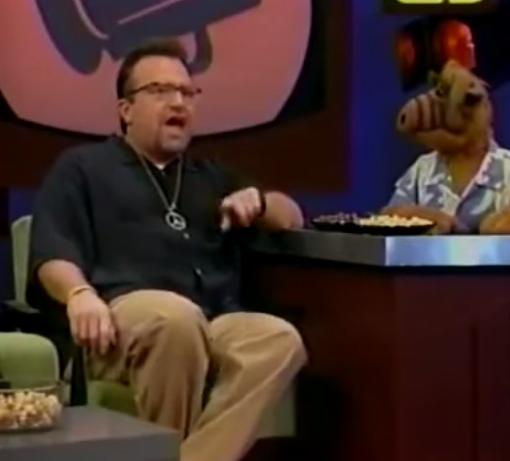 There is no funnier image to me than a complete punchline of a human being like Tom Arnold sitting next to ALF. This was how you promoted your show? With Tom the fuck Arnold? You think anyone on this planet or the next would tune in for that?
ALF makes some hilarious observations such as the fact that his guest has two first names, and being married is weird. Hard hitting journalism the other networks just don't have the guts to cover.
Then ALF and Tom have a slew of some of the worst back and forth ever put to film. The two juggernauts of the entertainment industry say that they haven't seen each other since "the thing at the place", only since neither person on either end of the conversation is funny, it dies a cold laughless death. It goes on for way too long with both parties unable to milk a single laugh from the idea they're having a purposefully vague conversation. It seems like they're trying to make some sort of anti-comedy gag out of this, but instead it's just upsetting and shitty.
During the interview. it becomes clear that Paul Fusco will absolutely not allow Tom Arnold to control the stage. Tom Arnold is known for being a blustering dummy of a comedian, so the last thing that any person should have to watch is someone fighting to upstage that level of shittiness. Everything Tom says, ALF tries to get a word in edgewise to remind the audience that he still exists. This constant interruption completely disrupts the flow of Tom's (admittedly not good) story. None of it manages to be interesting or engaging, and it just feels like watching two people who have no arms try and play football.
Tom depressingly tries to engage McMahon in the discussion, but the best Ed is willing to contribute is a forced chuckle at the mediocre banter between these two clowns. It's so insultingly unfunny and uninteresting I felt my heartbeat slowing while I watched this.
Tom Arnold then discusses his third and newest marriage with a woman named Shelby that he starts awkwardly informing ALF is the marriage that he KNOWS is going to last. I don't know if there's a more uncomfortable scenario out there that is the absolutely humiliating low of defending your multiple divorces to an alien puppet. But Tom's a smart guy, I'm sure this marriage with Shelby did him well.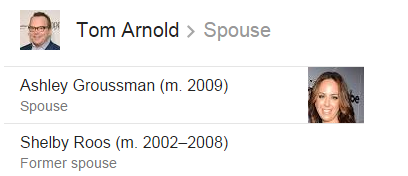 ALF informs Tom Arnold that it sounds like his wife talks a lot, and we gracefully cut to a commercial before that conversation can continue much further.
Of course not before we get to see dreadful bit riffing on Queer Eye For the Straight Guy entitled Alien Eye For the Human Guy. It involves ALF wearing a smoking jacket and telling jokes to the audience that he couldn't find a way to fit in the monologue. Because this premise wasn't thought about for more than 20 seconds, the jokes have nothing to do with being an alien and are just generic unfunny jokes about Rogaine. Because we have time to fill and Tom Arnold didn't blather long enough to get us to 22 minutes.
Then we get the worst joke of the entire episode in this magazine gag coming back from the commercial break.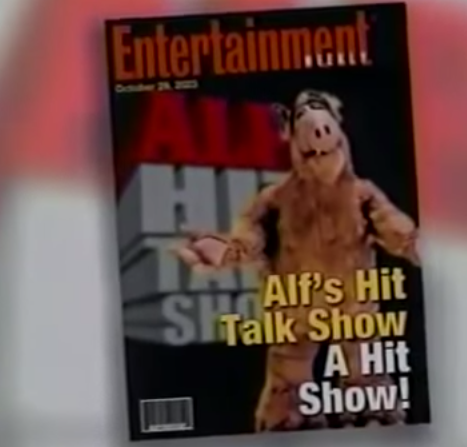 Yes that is two of the four words in the title of your show. Is that supposed to be a joke? You know how whenever a sign shows up on The Simpsons you can expect a joke to be on it? Maybe I just got spoiled by that formula and ALF's Hit Talk Show is only trying to yet again relay the fact it's going to be an amazing program. Just you wait. We're saving all the jokes for season 2.
Because the show is clearly going over so well, Tom Arnold informs ALF that he has "a great audience." Which is true in that they've mostly stopped laughing so they must understand this isn't funny. Though they aren't that smart because they clearly aren't getting Mr. Arnold's clear plea for applause by directly complimenting them. One of the hackiest tricks in the book. It takes ALF literally telling his live studio audience to give themselves a round of applause before they actually do it. Goes to show the kind of person that shows up to a taping of ALF's Hit Talk Show.
Tom Arnold then discusses how his wife doesn't really like him in a desperate cry for help while Ed McMahon slowly sinks into the couch. Ed then prays for a swift death by drowning in the delicious taste of Melmacian Spring Water.
Then comes the first laugh of the episode when Tom Arnold informs the audience he's going to die alone and penniless. It feels much less like a joke and a depressing admission from a broken man who can't stop talking and accidentally reveals his innermost feelings. I guess "laugh" wasn't exactly what I did so much as chuckle before becoming deeply saddened to see a man so clearly falling apart on a puppet's talk show.
We then get a story where Tom Arnold explains the time he interviewed Alec Baldwin and the two began doing impressions of each other. Because the audience isn't responding, Fusco dresses Tom down by telling him "I guess I would have had to be there."
You know why that isn't funny? Because you're supposed to be a talk show host. As much as Tom Arnold is a boring sack of shit, you're the one inviting him to be on your show. You're no higher on the food chain than he is and you just look like a prick for dismissing him. You're the one asking the questions, sorry that your guest didn't give you an answer you could relate to cat eating.
Then ALF completely cuts off the interview because they have a pre-taped bit they had no way to segway to other than interrupting Tom Arnold. ALF has said he needs to keep his show hip for the younger generation, which to Paul Fusco means anyone under the age of 53. He's sent some old man out to try and discover if kids these days really do say the darndest things.
For as much as I have hated everything that preceded it, I utterly fucking loathe this scene. The entire bit is that an old man is out on the street talking to people using slang. It's a joke that's barely tolerable when told competently, so you can imagine how bad it is here.
Some nameless old man nobody gives a shit about asks a young man with a mohawk if he is "chillin' dog." All the while this completely ridiculous circus music plays in the background. In case the audience didn't know it was supposed to be a joke, we need clown horns and calliope music playing. It doesn't make this funny, it just sounds like an ice cream truck broke down off camera.
Just before I kick the chair out, we cut back to ALF and Tom Arnold politely applauding. Instead of laughing to indicate he enjoyed the bit, Tom Arnold informs ALF "Yeah! That was funny." Which was the second laugh I've gotten out of this show. Tom Arnold unable to even muster up fake laughter over this miserable trash.
After another break we come back to see Tom Arnold still hasn't left, likely because he has nowhere else to go and ALF is the closest thing he has to a real friend. More interesting is what ALF informs the audience about once the music settles down.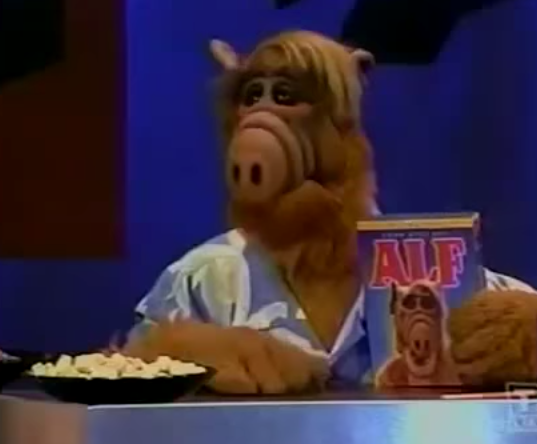 Jesus Christ this is awkward. Even Fusco barely sounds like he wants to plug this DVD. He must want people to forget that family he used to live with and get ready for the new sensation he's a part of, ALF's Hit Talk Show. I bet that will last for twice as many seasons as that old garbage show he was on!
ALF introduces his second guest that he informs us Ed met doing a commercial for dog food. If nothing else, this show is illustrating to the audience that time was not kind to Ed McMahon.
So in comes some guy named James Nelson who apparently has a talking dog named Farfel.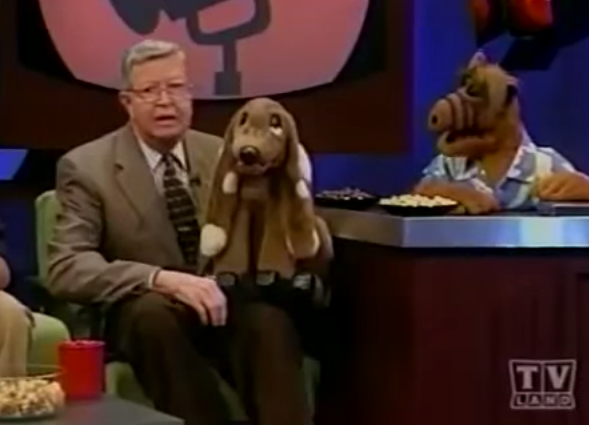 I looked this James Nelson guy up, and apparently he's been a puppeteer for a long time. That's great and all, but he is a complete dead stop in this show. I don't know if Fusco was a big fan of his puppet work and wanted to get him on the show out of admiration, but the guy is just not fun to watch. I don't want to dress him down too much, but he's telling jokes that sound like they came off of a 1940's gum wrapper, and the audience is near silent the entire time.
Not to mention he doesn't seem to know how to keep his mouth shut when he's doing this Farfel the dog routine. Nobody makes fun of him during this segment so maybe they just feel bad for how badly all this is bombing. I'm not sure. In spite of how uncomfortable the whole thing is I'd still rather watch this than Tom Arnold yelling about how much his wife hates him.
ALF informs Nelson that the audience might have some questions for him, but when Ed reads the first name off, it's just a woman who informed ALF she loves him sooooo much. Then ALF makes a joke about fat women and she sits back down.
Then Ed calls on the final audience member with a question, and by final I mean only. Some woman asking how she can promote the show, and ALF informs her not to bother because they've already been cancelled for this complete travesty.
So to summarize this segment, ALF has two fans in the audience say he's great and they want to promote his show, only they don't get the chance to actually speak because Ed says their questions for them. Possibly because Paul Fusco is an egomaniac and wouldn't let any non ALF related questions through, and possibly because nobody in the audience know who James Nelson is other than an elderly man with a moldy old dog puppet.
Speaking of James Nelson, he was billed in the opening credits as a guest star alongside Tom Arnold. Tom Arnold was on stage for about 15 minutes of this 22 minute episode. James Nelson was on for about 3. Glad we let the real talent shine through.
So yeah, that's ALF's Hit Talk Show. I hate to tell you good people this, but I would actually recommend you actually go and check out an episode. Obviously not due to it being decent or anything like that, but because it has to be seen how utterly terrible Paul Fusco is at being an interviewer or relating to his guests. He's an awesome puppeteer, don't get me wrong. The problem is he can't parlay that into creating interesting chemistry with anyone on his set. This just all relates to the fact that Paul Fusco could not let ALF share the spotlight with anyone else. Maybe if he did people might remember his character for more than eating cats.