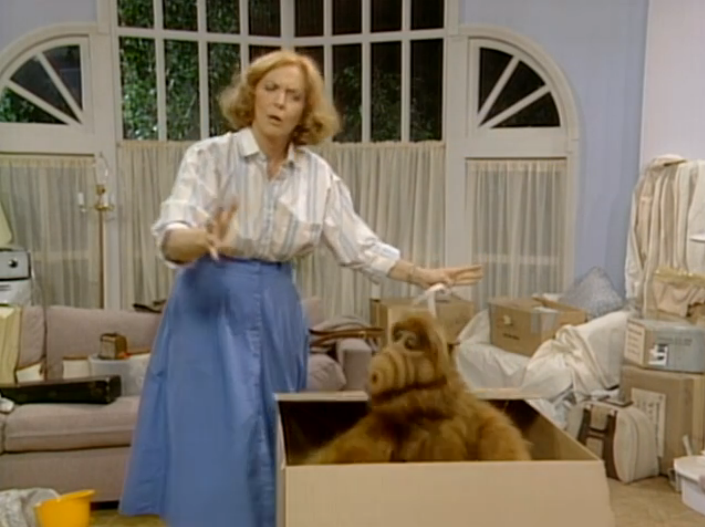 Reader BJ Siard aleted me to this fact: Anne Meara passed away on Friday, at the age of 85.
Fans of the ALF reviews will know her as Kate Sr., a condescending nickname I coined because the show never bothered to make me care about who she actually was.
She was introduced in the Kate Sr. Trilogy, and has made intermittent appearances since then. And while I couldn't pretend that she was actually a fantastic and welcome presence on the show, I would hasten to point out that she did what she could with what she was given.
Sadly, what she was given involved ALF in gypsy garb channeling the dead, being moved by a soap opera written by a space alien, being forced by her daughter into bed with a creepy guy she just met, dueting with Max Wright at the end of an episode about ALF shitting in the tub, and so on.
In other words, she was given nothing. So don't let her work in ALF dictate what you'll remember about her. Meara's IMDB page reads like an off-center history of television. Rhoda instead of The Mary Tyler Moore Show. Archie Bunker's Place instead of All in the Family. Special Victims Unit instead of Law & Order. It's interesting just how near the spotlight she was at every stage of TV history. (Her second credit is for The Philco-Goodyear Television Playhouse in 1954. She was TV OG.)
She also had plenty of experience (though typically only in one or two episodes) with hugely successful shows, and continued working right up until this past year. On top of that, she was the wife of Jerry Stiller (Mr. Costanza), and the mother of Ben Stiller. Her echoes will be felt in entertainment for a very long time.
So, no, Kate Sr. should in no way be the role that defines her, even if it's destined to be the one that we discuss at the greatest length here.
Requiescat in pace, Anne. Thanks for giving the world far more than ALF would have led us to believe.