With "Hide Away," we find ourselves at the halfway point of season three. We're so close to Jim J. Bullock joining the cast, I could spit on him.
From here I'm not sure if I've seen any more episodes. I did watch Project: ALF (or at least some of it) when it aired, but after "Do You Believe in Magic?" I don't know if I ever bothered tuning in again. I might have, but "Hide Away" isn't at all familiar to me. No memories came rushing back with this one…and that's kind of a shame. It's not a great episode, or even a good one, but it's miles beyond "Do You Believe in Magic?" If I had held out for another week as a kid, I could have at least ended my association with this show on a higher note.
That's "higher" in a very relative sense, I assure you. "Hide Away" opens with ALF burping. It literally opens with that. It's the very first thing that happens in the very first frame. Incredibly, it gets better!
Willie comes home and apologizes for being late. Apparently there's some guy at work who traps people and tells boring stories, and that's what held him up. The irony of Max Wright trapping us to tell this story boringly is entirely lost on the show.
ALF tells him he bought a satellite dish with his credit card and if he doesn't like it he can go fuck himself. And, with that, we're off!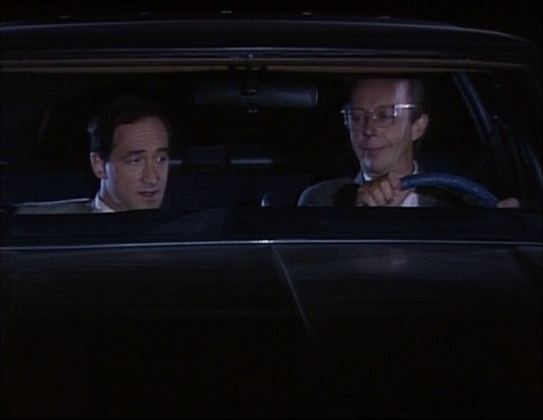 After the credits we see Willie in the car with the boring guy, whose name is Jimbo. What's the over/under on this guy meeting ALF before the episode is over?
It does get a little annoying that so many characters on this show are defined only by their relationships with ALF, and not by their relationships with each other. It really limits how much we can care about any of them, and how distinct any of them can be from each other. It's why so few of them are memorable in any way, and it prevents any of them from having a unique reaction to meeting a god-damned midget space bear.
Of the recurring cast on this show, I'm pretty sure only Mr. Ochmonek and Wizard Beaver haven't seen him. And the latter was only in two episodes. Sure, plenty of one-offs haven't seen him, but that's more than made up for by the mountains of one-offs who have. In any other show, this wouldn't be a problem…but when you decide to build the idea that nobody, under any circumstances, can meet your main character, it's endlessly frustrating if you don't adhere to it. It's a self-imposed limitation, so if you don't want to be limited by it, why impose it?
Something about the way Jimbo looked made me wonder if he played Father Buzz Cagney in the final episode of Father Ted, but I looked him up and no, he didn't. He did, however, have a very important role in another show that I couldn't have possibly recognized him from: he was the PA announcer on M*A*S*H*.
Actually, there were two actors who pulled that duty on the show. One was this guy, Todd Susman. Susman also reprised the role for an episode of Futurama, which is really cool, and it means he got to play the same character in two of the best shows ever made. Not many people can say that. The other voice on the PA belonged to Sal Viscuso, which is the name I would have recognized, but Viscuso was evidently in significantly fewer episodes than Susman.
Interesting. Growing up I had always assumed that Radar was the one making the announcements, but at this point in time I have no idea why I thought that. There are still plenty of episodes of the show that I haven't seen, or haven't seen in years, but to my knowledge the announcer was never named, and we never actually "met" him outside of his voice.
The important thing about this scene, though, is illustrated in the above screen grab: check out how clearly Willie is eyeballing this guy's cock.
It's a bit odd — but by this point in no way surprising — that after we hear all about how this guy's such a boring asshole, when we meet him in the very next scene he's fine. He's making awkward small talk as Willie gives him a ride home, but it's certainly nothing that bad. If anything, I'm listening more intently to what he says than I've ever listened to Willie, because at least there's a chance this new guy will say something interesting.
Willie asks him where he grew up, so Jimbo tells him it was in Seattle, and then he went to school at NYU. Willie makes a bunch of faces as though he's really put out by this guy's presence, but all it does is make Willie look like a fucking awful human being. You asked, Willie, you sack of shit.
He looks even worse when Jimbo shares more information about himself. His parents died when he was young, so he was an orphan. His car's in the shop for major repairs. He lives in a shitty little apartment with a busted stove. And, I have to say, that makes him far more believable as a social worker than Willie has ever been. They do tend to have bleak backgrounds, which is what compels them to help others through similar situations. And certainly I've known more social workers who lived in efficiency apartments than in palaces on Whites Only Ave. in L.A.
Willie begrudgingly invites him to dinner, but not before he makes it clear how much of an inconvenience this is, because he's a lonely, unloved, poor person whom Willie has every right to hate.
Come to think of it, isn't Jimbo's story the kind of thing Willie should have to deal with every day as a social worker? Yes, it makes the guy sound like more of an actual social worker, but it also makes him sound like one of the clients who would need a social worker.
Why is this the way Willie handles it? How many raises and promotions does he need before he can look at somebody who is worse off than he is (which seems to be most everyone on the planet) and think, "I should at least be nice to this guy"?
I know I keep getting hung up on this issue, but I just want the show to be aware of it. We can do a sappy episode where Willie realizes he's a shit and starts actually helping people, sure, or we can at least make a winking joke about the fact that he never does. We can't have all this heart-to-heart bullshit about what a wonderful job Willie is doing and how important his work is when he can't be bothered to rein in the verbal abuse every time a blind woman needs a place to sleep, a homeless man needs something to eat, or a colleague needs a friend.
Willie Tanner isn't just a lousy social worker; he's an absolutely despicable human being.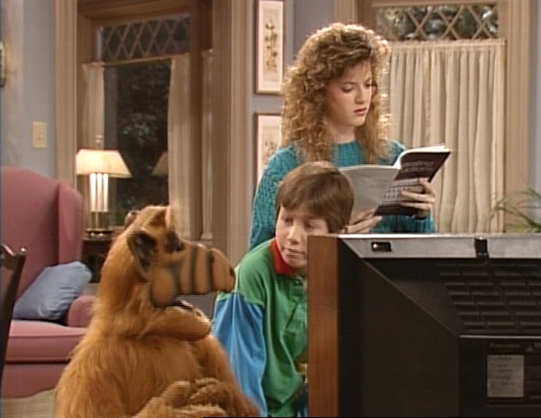 Back at the house, ALF is installing the satellite dish. By…standing in front of the TV?
I have no idea. I guess the physical labor part is done, but by whom? Did he send Brian onto the roof with power tools and hope for the best?
Brian "Handy Smurf" Tanner, who who is standing beside ALF this entire time, leans over and asks him how it's coming. It's…odd. Did they forget to put a stage direction in the script telling him to walk in from another room? Why is he asking if he's been privy to the entire thing?
ALF tells him it's not working; he's getting a lot of static, and for once it's not from Kate. This actually leads to a cute little moment when ALF says, in an uncharacteristically quiet tone, "Ha." Then he glances over his shoulder, confirms Kate was nowhere to be seen, and laughs his normal, louder, "Ha! Ha!!"
It's nice enough on its own, but I especially enjoy that it allows me to believe Kate has taken to beating him when he misbehaves.
She does come into the room shortly and reminds ALF that he's lucky they're letting him keep the satellite dish (which leads to another nice moment from ALF as he asks her not to use the words "Lucky" and "dish" in the same sentence, unless she means it), and then tells ALF to get in the garage because Jimbo is coming over, and he's not supposed to accidentally meet him for another four minutes.
Nowadays I'd just assume Willie called home on his cellphone, but how did he convey this information to his wife so long before they became commonplace? It's possible that he pulled over and stopped at a phone booth, but it's a little bizarre to leave that unaddressed. Way back in a previous episode, though I forget which, there was a great, silent moment when someone comes to the door, and one member of the family signals to another that it's safe to open it; ALF is hiding. I like this because it's a brief, clean, and believable way of conveying to the audience that the Tanners have developed methods of concealing ALF's existence. And, once we see that, we can assume forever forward that this is what's happening every time someone comes to the door, whether we see it or not.
Here, with Willie communicating Jimbo's presence to Kate via evident telepathy, we don't have that, and it's a shame, because it would be nice to know how they do inform each other of these last-minute plans.
Of course, the whole issue would have been moot if instead of setting the previous scene in Willie's car they set it at the office, close to closing time. Jimbo could request a ride home, Willie could kick him six or seven times in the nuts before inviting him to dinner, and then, without ever having to see it, we could assume that Willie simply called her from his desk phone. It would have also given us some narrow window into his work-life, which the show seems bizarrely reluctant to develop.
First-draft blues, I guess.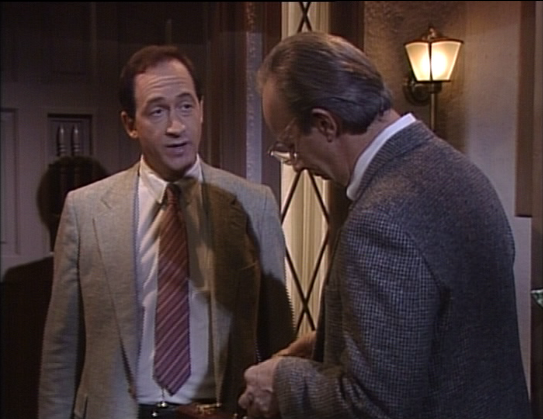 Outside the house Willie stands around looking at his shoes while Jimbo babbles boringly. Wait, not boringly…it's actually pretty interesting. He's talking about Mark Twain's contention that there could be no comedy in Heaven, since comedy is reliant on pain and Heaven would have no pain. It's a potentially fascinating subject — with even my extremely simplified summary leaving infinite room for debate — but all Willie does is dribble on the porch and wait for his guest to die.
He eventually says, "Oh, you've finished," when Jimbo stops talking, which is a pretty rude thing to say, even measured against Willie's asshole curve.
Now, I can understand that Mark Twain's quasi-philosophizing about the nature of Heaven and humor would be boring for some people. Maybe even a lot of people. Me, I'd be all over a conversation like this, but I'm a massive dork. I know that. And I can just about get behind the show utilizing it as an example of something that would bore people.
…but that's people. And Willie isn't "people." He's Willie. A fucking nerd if television has ever had one.
So, no, I don't buy that this would automatically bore him into catatonia. It's possible that Willie thinks Mark Twain is beneath him, or something, but it's not an innate incongruity, so the joke doesn't land.
Let's say, by way of reverse illustration, Jimbo had been talking about the night he spent at a strip club. Or the time he won Super Bowl tickets and got to sit in a luxury box. Or a concert that he went to see in which several of the instruments were played by negroes.
Any of those things would seem to strand Willie in a conversation that he'd have difficulty caring about. But literature? Philosophy? Religion? (Remember, just a few episodes ago he was singing Thanksgiving hymns with hobos and space aliens.) His boredom here isn't comic incongruity; it's affected, shitty dickheadery.
Jimbo sits down to dinner and thanks them for having him. Which is pretty nice, considering how poorly he's already been treated by his host. In fact, I'd like to remind you here that this episode would like you to consider him the irritating pest. (It's a very difficult thing to do when every second of the episode is unintentionally showing you otherwise.) There is a decent little exchange when Kate finds out he's an orphan. She says, "I'm sorry to hear that." He replies, "Most people are."
It's funny in an understated way, and Jimbo delivers the line well. There's a necessary undercurrent of sadness to it, but it's so matter-of-fact that it works very well. (That, for the record, is comic incongruity.)
But then Lynn asks him where he's from, so he says he's from Seattle and graduated from NYU, and the fake audience howls with fake laughter as every one of the Tanners rolls their eyes and wish this boring fuckbag were never born.
Okay, I get it, being born in Seattle and going to NYU isn't the most exciting backstory. But you fuckers keep asking him. Is it his fault that his answer isn't, "Well, I was born in space, and then discovered the only living unicorn at the age of eleven…"?
Fuck you, Tanners. Jimbo's lived a dull, and seemingly sad, life. I'm very sorry his basic answers to your basic questions aren't thrilling you to the core, but if it's such a problem, start asking ones that might actually lead to interesting stories.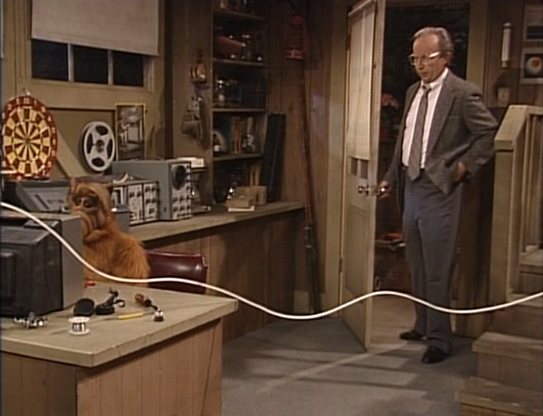 Later Willie goes into the shed to apologize to ALF. Guh.
This family seems to apologize an awful lot to ALF after he does something wrong, and I'll never understand it. Why is Willie apologizing to the guy who bought something, with Willie's money, without permission?
Willie says he's sorry that he wasn't home to help ALF set up his satellite dish. ALF explains that he handled it just fine on his own, and even climbed onto the roof to install it.
For some reason this doesn't result in Willie throttling him against the wall and shouting, "Vvvvfffnnnffuuckkkk aa-hhhre you doooh-ing on the vvfffuccck shhitting rooff?" He just apologizes some more, and doesn't even think twice about the fact that that the naked space alien that lives in the hamper was making home improvements on the roof in the late afternoon, and that might draw some undue attention and danger to his family.
No, it's better that we apologize, and shore up ALF's emotional well-being.
That orphan guy who that we invited over just to be an asshole to, though? No, it's quite right to treat him like shit.
Guys, I hate this show. These are the kinds of things that needle me endlessly, and it's why I can't, ever, buy that these people are in any way human.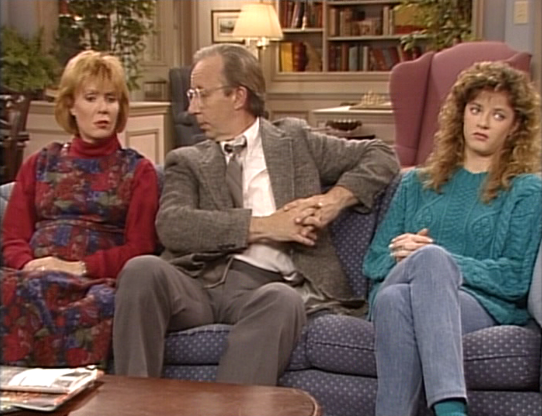 Back in the living room, Jimbo is ratting off some geography facts, and, okay, yes, I can see how this would be boring. But it's not like the Tanners are being particularly hospitable. What else is the guy supposed to do? He's being awkward, yes, but that's a symptom of the fact that he's the only one in the room trying to make conversation. These fuckholes aren't bringing out any board games or snacks or trying to engage with him in any way. They're the hosts here, but all they do is sit Jimbo in an arm chair and stare at him. I don't think it's quite the guest's fault that this is a dull evening in.
Besides, what would they be doing if he wasn't there? Having all-night adventurous sex? I doubt it. As far as I can tell, they'd all be sitting around in silence while ALF jacks off in the shed anyway.
When it comes to the way this show handles the Ochmoneks, my common reference point for how to do it right is Ned Flanders. He's an obvious one, because the Tanners, like the Simpsons, don't see how good they have it. They get irritated by the family next door, without realizing (especially in Homer's/Willie's case) that they themselves are the bad neighbor. In ALF's case, the show isn't even aware of that fact…but a small tweak of understanding could make all the difference.
Here, they're irritated by a boring guest…and my example of how to do it right comes from (the coincidentally aforementioned) Father Ted.
Father Ted dedicated its entire second episode to a visit from Father Stone, a man who is incredibly boring, and who for that reason drives Ted, Jack, and Dougal crazy. That sounds a lot like what's supposed to be happening between Jimbo and Willie, Kate, and Lynn here.
But here's the thing: on Father Ted the characters don't just bleat about how boring he is and hope we buy into it; they show us. They invite Father Stone along to things. They try to get him to watch TV with them or join them in other activities. They attempt, repeatedly, to engage him, asking him about mutual friends, and doing their doomed best to make the most of his presence.
In other words, they try. The fact that he remains steadfast in his dull refusal to engage in return is the joke…not that the Craggy Island priests hate him. And that's why I can believe for myself that Father Stone is a dull man; it's demonstrated. He has every opportunity to take part what's going on around him, and he chooses not to. (With the exception of evacuating the parochial house due to a fire…which becomes a brilliant joke in itself. Ted asks, astounded, "You're going?!" Father Stone replies, "Well, yeah…if there's a fire.")
Jimbo, on the other hand, doesn't work the way the episode wants him to. In fact, he seems to be playing the opposite role. He keeps trying to connect with the Tanners, and they just make fuck-you motions every time he turns his head. He is the one trying, though "Hide Away" wants us, against literally everything we're seeing and hearing, to believe that he's the bad guy. It erects its own obstacle to believability, and then spends its entire runtime trying to push it out of the way. Father Ted, by contrast, knew that if it wanted to make that joke, it actually had to…y'know. Make that joke.
Willie and Kate go into the kitchen to bitch about how terrible a houseguest this guy they're treating like shit is, and ALF is in there; he's been listening in. He refers to Jimbo as "Little Orphan Whiney" (though sharing geographical trivia is a pretty odd thing to consider whining), and even suggests that it's Jimbo's own fault he's an orphan: he bored his parents to death.
This is supremely nasty stuff. I kept expecting the episode to conclude with the Tanners realizing they've been pretty rotten to the guy, but, of course, that never happens.
The Jimbo abuse is almost worse than the way they treat the Ochmoneks. In fact, the only reason it's not worse is that we know we'll never see this guy again; the poor Ochmoneks are stuck with it for another season and a half.
Willie, puzzlingly, concludes that Jimbo has "taken advantage" of them long enough. Taken advantage in what way? By trying to make conversation while you assholes snigger and make fun of his dead parents? What the actual fuck am I watching?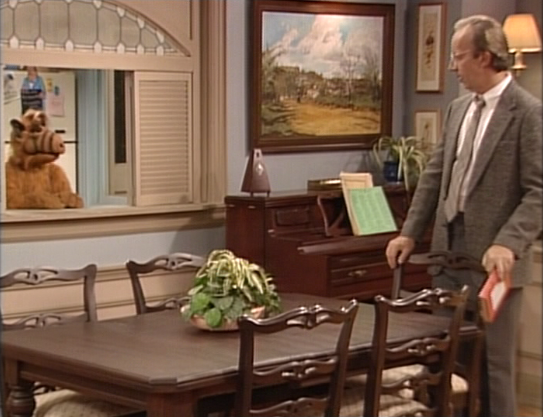 Willie heads back into the living room to give Jimbo a heated fisting, but their guest — what a massive jagoff he is! — apologizes for keeping them so late, and even says they don't have to drive him home. He'd be happy to just sleep outside, in the car.
It would be quieter in there, he says, than in his own apartment…where he'd be kept awake by freeway construction and the all-night bowling alley. (A lovely Frank Grimes kind of detail, there.) But Willie invites him to spend the night inside, being very careful that his disgust at the very idea of taking in a lonely, hurting, friendly man echoes through every word.
Jimbo takes a moment to confide something to the Tanners: his real name is Steve. He's in the Witness Protection Program, because he turned in a group of counterfeiters years ago…and now this is where he is in life.
It adds a whole other layer of tragedy to the guy who's just become the most interesting man in the ALF universe. (Now it's doubly ironic that the episode thinks he's boring, no? And why do the Tanners never reconsider their idea that he's boring now that they know some mobster guys want to kill him?)
This poor guy got off to a difficult start in life, pulled himself up by his bootstraps, made something of himself…but then stumbled on to some illegal activity, and — because he's an inherently honest guy — turned in the criminals, found himself forced to relocate, and had start all over again. This time around, he wasn't quite as lucky with the cards he was dealt, and he lives in squalor, working a low-paying job, without friends or anyone he can connect with.
That's an actual backstory. And a good one. The episode doesn't connect all the dots that I just did — and fuck knows the Tanners aren't interested in doing so — but when you pay attention to Jimbo (er…Steve) and don't just dismiss him the way the characters do, you find a pretty compelling sub-narrative. I like it, but I like it in spite of the work the episode is doing, not because of it.
Jimbo goes into the next room and ALF pops up through the plot window to tell Willie to throw this guy out, because he's a dirty rat and the mafia might come and Jesus Christ can you blame me for getting lost in subtext and backstory when this is the shit I have to come back to?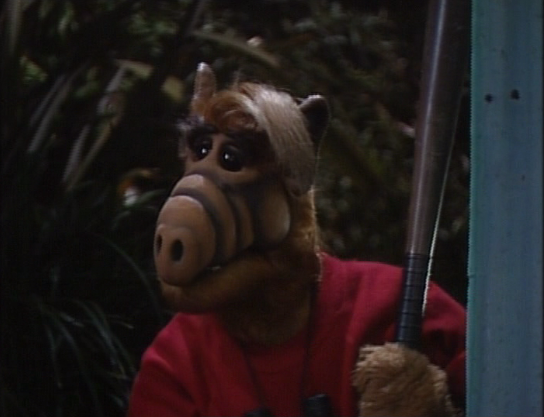 We get some commercials, which is good, because they're the only thing in this episode I understand.
Then ALF is sneaking around the back yard in the dark, holding a bat. But he recites the intro to Dragnet, which has nothing to do with what he's doing, what we're seeing, or, so far as I can tell, anything in the known universe. The music is a string-laden mood piece that creates a tense atmosphere…and also sounds nothing like Dragnet. It's like the various parts of the episode couldn't agree on what what supposed to be going on in this scene. It's odd.
Anyway, I guess ALF is going to beat the houseguest to death, or something. He hears a cat in the bushes and clubs it senseless. He says, "Cat burglar," and the fake audience yuks it up because ALF just caved a stray animal's head in and then said something.
Then there's a scream and ALF runs over to find Willie caught in a net.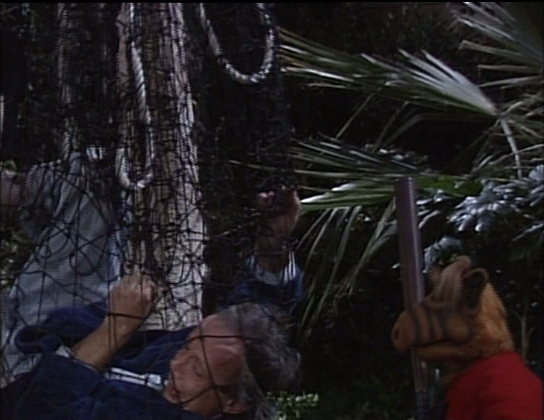 How did ALF rig this thing up? Why did he rig it up in the back yard, where the mafia guys would be least likely to approach the house? (At least that's who I assume he's trying to catch. Whoever it is, though, I think the back yard, which can seemingly only be entered through the Ochmoneks' gate, is a pretty odd place to expect company.) Why was Willie skulking around out here in his pajamas, anyway?
Who cares. ALF runs up to him, sees pretty fucking clearly that it's Willie, and then starts clubbing the shit out of him anyway.
Now that's comedy.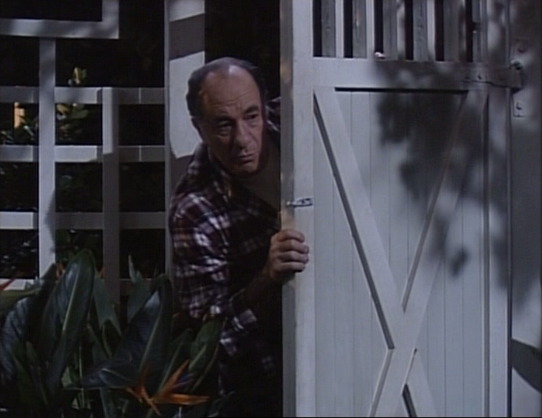 Mr. Ochmonek comes over to see what all the screaming and beating and broken teeth are about, which regretfully halts ALF from bludgeoning Willie to a slow and torturous death.
This is actually the best moment in the episode, because here is what Mr. Ochmonek sees when he opens the gate: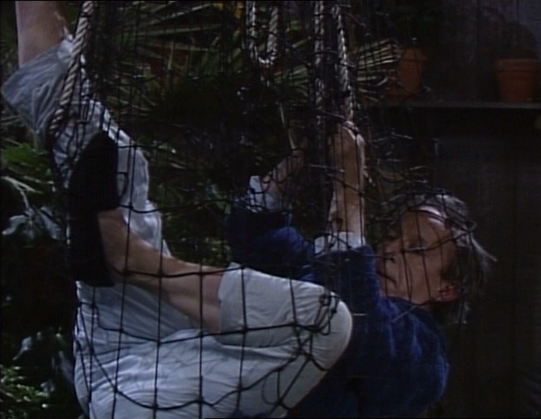 Willie thinks quickly enough and tells Mr. Ochmonek that he's doing something that requires all of his concentration, so if he comes back in the morning he'll be able to answer all of his questions then.
It's…actually decently funny, if not even slightly believable.
Let's just pose the question again here: who is the bad neighbor? The one dangling in a net, shrieking at all hours of the night? Or the one who both checks on him to make sure he's okay, and leaves without pressing the issue?
It baffles me that this show, still, this late in the game, has no idea who its main characters are. Sure, you could ask me to tell you everything I know about Willie, and I'd come up mostly dry. But, I have the feeling that if you stepped into the ALF writing room and put the same question to them, you wouldn't get much more. (And considering how much rambling horse shit I spin on this blog for the sake of keeping myself sane, you may actually get much less.)
Whatever. As soon as Mr. O closes the gate, Willie and ALF start screaming at each other. There's no way he made it back into his own house in those few seconds, so this is just further evidence that nobody gives a crap about hiding the alien's existence anymore.
Then Willie says "Let me down!" so ALF unties the rope and he falls. It's hilarious if you're an idiot.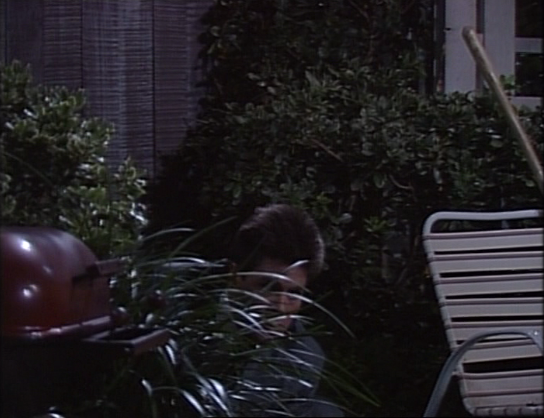 Later on, ALF is still dicking around in the yard. I guess Willie sustained a serious enough concussion that he didn't think to chain ALF to the radiator before hitting the hay.
A Rob Lowe impersonator hops over the fence, and ALF smacks him with the bat in what looks like the small of his back. Since this is where the human brain is located, Rob is knocked out, and he tumbles into a pretty phony looking hole dug into the soundstage that we used to be willing to believe was the Tanners' yard.
Willie arrives immediately at the scene, so I guess he passed out next to the shed and never even made it back to the house.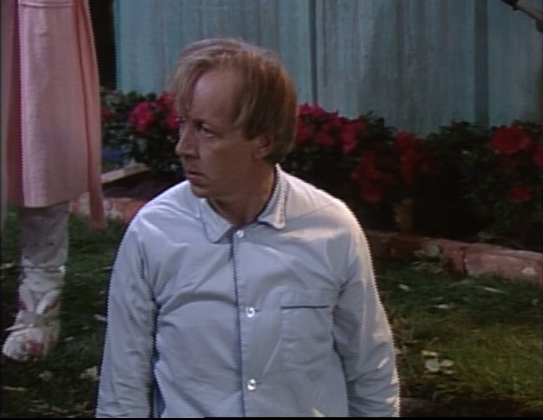 Lynn and Kate come outside, too. Not for any reason…just to be there, and to make clear to the audience just how fucking loud and obtrusive ALF is being outdoors at night, after sitting on the roof all afternoon installing a satellite dish. The Alien Task Force sure has their work cut out for them.
Willie hops into the hole to look for an ID on the man, and discovers that he's an FBI agent.
Sure, why not.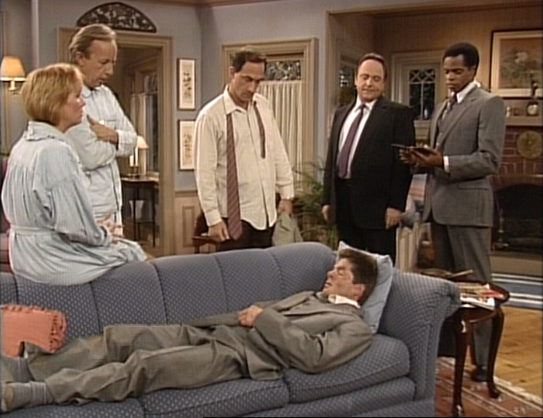 They bring the cold-cocked FBI guy into the living room, where Willie and ALF argue loudly over his body, which is a great way of avoiding detection. Do neither of these shitbrains wonder what they're going to do if this guy so much as opens his eyes?
Then the actual FBI comes to the door and sees the body. It's exactly as abrupt as I write it here. Actually, since you very likely could have stopped reading between those two sentences and watched some pornography, it could well be more abrupt than it is here.
Willie explains that the unconscious guy is in the FBI, but they say he isn't, and his ID must be a fake. The real FBI was here for Jimbo, because the counterfeiters wanted to kill him, I guess, and the fake FBI guy was the killer they sent.
So, that's convenient. The conflict is introduced and resolved in practically the same breath. Has ALF never heard of rising and falling action? I feel as though the plot diagram for any given episode of this show would be a flat line.
The same thing happened last week, and it's confusing to me that the writers keep doing this. They have twenty-odd minutes to fill, but keep introducing the conflict in minute twenty and resolving it in minute twenty-one. The rest of the episode is padded all to hell, so it's certainly not happening because they need that extra space for jokes.
It's frustrating. ALF assaulting and battering an FBI agent in the back yard because he's an incurable fucktard could fuel a good plot on its own. Instead it happens, and as soon as the concept is introduced, there's a knock on the door telling us not to worry about it. He's not an FBI agent. He is a killer, though…which would also make for a good plot, but don't worry about that, either, because he's under arrest.
It's…really lousy stuff. Just awful.
Jimbo thanks Willie for his kindness and hospitality, and I guess the joke is that Willie can't even bring himself to say "You're welcome." He's just happy to see this unselfish human being ushered out of his life forever. Bye, Jimbo. Sorry you didn't get to meet ALF.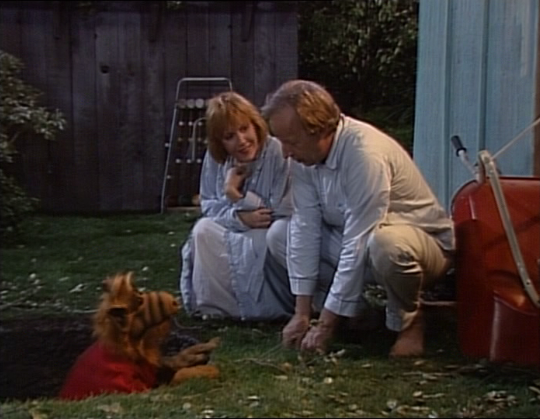 Willie and Kate run out to give the good news to their alien, and find that he somehow tumbled into the hole that he himself dug. I don't know either. He cracked his head on the sewer pipe. Who cares.
How did all these people know to find Jimbo at the Tanner house? The assassin I could maybe buy…it's possible he was staking out Jimbo's place and followed Willie's car. But the FBI? While they could have done the same thing, what would be their motive for waiting so long to knock on the door? Especially if they were there to protect him from being murdered? With the assassin I assume he waited until everyone went to sleep. You know…because assassinating is illegal. But the FBI just wanted to warn Jimbo and get him out of harm's way. So either they, too, followed Willie's car in secret — which makes no sense — or they somehow knew the exact address he'd be spending the night at, even though it wasn't planned in advance — which makes no sense. And it's not like they waited for the assassin to make his move; they didn't even know he was there until Willie pointed him out.
And, okay, as much guff as I gave ALF for having every character meet the alien, Jimbo is the one character that should have met him.
The reason I say this is twofold.
First, and probably more importantly, Jimbo and ALF have a lot in common that the script doesn't realize, because nobody read it a second time before turning the cameras on. Both of them have tragic pasts. Both of them eventually found a place for themselves that they were happy with. Then both of them, against their wills, were thrust from everything they knew and were forced to relocate. They're both relatively unhappy with their new lives, and they both want something more. Think of the conversation they could have. Think of what they could say to each other. ALF could end up with a commiserating soulmate. Or they could both see the other as a whiny, bitchy fuckball and realize that that's what they must look like to others, too. There are a lot of possibilities, and all of them are better than what we got, which was nothing.
The fact that the episode does nothing with this — and, again, doesn't even realize the parallels — is insulting to the brain.
And secondly, it could have been nice to see ALF's existence being kept a secret for a different reason. See, so far everyone who meets ALF just keeps him a secret because they're in love with his…whatever he has. Hobos, cancer patients, Mexicans…they all see something in him that causes them not to rat him out. He touches their hearts, and sometimes their prostates. It gets old.
Here, though, Jimbo would have a very good reason not to turn ALF in: ALF could also turn him in to the bad guys. There'd be a kind of stalemate in effect that would fuel a new dynamic on this show; something very much unlike anything we've seen it explore yet. Yes, it would require a slight cheat (Jimbo would have to somehow believe that ALF could get in touch with the counterfeiters) but I'd prefer that relatively small plot hole to the gaping shit hole that we got.
So, yeah. Thanks, ALF, for addressing my concern the only time I'd wish you hadn't.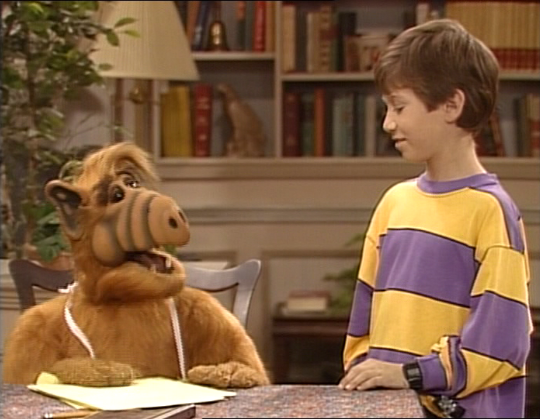 In the short scene before the credits, we see ALF being awarded the Tanner Medal of Honor. I think when I'm finished with these reviews I deserve the Tanner Purple Heart.
I do like that ALF is being rewarded for his all good deeds in this episode, which include buying a satellite dish without permission, foolishly installing it himself on the roof in broad daylight, repeatedly insulting an orphaned house guest, killing a stray cat in cold blood, beating Willie about the head and neck with a baseball bat, and brainlessly assaulting a stranger. What a shitty lesson for kids to pull from this episode.
Regarding that orphaned house guest, he's just gone. At no point do the Tanners have to reconsider their behavior toward him, because as far as "Hide Away" is concerned, they treated him just as he deserved to be treated: poorly, because he's not like them, and lives a more difficult life than they'll ever know. That actually manages to be an even shittier lesson.
Mr. Ochmonek comes over because he's tangled up in Willie's net or something. It's shit, don't worry about it.
He does suggest that he thinks it's a trap to stop people from stealing avocados from their tree, which is a nice callback to "Take a Look at Me Now." And earlier in the episode, ALF says that he doesn't want Willie going to jail for something he did…again, which is a nod to "Pennsylvania 6-5000." I'm a fan of inter-episode continuity, but the fact that "Hide Away" decides to remind us specifically of two of the worst episodes just makes this feel like the third leg of a shithouse trilogy.
"Hide Away" could have been much worse, but it also could have been a hell of a lot better. It's odd, though. I come away from this one recognizing it as a heap of garbage…but I don't entirely hate it. Maybe it's because Susman is a decent enough actor that it was refreshing to have him around. Or maybe it was just because the episode introduced some interesting possibilities. It didn't see any of them through, at all, nor did it care to…but it's better than nothing, I guess.
Or maybe it's just because it's not "Do You Believe in Magic?" Which was worse than accidentally eating your own scrotum.
MELMAC FACTS: ALF was conceived in a DeSoto. Quite how ALF's dad was jazzing into ALF's mom three centuries ago in a car that wasn't introduced until 1928 and was never — to my knowledge — shipped to Melmac is a question you'll each have to answer for yourselves.