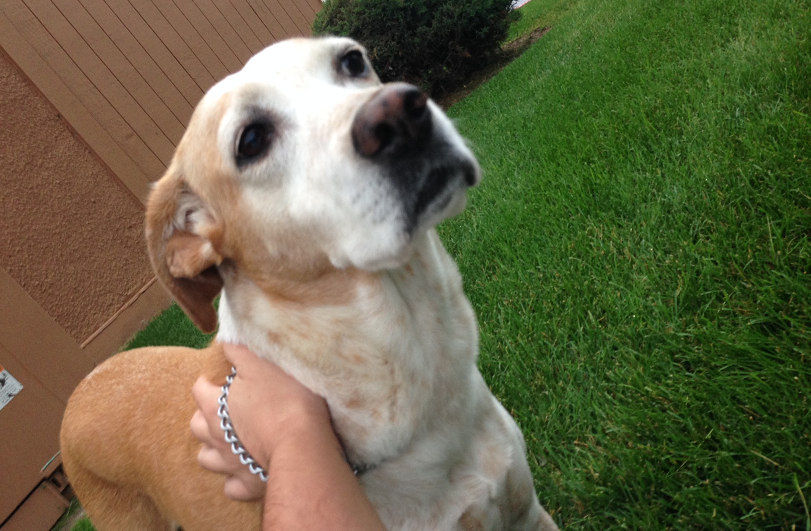 I checked the mail a little later than usual today. I've been having a difficult week, if you want to know the truth. Lying down this afternoon, finishing a book with the rain keeping time against the window was probably the most relaxed I've been. I knew I'd barely have the energy to make it to the mailbox. It's on the other side of the apartment complex. Not a long walk, exactly, but I'd have to be in public longer than I really thought I could take.
Still, I went. I headed out in my shorts and a t-shirt, because it wasn't raining that hard, and I knew I wouldn't have the energy to find my jacket. I ordered a book, and it was supposed to be here today. Another good book would help right about now.
Near the mailboxes I passed somebody's window. A dog was pressed up close against the screen. I kept walking. Got my mail. Got my book. And I started back just in time to see the dog knock the screen out of the window and escape.
The dog hung around the outside of the apartment for a while. At first I wondered if it was a puppy that saw a stranger and wanted to play, but before long it squatted and did its business. Then it explored a bit…did its business again. And then a third time. It had obviously been holding it in for a while. Maybe seeing me reminded it that there was an outside world, but most likely I think my presence was coincidental. The dog just had to go and, finally, it could no longer hold it in.
I walked over to the apartment and knocked on the door. Nothing. Through the screenless window I saw that there were no lights on anywhere. I didn't know what to do. I still don't know what I should have done.
It was after hours for the maintenance crew, otherwise I'd have called the main office. As it stood, it was just me, in the rain. And the dog was starting to explore further and further from home.
I called the emergency maintenance number. Of course, it goes to an answering service. I explained to the woman politely what I had witnessed. She had me repeat things multiple times, including things that had no bearing on what was happening (such as my own apartment number), requesting several times a piece of information I couldn't give her (the number of the apartment from which the dog escaped, which I couldn't see, because the conversation had already dragged on long enough that I had followed the dog several buildings away).
She told me that she would file it as a service request tonight, and they'd look into it first thing tomorrow.
I tried explaining to her that that wasn't going to work. I couldn't just let the dog run off (it had no identification), and I also couldn't sit in the rain with it all night until somebody decided to look into it.
While this happened, the dog stopped to investigate something and I was able to get hold of the chain around its neck. It made me feel good to know that the dog was no longer in danger of jetting off into traffic, but we were also no closer to a solution. I'd have brought the dog back to my apartment, but it was very far away and the dog didn't want to move. Its collar was one of those things that chokes the dog when it gets tight. Since I had no leash, I'd have to have my fingers in there. The smallest pull started the dog to gagging. I couldn't do that to the dog.
I asked her what she thought I should do. She said she was unable to give advice over the phone. I asked her if I could have the direct line of a maintenance person for the complex so that I could figure something out with them. She said no, she could not do that.
I explained to her again, politely, that I needed something to happen here. She ignored me. I had to say "Hello?" twice before she confirmed that we hadn't been disconnected; she really was just refusing to answer me.
The best she could do, she said, was contact a maintenance guy and let him know the situation. I asked her, please, to give him my number so that he could call me as soon as he got the message. She made it very clear that I was being unreasonable. In retrospect, she was right. I should indeed have sat in my shorts, overnight, in the soaking grass with a stranger's dog on the off-chance that a maintenance guy deemed it fit to check on the situation in the morning.
So we sat there, the dog and I. My phone wasn't charged. Why would it be? Time passed and I sat with the dog, trying to hold everything together. Other people walking their dogs came over, I guess to see what was going on. They were all full of questions. I asked one woman if she'd mind coming back with the leash after she brought her own dog home, so that I could bring this one to my apartment and get us both out of the rain. She said, "Nooooo," in the same way you say it to a homeless person who asks for your change.
Somebody else came over and let their dog sniff and climb all over the dog I was with, in spite of the obvious anxiety it caused my dog. He was all full of questions, too. When he finally decided to leave he pulled out a treat from a little bag to get his dog moving again. I asked if he could give me a treat, too, so I could calm this stranger's dog down. He thought for a while about how to say no, I guess. He never did decide. He just eventually walked away.
My mail was wet. The rain wasn't hard, but it was steady. And I couldn't hold the mail and the dog very well, so the mail had to go on the ground. The dog, by this point, was very scared. Its teeth were chattering. It was shivering. My mail came apart. The book I ordered was already ruined. I wouldn't even give it to Goodwill in this shape.
I tried hard to get the dog back to its apartment, but as soon as it realized where we were going it dug its claws into the ground. It didn't want to go. I don't know why. It had just been locked up in the dark for god knows how long without a bathroom break, it had no identification, and it lived with a choke chain permanently around its neck where most dogs have a collar. It sounds like a lovely environment.
I called the police station. I first had to Google the number. The battery was in the red. When I called, of course, it was a series of numerical prompts. There's nothing better than trying to navigate those while you're getting rain in your eyes and a whimpering dog is tugging at your other hand.
The police officer, or dispatcher, or whomever it was, was very friendly. They took all of my information and listened to my story. I don't know why they did either of those things when they told me I'd have to call animal control instead.
Can you transfer me, please?
No. Here's the number.
I don't have anything to write it down with.
I'm sorry. Here's the number.
I pet the dog. I tried to calm it down. There wasn't much I could do. I couldn't get it out of the rain. I couldn't tell it whatever it was that it needed to hear. I couldn't give it a treat. I couldn't let it go.
So I waited. I scratched it behind the ear. I was trying to calm myself down as much as I was trying to calm the dog down.
At one point the dog held out its paw to me. I took it and it just stared at me, like it didn't know what to do, and was just trying the very few tricks it knew until something worked. Before long the dog laid down in my lap. It was still whimpering. But it trusted me, I guess. It probably didn't like me very much, but it knew I wasn't going to hurt it. I thought it might be a good time to try to move toward its apartment again, but it dug its claws back in the ground immediately. It didn't want to go back.
Time passed. People passed. Nobody helped. Nobody cared. Who can blame them, really?
I finally Googled the number for animal control. I didn't know what else to do. I could let it go and that would be that. It would be hit by a car, that much is for sure. It was raining, and we live in Denver, where nobody pays attention to anybody else, for any reason. The dog would be killed.
Or I could sit in the rain until sunup. Then maybe I could walk it over to the main office, when it opened, and be told in person that there was nothing anybody could do.
I didn't have a choice. I called animal control. And, again, I had to navigate menus. The police department and animal control. Surely no callers to those places would need to speak to somebody in a hurry.
While I was trying to figure out what would get me where I wanted to go, I received a call. It was a maintenance guy for the complex. He said he got my message and was told to contact me urgently, but that there really wasn't anything he could do.
I asked him if he could open up their apartment. He said he didn't see what good that would do. I saw a dog run away, right?
I told him no; I had the dog right here with me. He said, "Well, there's no way I can tell you who owns the dog." And I said that's okay. I saw the apartment it jumped out of, and if he comes over he'll see the busted screen for himself.
He apologized. The woman at the answering service hadn't told him any of that. She took all of my information, and relayed, it seemed, none of it. But I'm positive she let him know how unreasonable I was being, which is why he was on the defensive.
He asked me where I was. I told him. He said he'd be right over.
And a few minutes later, he was there. He walked toward me and asked, "How long have you been out here?"
I said, "A while."
He said, "I see that." I don't know what I must have looked like, but I knew I was soaked and chilled to the bone. He said, "I'm sorry. I just got the message."
So the woman who knew exactly the situation I was in made sure to take her time to relay the message to the only person who could help. Lovely. She sure taught me a lesson about my selfish behavior.
He asked me if I could hold on a couple more minutes. He'd call the residents of that apartment to let them know he'd be letting their dog in. He couldn't open the door without their approval, unless it was an emergency.
I waited. I don't know where he went. He probably had to look up their number, or find their key. He was gone for around twenty more minutes.
I tried to comfort the dog. I didn't know its name, so I tried a few commands. I said, "Easy" to see if that would help. And "Down" to get it to relax. It didn't understand either word. I even tried "Treat?" I didn't have a treat, but I thought maybe the promise of one would at least get its mind off of things. The dog didn't know the word.
Based on its behavior earlier, I said, "Give me your paw." I tried "Shake." I held out my hand. The dog didn't understand any of this. It hadn't been taught anything. It gave me a kiss, though, of its own volition…and then its eyes got suddenly large as if I might scold it.
When the maintenance man came back, he said they weren't answering. He'd unlock the door anyway, he said…and he'd close the window they'd left open. He had to do something, he said, and even if they weren't answering he couldn't ignore the problem.
He came over and took the dog by the chain. It still dug its claws into the ground, but he pulled it along. The dog was in obvious pain…but I understand. I understand why he pulled it. He really was helping.
After the dog was inside he locked the door and said to me, "I don't know anyone else who lives here who would have done what you did." Which was pretty sad, since, for all he knew, all I did was place a phone call and wait for an answer. He was an older guy. Probably twenty years older than me. I thanked him for his help, but he thanked me instead. He said, "If everyone was that nice…" and just sort of trailed off.
Then I left. He left too, I'm sure.
It's been a difficult week. The highlight of it, so far, has been losing a book I ordered and sitting in the rain for over an hour with the dog of somebody I'll never meet, because I was more worried about it than its owners were.
Or, no. The highlight was what the older man said to me. "If everyone was that nice…"
Then…what? We'd have a lot more people sitting out in the rain, I guess.
It's been a difficult week, if you want to know the truth. I don't even know if returning that dog to its home was the right thing to do.
I guess there aren't really any definitive answers.
You just do what you can do, and you hope it's enough. Or you decide it's not your problem, and you move along.
I'd be a lot happier if I knew how to move along. But I never learned how.