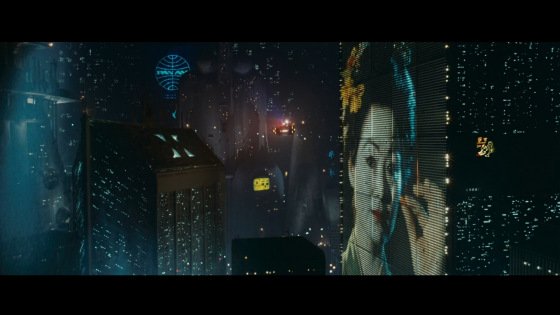 Fiction into Film has already gained some pretty awesome traction, due in large part to the official Vladimir Nabokov social profiles sharing my Lolita piece, and John Carpenter himself sharing my writeup on They Live. If you wonder why those have a few thousand likes and shares on Facebook while everything else I write maxes out at about four, there you go.
So I'm feeling pretty good about the series, and I have a nice long list of things to cover on what I hope continues to be a monthly basis.
But there's one stubborn holdout: Blade Runner, Ridley Scott's 1982 adaptation of Philip K. Dick's Do Androids Dream of Electric Sheep?
This is why I'm asking, openly, if anyone out there would like to cover it.
Blade Runner is an important film in general, and I believe firmly that a piece discussing the process of adaptation would make for a great read. It's something I'd like to have. In fact, the series would feel incomplete without it; it's a film that people keep suggesting that I cover, and for good reason.
But here's my hesitation: I don't know enough about the film's multiple cuts and tortured editing history. In most cases I'd just need to watch a film and read a book, then whack out a brilliant essay about what I learned. (I AM SIMPLIFYING)
In this case, the question of which version of the film to watch, what to consider (or disregard) from the various incarnations and edits, what actually happens and how those events are presented in order to guide our understanding of them as viewers…well, it's just a bit too much.
It's something I certainly don't trust myself to handle authoritatively, and I think it's wiser for me to step aside and let somebody else take the reins.
Are you interested in covering Blade Runner? I won't pay you because WHO THE FUCK PAYS ME, but it may get some pretty cool attention and put your name out there. And I can promise you that though these take a hell of a lot of time to write, they're also a lot of fun, and you'll find yourself noticing things you hadn't before, just by virtue of trying to put your thoughts into words.
I'm not requiring that all edits are covered…it's just that I'm not well-versed enough in Blade Runner to know what should be discussed and what — by and large — we've decided not to.
I'd definitely be interested in hearing from you if you think you're up to the task. If you want to be the gal or guy to cover Blade Runner for Fiction into Film, get in touch. I'd love to have you.