The mid-90s were a strange time for me, culture-wise. It was the first time — and probably still the only time — that I really followed "current" music. Prior to that and for the most part since, I'd kind of hop around, exploring genres, artists, and time periods as the mood dictates. Very rarely does an album come out that I feel the need to buy or listen to immediately. I'll eventually get to it, or I won't. Who cares? There's so much music out there…why prioritize something just because it's new?
From around 1993 – 1995, though, I cared. I followed. I watched MTV constantly, which feels like an embarrassing admission, but it's worth remembering that during that time, the channel was of genuine cultural importance. That's not say it didn't air or perpetuate complete garbage (such as anti-vaccination game show Singled Out), but it is to say that it also did things that mattered. From the inventive animated showcase Liquid Television to the brilliant sketch comedy of The State to the slacker-generation icons we found in Beavis and Butt-Head (which itself gave eventual rise to the misfit icons of Daria). MTV was an urgent and important cultural force.
I say all of this to provide a bit of context. I had the bands and artists that I loved specifically, such as Green Day, R.E.M., Beck, Oasis, and a few others. Those were the ones whose videos I'd want to catch, whose songs would periodically keep me interested however many others came and went without making an impact. But I also just kind of absorbed other songs in the background. Ones by artists that, for whatever reason, didn't strike me with the same immediacy. They were often fun, cute, catchy. Sometimes they were none of those things, and you'd still end up retaining them. That's one of the amusing quirks of popular music, after all; even things we don't like can lodge themselves permanently in our brains.
Every so often, now, as I go about my day, my brain will feed me some snatch of a long-forgotten song. A melody, or a lyric. Maybe with a particular memory tied to it, but usually not. And because I spent so much time experiencing the songs that flit by on MTV or KROQ or the mixtapes my friends passed around, it can be difficult to identify the song I'm half remembering. I have to employ some detective work. I'll hum it for people, as best I can. I'll describe the kind of song it is. I'll hope against hope that whatever fleeting pop song I've somehow internalized will be the same one that a peer has.
A few months ago, this happened. I remembered a chorus, but little else. And while the chorus is probably the most fruitful thing to remember, Google didn't help, because the chorus was "I'm feeling good." Lots of songs feature that line and title, or some very minor variation, and so there were too many results, none of which were correct. That was it. I couldn't find the song that was haunting me.
My brain tosses me a few other bones. I start to remember more about it. I remember riding around in the summer time, in the car of an older friend, asking him to turn up the song because I liked it so much. I remember catching it playing in a restaurant or a store, and being cheered up immediately. I remember singing along to it. And the rest of the chorus comes back. "I'm feeling good. I'm feeling good. I'm feeling good. For now."
And now I find it, under a name I never would have remembered. The song is not named after its chorus; it's called "Better Than Nothing," and the artist is Jen Trynin.
I watch the video a bunch of times. Memories come back. It was one of my feel-good songs from that era. Cynical, but upbeat. Catchy, but honest. The mid-90s come back to me in the video's editing, in Trynin's clothing and hairstyle, in the song itself. It's very much of its era, but…it holds up. It's good. I've been listening to it off and on ever since. While you could certainly make a list of 90s pop songs that are better, I'd argue that that list would be relatively short.
"Better Than Nothing" is great. It constituted the only four minutes I'd ever heard from Jen Trynin, but that's fine.
The phrase "one-hit wonder" has a bit of a negative connotation in popular music, and that's something I've never totally understood. Having a hit is a good thing. Having one hit puts you, mathematically, leagues above almost every other band or artist that has ever existed. The overwhelming majority of musicians never have a hit. To have one is a triumph. It should be celebrated.
Instead, "one-hit wonder" always feels like a snarky way of referring to a musician that didn't have staying power. Maybe it's odd to me because I don't think there are similar sentiments toward other kinds of artists. I genuinely don't know. Does anyone look at a great painting and dismiss the painter because he or she didn't also paint five other popular works? Does anyone care if a director makes just one beloved film? In literature I know for a fact that it doesn't cause readers to look down their noses. To Kill a Mocking Bird, Lord of the Flies, Catch-22 and many other massively important works all came from one-hit wonders. Who cares?
Music, though, seems different in that regard, and I'm not sure why.
So I looked Trynin up and, sure enough, "Better Than Nothing" was her commercial peak. She had two albums, some other singles, and that was largely that.
Fine.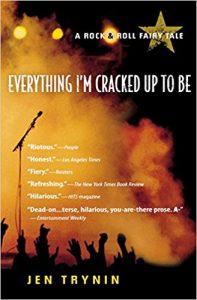 But I found that she also had a book. Her first album, Cockamamie, featured "Better Than Nothing" and was released in 1995. In 2006, she released Everything I'm Cracked Up to Be, a memoir chronicling her brief experience with music stardom. What's more, the book got rave reviews. I started skimming them as I found more and more, because I was increasingly sold on the book and didn't want to spoil anything for myself.
Reviewers talked about how funny it was. How charming. How insightful. What a great writer Trynin was. What a great story she had to tell.
And…man, that sure sounded like fun. A great book by someone who wrote a song I loved (and now love again) telling a story I never knew existed? Sign me up.
I bought it, but could only find a used copy. After all, it was published over a decade ago. As a collector that disappointed me (shelfwear, dog ears, sticker residue, the horror) but…well, I still didn't know if I would like the book, so I didn't worry too much about it.
It arrived. I read it soon afterward. I liked the book.
Hell, I loved the book. It's no secret that I read often, but it's relatively rare for me to read something continuously. I'll usually read for a bit, take a break, and come back to it. As much as I love books, it's not common that one will dig itself so deeply into me that I can't put it down.
Everything I'm Cracked Up to Be did that. I expected to read a few pages and get a sense of its content and style, and ended up reading a third of it in one go. Over the course of the next day or so, I finished it. The reviews raised my expectations to an impossible level, and the book exceeded them. It was every bit as good as the reviews said.
I've been trying to figure out why the book grabbed me the way it did. Sure, it's about someone I remember. It's about a topic that interests me. It's well written. But those things describe so many other books that I never necessarily feel compelled to keep reading, or sometimes even finish.
I think the difference is that Everything I'm Cracked Up to Be is so relentlessly human. I don't know anything about Trynin other than what I've read here, and surely there's always some degree of finessing when it comes to presenting yourself to the world, but I never got the feeling that she was presenting herself as anything other than what (and who) she actually is. Account for some simplifications for the sake of readability, some omissions for the sake of focus, and some inaccuracies due to the limitations of memory and I'm confident that the book shows us the real Trynin.
And the real Trynin is so identifiably, tragically, wonderfully human. I bought the book expecting a good story about one woman's experience with the music industry, but I ended up reading about a person. A person who isn't perfect. A person who makes bad decisions, and not always for the right reason. A person who doesn't know what she wants. But a person who, at heart, is good, who works hard, who cares about people long after she should cut them out of her life. She's flawed in the ways that we're all flawed, but she has talent, drive, empathy…I was invested in her the way I'd be invested in a really great character. I wanted to see what happened to her. I wanted to see where she ended up. And the journey is humorously and engagingly complicated by the fact that she's not even sure she wants to be famous to begin with.
The main thread of the story kicks off when Trynin decides that after years of trying to make her mark on the Boston music scene, she'll make one last push (and financial investment) toward stardom. If she makes it, great. If she doesn't, the universe has made her place very clear.
…but she makes it. It's a surprise to her, her peers, her boyfriend, her family. Her album debut Cockamamie, released through her own invented label, gains traction. There's buzz. There's murmuring. Seemingly overnight, there's a bidding war involving everyone from indie publishers to major labels.
Jen Trynin is going to be a star.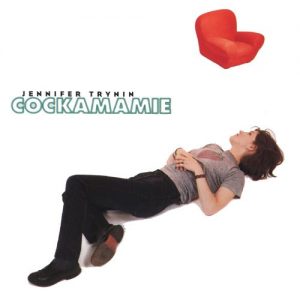 Listening to Cockamamie now, I can understand the fuss. It's not the best debut I've ever heard, but there's a strong sense of self-confidence throughout, suggesting that the album doesn't represent everything Trynin has to say. In short, it's an assurance of potential. It's easy to listen to and wonder what she can do next, with proper support…and that's just the baseline feeling you get overall. Focus on the perfectly refined standouts like "Better Than Nothing, "One Year Down," "Snow," and "Do it Alone" and…well, why not make her a star?
The parallel thread of Everything I'm Cracked Up to Be, however, focuses on the kind of star they want to make her. Specifically, her marketing representation is insistent on positioning her as a "woman in rock," as opposed to a rocker in general.
It feels understandably disparaging to her, and it's something of a backhanded compliment to be sure. So Trynin bristles against it. At the same time, though, it's easy to see why they'd want to market her that way: it worked. I remember very well a number of "women in rock" that were sold (to varying degrees of success) with that very label. The time period was rife with them. Heather Nova, Lisa Loeb, Juliana Hatfield, Sheryl Crow, Mazzy Star, Liz Phair, Courtney Love, and countless others. Not the least of which is the musician whose rise kicks off quietly in the background of Trynin's tale: Alanis Morissette.
Morisette leaned into that kind of marketing, and saw incredible success as a result. Trynin fights it, pulls away, rejects it…and finds her career crippled.
I'll step in here to make clear that Trynin doesn't assign blame. There are a few specific moments during which she admits she herself made the wrong decision ("Better Than Nothing" should have been called "I'm Feeling Good," as its title makes it difficult for DJs and fans to know what the hell it is), but she never points her finger at anybody else, or at any circumstance, or at any quirk of poor timing, and say, "That's it. That's the reason I'm not famous." She just tells her story. It's up to you, if you'd like to find a villain. Trynin's motive clearly isn't to make anybody feel bad…it's to share a personal story that, briefly, became a public one.
The "women in rock" thing resonated with me, I think, because it feels so cosmically cruel. Trynin does the right thing, artistically speaking, by not letting herself be defined primarily by her gender. But in addition to struggling against her own representation in this regard, she also overcorrects for the perceived issue: she refuses to let women open for her on tour, so that there's no chance her concerts can be seen as a kind of "chick night."
This kicks off its own scandal, which Trynin then tries to manage herself, arguably digging the hole deeper. One interviewer wonders why she sees something like this as a problem. She responds by asking if he'd be okay with a "Jew night." The spirit of this response is something we all understand and would probably agree with, but it's also obvious why it doesn't go over so well. Trynin doesn't say this because she's anti-Semitic. (In fact, it's probably worth noting that she's Jewish.) She says it because she's a human being, trying to articulate something she has trouble putting into words, and stumbling into things she shouldn't say.
Much of Everything I'm Cracked Up to Be plays as a sort of cringe comedy, during which you hope against hope that Trynin will manage to stop herself from babbling a sentence too much, such as when she makes a misjudged joke about shooting heroin to one of her representatives, who suddenly becomes genuinely concerned for her.
As a result of her misguided attempt to convince the industry to focus on her music rather than her gender, her concerts end up protested. Interview questions shift from being about the bidding war, her sudden rise, and whether she prefers Jen or Jennifer, to what her problem is with other female rockers. One DJ, on air, openly tries to instigate a feud between her and Morissette. (Trynin defuses this masterfully, which registered to me as a significant triumph after the many David Brent-ian interactions that preceded it.)
But the heart of the story is just who Trynin is. There are major, identifiable touchpoints in her career, but it always comes back to our author, our narrator, our protagonist, our tragic hero. There's a scene in which she and her band catch an episode of Beavis and Butt-Head while on the road…and find the duo mocking their music video for "Happier."
Trynin is overcome with fear that they'll make fun of her. Call her ugly. Say some kind of deeply cruel thing about her that she'll have to carry with her and be internally haunted by forever. She's relieved when they don't (they seem to focus more on the silliness of the extreme closeups in the video), but that says so much about who she is, and about where she was in her life.
Worrying when you find out (however you find out) that these two doofuses got their hands on your music video is understandable. If they say you "suck" instead of "rock," that could absolutely have an effect on your career and on public sentiment. But she isn't watching the episode as the rock star she temporarily is…she's watching it as a human being who doesn't want to hear people say mean things about her.
A single. A video on MTV. A spotlight on one of that generation's most popular shows. These are breaks many people would have killed for. But she's human. She's talented, and she's good at what she does…but she's a person. With a heart, and with feelings she can't let go of. It's the most personal and moving sequence involving Beavis and Butt-Head I've ever read.
The book is full of these great, unexpectedly heartbreaking moments. She insists on buying an expensive dinner for everybody in her entourage out of some unplaceable sense of guilt, including her wealthy lawyer who intended to pay for everyone himself. She fights for her band to reap the financial rewards of her contract, despite the fact that this band didn't play a single note on her album and only formed out of touring necessity. She's confronted by other musicians who either never made it or made it briefly and failed, each of whom assure her that she's going to come tumbling down…and you want to hug her, tell her she can do it, tell her that they're just cynical, jealous assholes…but we already know they're right. We already know how the book ends. They are cynical, jealous assholes, but they aren't wrong.
Everything I'm Cracked Up to Be is such a good read, and it surprised me with just how…wholesome it was. The sex and drugs and chicanery you might expect from a story about a rapid ascent to rock stardom rear their heads only as small, adorable equivalents. Trynin kisses a man who isn't her boyfriend, unthinkingly takes NyQuil before a radio appearance, and keeps the television low in her hotel room so that nobody will know she's in.
It's so…human.
What's more, I never got the sense from Everything I'm Cracked Up to Be that anyone in the music industry was out to screw her. Everybody we meet seems to have her ultimate best interests in mind. They treat her well. They try to help her. Even as it becomes clear that she's not going to be the wondergirl they hoped she would, they remain helpful and accommodating and friendly.
Toward the end of the book, Trynin puts together Gun Shy Trigger Happy, her followup to Cockamamie.
It makes good on every ounce of potential anyone saw in her to begin with. I've listened to this album too many times to count now, and I'm convinced it's a minor masterpiece. I like a lot of things about Cockamamie, and I think a number of the songs — "Better Than Nothing" chief among them — are fantastic.
But Gun Shy Trigger Happy is superior in every way. It's smarter. It's better. It's stronger. It's more varied. It's more mature. It's more impressive. It's really, truly great on its own merits.
It also sinks without a trace. Trynin's rock and roll fairy tale, as she calls it, is over. Her record company renames one song and releases it as a single. There's no music video. There's not even any art on the copy that gets sent to radio stations. The album gets very positive reviews but the record company goes through the promotional motions, and no further. The album that should matter is treated like it doesn't. Reading about this, I felt disappointed on her behalf.
There's a truly sad moment toward the end of the book when she and her band play an abbreviated set as part of a long bill of acts. The set goes great. The crowd loves her. They cry out for another song, and Trynin starts to give them one. But her microphone is cut. The lights are cut. Her time on stage is over. And that's that. It doesn't matter what would have come next. It's finished.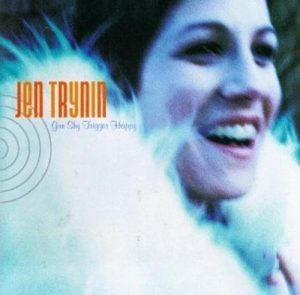 Some fragment of memory, a half-forgotten song, sent me on this little journey. There was a song I used to like. A song that used to help me. A song that made me feel happy.
It was nice to find it again. But I had no idea what happened behind it. Why would I have? I had no idea what else was on the album. Why would I have? I had no idea about Jen Trynin or her gift as an author or her incredible, overlooked followup. Why would I have?
Now I know. And I'm glad I do. Because there's a story there. A person there. A moral there, whatever we'd like to take from it. (Trynin leaves us more than enough room to take whatever we please.)
And, selfish reader that I have always been, I found what is probably my favorite (and certainly the most gripping) work of non-fiction. That's a happy enough ending for me.
But because I liked the book so much, I actually started to feel bad that I was only able to buy it used. That meant that the author didn't see a penny from me. Normally, that wouldn't bother me much. But Trynin had taken me on a journey, one I really enjoyed. One that led me to music I never would have listened to otherwise. One that…mattered to me.
I reached out to her. I let her know how much I enjoyed the book. I let her know that I ended up with a used copy, and if there were some way to support her (such as by purchasing an autographed copy; I told you I'm selfish) as a way of saying thanks, I'd love to do that.
She wrote me back. I won't share her message here, but I will say that the image I'd built of Trynin — from her music and primarily from Everything I'm Cracked Up to Be — was accurate. She didn't have to write me back at all. The fact that she did meant a lot. The fact that she was every bit the sweet, understanding, deeply human person I expected her to be meant so much more.
She thanked me for my message. She told me not to worry about paying for an autograph; she'd send me a new autographed copy just for the hell of it. Evidently, the book didn't sell as well as anyone expected it to, despite the wealth of hype and positive reviews.
History repeats. However much talent she demonstrates, in whatever sphere, however positively the critics respond…well, there's always next time.
It was a thematically appropriate fate for the book, but a sad one as well. It really did deserve better. It still does. So does her music. But…I don't know. I guess we all have our place in the universe. I used to think I'd be a famous author one day. Of course, I might still be, but, more likely, I've found my place.
I have a job writing, and it's a job I love. I work with people I love. I come home and I have a platform. An audience. I have a place to say anything I'd like to say.
That's not what success used to look like to me. Whatever image I had in mind, it was probably a lot like Trynin's. And you get closer for a while. Closer, and closer, and closer. And then no closer. You've found your place. Your audience may not be as big as you thought it would be, or as others expected it to be, but you have one. And that's more than most people can say. It's…y'know. Better than nothing.
Trynin also added me to her mailing list, and I'll be notified whenever she's playing with CUJO, her current band. Hopefully she'll come out this way. I'd really like to see her live. Maybe I'll get the chance to say hello, and maybe I won't. But how often do you get the chance to see a great author rock out?
No moral here. No ultimate point. Just a little journey spanning decades that reminds me there's always more to that four-minute song you love. I don't know how many of those stories are worth knowing, but I'm glad I got the chance to hear hers.