While I'm not entirely convinced "Harper Valley PTA" needed to be turned into a film, it at least contained elements we are used to seeing on the big screen. Characters, conflict, social commentary…whatever the quality of the final product, I can understand at least how someone might listen to that song and think, "I could film that."
"Convoy," though? I can't understand how anybody could wring a plot from that thing.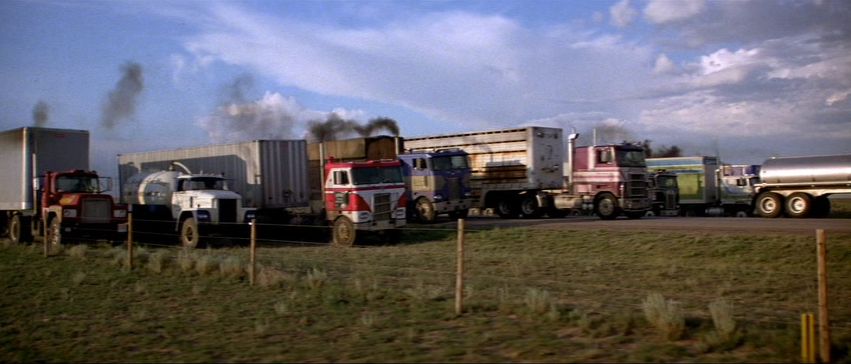 Let's be absolutely honest with each other up front and admit to ourselves that "Convoy" is a deeply terrible song. Here, I'll prove it. "Harper Valley PTA" is listenable, if not especially inventive.
"Convoy," in significant contrast, is embarrassing. For all of its vague celebration of the American long-haul trucker, I doubt any actual truckers would listen to this willingly, any more than sailors in the Navy would sit around listening to "On the Good Ship Lollipop."
It's a strangely wimpy song for what — as near as I can tell — spins a tale of interstate badassery, with its chorus sounding more like a Mike Curb Congregation soundcheck than the modern cowboy spirit it's trying to tap into. It genuinely doesn't realize how much it sucks.
Like so many other terrible songs, though, "Convoy" was a hit, and someone, somewhere, remembered they liked money and would enjoy making some of it.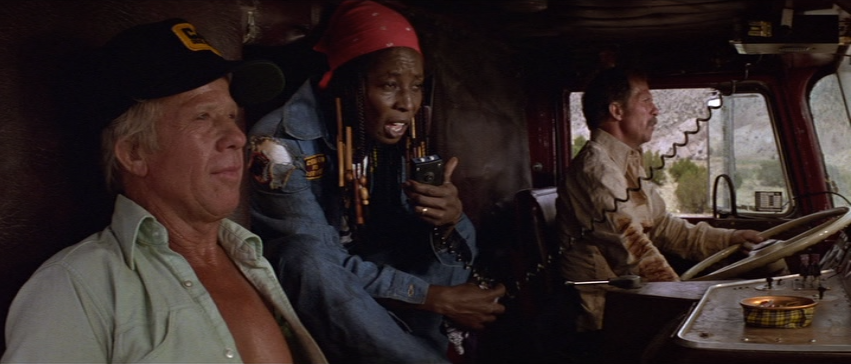 …but what the hell do you do with "Convoy"? It has characters in the sense that some CB handles are used in the song. It has conflict in the sense that the singer mentions the police a few times and it's safe to assume he would prefer not to be arrested. But…that's about it.
What happens in "Convoy"?
Well, there's a convoy. That's even the chorus. There's a convoy. That's all you need to know. A convoy exists. Honk honk.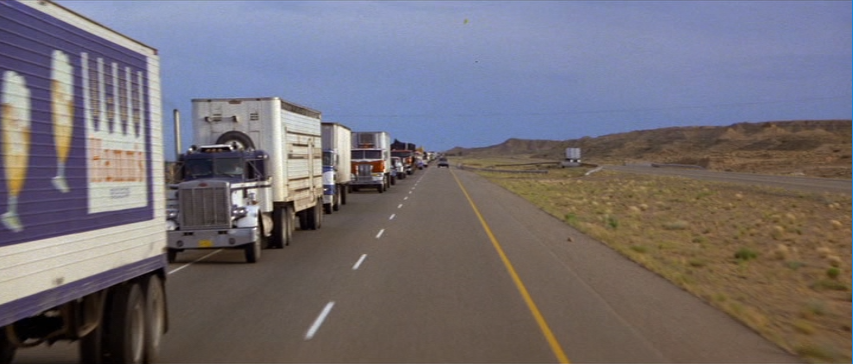 We could scrape the loosest possible narrative together from the cities mentioned in the song (representing a cross-country trip) and the inflating size of the convoy each time we reach the chorus (from little to great big to mighty).
But is that a story? No. A convoy getting bigger as it rolls along some highways is not a story, whether or not it's rockin' through the night.
Could it be a story? Of course. And Convoy, unlike Harper Valley PTA, can do what it damned well pleases. It doesn't have to include or tip its hat to specific people and character traits and motivations that fans expect. As long as some fucking trucks drive around, Convoy can be anything it pleases.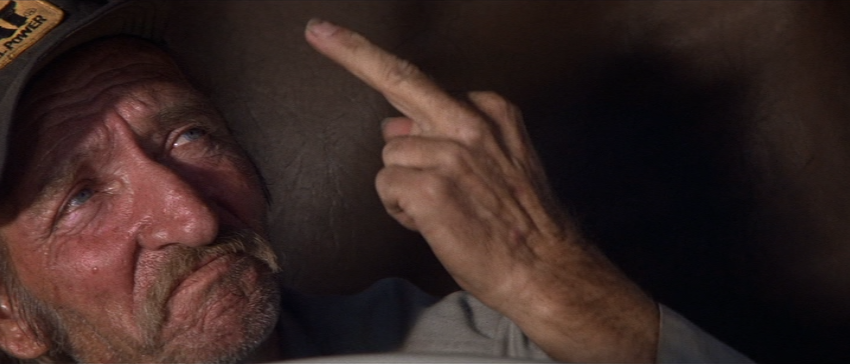 Sadly, it's this.
Convoy is, at least, a competent film, and it has notable talent behind it. It's directed by Sam Peckinpah. Its leads are Kris Kristofferson and Ali MacGraw. Ernest Borgnine is the villain. Character actors including Burt Young and Seymour Cassel play major roles. With the original "Convoy" being almost completely hollow, ready to be filled with whatever a creative team might come up with, all anyone needed was some inspiration.
"Convoy" was so uninspired it sucked the inspiration out of its own film adaptation.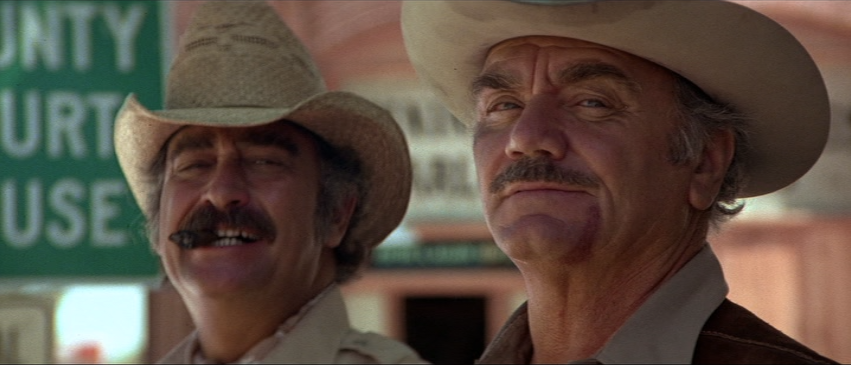 The implied crux of the film is fine; some truckers are just trying to make an honest living, but the law won't stop harassing them. The truckers push back and are soon enough joined by more and more in protest of…eh, we'll come back to that.
The point is, that's okay. The downtrodden start fighting back and discover they have more power than they'd realized. It's a solid backbone for a narrative, however it ends and wherever it leads.
But there's a reason I had to say it's an implied crux: these guys aren't just trying to make an honest living. In fact, they're assholes.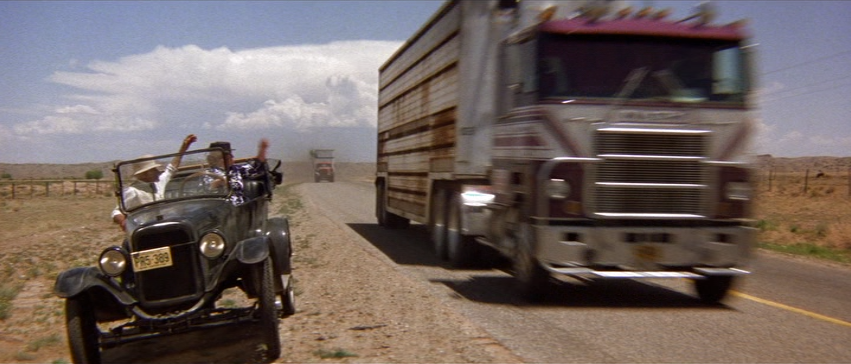 A hard-working group of American boys gaining a following is one kind of story. A bunch of criminals gaining a following is obviously another. Convoy shows us the latter but relentlessly insists we see it as the former.
We're introduced to our hero Rubber Duck — a name I'm sure Peckinpah was thrilled to inherit — as he demonstrates aggressive driving that endangers the life of an attractive young lady in a sports car.

As you might expect, it's not presented that way, but it's almost impossible to view it otherwise. In fact, Convoy opens like a stealth remake of Duel in which we're meant to sympathize with the psychotic, unshakeable truck driver.
She passes him, which can't be an uncommon occurrence for long-haul truckers, but he refuses to let her stay ahead of him. Rubber Duck speeds up to pass her, and the two of them engage in bizarre flirtation that sees her snapping photos of him without paying attention to the road.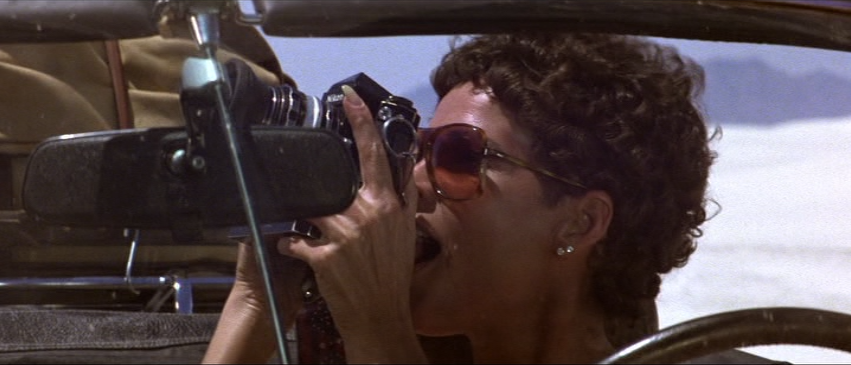 This is dangerous! You people aren't charming. You could kill somebody!
Sure enough, there's a cop up ahead, and Rubber Duck's shenanigans run the cop off the road, endangering a third life.
He pulls Rubber Duck over, and there could be a nice observation here that would tie into the desired theme of the film. Both the trucker and the lovely young lady were driving dangerously, but the cop only cares about ticketing the trucker. That would certainly give the working man something to push back against, right?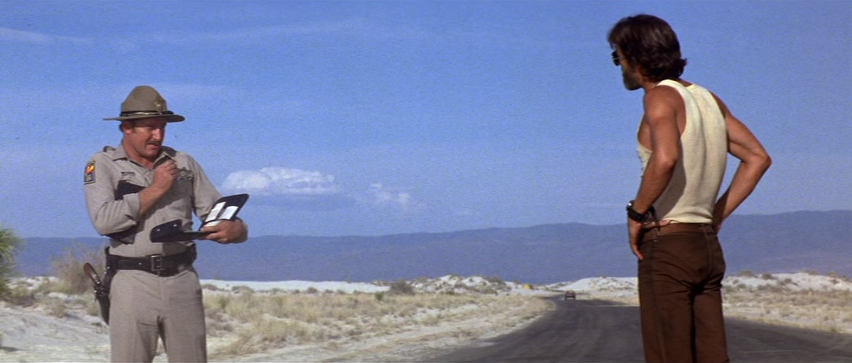 Instead, the scene is just an excuse for some light comedy, as Rubber Duck weasels his way out of a ticket by telling the cop that the young lady had no pants on, and if you look carefully you can even see her labia flapping in the breeze.
Suddenly too horny to write a ticket, the cop leaves Rubber Duck to chase the lady and use his authority to coerce her into an undesired sexual encounter. It's all in good fun!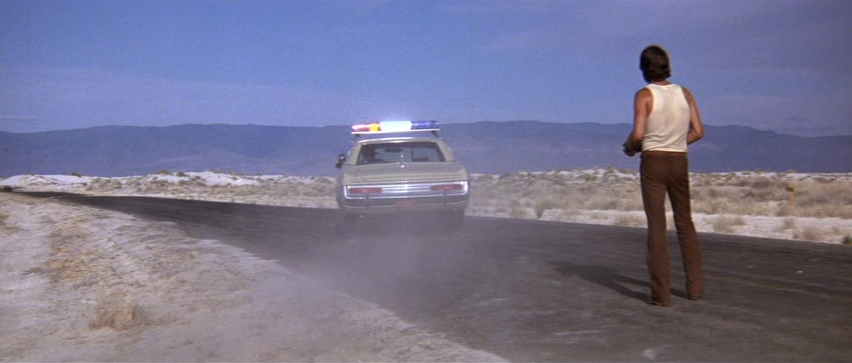 So Rubber Duck has a close call and is nearly ticketed for his reckless driving. What better way to get us on his side than to engage in more of it immediately afterward with his two similarly reckless trucker friends?
One of them is Spider Mike, who is black and whose wife in Texas is about to give birth. The film treats these things as character traits — his only ones at that — so I figured I'd mention them. The other is a trucker who calls himself Love Machine, but his colleagues keep calling him Pig Pen instead.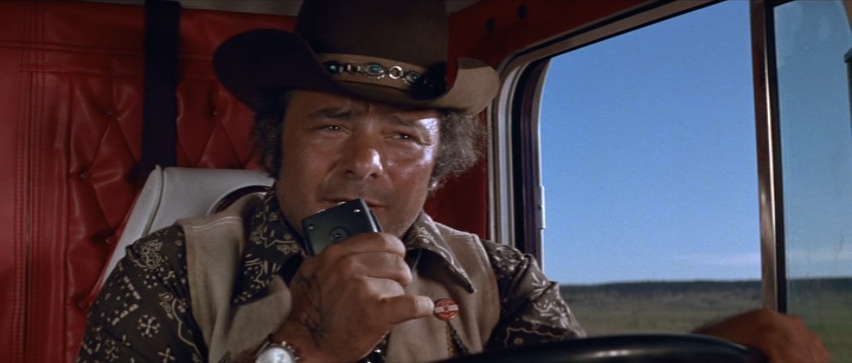 This is…okay, actually. I like the idea that one of the truckers doesn't like his nickname but can't get a replacement to catch on. It isn't hilarious or anything, but that fact alone gives Pig Pen more characterization than pretty much anyone else in the film. I also like the fact that the inside of Pig Pen's cab is clean and impressively upholstered, while the actual cargo area of his truck is full of stinking, squealing livestock. The film doesn't do anything beyond nodding at this, but I do like it.
Anyway, Rubber Duck's got a little convoy with Spider Mike and Pig Pen, but contrary to the lyrics, something gets in their way!
It's Ernest Borgnine as Dirty Lyle, a cop so awful he gives Rubber Duck a ticket for speeding right after Rubber Duck ignored a warning from another cop to slow down.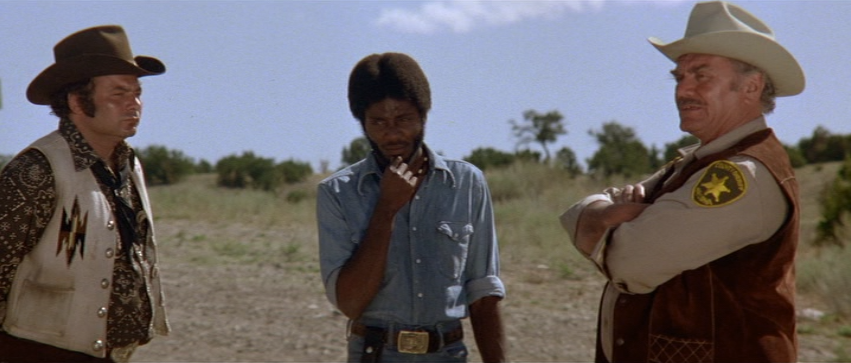 And the thing is…I dunno, guys…we have traffic laws for a reason. And even if you think enormous trucks should be allowed to barrel down highways at whatever speeds and in whatever numbers they like, it's difficult to get angry at the cop for writing them tickets for something they were just told to stop doing.
Convoy wants to portray the cops as wrongly using their authority to persecute innocents, but it's hard to see people as innocent when they keep breaking the law.
We'll get to some far more dramatic examples of these bozos endangering innocent people, but for now it's enough to say that the film handles its heroes in such a messy way that it's essentially forced to present its villains in the most excessively evil ways to ensure we won't sympathize with the wrong people.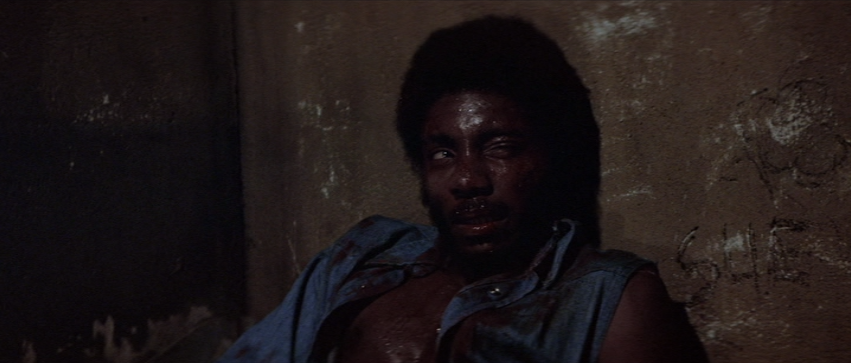 At one point, late in the film, the police brutalize Spider Mike and lock him up, stopping just short of turning to the camera and saying, "We're doing this because he's black."
Actually, I was trying to exaggerate for comic effect there, but we do get one cop who introduces himself by saying, "My name is Bob Bookman, sir, and I hate truckers." If he turned his head just a few degrees he'd have been speaking directly to the audience.
Anyway, after a long morning of endangering other motorists and ignoring direct warnings from the police, the truckers three demonstrate how hard they work by stopping for a long lunch and also sex.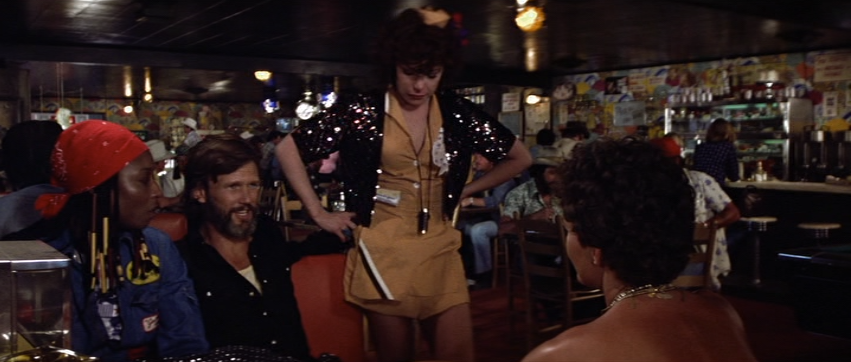 Rubber Duck bumps into she of the exposed pudenda and learns her name is Melissa. He offers her a ride in his truck and flirts repeatedly with her both before and immediately after having sex with a waitress, toying with two sets of emotions at once, like the hero he so clearly is.
Also, we learn Melissa only got away from the cop Rubber Duck sicced on her by promising she'd meet him at a hotel for sex.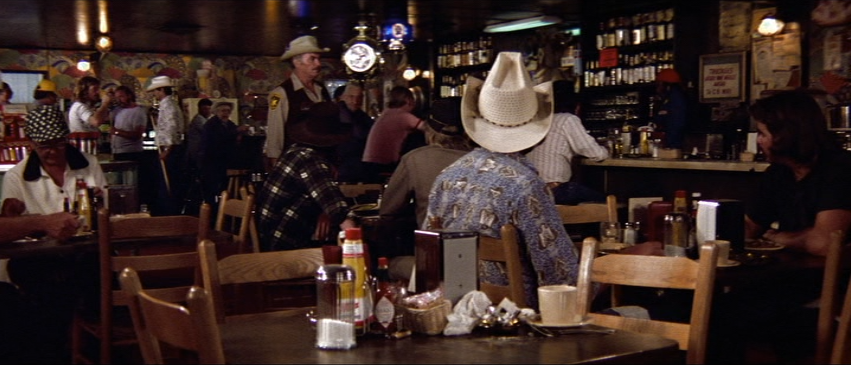 Correctly, Peckinpah figures he should start giving the bad guys some negative qualities and fast, so he has Dirty Lyle come into the truck stop and hassle the truckers, because he hates truckers, and as far as Convoy is concerned that's a social offense of a slightly higher degree than pissing on the American flag.
I mean, Dirty Lyle only comes into the truck stop at all because the truckers were hassling him over the radio, but let's not dwell on that. We'll dwell instead on Dirty Lyle reserving the lion's share of his ire for Spider Mike.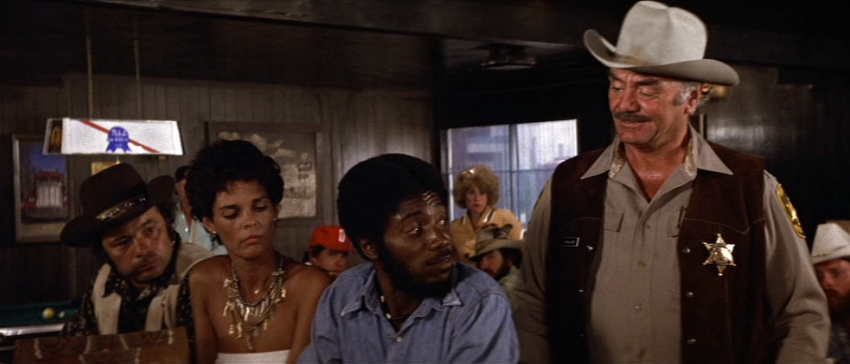 It's a lot of Hollywood hillbilly posturing with Borgnine calling him "boy," and it culminates in Dirty Lyle threatening to arrest Spider Mike for vagrancy because he doesn't have any money in his wallet. That's…not vagrancy, but I can imagine a crooked cop spinning it that way, and the point is that Dirty Lyle is a gross racist, so fine.
Now we don't like Lyle, and that's good. Having Dirty Lyle push at them unprovoked, especially with overtly racist motives, puts him in recognizable villain territory.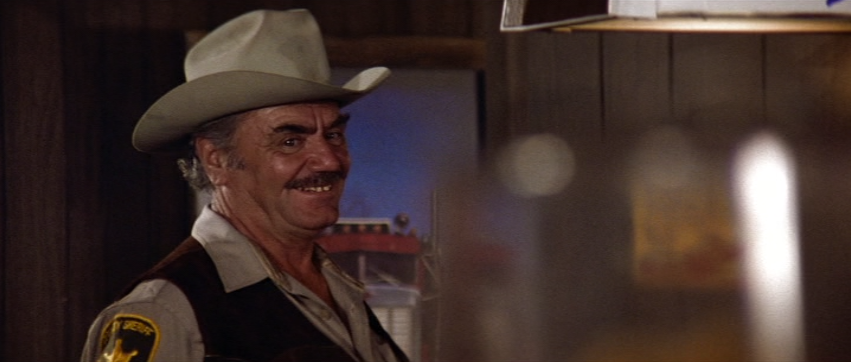 Oddly, this is exactly where the morality of the truckers becomes irrevocably hazy.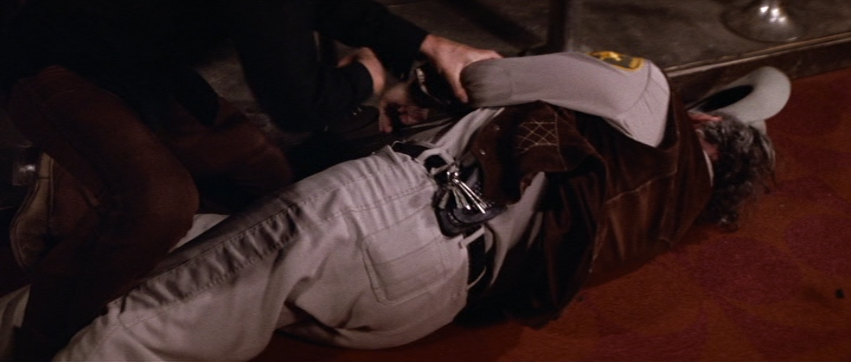 They beat the shit out of Lyle and knock him out cold. Probably not wise, but noble from a narrative standpoint.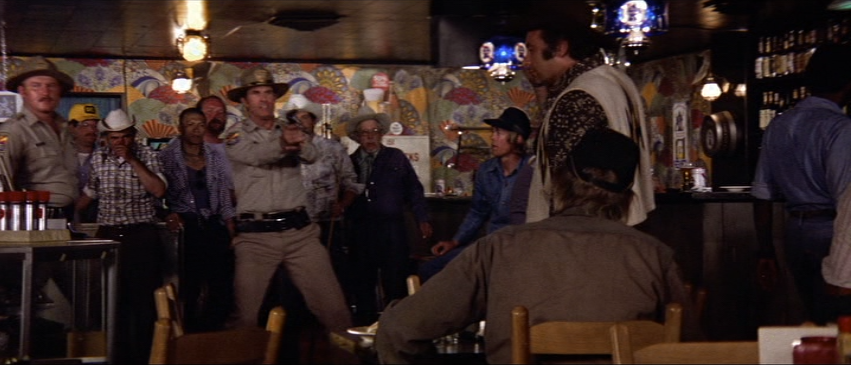 However, some other cops show up to find out what's going on, and the truckers beat the shit out of them, too.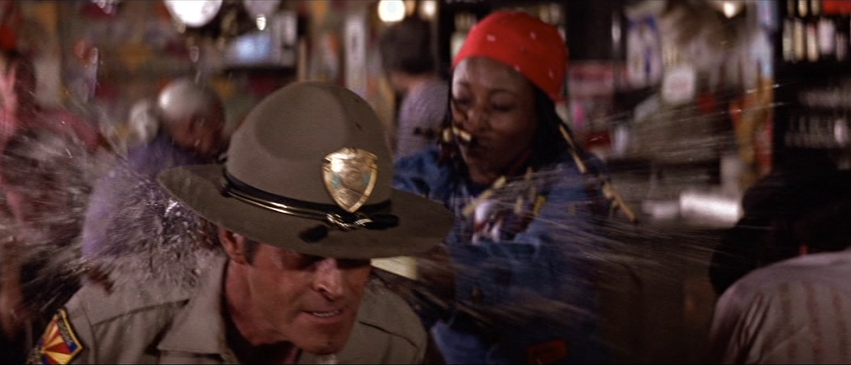 These cops had nothing to do with the racially motivated altercation. They're just, you know, cops. But I guess once you beat up one cop you are obligated to preserve your honor by beating up every other cop on the planet as well.
I'm absolutely positive there's an intended emotional connection between beating up Dirty Lyle and beating up the others, but it's one the movie fails to demonstrate.
The truckers, I'm sure, see the other police officers as associates of Dirty Lyle, which is true in a professional sense, but which we're given no indication is true in a Klan-rally sense. So however much I'm on their side for beating up a racist, I'm tempted to distance myself from their behavior once they start beating up other folks just for being cops.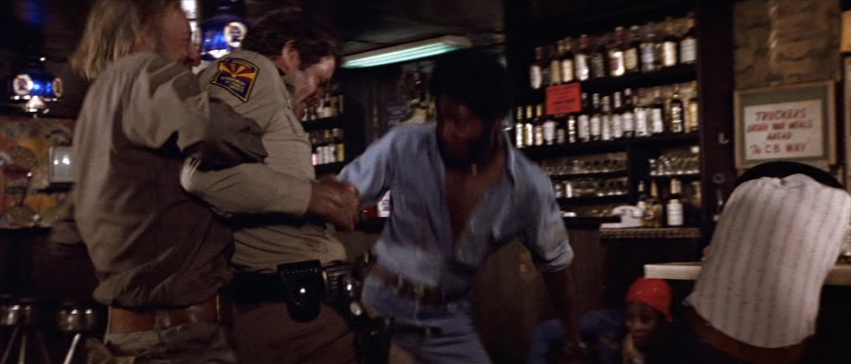 And I know that's not equivalent to racism, but "I'm going to kick your ass because you're part of this group I hate" is an attitude shared by both the truckers and Dirty Lyle.
Here's the thing: You can do this, and you can do it well. It's impossible for me to type all of this out and not immediately see that this should be the point of the scene. The morality should be muddy. We should question the black-and-white heroes-and-villains mentality. Right?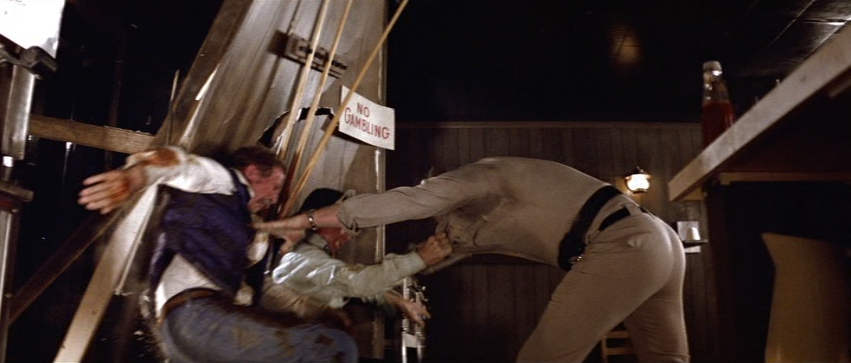 But, no. It's played instead as an action scene with light comic touches. Peckinpah gives us a long sequence of signature violence and breakaway props. There's very, very little blood, though, and it's the kind of fight in which a punch to the jaw knocks somebody out immediately and for hours.
I do actually like a moment in which one trucker encourages another to join the brawl, but the other trucker won't. He replies, obviously stalling, "I'll get him when I'm ready." Then later he does get involved long enough to break a pool cue over a cop who doesn't seem to feel it and just pushes him out of the way.
It's a decently placed gag that serves as a welcome distraction from the fact that a bunch of people are beating up cops for no good reason and absolutely demolishing a truck stop for even less of a good reason.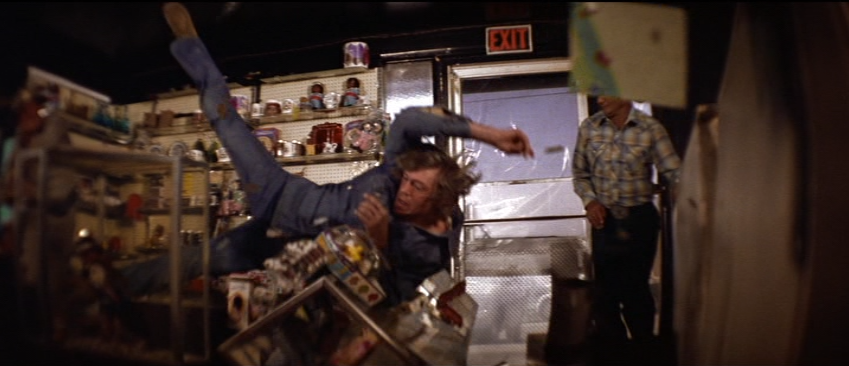 Y'know, guys, someone owns this place. And it's probably someone who likes truckers, so…maybe chill out a bit?
The fracas doesn't even stop when all of the cops are out cold. The truckers — now unopposed — head out to the parking lot to smash up the police cars.
Again, you'd think this scene would be an important indication that the truckers are unhinged and should not be sympathized with, but our level-headed hero Rubber Duck has no qualms about any of this, and simply suggests they calmly drive to the state line, crossing from Arizona into New Mexico so the cops they just assaulted won't be allowed to arrest them.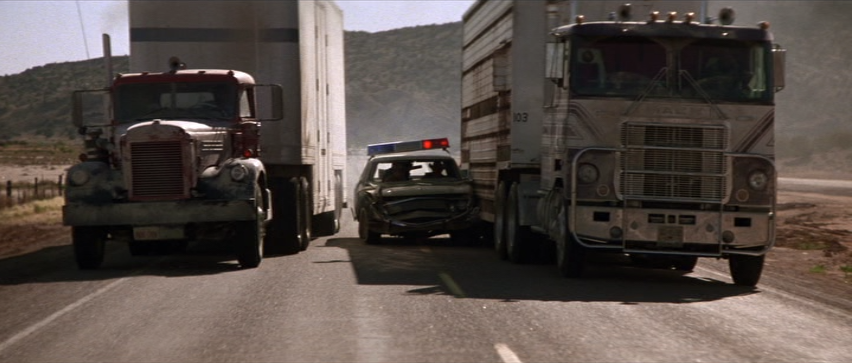 Quite how this whole "state lines" excuse works, I have no idea. I've seen it in dozens of films and television shows so I'm not going to hold it against Convoy, but is it true that if I beat the everloving shit out of a group of police officers, trash a truckstop, and disable police vehicles, nobody will be able to arrest me if I drive a few miles into another state?
I'm curious of the real-world answer, but I guess it works in the world of Convoy, so legally the guys are in the clear.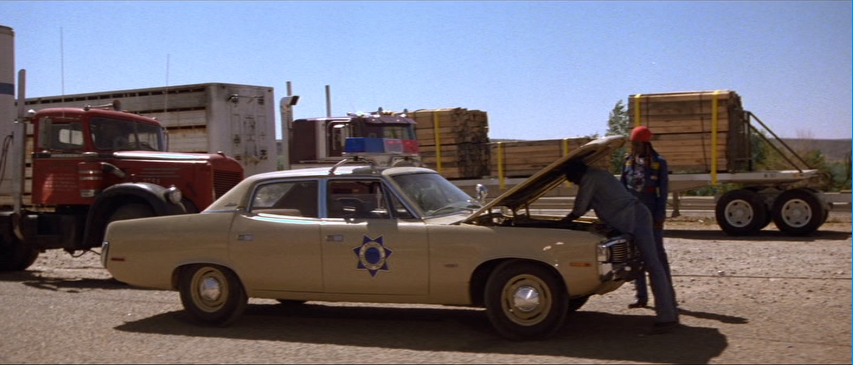 Here, however, is what's probably an incomplete list of all the crimes our heroes committed in Arizona before they crossed the state line, just so we are clear about who we're rooting for:
Reckless driving, aggressive driving, speeding, assault on several officers of the law, destruction of police property, destruction of commercial property, resisting arrest, failure to stop, failure to pull over, deliberately hindering emergency vehicles, deliberately crushing a police car between two trucks, leading police on a high-speed chase. I could also add kidnapping, as Rubber Duck refuses to let Melissa out of the vehicle however much she insists. He does it charmingly though so obviously he's a great guy.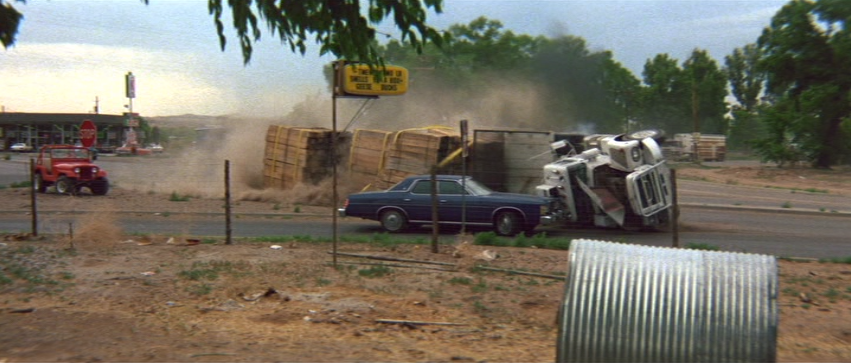 Oh, and these idiots drive too fast around a curve and one of the trucks tips over, causing an accident involving another motorist. They leave the scene of the accident and abandon the vehicle with all of its cargo in the middle of the road.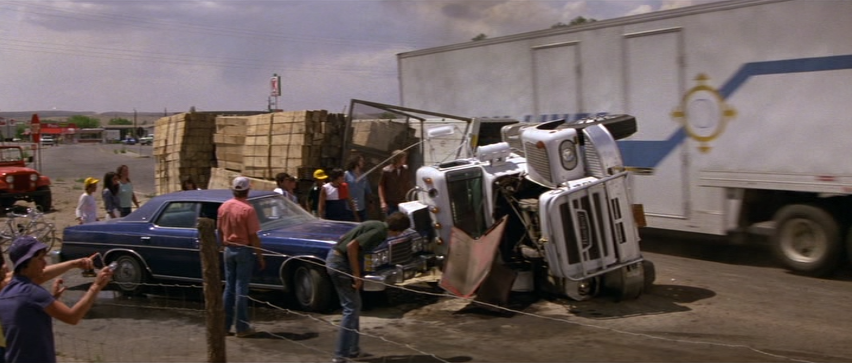 If you're driving, these guys are a danger to you. If you're near them when they're approached by the police, these guys are a danger to you. If you're not involved with them in any way and just trying to about your business, these guys are a danger to you.
There's even a scene almost entirely disconnected from the rest of the film when Pig Pen and some of the other truckers break away from the convoy briefly. They drive through a tiny town where a school bus extends its little stop sign so the kids can cross the street, but these assholes aren't paying attention (nor is there anything to distract them) and nearly hit the kids.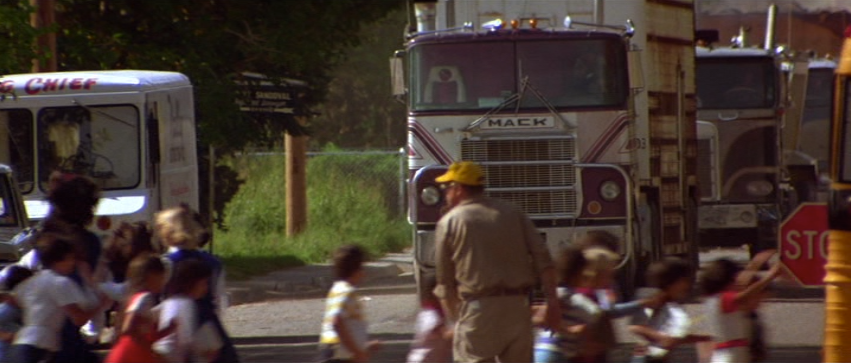 Don't worry, though; Pig Pen was quick-thinking enough to smash into an Italian ice van instead, destroying it, barely missing the kids. The Italian ice man throws his ruined goods at Pig Pen's windshield and I'm pretty sure this is supposed to be comical — or at least a light-hearted inconvenience — because Pig Pen is smiling.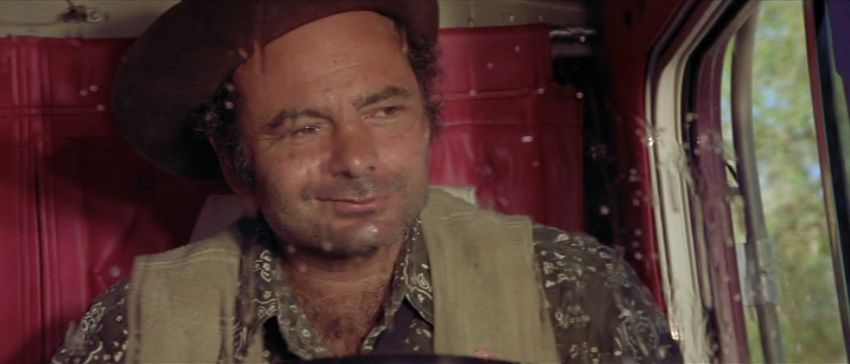 Gotta love those silly truckers, mowing down school kids and causing accidents like the scamps they are!
And yes, I know, any shitty movie worth its shitty salt has some scene (or preferably many scenes) in which drivers chase each other through city streets, smashing up fruit carts and other cars, innocent people diving out of the way…but here, nobody's chasing these people. Early in the film Dirty Lyle chases them around, and then a federal agent in a helicopter politely asks them to pull over and arrest themselves, but that's pretty much it.
There are some attempts are roadblocks here and there, but for the vast majority of the film these assholes would lose nothing by stopping for a school bus. But I guess it's more fun to almost kill some children instead.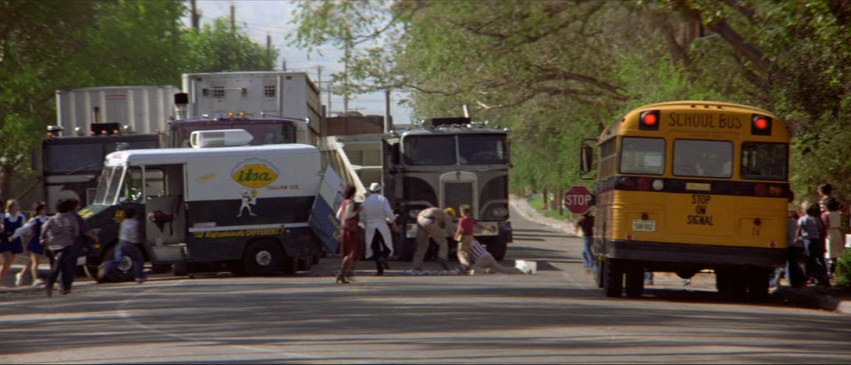 So of course they are an inspiration to other truckers, and as soon as they cross over into New Mexico, a bunch more truckers who have been following their exploits on the radio decide to join their cause. Their cause being driving like assholes I guess.
In New Mexico Seymour Cassel plays a governor up for reelection, and he attempts to coast off the popularity of the great big convoy rocking through the night. Logic aside, I guess he might as well, as his constituents line the streets cheering the truckers.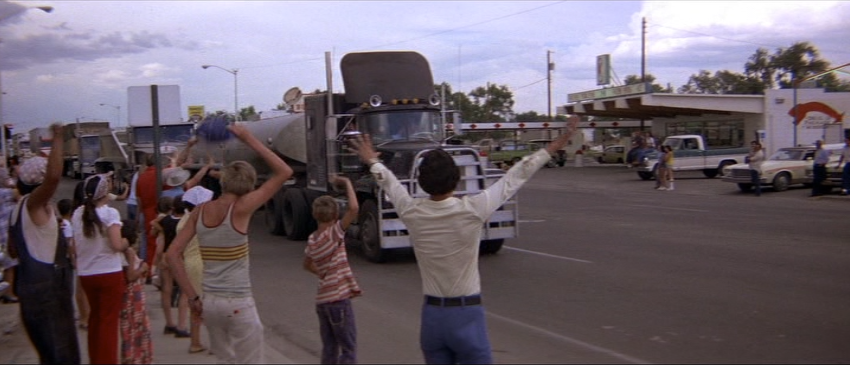 Why? Well, there's news coverage, but we have no idea what that coverage includes. Based on the throngs of adoring fans I think it's unlikely the headlines focus on a bunch of truckers beating up policemen.
Even if they did, I think it's unlikely that people from surrounding states know who Dirty Lyle is and that he's a big racist who deserved to get his nose broken.
And without those things…what is there to cover? SOME TRUCKS ARE DRIVING IN A BIG LINE; FULL STORY AT 11.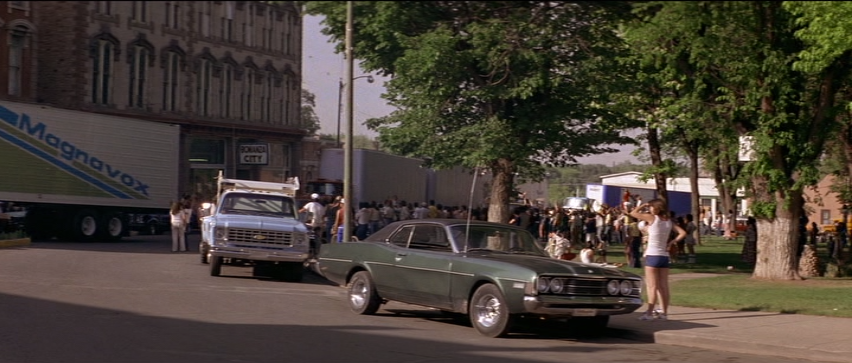 Admittedly, Convoy is a movie and it needs some kind of narrative, so I understand that the swell of public support is happening out of necessity.
But with a shell as hollow as the song "Convoy," in which characters drive from one place to another, periodically mention cops, and rock through the night, you could do anything. Why it needs to be a paean to the salt-of-the-earth blue-collar everyman is unclear. Why it had to be a terrible one is even less clear.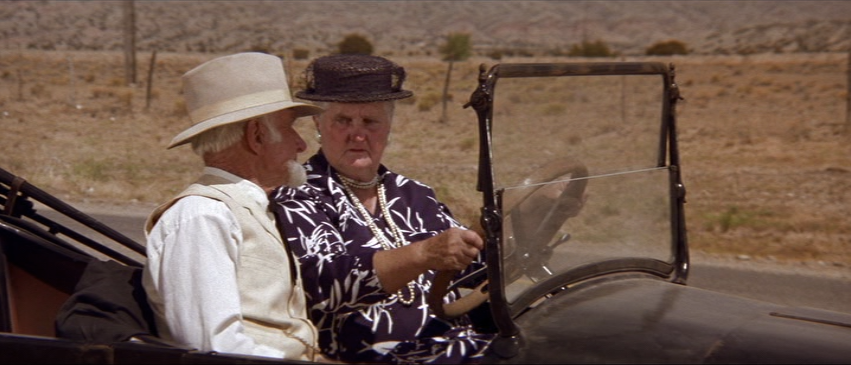 Have Rubber Duck and his good pals Pig Pen, Spider Mike, Pretty Boyd, Blue Louie, and Huge Lorry make a big a cross-country delivery, getting into comical scrapes at every stop, growing closer as friends, relishing the late-70s American West, and — this is non-negotiable — rocking through the night.
I am by no means suggesting this would have made for a great film, but it could easily have made for an enjoyable, enduring one. Instead of a disjointed, tonally confused, limp condemnation of institutionalized racism — which is the closest this film comes to having a point even though it's the subject of approximately three scenes — we could have had something that, y'know, works as a movie.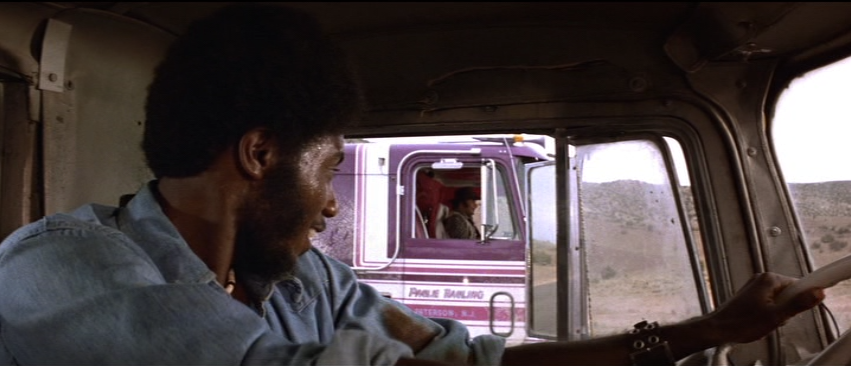 Much ado is made of Rubber Duck starting some kind of movement, but he doesn't seem to inspire any non-truckers to do anything but either a) stand on the side of the road and watch him drive past or b) shoot at him. Why would anyone care about him and his convoy? Maybe if Santa Claus were sitting on the top of one of the trucks I'd have some frame of reference for this, but when is the last time you — or anyone — jumped and cheered on the side of the road as a strange man you've never heard of drove past? Who clears their afternoon for that?
Admittedly, the film realizes there isn't a clear reason for anyone to be invested in or even to follow Rubber Duck. A revolution existing is reason enough to revolt. We get a pretty good scene in which a reporter interviews a bunch of the truckers and gets varying answers about what they stand for.
That's great. The convoy is a disorganized statement of general dissatisfaction, and everyone — participants included — are seeing in it what they want to see.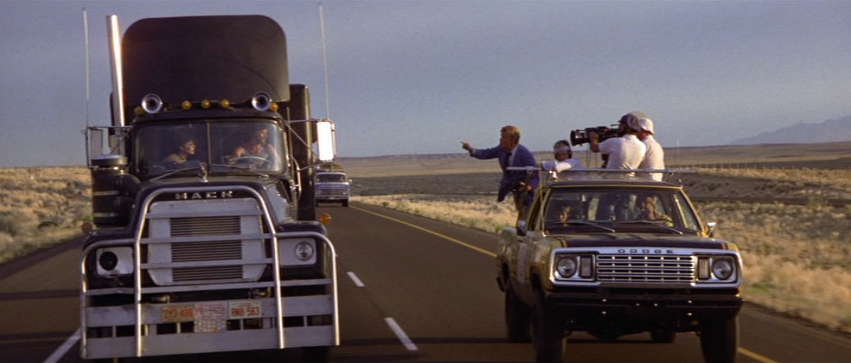 Rubber Duck is aware of this as well. When Melissa says people are following him, he replies, "No, they ain't. I'm just in front."
For this entire sequence, it seems like Convoy might find a point in its pointlessness. Can we believe that people would follow a nobody just for the sake of feeling included? Of course! Is it likely people would throw their support behind a cause they don't understand? Obviously! Could a film hinge on that idea alone? Yes, and a number of great ones have!
But the concept fizzles. There's never any doubt raised by Rubber Duck regarding the confused rebellion he's sparked. There's never any moment when another trucker realizes nobody knows what they fuck they're doing. There's never a point during which the convoy faces any kind of consequence that makes them wonder if they've helped anyone or just hurt a bunch of people.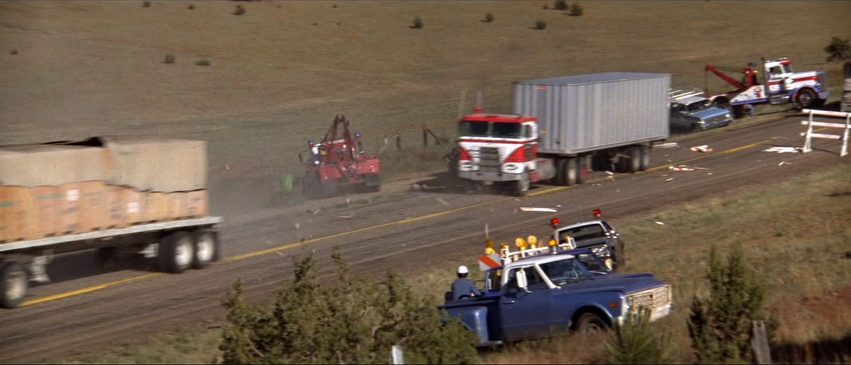 Instead we see the convoy smashing through police barricades, speeding through weigh stations, knowingly endangering a news crew, ignoring federal orders, and resisting federal arrest. Oh, right, I should mention the feds are flying around in a helicopter, powerless to stop the great big convoy.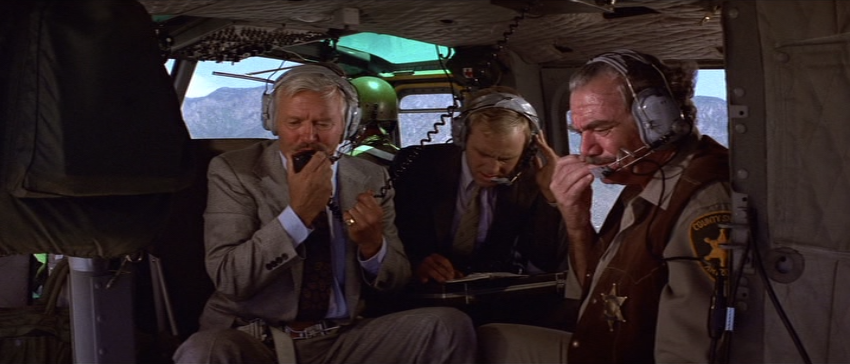 At one point Rubber Duck reveals that he's hauling a load of volatile chemicals, and if they succeed in shooting him or making him crash or something, the truck will explode and kill a bunch of people.
Toward the end of the film, we learn this is not a bluff, so not only is Rubber Duck driving like an asshole; he's driving like an asshole that knows his cargo could blow a town of innocents off the face of the Earth. And why? So he can make a point about…something? Eh, he'll figure it out later.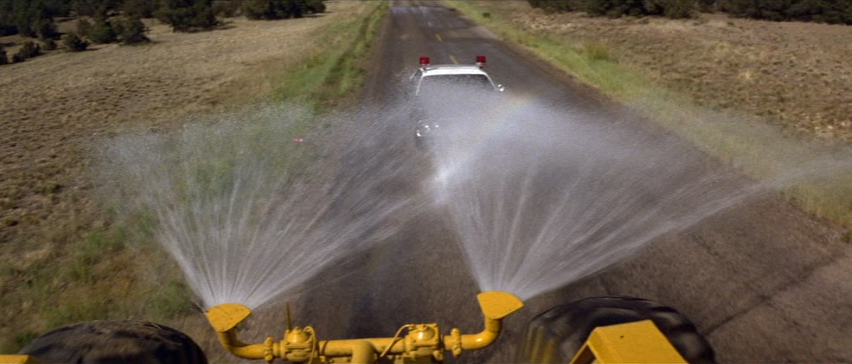 Dirty Lyle keeps chasing him even though they're out of his jurisdiction, but now the New Mexico cops are involved as well. There's a running joke about how we keep cutting back to two cops stuck behind some kind of water truck that's driving slowly and spraying them with water.
It's exactly as hilarious as you'd probably guess, as long as you — like these cops, apparently — don't know that vehicles have the ability to pass each other or that police cars have emergency lights, sirens, and the authority to make others pull over.
Every so often we drift into broad comedy as we do here, and it never quite fits the overall tone of the film, especially the scenes that try to shine a light on the black experience in rural America, such as when Spider Mike is arrested and savagely beaten in a jail cell.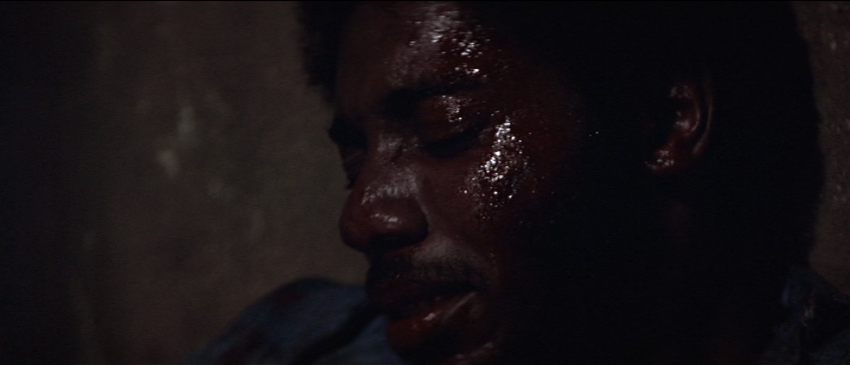 Anyway, let's see what those wacky cops are up to now!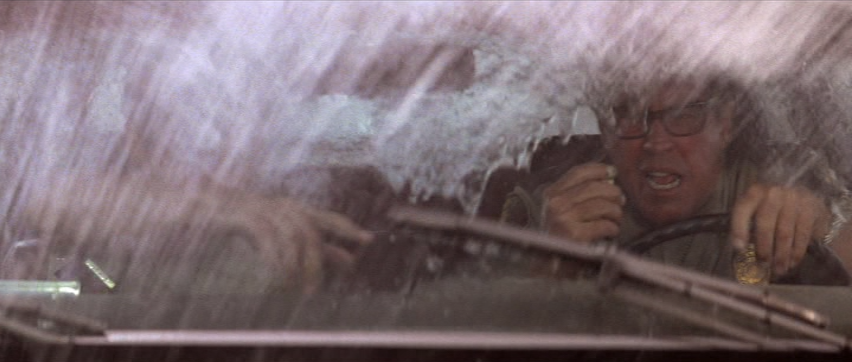 Ah, will they never learn? Anyway, kids, don't be racist.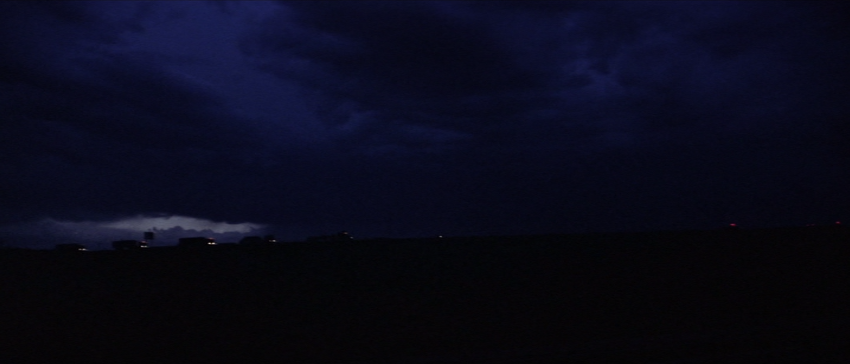 Finally, at this point in their journey, darkness falls, and the great big convoy rocks through the night. It's a really awesome sequence in which…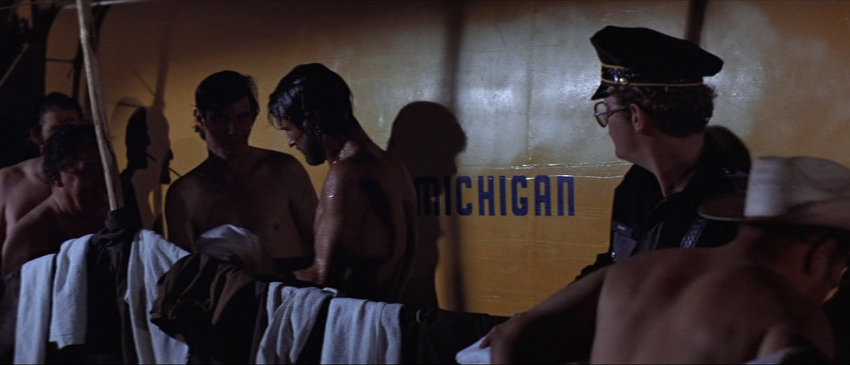 …oh.
They don't rock through the night at all. They pull over and take showers and go to sleep.
For fuck's sake, the "rockin' through the night" thing is the only part of the song anybody remembers!
I still expected to see it happen, as the governor, the police, and the press all promise the convoy nobody will hassle them. So, obviously, I expected that to be a trap — or maybe for some hot-shot cop to break rank and go after them anyway — and the convoy to take off and rock through the night at last.
But no. Everyone keeps their promises. There's no honor among thieves, but a lot of honor between Dirty Lyle and a bunch of asshole truckers, I guess.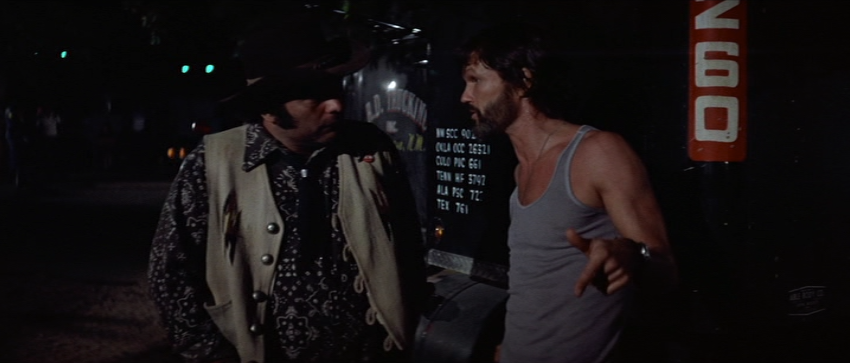 Spider Mike breaks from the pack, though, because it's time for his wife to give birth, a fact that is revealed to him through trucker ESP. He goes to Texas, where no such truce between the truckers and the police who have promised not to arrest them for their many crimes exists, and he's taken into custody and beaten up for being black.
Not for, you know, any of the illegal stuff he did.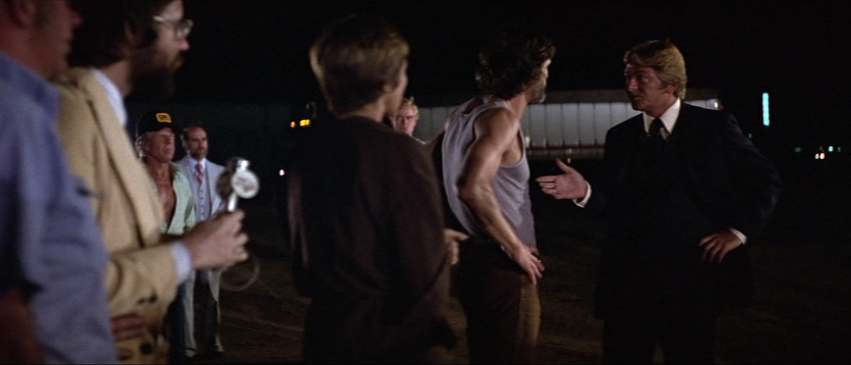 This must all happen pretty quickly, because Rubber Duck meets with the governor and it isn't far into their conversation before the news reaches him.
The scene with the governor is the film's strongest, probably because it's the most we see of Seymour Cassel. I'm absolutely positive the governor is meant to be an opportunistic, inauthentic schemer, and we get enough of that from Cassel to believe it, but the character has an easy charm that makes it clear why he'd have the public's trust when he doesn't deserve it.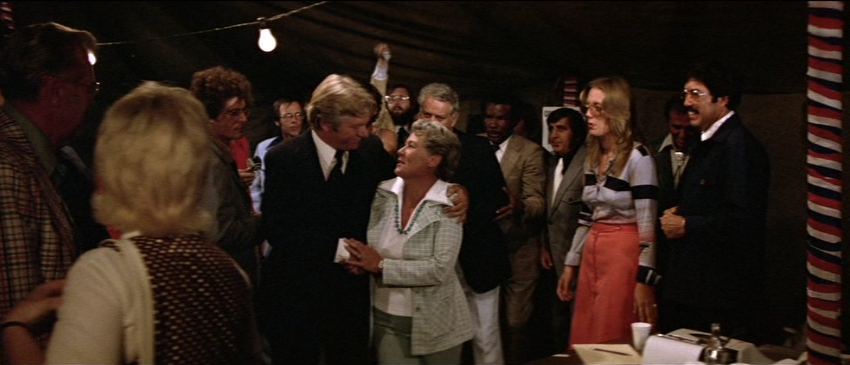 What I like about the scene is that the governor wants to ride the surge of convoy support to reelection, which doesn't exactly thrill Rubber Duck. There's a great moment when the insincerity pierces through as he offers Rubber Duck support for his "cause or causes." It's a brilliant line reading by Cassel, who really is the film's MVP.
But when the Spider Mike news breaks, the governor offers genuine help at the same time he reminds them that he can't just pluck criminals out of jail. I get the sense that the governor would have done what he could (funny how the "across state lines" thing doesn't come up here), but he's being realistic in the sense that he can't snap his fingers and make Spider Mike reappear.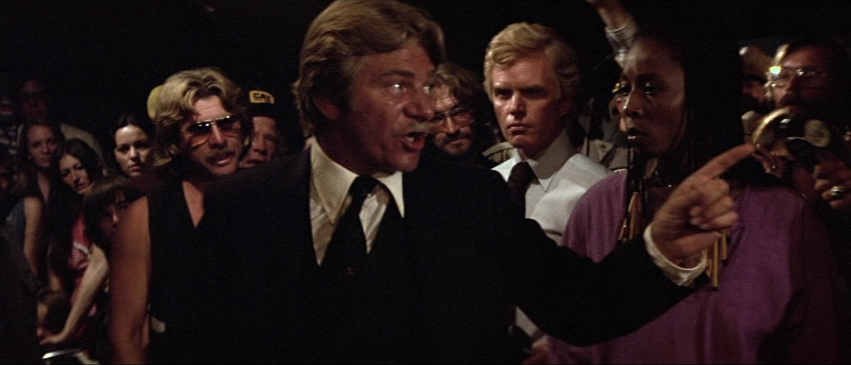 Bad news for the governor, though, because he's in Convoy, and bein' realistic ain't welcome 'round these parts.
Rubber Duck and the boys head to Texas, our third and final state, so it's really not the "We're gonna roll this truckin' convoy across the USA" promised by the song, but that's about to be the least of the film's problems.
The mighty convoy that showered, napped, and held quiet conversations through the night is ready to demolish an entire Texas town to free their buddy.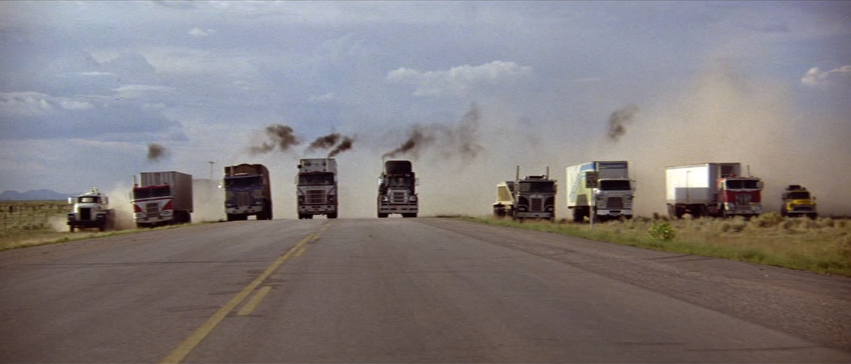 The convoy smashes homes, businesses, and, of course, the police station itself. There are people in at least some of these buildings, right? Surely someone lives and/or works in this town?
The convoy doesn't care. The convoy just smashes up irrelevant buildings because it looks good on film. What a bunch of American heroes.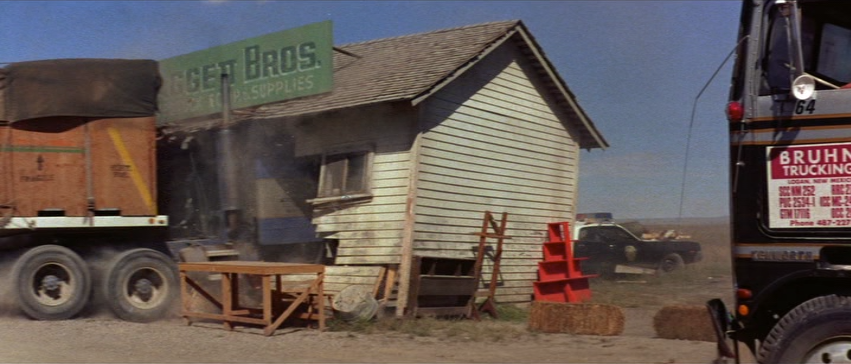 If they did intend to drive through the police station to break Spider Mike out of jail or accidentally kill him (they don't take any precaution to ensure the former outcome is more likely than the latter), I don't know why they didn't do that first instead of leveling every other building within a five-mile radius, but I'm also not a long-haul trucker and this probably some kind of adorable tradition.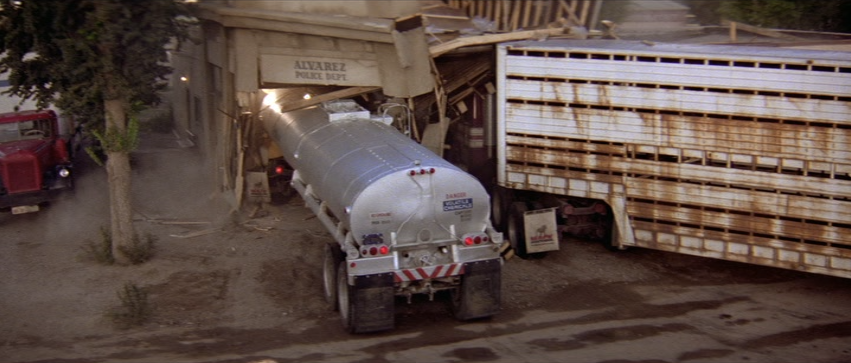 They rescue Spider Mike from facing consequences for his actions, and they see that Dirty Lyle is there!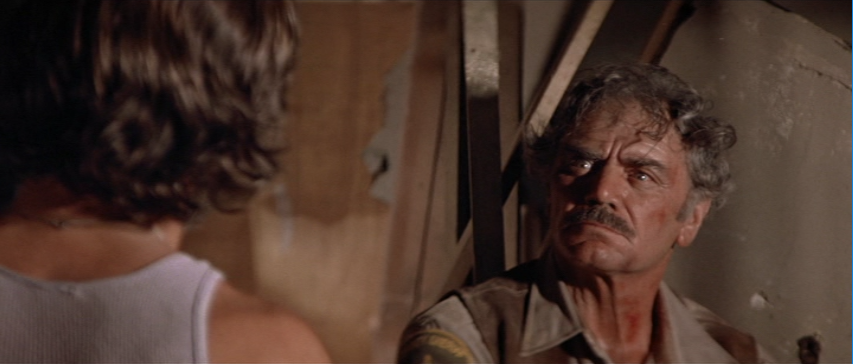 Don't worry, though; Spider Mike says Dirty Lyle didn't beat him up. Silly Rubber Duck, jumping to conclusions. It was a totally different racist cop who beat the tar out of your friend!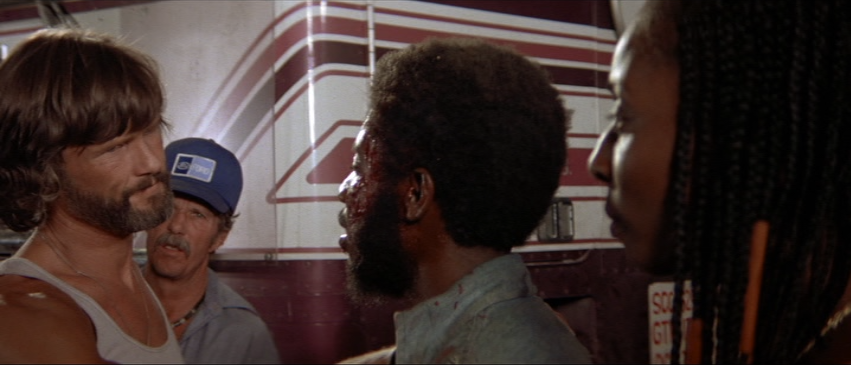 They lock Dirty Lyle in a cell, but he must get out pretty damned quickly because he's not only in the climactic scene just around the corner; he's there long before Rubber Duck shows up, and he's got some heavy artillery that he's excited to fire at a truck he knows is full of explosives.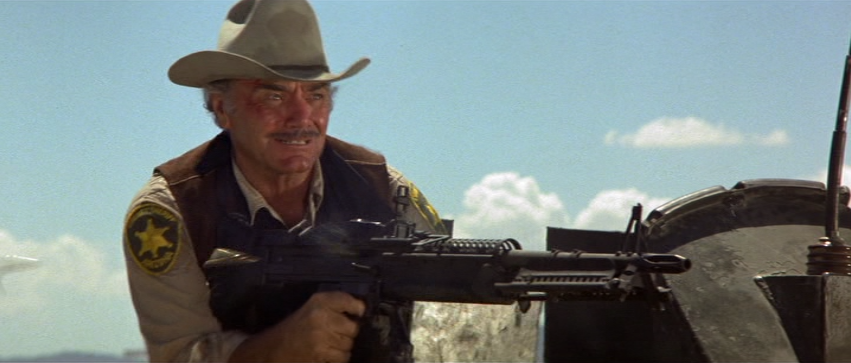 I'm sure there's a good reason Dirty Lyle and Rubber Duck have a calm, measured conversation in the demolished police station and a very literal firefight just a few scenes later, but I must confess I'm not privy to it.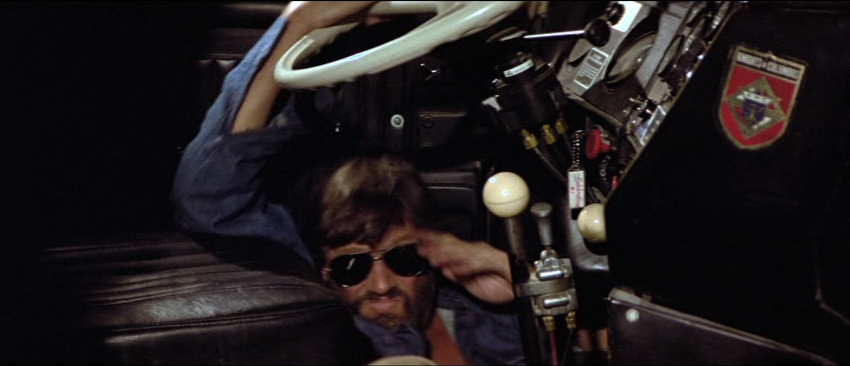 Rubber Duck slides down underneath the dashboard and steers from below, which is a skill all truckers must demonstrate in order to earn their Class A license. He is determined to die they way he lived: not paying attention to the road.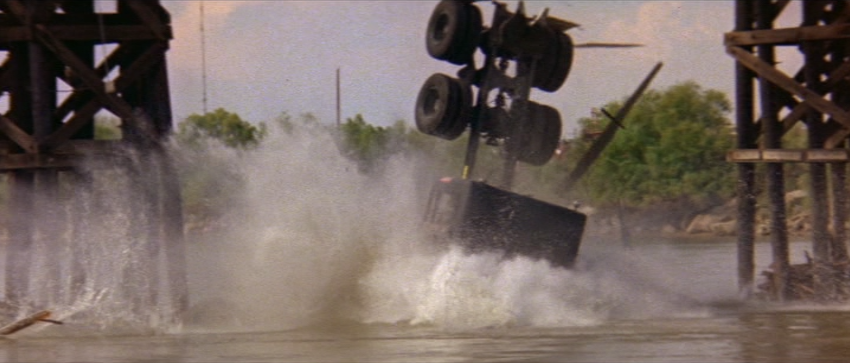 Anyway the truck explodes and the cab falls off the side of the bridge into what seems to be about eight inches of water. Melissa looks on at the man she only met the day before, overcome with sorrow that his years of endangering other motorists have come to an end.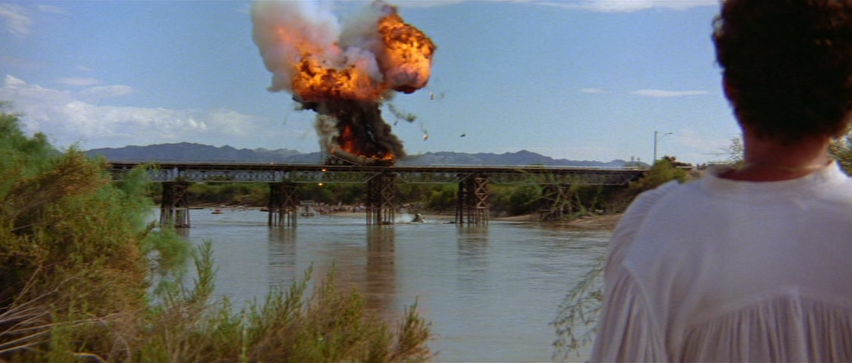 Nobody bothers to search for a body, though, not wanting to get their pant cuffs wet. So they all assume he died and is never coming back.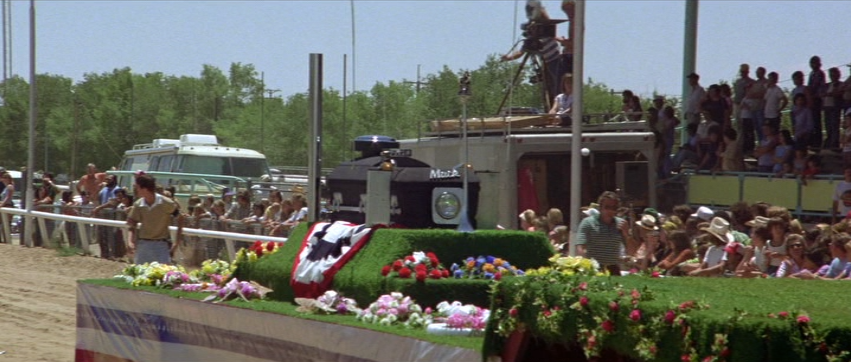 But: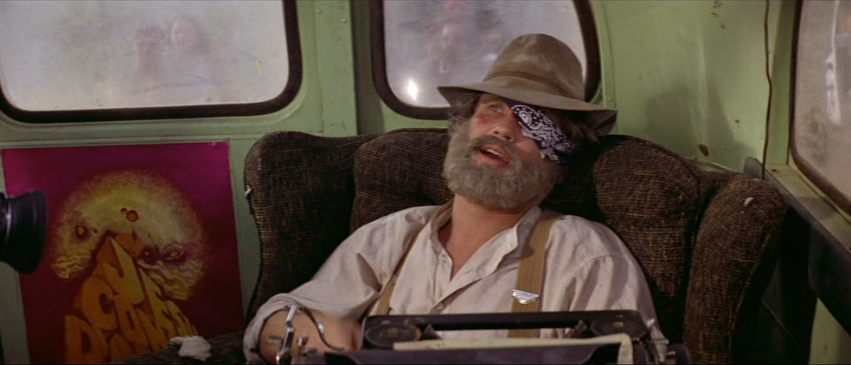 The joke is on them! Rubber Duck faked his death — yet another serious crime! — and got a rad eyepatch out of the deal.
Melissa reunites with him at his own funeral, which is also some kind of political event for the governor of New Mexico, which is the state the convoy temporarily occupied because it was the most direct route between Arizona and Texas.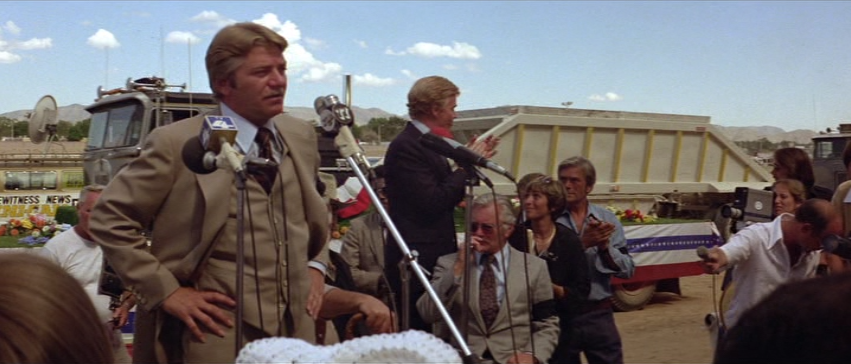 Then the truckers who are at the funeral all drive away and Dirty Lyle laughs because he sees Rubber Duck is alive, even though he's literally the guy who spent all of his time trying to kill him.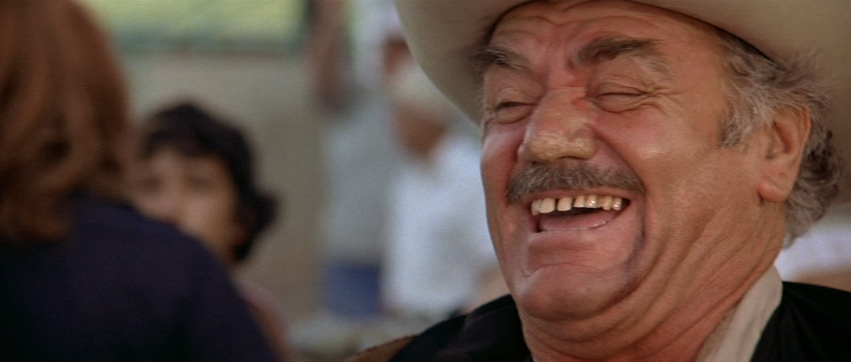 It's…a strange movie, and the reason I've spent so much of this review in play-by-play mode is because there's almost nothing to it beyond what happens on the screen.
Convoy is a better-made film than Harper Valley PTA for sure, but it fails to find any interesting detours the way that film did with its mother/daughter dynamic, and though the actors in this film are more capable, they're also a hell of a lot less fun.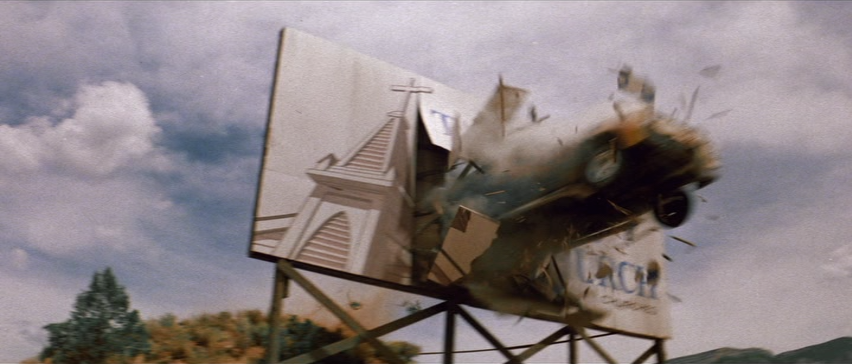 "Convoy" provided a blank slate. As far as audience expectations went, "we would like to see a lot of trucks please" probably covered them. Peckinpah could have made anything, but instead he made nothing.
There's the germ of an interesting theme in the convoy coming to symbolize a revolution that both means nothing and never happens — and it's very tempting to see that as meta commentary on the film itself — but Convoy does nothing with it.
An audience is welcome to pick up on it and read into it, should they choose to do so, but the film keeps its mouth shut, dumb in both definitions of the word.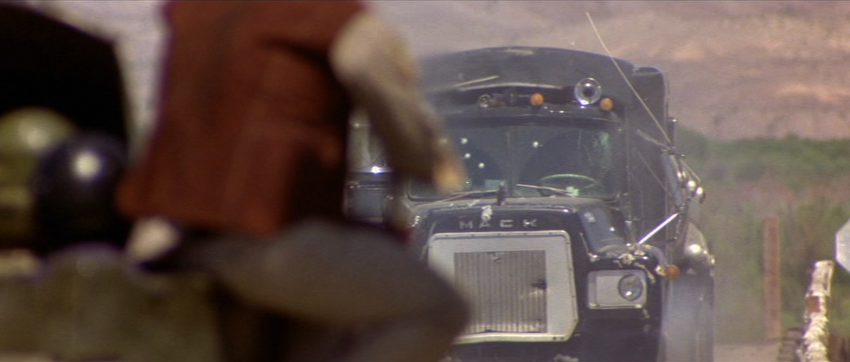 It's hard to believe a film that ends with a bunch of cops and soldiers firing directly into an exploding truck is so interminably boring, but Convoy finds a way to resist being worthwhile.
Harper Valley PTA tried things. Most of what it tried I disliked, but there was clear effort there. I'd obviously argue it didn't succeed, but one can watch the film and easily understand what it wished to be.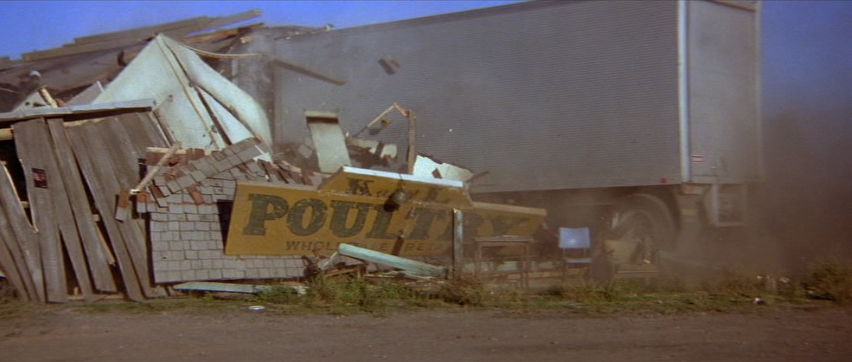 I don't think Convoy knew where it wanted to go. It probably had some ideas — the politician getting involved, the racism, the truck stop fight, some ladies taking their tops off — but didn't know how to put them together…and so it didn't. Something happens, then something happens, then something happens, then it stops.
Convoy wants to have heroes, but doesn't know how to make sure we'll see them as heroic. It wants to have villains, but almost never lets them cross the line into villainy. It wants to arrive somewhere, but isn't willing to plan the trip.
It's a less impressive film than "Convoy" was a song, and that, I guess, ends up being impressive in its own right.