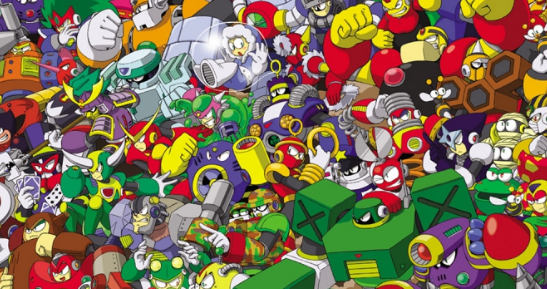 I've been playing a lot of Mega Man lately, which is what tends to happen when I'm still alive and breathing. I've also been listening to a lot of music, for much the same reason. So I got to thinking…what if I could combine the two? I'd be rich! Then I found out that a lot of other people already beat me to it. Let's take a look at 10 songs that politely share their names with bosses from the Mega Man series. We'll also try evaluate just how well they'd slot themselves into the series as replacement stage music.
1) "Fire Man" – Burning Spear
Fire Man, Mega Man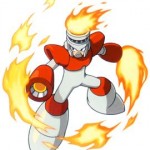 Applicability to the Robot Master:
I'd say it's about 70% applicable. Of course, since 70% of the lyrics are "fire down below," that's pretty much a gimme. It also mentions people running around, which is a suitable image for Fire Man's dropping of those little flaming bastards eveywhere. Burning Spear gets caught up in an homage to "I'm a Little Teapot," which muddies the waters a bit though.
As Replacement Stage Music: The infective reggae groove is a bit laid back for the industrial hazards of Fire Man's stage, but it certainly brings to mind feelings of scorching heat, and that's really all we can ask.
Better Than Current Stage Music?: Yes. Come on.
Overall: A good fit for the stage and for the boss. Probably what Fire Man kicks back and listens to when he has a mellow afternoon off.
2) "Ice Man" – Filthy McNasty
Ice Man, Mega Man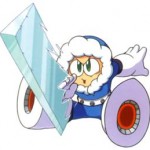 Applicability to the Robot Master:
Around 60%. The song is sung from an ice delivery man's perspective, and it's full of double entendres about the women to whom he delivers his load. (There's one right there.) Such relentless punning is a suitable fit for the Mega Man series, which is based on some thematic rock-scissor-paper wordplay.
As Replacement Stage Music: It's certainly repetitive enough to fit on the original Mega Man soundtrack.
Better Than Current Stage Music?: It's longer, so, therefore, no.
Overall: Both Ice Man and Filthy McNasty would have a blast laughing their asses off over the fact that there are multiple meanings to the word "pussy." For everyone else, this song is pretty annoying.
3) "Top Man" – Blur
Top Man, Mega Man 3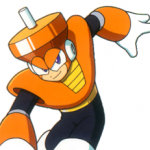 Applicability to the Robot Master:
The lyrics really don't apply to Top Man at all. Imagine that! He doesn't reside in a desert, he doesn't ride a magic carpet, and he doesn't puke on the pavement. He may or may not like his women clean and shaven, though…his agent has yet to return my call about that.
As Replacement Stage Music: It's got a fun and bouncy beat that would actually mesh quite well with Top Man's bizarre ferns-in-glass-casing stage, but it'd certainly give the experience a far less urgent feel.
Better Than Current Stage Music?: No. Top Man's original music is among the best in a series that's almost uniformly great. Sorry, Blur…ya can't stop the Top.
Overall: Not really applicable to Top Man, so there's little to enjoy about the coincidental title. "He's a little boy racer" is about the only line that could even conceivably apply to him, and even then it's not particularly evocative of the NES game. Blur should be ashamed of themselves.
4) "Needle Man" – Skrewdriver
Needle Man, Mega Man 3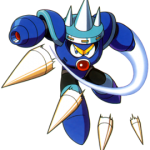 Applicability to the Robot Master:
At first I'd have said a solid 0%, but after listening to the song I realize that this is providing valuable background information for the notoriously spastic Needle Man: he's a junkie! No wonder he's such a beast…the poor guy's been tweaking in a dark room for weeks on end before Mega Man shows up. Needle Man probably thinks he's fighting Nazis or something. It also explains his incredible strength and speed. Drugs kill, kids…but in the meantime they sure can make life Hell for the people you slap around.
As Replacement Stage Music: It'd work. Needle Man's current theme is pretty weak as it is, with a strange kind of meandering salsa that never gets anywhere. This would give the stage some much needed energy.
Better Than Current Stage Music?: Without question.
Overall: We now know that the Needle Cannon Mega Man gets is firing dirty syringes…just to further complicate the "war for peace" morality of the series.
5) "Starman" – David Bowie
Star Man, Mega Man 5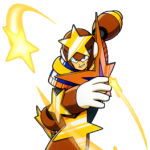 Applicability to the Robot Master:
I'd say 50%. It's perfect thematically and the chorus is dead on, but the rest of the lyrics speak of an interglactic rock star, and I'm not sure Star Man harbors the same moonage daydreams. Regardless, "There's a Starman waiting in the sky" might as well be a warning from Dr. Light, and the floaty, expansive nature of the music fits the low gravity stage and boss fight quite well.
As Replacement Stage Music: It's pretty perfect. Bowie knows better than any musician alive — barring, maybe, the members of The Flaming Lips — how best to paint majestic starfields with just some guitars or synths. It'd mesh quite well with the gameplay of that stage as is.
Better Than Current Stage Music?: Yes. Some people say that Star Man has the best music in Mega Man 5. Don't trust those people; they are obviously liars or insane. (Charge Man bitches.) Whatever anyone might think, though, The Rise and Fall of Ziggy Stardust and the Spiders From Mars is a superior album to this Mega Man soundtrack. THERE I SAID IT.
Overall: Let all the children boogie.
6) "Plant Man" – Gary Young
Plant Man, Mega Man 6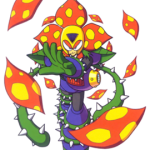 Applicability to the Robot Master:
100%. There is only one lyric in this song, which repeatedly states that Plant Man knows if / where / that the plants will grow. Uh…no argument there, Gary.
As Replacement Stage Music: The song is atrocious, but…sure, why not. If we're playing Mega Man 6 we deserve the punishment.
Better Than Current Stage Music?: Yes. It has notes and a melody, and is therefore superior to every track in this game.
Overall: A perfect fit. Speaking of "perfect fit," Gary Young's astroturf tuxedo in this video is the same one that Plant Man wore to his junior prom. When he went to his senior prom he didn't have to wear anything…because he was somebody's corsage! Fucking lol!
7) "Cloud Man" – Grieves
Cloud Man, Mega Man 7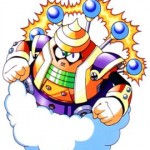 Applicability to the Robot Master:
A whopping 80% or so. It's not only a song with weather conditions as a major theme, it has a deliberate and contemplative detachment that suits Cloud Man's isolation and permanent scowl perfectly. In fact, I wouldn't be surprised to find out that Cloud Man is a bit depressed. Why wouldn't he be? He's weak to fucking soap bubbles.
As Replacement Stage Music: I'd say it's appropriate. The downtrodden, sluggish pace of the song absolutely mirrors the dark and rainy sections of Cloud Man's stage, and…well…it's just a pretty great song period. It'd stand in interesting contrast with the sunnier, brighter visual approach to Mega Man 7.
Better Than Current Stage Music?: Debatable. Overall I'd say it definitely nudges it out, but Cloud Man's theme is already pretty great, and this kind of overt moodiness would probably feel out of place among the game's other tracks, however refreshing the change in atmosphere (see what I did there?) might be.
Overall: This music's sad and you should feel sad.
8) "Astro Man" – Jimi Hendrix
Astro Man, Mega Man 8 and Mega Man & Bass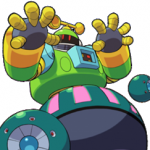 Applicability to the Robot Master:
I have no idea. 0%, 100%, or anything in between. I have no idea what this song is about, but I'm pretty sure Astro Man, whoever he is in this song, is calling Superman a faggot.
As Replacement Stage Music: Not at all. Jimi's guitar is as fiery as ever, but Astro Man's space- and technology-themed stages (he has two) would probably benefit more from some straight, swirling techno than screaming six-string theatricality.
Better Than Current Stage Music?: Yes. His current stage themes sound like rejects from a Jane Fonda workout video.
Overall: Astro Man sucks.
9) "Magic Man" – Heart
Magic Man, Mega Man & Bass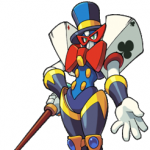 Applicability to the Robot Master:
Apart from the "he's a Magic Man" assurance, I'd say nothing. Though, arguably, "try to understand" could be Capcom imploring us to accept the fact that they were so dry on ideas that they had to resort to a Magic Man at all. Otherwise, it's doubtful that the Wilson sisters would be irresistibly seduced by this robot master, who, to put it politely, looks like Pee-Wee Herman and Steve Urkel got together and had a gay baby.
As Replacement Stage Music: Not really. It houses a great jam, but it wouldn't at all fit Magic Man's carnival approach to stage design. The passionate defense of the "Magic Man" in the song though would suit the game nicely, as it's often derided along with Mega Man 8 as being well worth skipping.
Better Than Current Stage Music?: No question. Magic Man's stage theme sounds like it's lifted from an SNES Barney adventure.
Overall: Magic Man wishes someone would sing about him like this. Until then, he sits alone doing card tricks. And masturbating.
10) "Tornado Man" – Las Aspiradoras
Tornado Man, Mega Man 9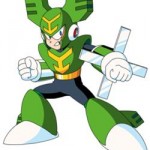 Applicability to the Robot Master:
I have no fucking idea. It's pretty clearly not in English so I can't understand it…but damn do I love it.
As Replacement Stage Music: Yes, yes, a thousand times yes. Absolutely perfect for the rainy, thundery, thousand-mile-high gauntlet of Tornado Man's stage. Tornado Man's level is a brutally addictive experience, much like this thrashing, gorgeously filthy nonsense.
Better Than Current Stage Music?: Nah, Tornado Man's theme, like everybody's theme in this glorious game, is utterly brilliant.
Overall: Would be a great fit…but Tornado Man's already well served by his current tune.
11) BONUS: "Sword Man" – His Majesty Baker Jr.
Sword Man, Mega Man 8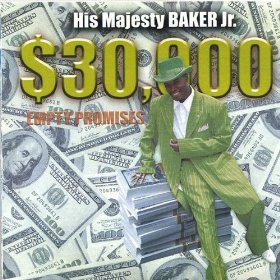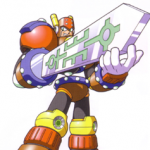 Applicability to the Robot Master:
I have no idea because I couldn't find it on youtube. But look at that album cover. Yes, there's a song called "Sword Man" on this album.
This one
. By a guy who calls himself His Majesty Baker Jr. with some pretty confusing capitalization.
As Replacement Stage Music: I mean, what is he doing? What is this? No part of this cover makes sense to me. It's a man with a big smile wearing a green pinstripe suit, a leprechaun hat, and leaning against a pile of money that's far too large to be legal tender.
Better Than Current Stage Music?: And he's doing this against a backdrop of more money, with the figure $30,000 indicated above. That's a lot of money, in a way, but in another way, if you're going to invent sums to make yourself seem rich wouldn't you reach much higher than that? It doesn't register as being particularly large…or small…it's just somebody's annual salary, and it's nobody who could afford to be caught wearing a suit like that in public.
Overall: I don't understand what I'm looking at. What is this? He has gold rings on every finger of his right hand. And how many points does his God damned handkerchief have? I hate this. I'm going to bed.