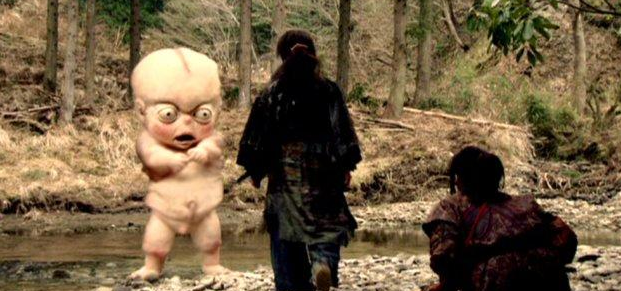 A friend of mine has been insisting that I watch this for well over a year, and now that I have, I can say one thing for sure: this was definitely a movie that I watched.
Dororo is…well, a summary would take around four thousand words to hit all of the cardinal points so forgive me if I gloss over many of them in the interest of time. (Something I wish the film-makers did as well, but we'll get to that shortly.)
In the distant future of feudal Japan, Lord Daigo finds his land and his people besieged by unstoppable enemies. On the verge of finding his world and heritage wiped out, he makes a dark pact with 48 demons: if they give him the power to fight back and conquer them, he will give them his unborn son, which they can divide into 48 pieces as they please.
Unfortunately this moment of weakness for Daigo evolves quickly into a lust for power, and he uses his dark blessing not just to defeat his enemies, but to enslave humanity.
Okay, that's the background information. The actual plot is still more complicated: Daigo's son is born, but he's nothing but a barely-formed lump of flesh. He has a torso, a waist, a neck and a head, and that's it. No eyes, no ears, no limbs, because the demons took all that shit…it's creepy, okay? Daigo wants to kill the abomination but Mrs. Daigo puts him in a basket and sends him down the river, where a brilliant inventor finds him and builds him, piece by piece, a new body, in the hopes that he will someday be a real boy. So the origin story reveals that our hero is basically Moses, Edward Scissorhands and Pinocchio rolled into one. He's also a samurai with a blade for an arm and he's blind and deaf but can see and hear with his heart…even though he doesn't have one of those either.
Actually, that's still the background information.
So, the plot: he must seek out each of the 48 demons and destroy them with his special demon-killing samurai arm so that he can replace the parts of his fake body with the actual parts from his real body that the demons were just kind of chilling with, and a female thief who unconvincingly impersonates a man because her parents told her never to be weak like a woman unless she wanted to die with the rest of the villagers joins up with Pinocchioses Scissorhands, because she wants the blade when he's done with it, and they eventually find out that Lord Daigo was both our hero's father and the guy who killed the thief's parents, and…
…fuck. That's still background information.
This movie's complicated, okay? It's also really long. Clocking in at two and a half hours, I really do feel that something should have been cut.
…and yet I'd be loathe to identify which scenes should go, because taken in isolation everything is pretty damned beautiful. The demon fight sequences are a little ropey, but they're made up for afterward when our hero falls to the ground coughing up some fake version of one of his organs so that he can regenerate his real one. It's wondrously disgusting.
The adventures of the demon slayer and the thief are fairly episodic, broken into long sequences that see them encountering some bizarre situation and needing to fight their way out of it…only to have it never brought up again. This is true to Dororo's origin as a manga series, where an issue-by-issue stop/start abruptness is inherent to the format. Here it might sound frustrating, but it works well enough. The quest is neatly broken into 48 pieces anyway — though by the end of this film we still have 24 body parts to go — so it's not so strange that each situation would seem to exist independently of the others.
It's not a bad movie at all, but it is overbearingly Japanese. You'll need to get around a few things that seem pretty bizarre in order to enjoy the movie — see the gigantic naked baby in the picture above, and then ask yourself how likely you are to get around that — but if you can, it's a good deal of fun and not without moments of admirable consideration and depth.
After all, once our hero is told by a dying demon that he should really be angry at his father instead of them, there's a genuinely emotional turning-point. Dororo is about adventure and bloodshed, without a doubt, but there's a current of humanity and self-discovery that runs beneath. I can't promise you that it's worth seeking out, but if you do watch it, it might be a more rewarding experience than you expected.
Now if you'll excuse me, I need to kill this fire-breathing potato bug to get my ankle back.
Next up: a film in which plot and character feature heavily. Fuck, I spoiled it didn't I?