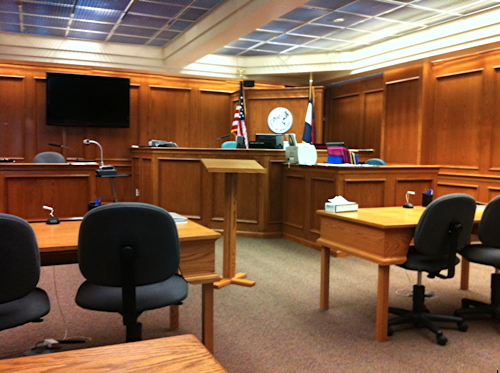 It's my birthday today. I am thirty-two. I hope you don't mind because there isn't anything I can do about it. (I've tried.)
When I started this blog one year ago (it's my blog's birthday, too) I very deliberately did not want it to be a record of personal things. I've done that before, several times, and it always leads to unfocused rambling that can't possibly be of interest to anybody other than myself. So I decided to focus on pop-culture instead, and I told myself that if I ever felt the need to use the "personal" tag when categorizing a post, then it didn't belong on this site. I've now broken that rule 16 times.
I can't speak for the others, but I think number 16 is important, because I went through a transformative experience just last month. I'm still processing it. Maybe writing about it, and opening it up for discussion, will make something more clear about it.
Maybe not. But I wanted to talk about it anyway, because it's important to me, and I don't know what else to do with it.
I served as jury foreman for a domestic violence case. And it was an experience I'd like to share with you here. Why? I don't know. Maybe you can tell me.
I've often grappled with what should be a very easy question to answer: am I a good person?
I don't know why I'd grapple with that. The answer should be yes. Right? Well, why? If I'm a good person, then why am I a good person?
Because I don't do bad things, I guess.
Except I do do bad things, sometimes. I tell a lie or I hurt somebody's feelings or I don't volunteer my seat on the train to an old person. I'm a real bastard.
And besides, even if I didn't do that stuff, is it enough to not do bad things? "Good" shouldn't be a neutral category; you shouldn't end up there simply because you didn't do the opposite. It should be an active category. It should be something you earn.
And what have I done to earn it?
I've thought about the ending of It's a Wonderful Life many (many, many…) times. Jimmy Stewart runs through the streets of Bedford Falls positively bursting with the sheer joy of being alive, not because anything is going right for him — it sure as heck isn't — but because he's just been shown how important he is to the world around him. If he hadn't saved all of these people — he actively saved all of these people — they wouldn't be around anymore, or would be far worse off. He did that. He wasn't a nice guy because he sat quietly and didn't bother anyone…he was a nice guy because he changed people's lives for the better. He could see that if he was never born, things would have gone much worse without him.
But what have I changed? Certainly I've been important to many people, but if I hadn't been there, would their lives really be worse? Did I change anything, or was I just party to their decided trajectory? I think people would miss me if I'm gone, and that says something, but would anything really change? If it didn't, then can I really be good?
It's an interesting thing to ponder. And now I actually do know somebody whose life would have changed without me. He doesn't know my name and I'm already starting to forget his, but I did something. I actively did something. And because of that, a switch got flipped somewhere along the track, and he's in a different place because of me than he would have been without.
He was the defendant in a domestic violence case. If I understand correctly I am actually able to discuss details of the case now that it's over, but I'm choosing not to, as I don't think it's worth making anything traceable for those involved.
I've been chosen for jury duty before, when I lived in Florida. For those unfamiliar, a large number of potential jurors are first chosen from a pool of registered tax payers. From there that number is whittled down the day before your scheduled court date, as they have a better idea then of how many jurors they need. You call the night before to find out if you even need to show up. Often you don't.
From there the pool that shows up is divided into smaller groups who are called into court rooms to serve. If you're not called, you get to go home…and that's as far as I made it in Florida.
Once you get to the court room that group is further whittled down when the judge asks questions of each individual and determines whether or not there are any reasons they shouldn't serve on a jury. And then after that the prosecutor and defense attorney both get to ask questions and discharge any juror they like (without having to provide a reason) until only the required number of jurors remains.
I remained, and so did seven others. At every step of the process I expected to be sent home, but I never was. I remained.
The defendant was accused of physically abusing his wife, and also disturbing the piece, though obviously that latter charge was much less serious and the prosecutor hardly argued it at all.
The real meat of the case was the domestic violence. It was alleged that the defendant returned home to find his wife in bed, and she woke up with his hand around her throat. She ran outside and called 911. The police arrived, and before any questions were asked the man said to the police, "I didn't touch her. I didn't do anything."
That — in tandem with a recording of the 911 call — was the entire case. There was no other evidence, and only two people gave their testimony: the wife, and the police officer who responded.
The defendant was a black man who spoke very little English.
There was a recess about 2/3 of the way into the case. The judge dismissed us to a small room with only a coffee pot and some old issues of Readers' Digest. As might be expected, I kept to myself…doubly so when I heard the others talking. I don't wish to paint them all with the same brush, but I heard enough talk about him being "obviously guilty" and a few people who "think he did it" that I knew I didn't want to participate. I kept my head down until we were allowed back into the court room.
Here's the thing: justice works in a very specific way in this country. At least, it's supposed to. See, we were reminded many times — and would later be given documentation reminding us of this fact as we went off to render our verdict — that the burden of proof was on the prosecutor. That is to say that we were to consider the defendant innocent, until proven guilty. It was not up to the defendant to prove his "innocence," and it never was. It was up to the prosecutor to prove the defendant's guilt…and if the prosecutor failed to do that beyond a reasonable doubt, then we must find the defendant not guilty.
That's why we find them "not guilty" instead of "innocent." We're not being asked to declare whether the defendant did or did not commit the crime…we couldn't possibly know that. We are instead being asked to determine whether or not it was proved, beyond a reasonable doubt, that he did commit the crime.
What I heard from my fellow jurors was that he must be guilty, because why would his wife lie? I heard that he must be guilty, otherwise why wouldn't he testify for himself? I heard that he must be guilty because people had a bad feeling about him. I heard nothing of the evidence, or of any serious consideration. I heard people speaking from the heart…the part of them that hears that a woman has been beaten and reacts to that statement, rather than trying to assess how much truth is behind it.
I understand the impulse. I had a hard time fighting it as well. Spousal abuse is a touchy subject, and one that triggers floods of emotions. I'd imagine that crimes against children or even animals would do the same thing, and people want to render a guilty verdict just to show that they are not fans of these crimes…as though that even needs to be demonstrated.
When we walked into the small room for the final time to deliberate, one fellow juror was outright convinced he was guilty. The others were all leaning guilty. I was the sole holdout for a verdict of not guilty.
And when we left that room, we were all in agreement: the man was not guilty.
I still don't know how I did that, but I know that I did. That's not the kind of thing I can usually do. Getting my own life together is hard enough most of the time, but then, with something very serious and immediate on the line, when it was a man who was about to go to jail even though the prosecution had not proven that he did anything, I was able to fight. I was able to pull it together…and fight.
And I fought with the only thing I really had on my side: logic.
Because there was no evidence.
Nobody saw them argue. Not then.
Other times they saw them argue, witness reports state that the defendant walked away from the conflict. He shouted, just as his wife did, but ultimately he walked away when he was asked to.
The 911 call revealed the woman shouting repeatedly, "He's going to kill me! Come over now, my husband is going to kill me!" Yet there are no sounds of him anywhere, and by her own testimony she was outside while he sat on the couch in the living room waiting for the cops to come. He could clearly hear her shouting these things, so it's no surprise that he said "I didn't touch her," as soon as the police showed up. I certainly would have said the same thing.
The woman's testimony — and she was the only witness, apart from her husband of course — contradicted itself on large issues. For instance at first she claimed that she woke up with his hand around her throat. Later she claimed that she was awake and heard him come in. A relatively small detail, but later on she was asked how much time passed between his coming home and the attack. She didn't know. She first said that he came right into the room and grabbed her, then later said that he might have taken a shower, made dinner, eaten it, and then grabbed her. And there's a big difference there, especially if she claimed to hear him come in…it's not a detail.
Additionally, the logic of the actual events wasn't sound. He was clearly strong enough to overpower her physically, there wouldn't have been a surprise there, but evidently he grabbed her throat out of nowhere — no argument — then released it just as suddenly, and made no attempt to interfere with her calling 911 on him. When the police arrived, there were no marks on her, and the husband was calm. I have a hard time believing a flash of violence like that could occur out of nowhere, and just as quickly disappear into nowhere, without there being any history or any evidence that anything even happened.
Do I think he did it? Here's my answer: it doesn't matter.
It doesn't matter, because based on the available evidence and testimony, we can't prove he did it. And because of that we can't find him guilty. We simply don't have any choice other than to find him not guilty.
Several of my fellow jurors protested to the end that they felt he was guilty. That's okay, I let them know. They can think that. But we weren't called to let the judge know what we felt; we were called to render a verdict based upon the judicial system we have established in this country.
Americans like to make their own calls. Americans like to tailor the law to whatever it is best suits them at the time. That's how Trayvon Martin got killed; he violated the law that existed in one man's head, was found guilty, and was summarily executed. That's how Bernie Goetz killed four teenagers who attempted to mug him in New York. That's how black men who don't speak very good English get sent to jail for crimes nobody actually saw them commit.
It was scary. It was scary because, one day, that could be me. I could well be on trial for something I didn't do, something that would similarly cause an emotional response in jurors. And I'd hope that a complete lack of evidence would mean that the jurors would know better than to listen only to their hearts and their hatred of awful crimes…but what I saw in that room convinced me that I can't rely on that. And neither can you. Nobody can. The heart makes decisions today that the brain may regret long after the deal's been done. By that time, we're already gone.
I stopped a lot of hearts from making that decision that day. If I hadn't been there, he'd be in jail. And he'd be in jail for a crime that nobody managed to prove even happened.
I don't know what to make of the experience. I really don't.
I'm equal parts proud and baffled by it. Justice was served, as it should have been. It was my job to see that that happened. But what if he did do it? It wasn't our job to determine that…but what if he did? Did the other jurors have a point? Is it better to put a man who you believe did a bad thing behind bars than to let him go free simply because nobody could prove it? Of course not. But what if he did?
I argued for justice, and justice was served. Does that make me a good man?
Again, I don't know. I did the thing I was asked to do, and I fought to make sure others did it as well. The wheels of justice turned, and the only fair verdict was read aloud in that courtroom in mid-January.
A man went free, because I changed things.
Maybe that doesn't make me good, but that does make me responsible.
And that's not a bad thing to be, I suppose, moving into year 32. I just really hope that if I'm ever in that situation, somebody will be willing to risk feeling like an outcast, will be willing to risk dying of anxiety, will be willing to risk fighting a terribly lopsided battle, to help justice — rather than passion — be served.
I know I can't rely on that.
The defendant that day couldn't have relied on it either.
But for better or worse, I made it happen. And I can only hope, for better or worse, someone would make it happen for me.
Thanks for listening.