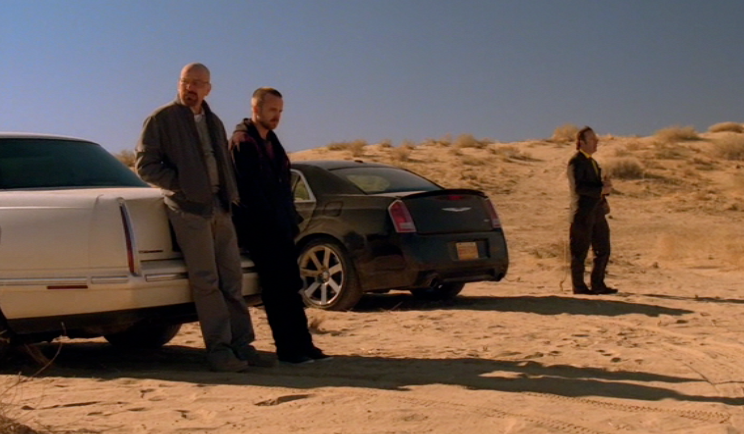 A man speeds through a red light in order to save somebody's life. Another stops at a red light on his way to ruin someone else's.
One is doing the right thing. The other is doing a just thing.
The distinction between "right" and "just" isn't all that hazy; it's the distinction of intention that matters. Or, at least, it should.
But I'm speaking from a very unique perspective here: my own. In my world. With my experiences. My expectations. My hopes for everyone around me.
In the world of Breaking Bad, the simple distinction between "right" and "just" seems to be driving the course of these final episodes. We know which is which; that's not the issue. In a just outcome, Walter would go to prison. In a right outcome, his family would be spared from harm. They're not even mutually exclusive. It sounds easy. But I'm glad it's not, because it's making for stellar television.
On the side of the just we have Hank, obviously. He's not worried about how Walt's children will respond to their father being locked away, and he's not content to know either that his crimes are behind him or that he will be dead shortly anyway. In Hank's eyes, Walt needs to be punished. And he needs to be punished in a very specific way: by this country's legal system.
On the side of the right, we have Walt. Don't we? …not really, no. So let's shelve him for a moment.
No, on the side of the right we have both Skylar and Marie. They're working at odds, but they're working at odds for the same reason. Neither Marie's intended abductions of the White children nor Skyler's perjury and her ongoing complicity are just, but they are — if you were to ask those characters to explain their motives — right. Marie is willing to break the law to protect the children. Skyler is also willing to break it, and tarnish the name of an innocent man, in order to protect the children. They're each doing despicable things*, but their intentions are the same.
So where does that leave Walt?
I want to say "in the middle," but I'm not sure I can. Off to the side, maybe. Without a doubt what he's done is illegal, and our criminal justice system wouldn't be (and shouldn't be) satisfied by the fact that, hey dude, he's like totally done cooking meth forever and he's super sorry. On top of that, it's hard to argue that he's trying to do the "right" thing after a full episode of his selfish manipulations.
And that's Walt's situation right now. In my hypothetical example that opened this review, you could defend the actions of either motorist: one is selflessly putting himself in danger in order to help somebody else (right), but the other is following the traffic laws that have been put in place to protect us (just). Conversely, you could condemn either of them: one is endangering the lives of others by not obeying the rules (unjust), and the other is on his way to deliberately do harm to another human being (wrong).
Walt is both unjust and wrong. We're beyond the point that we can defend him at all. It's not a matter of finding a place on the just / right continuum; it's a matter of acknowledging that his data point is on a different chart altogether.
Hank rightly calls Walt on this during a (brilliantly) tense dinner at a Mexican restaurant. Who is Walt to talk about right and wrong? The cosmic editors who structured the world of "Confessions" must be on Hank's side, because every time we see Walt turning on the charm in this episode, it's in order to bend somebody else to his own ends.
Whether it's using his own son's devastation against him, delivering a heartfelt "confession" to the camera that frames Hank as the criminal mastermind, or finally returning Jesse's affection in the desert so that he can get the boy out of his life, Walt is neither doing the just thing nor the right thing. He's doing the selfish thing. This is his world now, and you're going to do what he says. We've seen him use anger and brute force to further his ends in the past…now we're seeing him work the emotional angles as well.
"Confessions" is a great episode. A great. Great. Great episode, and while it pivots in some unexpected directions, it always does so on sturdy ground.
For starters, the episode's centerpiece — Walt's "confession" video — was an absolutely brilliant way to reinforce the Walt / Hank stalemate. Earlier in the episode Marie was upset because Hank waited and didn't rat Walt out to his DEA colleagues. She then intimates that it may already be too late…and she's right.
First Hank tried to get Skyler to fill in the blanks that would connect Walt to Heisenberg. Then he tried to get Jesse to fill in those blanks. Neither would, so good ol' Walter steps up to fill them in himself.
And, yes, it certainly would be ridiculous for anyone to believe that Hank was the drug lord…but no more ridiculous than it would be for them to believe that it was a dying chemistry teacher with no criminal history. In fact, Walt's story would have the edge over Hank's, simply because he knows more of what actually happened. He'd be able to connect dots that Hank didn't even know existed. That's leverage, and it's significant.
But the truly crowning moment took place in the desert, in what's probably the single most emotional scene the show has ever done. After allowing Walter yet another long manipulation, Jesse calls him on it. "Would you just, for once, stop working me?" Jesse asks, short of breath and overcome with conflicting emotions. "For like ten seconds straight?"
Jesse's not on the verge of a breakdown…he's at the lowest point of an ongoing one. We've seen Walter manipulate him in the past (many, many times), but this is the only time we've seen Jesse seriously stand up to him. It was a well-earned moment, one five seasons in the making, and Aaron Paul's hesitating, breathy delivery gives us a Jesse dizzy with internal conflict. He knows he should tell Walter to go fuck himself…and yet he doesn't want to. He wants to be wrong about all of this.
But he's not. As much as we've seen Jesse look up to Walter as a surrogate father in the past, we never got anywhere near an equal balance of Walter seeing Jesse as a surrogate son. Flashes, yes…glimpses…but he was always quick to tear his partner down rather than support him. Walter was only a father to him in the sense that he was able to emotionally manipulate and strongarm him as a son.
And Jesse calls him out on it. Jesse, heartbroken, does tell him to go fuck himself.
At which point Walter, seeing exactly what the audience sees, hugs him. Now is the time, he knows, to finally support the boy.
And it works. Because the one time Walter supports him, it's so that Walter can get what he wants.
Of course it doesn't end there. (Though the hug would have made for a perfect EXECUTIVE PRODUCER VINCE GILLIGAN moment.) Nope. Because Jesse is being manipulated even as he rails against being manipulated, and once he realizes** that, the betrayal is felt a thousand times more sharply.
We end with Jesse attempting to burn down the White residence, and Walter rushing after him with a loaded gun. And yet that's still probably the least thrilling moment of the episode; I was held much more rapt by Bryan Cranston speaking slowly and carefully to the people whose lives he's destroyed.
Such is the power of Walt's manipulations.
—–
* Honest question: can the case be made that what Marie did (or wanted to do) was just as bad as what Skyler did? To me, Marie is pretty clearly ahead of her sister, morally-speaking, despite the fact that they both have criminal solutions to the problem. Is that just me? I'd love to hear somebody equate the two…either by tearing down Marie's or building up Skyler's.
** Jesse also "realizes" that Walt poisoned Brock. That felt to me like a bit of a jump, as finding out that Huell lifted the ricin cigarette is still three or four logical leaps, at best, from concluding that Walter poisoned his girlfriend's son. I'm not complaining, but I think it was jarring because one scene ends with Jesse looking at a packet of cigarettes, and the next begins with him instantly aware of what happened. I'm willing to believe that's down to the quickness of the edit, though…it works a lot better if we believe that Jesse had a long walk back to Saul's office, during which he angrily worked his way through every detail. Personally…I think I would have preferred to see that.