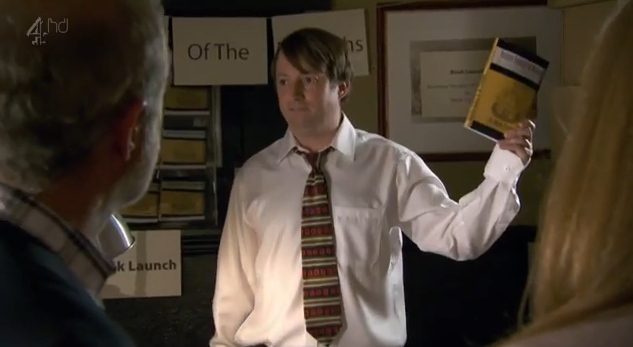 So! Did you all know that I like the show Breaking Bad? Well, I like other things too! And I've been writing about them.
Not here of course. That would be silly.
So I wanted to draw your attention to a couple of things that I wrote for other sites. Both of which I quite like and I kind of wish they were here instead but OH WELL.
The big one is The Dangerous Allure of Self-Publishing: 5 Real Lessons from a Fictional Character. It's a piece for the excellent Emily Suess, and though her blog goes through periods of inactivity (I'm absolutely one to judge…) it's worth bookmarking. She posts some great stuff. Anyway, this is a piece about self-publishing…filtered through the "Business Secrets of the Pharaohs" episode of Peep Show. Why that episode? Because it reminded me so much of my own stupidity in the past with self-publishing that I couldn't help but write this up.
Seriously. Self-publishing is garbage. Don't do it. Read the piece. It's pretty much as honest as I've ever been about what a fool I was. It's not something I like to talk about often, but if it helps anyone understand just what a racket that business is, and consequently avoid the embarrassment that I was unable to, it's worth it.
The other has actually been up for a while, but I think I forgot to link to it: 5 Classic Children's Movies That Won't Drive Parents Crazy. This was written for a blogger who at the time was taking pregnancy leave. I forgot to tell you about it. I think the kid is like 16 now. But this is a fun post about movies and I put jokes in it and you like those so go read it, too.
And as long as I'm posting external links, this arrived in my inbox today. It's an infographic put together by a storage unit company. Yay?
Well…yeah, yay, because it's actually pretty cool. Seriously, I wouldn't have posted it, except it's an extremely nerdy look at the contents of Walt's storage locker, with an eye for lapses in continuity and some absolutely pointless consideration of the size of the unit and its location. And I mean that in a good way; this was a fun read. I'd actually like to see the prices of certain pieces of background dressing more often…and though I mean that sincerely I know it's bound to come off as sarcastic so I'll just stop.
Anyway! Three things to read. Quiz on Friday. Then Sunday night I'll review the episode where Badger and Skinny Pete RESCUE JESSE IMMEDIATELY BECAUSE I CANNOT BEAR TO SEE HIM LIKE THAT AGAIN SERIOUSLY GUYS