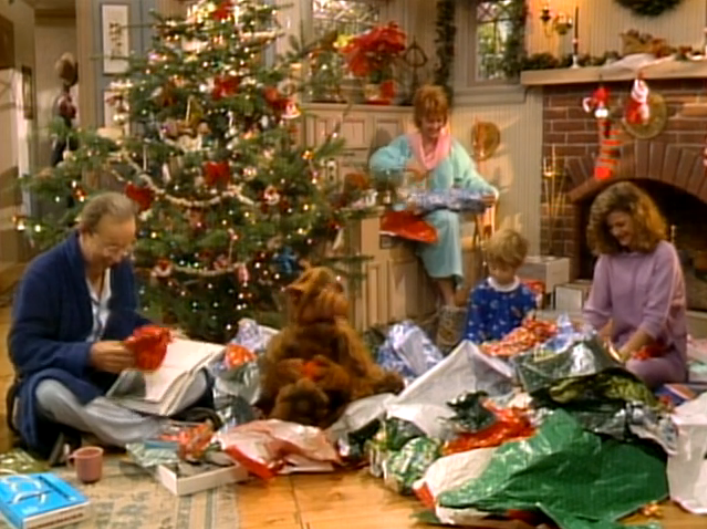 So! I know I've been bad at planning this, but isn't the best part of Christmas half-assing everything that you thought you'd have more time to do??? THE ANSWER IS YES.
Anyway, here are the details:
WHAT: The First Annual Noiseless Chatter Xmas Party!
DATE: This coming Monday, December 23
TIME: 8:00pm – Midnight, Eastern time (calculate the time for your location here)
WHERE: http://www.twitch.tv/philipjreed <--there. I'll post the link again on the day, but that's where it all goes down! DETAILS: We'll be streaming the first-season Christmas episode of ALF! I've already written up my review, but since it won't be published until after Christmas, I thought this would be a great way for you all to be touched by an alien.
Ahem.
We'll also be streaming seven (count 'em!) other mystery Christmas specials from various "classic" television shows. I put "classic" in quotation marks because they're shit. You'll love it!
A live chatroom will be open throughout the stream, but I think you need to sign up for a twitch.tv account if you'd like to participate in that aspect. I suggest you do…it's quick and easy. Aaaaand…
If you do log into the chat, you'll be elligible to participate in the all-night Christmas trivia contest! With real prizes! You might not want any of them, but they are real!
Additionally I've recorded an hour's worth of host segments to link the shows together, so you can count on some great comedy. Even if you don't like it, it's great, and the problem is with you.
IN SUMMARY: ALF. Other terrible shows. Comedy. Trivia. Fabulous prizes to be won.
REGISTER: Not necessary to do so, since I'll be sure to bake enough gingerbread men for all, but if you like you can register for the event on Facebook, and then you'll get a reminder or something, I think. I don't know. Either way, though, you should like the Noiseless Chatter page on Facebook. It gets updated a lot more frequently than this blog does.
Seriously, you should come to this. It's going to be hella rad. And fun. Did I not make that clear? THIS WILL BE FUN.
I'll see you there! In a way!