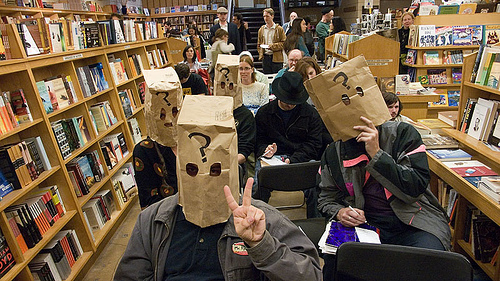 I'll admit this right up front: it's not pleasant to realize that you've said something stupid. Especially since you're not an idiot.
Really. You're not. You, reading this, whomever you are: you're not an idiot. You may do idiotic things. Your name may be attached to idiotic statements. But you're not an idiot. This is why it stings when you do accidentally dip into idiocy. When you say something that you immediately wish you could take back. When you do something that you know immediately afterward someone as smart as you shouldn't have done.
But, if I may be so bold…that's a good thing. Yes. It is.
It's a good thing to say things that you regret. Regret is a useful feeling. Yet the internet — depending upon the site, anyway — allows us to erase that regret. It's a nice thought, but it's unintentionally destructive. It's healthy to want to take things back…but it's less healthy to actually take things back.
I'm speaking of a few different things, here, but they all orbit around the same thought: when we say something that we later regret saying, it's important to stand behind what we said. Not in the sense that we need to embrace the poor judgment that caused us to say it…but in the sense that we leave it there. With our name attached. As a reminder. To ourselves.
In the more severe example on my mind, a journalist recently shared her story about being threatened with rape on Twitter. Yes, it's the internet, and while these things are by no means excusable it's also a fact that the vast majority of internet threats are empty. But it went deeper than that. This person shared details about the journalist, making it clear that whether or not he'd ever follow through on this very open threat, he knew where she lived…where she went in her spare time…the names of her friends and loved ones. He'd done his homework, and that's terrifying.
Worse, however, is that a well-intentioned friend of the journalist reported these frightening messages to Twitter, which then deleted his tweets and his account. Fair enough, except that this threw a fatal wrench into the journalist's ability to pursue legal action; the evidence was gone. There was no investigation, because there was nothing left to investigate. Whoever this man was, and wherever he was, he's still out there.
In the far less severe example, I posted a joke on Facebook a short while back. Somebody took offense at the joke, but made it clear through his comments — a steady stream of comments, one after the other, sometimes seconds apart — that he'd missed the intent of the joke. Other folks piped up to let him know he was taking things too seriously. I stayed out of it, but eventually betrayed my better judgment (literally dozens of his irate comments later) to let him know that he was reacting to something I didn't say. He took the joke, twisted it into something that upset him, and reacted to that instead of what was actually said.
That's fine. People have every right to get upset. And I'd have gladly apologized if I had actually said something that made someone else upset. The problem here was that I hadn't actually said, or suggested, what it was that he claimed to be upset about. Eventually he must have realized this himself, because a few minutes later he went back and deleted every last one of his comments. Since there were many people engaged in the conversation at that point — and since they were both addressing the things he said and responding to the questions posed by him — anybody finding the discussion now would only see half of the conversation. The other half isn't invisible…it isn't silent…it simply doesn't exist anymore.
Somewhere in the middle there are hundreds of online discussions I've seen where comments go missing, or are edited to say "nevermind" or something instead of what was actually there in the first place.
If these people, and the gentleman who was upset at one of my jokes, came to realize (independently or otherwise) that they don't actually agree with what they've said, that's a good thing. But deleting their contributions to the conversation is not a good thing for anybody.
As I said before, it doesn't help somebody who comes to the conversation late; if that person is interested, they should be able to read what actually took place there…rather than only being able to read what's left after somebody gathered up their toys and went home.
It doesn't help the people whose comments still stand in the conversation, because it's no longer a conversation. It's a string of statements in response to something that doesn't exist anymore. With one person deleting their contribution, they remove the context from everything else. That shouldn't be their right to do; if somebody took the time to respond respectfully to something you said, it's only fair to let your comments stand so that they make sense.
But, most of all, my main point is that it doesn't help the person who deleted or edited their comments, either. Why not? Because saying something stupid and then realizing that what you've said is stupid is an important thing to do, and it teaches us a valuable lesson: to think before we speak.
If we can remove from the internet everything foolish that we say, there's no reason to stop saying foolish things. It's important that they stay there, with our names attached. It's important that we regret saying something before we thought it through. That's what's going to help us the next time we think of typing something out in anger. It can give us pause. It can prevent us from leaving that threat. It can prevent us from fighting a perceived insult that didn't exist. It can prevent us from kicking up a heated conversation that ends with us frantically scrubbing our contributions out before anyone gets a chance to see what it was we wish we didn't say.
Making mistakes is a part of life. There are a lot of things online that I wish I didn't say, or that I wish I'd said differently. In most of those cases, I have editing permissions and could theoretically delete them.
But why would I? The more I catch myself regretting what I've said, the more careful I'm going to be the next time. That's valuable. That builds character. That builds a sense of responsibility for the words we say, and the digital legacy we leave behind.
It's important to take responsibility for what you said. If you've said it and somebody's read it, it needs to stay where it is. You did that. You might be able to erase your comment and your accountability, but you can't erase the feelings that others had when they read what you said to them. Your responses need to stand, even if — especially if — you regret them.
Because if you delete them, or you have a moderator delete them, or a site decides of its own accord to delete them, everybody's being done a disservice.
The fact that we can live Cher's dream by turning back time and taking back hurtful words — our own or somebody else's — doesn't mean we should. It gives rise to problems of its own.
You're accountable for what you say. Wherever you are, whomever you say it to, you are responsible for those words. If you don't like that, then take a moment to think about what you're saying before you post it. The correct way out of that noose is simply not to step into it in the first place.
Accountability is underrated. It has been for a long time. We need to start taking it seriously again.
So by all means, be stupid. It will happen. Say idiotic things. And when you do — which you will, which we all will — leave them just where you've put them. Feel free to amend an apology, but leave your original words untouched. Let yourself know that the next time you say something stupid, that's going to stay where it is, too.
You'll find before long that you won't be so quick to say stupid things anymore. And that, I promise you, is an awakening worth having.