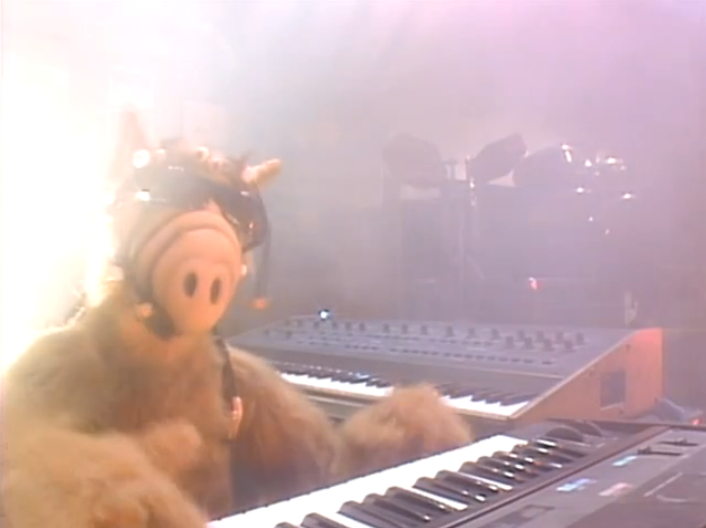 No idea why it took me so long to think to do this, but, compiled for your listening enjoyment, here is every song to which the ALF episode titles refer.
I figured this might be of interest to folks who don't know the songs off the top of their heads. An unexpected bonus is the fact that this compilation is…pretty damned listenable, actually. It's not a half-bad playlist to have going in the background.
Despite the writing quality of the actual show, somebody on staff had very good taste in music. This is also reflected in the episodes themselves, with songs like "City of New Orleans" and "The Letter" making appearances…but in the interest of simplicity I included only the title songs.
On the bright side, this means I didn't include any of the original songs written for the show, so your listening experience won't be marred by hearing "The Asparagus Song," "You're The One That's Out of This World (Sweet Bayy-baaay!!!)," or "We Love to Fart" by The Ochmoneks.
If you do give it a listen (or at least a scan) let me know if there's anything you think I should change. Since these are scattered all over youtube, I might have missed ones with higher sound quality, for instance. In other cases I had to resort to guesswork, particularly in the case of old standards, which seem to have been covered by every popular vocalist in the history of recorded music. I didn't allow any covers that were released after the airdate of the show, but beyond that, I just guessed based on what other artists were more explicitly drawn from for the show's titles.
Then there are cases like "On the Road Again," a title applied to at least three entirely different (and equally applicable) songs by Willie Nelson, Canned Heat, and Bob Dylan. In other words, while I can guarantee around 85% accuracy, I'd love people to tell me what they think I should change.
This can be a pretty cool resource, and everyone will get to hear how much better these songs are than the episodes they inspired.
There's a pretty good mix of artists, with only a handful getting two songs in the mix. If you're interested, those are Billy Joel, The Beatles, Elton John, Judy Garland, Roy Orbison, Paul McCartney, Elvis Presley, and The Supremes.
Only one artist has three songs represented in the mix, but depending upon how you want to assign the covers, he could have another one or two. Who is he? Frank Sinatra, of course.
Anyway, here you go. 95 songs. (Bear in mind that a small number of episodes were not named after songs, and that fucking Gilligan's Island episode was named after two songs.) I hope you enjoy them, and maybe discover some great old tracks that'll stick with you.
If nothing else, skip to "Keeping the Faith" and watch the world's most gloriously batshit music video.
You're welcome.