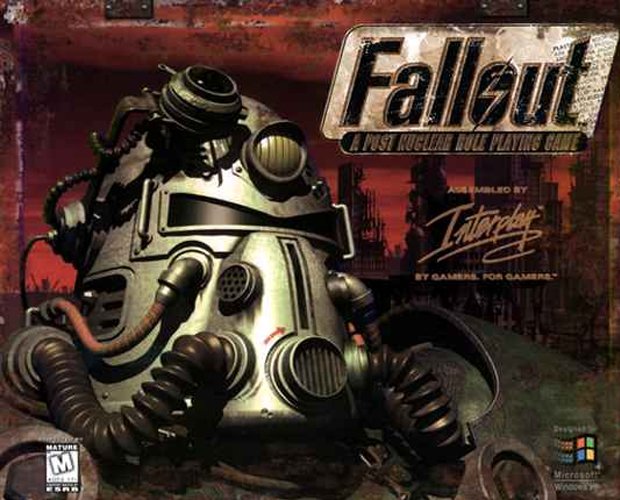 To date, only three games have ever sold me a console. The first was Metroid Prime, which convinced me the moment I played it on a store's display that I absolutely needed a Game Cube. The most recent was the announcement of Persona 5 a couple of months ago, which resulted in me breaking down and buying a PS4.
In the middle there was Fallout 3, which sold me an XBox 360 based entirely on the strength of its trailer. A trailer that, as far as I'm concerned, represents a masterclass in games marketing:

Watch it if you haven't already. It's more than just a commercial…it's an introduction to a universe, one hilarious and horrifying, foreign and recognizable, insane and mundane in equal measure. Was I foolish to buy a console based on a video whose centerpiece was a live action dark comedy sketch? Of course. I definitely was. But I gambled, because if the game was even a fraction as clever and interesting as I hoped it would be, it would have been worth it. (Spoiler: it was unquestionably worth it.) (Double spoiler: the animated sequences seem to presage the recent mobile game Fallout Shelter! Pretty neat!)
Now Fallout 4 is coming, and I'm thrilled. And it's had me reflecting on my Fallout experiences past. I'll write up some of them, maybe, at some point. And when Fallout 4 gets here I'll probably never shut the fuck up about it.
But one of my strongest, deepest memories comes from the first Fallout game I'd ever experienced…one released long before Fallout 3.
And it wasn't Fallout 2. Or Fallout Tactics. Or the Fallout game you see pictured above. No, this predates that as well.
Years ago, there was a game called Fallout, which was entirely text-based. You could only play it online. Indeed, that was the draw and not a limitation.
Back then (1995 or so) you were pretty limited in what you could do on the internet, and unless you wanted to wait for days on end (not an exaggeration, at least not with my connection) most of what you could do was text-based. Music and films and glorious pornography were still available for download (legally and otherwise), but you'd better hope your phone didn't ring before Thursday if you actually wanted the file to download properly.
Fallout was a discovery I made, but I can't remember how. I passed it on to a few of my friends, and for a while we played regularly. It was a post-apocalyptic RPG, similar to what the proper Fallout series would become in tone. In fact, the first time I saw the version of Fallout pictured above, I thought it was a cheap ripoff. I didn't play it; I was just appalled that somebody would so directly plagiarize (right down to the title!) a game I knew so well.
Obviously it's now clear that similarities were coincidental, even if there were more than a few of them. But at the time I felt somehow wronged, like I'd witnessed a crime I couldn't report.
Anyway, when I introduced my friends to Fallout they'd play for a while, get bored of it, and move on. Which is what I did as well. But one of my friends, Dave, took to it more enthusiastically than the others.
I don't know why. I couldn't begin to explain what the appeal was for him. He was an amateur survivalist, so maybe he saw it as a chance to flex his muscles in that regard. He told me a story once of a time he ran away from home. He packed a survival guide that his parents were dumb enough to give him, took all their pots and pans, took the shower curtain, and hiked deep into the Pine Barrens. He walked for most of the night, having to shed bags and belongings as he grew more tired. Eventually he went home, but was unable to find any of the stuff he left behind on the way out. His parents needed to buy all new cookware.
He and I played Fallout a lot. There were many players online at a time, and you could communicate with each other either publicly or privately. He and I worked together to gather up good gear and get a lay of the land. It worked well. His character's name was Superfrog, and mine was Banner. I can't really explain either.
I seem to recall the game taking place in New York, but I could be wrong about that. I do remember that an early-game gathering point was Reagan Square, and whenever you died you'd respawn near that landmark. I saw it a lot, I think.
It was a safe area, and you could barter and talk without much worry. When you felt ready, you could venture out to other areas (including a difficult one based on Army of Darkness, which I never saw because I probably maxed out at around level 15, and one that housed an extraordinarily powerful enemy named after Clint Eastwood's Pale Rider) and hope you came back alive. I remember my weapon of choice was the Translucent Blade, which, in my imagination, looked great. I found a few weapons that were stronger, but I kept going back to the Translucent Blade, because none of the others looked as cool in my own mind. Even in a game that was entirely text-based, looks mattered.
One night I logged off after having played, I'm sure, far too long in one day. The next day I logged back in, and Superfrog was already there. He was also joined by a second character Dave created, called Holyfrog. This one was a healer. There may have been a third. Dave had essentially built his own party in several windows. And they were all something like level 50.
He'd been playing, without a break, all night.
Somewhere around that time, I said some foolish, and probably rude, thing about one of the other players. His character was named Benj. I never knew if it should be pronounced Benge or Ben Jay. But because I impugned his manhood he teleported me to his location — a restroom in one of the game's restaurants — and pounded the crap out of me. Every time I escaped (I typed "unlock door" "open door" and "w" an awful lot in the course of those few minutes) he'd zap me right back. It was hopeless. He killed me.
I respawned at Regan Square and tried to find my corpse to regain all my gear. He was waiting, and killed me again. I wasn't getting any of it back. And I stopped playing Fallout not long after that. (Maybe…20 seconds after that.)
But it was fun while it lasted. For Dave, it lasted the better part of a year.
He became obsessed with the game. It was all he ever talked about. He found some other high-level players and took down Pale Rider. He was so proud he emailed me the log of that session, as though it were a photo of himself standing next to the bass he just caught.
He loved Fallout. And it got to be pretty scary.
He stopped going to high school. He stopped sleeping. His younger sister emailed me or IM'd me at some point to ask me to come over and get him out of the house; he didn't do anything but play Fallout anymore and it was driving her insane. I was in love with that girl, and I'm sure I harbored plenty of fantasies about her contacting me and inviting me over, but the circumstances were not exactly what I was hoping for.
He'd eat, but he wouldn't talk to his family. He just wanted to finish quickly and get back to Fallout. He ran out of sick days at school, and dropped out. You may think I'm exaggerating, but I'm not. Eventually he got his GED, which is good. But at the time he was exclusively studying Fallout, which was bad.
Christmas came and went. His family had to force him (physically force him) into the car to go with them to pick out a Christmas tree. He sat with his arms crossed, grumbling for the entire ride, and refused to get out of the car once they got there. He waited in the cold car with no heat, willing them to hurry up and pick a fucking tree so he could go home and play Fallout some more.
At some point, he stopped. I don't know why. Maybe his parents had him lobotomized. I honestly don't know, and we don't keep in touch so there's no way I can find out. But for such a stupid game, some text-based nonsense that was little more than an accumulation of pop-cultural debris and mindless grinding, it was the closest thing to outright obsession I'd ever witnessed.
His family hated Fallout. If they knew that I was the one who introduced him to it, they probably hated me for that, too. For them, like for me, that whole period must seem now like an odd waking nightmare. Nobody talks about Fallout — that Fallout — anymore. Hell, nobody talked about it then, either. It was some niche little curio stashed away on the fledgling internet, when word of mouth was still about the only way anyone found out about anything. Dave was singularly obsessed with something most people didn't know — and will never know — even existed.
And it's odd. Because every time I hear about Fallout now — the major, popular Fallout — my mind thinks back to that black text on a white screen. Reagan Square swarming with newbies. The imaginary heft of a Translucent Blade in my hands. Benj summoning me repeatedly to the bathroom for an asskicking. Being introduced to Holyfrog and Crazyfrog or whatever he was called as the earliest manifestations of Dave's eventual madness.
I always need to recalibrate my thoughts. Someone mentions Fallout, and as much time as I've spent with the proper games, I don't picture Ghouls and Super Mutants. I don't picture Deathclaws and Radscorpions. I don't think about Vaults or the Wasteland.
I think about a game that I'm reasonably convinced none of you knew existed before this post. I can barely find information about it online, and I couldn't even find a screenshot to use with this article. What little space it occupied in the cultural memory has been almost completely overwritten by the far superior, true Fallout series.
But for me? That can never happen. I remember the original too much. I remember the way it affected someone I actually knew, in a world I actually occupied.
They say Fallout 4 will have around 400 hours of content.
That's nothing. You could probably play through that game without even having to drop out of school. It'll never be a patch on the original.