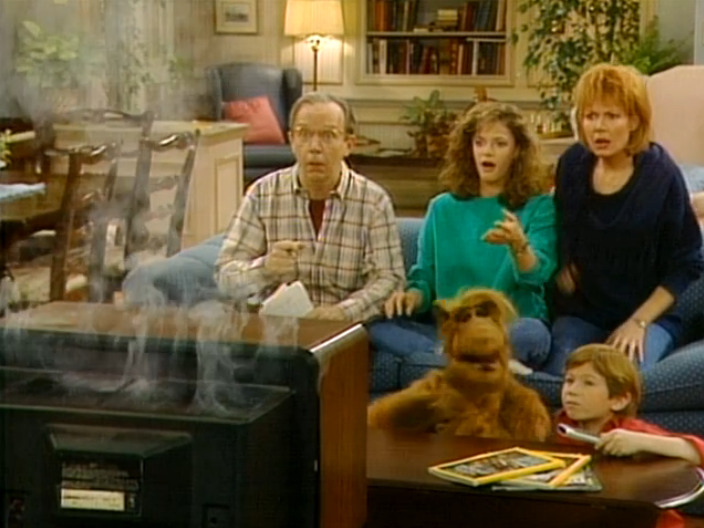 Your big ALF feature this week takes the form of a live stream! The main attraction is Project: ALF, which we will all watch together and riff, in real time, in the chatroom. It will be a lot of fun, and I bet at least one of the viewers will make a joke about smoking crack, so don't miss that!
But that's not all. We'll also be streaming a whopping six episodes of ALF in the runup, along with some smaller, odder curios scattered about. It'll be a fun night, and it really is our big farewell party, so be sure to join in.
The date and time: Friday, May 20. 7:00 PM Eastern / 5:00 PM Mountain.
All you need to do is come to this very site on that date, at that time. You'll see the stream, or a link to it, and you can join us there.
If you are worried that a live riff of Project: ALF will influence my review, don't! I already reviewed it, and I'm looking forward to sharing that with you. It'll come in three parts, and I think you'll enjoy it, even without funny Max Wright faces to screengrab.
Finally, guess which episodes I'll be streaming, or at least come closest, and win a mug! (U.S. only, unless you want to pay for shipping. Sorry, but shipping mugs overseas is absurdly pricey.)
The rules: We'll be streaming six episodes, so you only get to guess six episodes. (In other words, no guessing all 99 episodes and then declaring victory because six of them were correct.) You have until the stream starts to enter. You must use your real email address when you comment or contact me, if only so I can let you know you won and get your shipping information. If you enter twice, I'll take your most recent entry only. And, finally, in the event of a tie, I'll use a random number generator to pick the winner.
FUN RIGHT
So, have at it. Let me know in the comments which six episodes you think I'll stream.
I'll even give a hint. I've chosen the six episodes using the following criteria:
A cute one
A funny one
A crazy one
An insightful one
An ensemble one
A good one
Comment away, and I'll see you Friday!