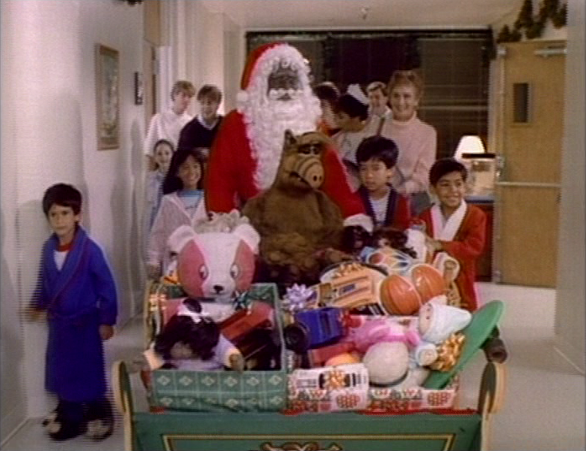 It's almost time!
The Xmas Bash! is coming!
The 5th Annual Noiseless Chatter Xmas Bash!
Dec. 8, 2017
5 pm Mountain / 7 pm Eastern
What is the Xmas Bash!? Well, it's a live stream curated by yours truly, featuring seven rightly forgotten Christmas specials of yesteryear, along with some Christmas music you'll wish you never heard, vintage commercials, skits, special appearances, and other surprises. It's a fantastic night, and the hardest you will laugh all year…owing mainly to the incredible group of folks in the chat room.
You can read all about the genesis and evolution of the Xmas Bash! right here, and you can listen to some of our musical interludes from the past to get a sense of what to expect.
In short, if you like trash TV, terrible movies, and half-naked gummy bears, this is the event for you. Don't miss it!
I have lots more to announce in the coming weeks, but for now: mark your calendars. Or express your interest on Facebook! It will handle the time zone calculations and reminders for you.
We've been doing this incredible event for five solid years, and I can promise it's the best Xmas party you could possibly attend. (Or, at least, that you'll be invited to.)
Here are the specials we've festively suffered through already. What yuletide offal will I forcefeed you this year? Come back to this very site on Dec. 8 at 5 pm Mountain / 7 pm Eastern and find out.
The 1st Annual Noiseless Chatter Xmas Bash! (2013):
ALF – "Oh, Tannerbaum"
Lassie – "The Christmas Story"
Sabrina, the Teenage Witch – "Sabrina Claus"
Major Dad – "The Gift of the Major"
Charles in Charge – "Home for the Holidays"
Lost in Space – "Return From Outer Space"
Family Ties – "A Keaton Christmas Carol"
The 2nd Annual Noiseless Chatter Xmas Bash (2014):
ALF – "ALF's Special Christmas"
The Fat Albert Christmas Special
Mighty Morphin' Power Rangers – "Alpha's Magical Christmas"
Christmas Comes to Pac-Land
The Partridge Family – "Don't Bring Your Guns to Town, Santa"
Santa's Magic Toy Bag
Nestor the Long-Eared Christmas Donkey
The 3rd Annual Noiseless Chatter Xmas Bash (2015):
ALF: The Animated Series – "A Mid-Goomer Night's Dream"
The Bill Cosby Show – "A Christmas Ballad"
Full House – "Our Very First Christmas Show"
We Wish You a Turtle Christmas
Mr. Ed – "Ed's Christmas Story"
Perfect Strangers – "A Christmas Story"
Walker: Texas Ranger – "A Ranger's Christmas"
The 4th Annual Noiseless Chatter Xmas Bash (2016):
Family Matters – "Christmas is Where the Heart Is"
The Flying Nun – "Wailing in a Winter Wonderland"
The Monkees – "The Monkees' Christmas Show"
Amos & Andy – "The Christmas Story"
Welcome Back, Kotter – "Hark, the Sweatkings"
The Super Mario Bros. Super Show – "Koopa Klaus"
Rapsittie Street Kids: Believe in Santa
More to come!