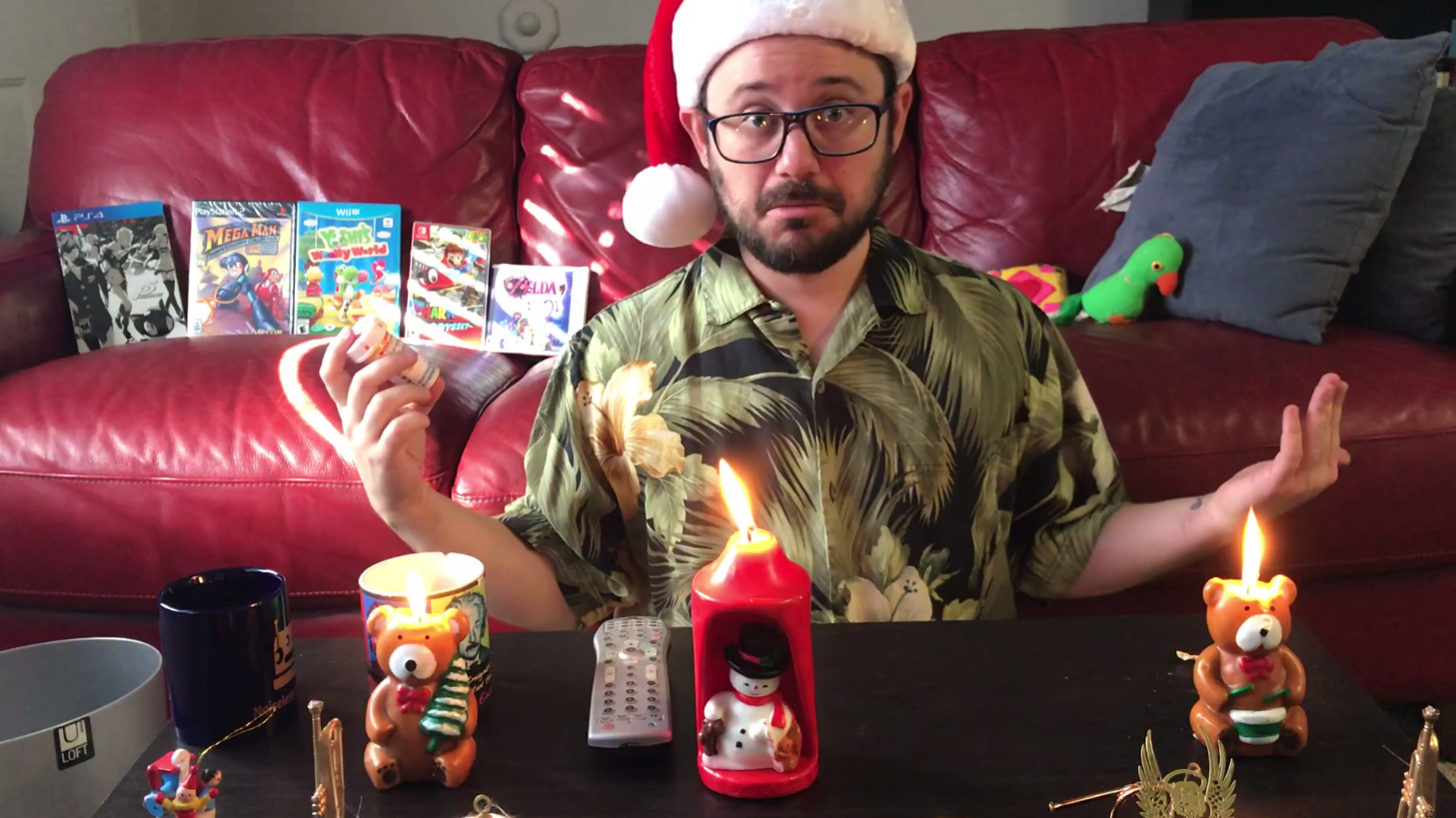 I'll open with the mandatory reminder to clear your calendars. Ahem:
The 5th Annual Noiseless Chatter Xmas Bash!
Dec. 8, 2017
5 pm Mountain / 7 pm Eastern
Yes, the 5th Annual Noiseless Chatter Xmas Bash! is coming soon. I've recorded my host segments, and the image above serves as a little teaser. What manner of shenanigans am I getting up to this year?!
I've also coordinated with a few other contributors, and will spend the next few weeks getting everything squared away for the December 8 event. I'm trying to host it a little earlier this year than usual, which may hopefully make it easier for folks who work retail or travel around the holiday to attend.
It's going to be a great one, that I can promise you. I've unearthed some truly incredible Christmas music videos this time around, and I'll be introducing you to seven more forgotten Christmas specials you'll wish you never knew existed. It will be great!
One significant change this time around, though, is the charitable aspect.
In previous years, we've solicited donations for The Trevor Project. And, well, I certainly still encourage you to donate to that incredibly good cause. (Click here to do just that!) This time, though…we're doing something a little different.
This year, a good friend of mine was diagnosed with a brain tumor. This came after extended periods of expensive testing, consultation, and unnecessary runaround. The diagnosis certainly helps doctors address the root of her problem, so that's good news. But, as you can imagine, tumors don't come cheap.
As a result, she's in a real pinch financially. I've thought long and hard about this, and I've decided that I'd like to try to help her defray the cost of her treatment as much as possible. I'm not trying to take attention away from The Trevor Project…but I am trying to help somebody who truly deserves it.
That friend is Emily Suess. Longtime readers may know her, as she's been a hugely supportive reader and fan from the very beginning of this site. She's been to every Xmas Bash! so far, and she and her husband actually kicked off many of the running jokes that have become part of the tradition. (It was their suggestion that I died in the first stream…which led to me dying in every stream.)
What's more, she's the reason the Xmas Bash! ever had a charitable component to begin with. She's the one who inspired me to solicit donations for The Trevor Project. She's the one who helped me to turn it into something bigger (and more important) than a night of mocking bad television. And, frankly, had she not done that, I probably would have lost interest years ago.
It's not a stretch to say that she's the reason the Xmas Bash! exists as we know it today. And I would think it very fitting if the event could benefit her in her time of need.
Emily has a YouCaring page, through which she accepts donations directly. As ever, no money comes through me; everything collected through the page goes directly to her.
Please consider donating. I'll be sharing that link throughout the night on December 8, but you're welcome (and encouraged) to give early. Which means you won't have to turn your attention away from "God Rest Ye, Merry Gentlemen (Gummibär Megamix)" during the stream.
Emily is a great human being. She's been through so much, and now she's suffering through so much more. She's been a consistent source of light and support as long as I've known her, and I really hope we can help her stay afloat through this.
More (and happier) announcements to come as the Xmas Bash! approaches. Thanks for reading, thanks for your consideration, and, seriously, set aside December 8. It's going to be the funniest night of the year.