Well, that was a year. Unlike 2017 and 2018 – two other years we can all agree were largely piles of massive shit, culturally speaking – 2019 didn't really impress me with its games. It wasn't a bad year, but it did feel like an uninspired one, and so my top 10 includes quite a few games that were good without ever being exciting.
As usual, I didn't play everything, but I got around to almost every release I actually had interest in. The only thing I wanted to try but didn't have time for was Control. Otherwise, well…here we are.
As with last year, I'll be breaking a few 2018 releases I didn't previously get to play into a smaller list of standouts this year. Easy.
Less easy is the fact that release dates are getting hazier and hazier. For a while I figured I'd just go with the initial date of release, but that didn't feel right. A game could be released in early access one year and properly the next. It could be released one year for one system but get a wider release the following year, which is when most people (myself almost certainly included) would actually get to play it. It could be released digitally one year and physically the next, meaning it only gets actual shelf space in one of those two years…
And, of course, it could be released in the waning weeks of a year, meaning idiots like me already wrote their "best of" lists before they came out, or before they could possibly have had enough time to play them and form an intelligent opinion.
So you'll look below and see some games that came out in some form in 2018 but also came out in some form in 2019 and that's just too bad.
Merry Christmas!
My best games of 2019 (2018 edition)
3) The Missing: J.J. Macfield and the Island of Memories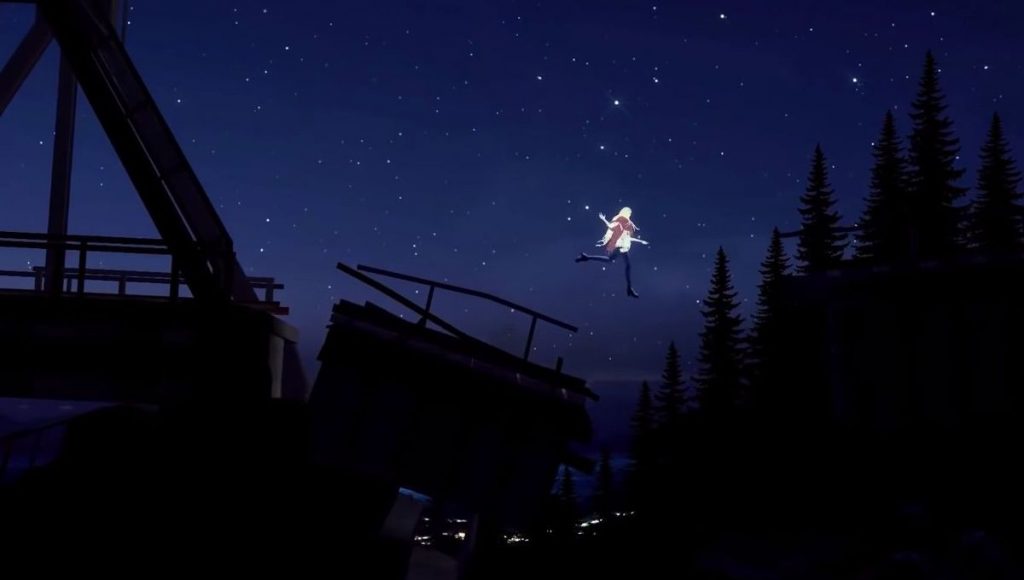 Unsurprising but necessary context: I've played many games — far too many to even number — that had terrible stories yet were a lot of fun. I know you have as well. It's an extremely common thing in gaming. Far less common is a game that has a fantastic, riveting, important story that is literally no fun at all.
In fact, until The Missing: J.J. Macfield and the Island of Memories, I don't think I've ever played a game that I would have described that way. I've played a lot of games with great stories that only had decent, passable, or dull gameplay, but never one that was atrociously, daringly unfun while still carrying a strong narrative.
I'm not including The Missing: J.J. Macfield and the Island of Memories here because I enjoyed it. Most of the time, I hated it. But its story is just that strong that it elevates the experience so far above the many negatives that come with actually playing it.
For that reason, I'm going to spoil nothing beyond the broadest strokes. You play as J.J. Macfield, whose friend / lover Emily disappears in the night. You search for her in a variety of locations, solving puzzles as you go. It's a basic setup, and it's given a harrowing twist: The solution to nearly every puzzle involves the physical mutilation of Macfield. It's a horrific mechanic that is thrillingly introduced and then quickly and repeatedly beaten down into confusing tedium.
A warning at the start of the game makes explicit the fact that player is meant to learn from Macfield's experience in a similar way to the far (far, far) superior Hellblade: Senua's Sacrifice. This is meant to be a window into mental health issues that will possibly help you to understand them better but at least will help you to sympathize. Yet the game is so buggy, so poorly designed, so unclear in its objectives that you'll end up mutilating Macfield so frequently — hoping that you'll stumble upon precisely the correct kind of mutilation that the game will let you progress — that it loses the impact it should have. There's a great story here, but unlike Hellblade, it becomes less impactful for the fact that it is interactive.
2) Spider-Man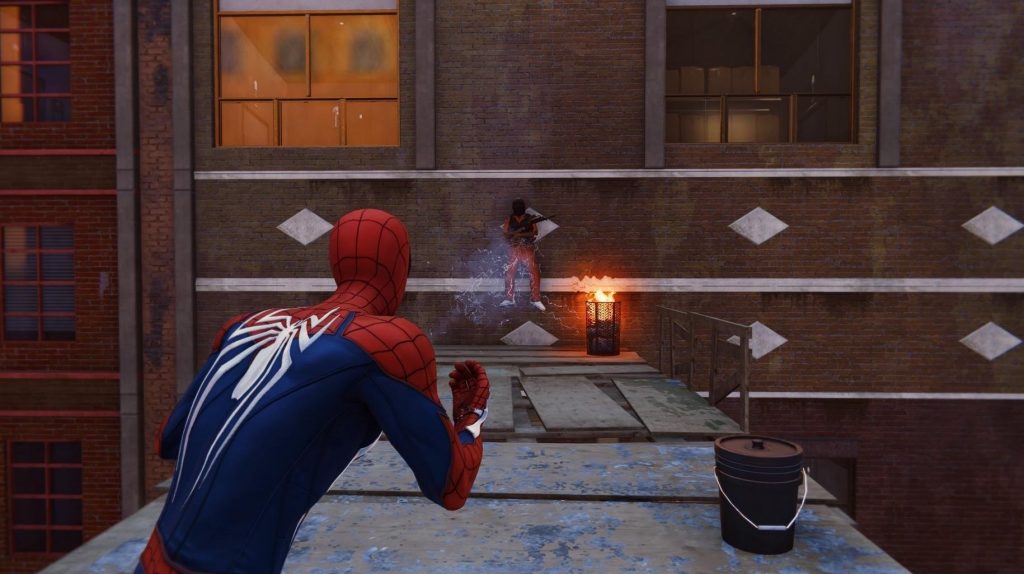 Hello, I am a giant nerd. It's nice to meet you. Even as a giant nerd, though, I have a huge nerdy blind spot: super heroes.
I don't dislike them. I've enjoyed a number of their comics and games and TV shows and movies. But I also don't…care about them. I'm not driven to experience them. Sometimes I'll stumble across something and love it, but I've never actively sought them out. Batman is pretty much my only exception — I remember being excited to watch reruns of the 1966 live-action show as a kid, and then later to watch new episodes of Batman: The Animated Series — but even then, I don't go out of my way to gobble up new Batman things.
So I didn't bother with Spider-Man. Not least because it looked so much like the Arkham games I already had, which starred my preferred superhero anyway. And, honestly, now that I've played it, the Arkham comparison is not an unfair one. They're very similar, right down to specific details of the stealth and combat mechanics.
But damned if Insomniac didn't improve on them. I love the Arkham games, and while I think I still prefer them overall, Insomiac made Spider-Man so much smoother, prettier, and more graceful than the Arkham games ever were.
In fairness to both series, each approach fits each character. Batman should be a bit heavier and more cumbersome and should have to think a few steps ahead, whereas Spider-Man can afford a bit more sloppiness because he has more methods for pulling himself out of trouble. But there's no question that the objective act of pressing buttons and seeing the game respond feels better here than it ever did there. For sheer, tactile fun and excitement, I've played few games that made me feel more fulfilled than Spider-Man.
1) God of War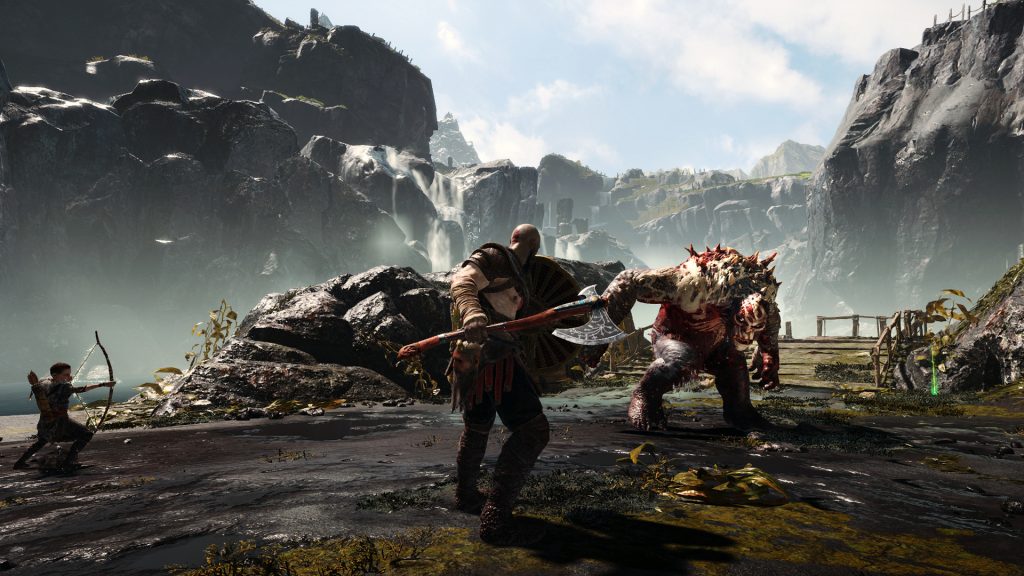 I remember this game's original E3 reveal, with a brief trailer in which Kratos teaches his son to fire a bow, and I thought, immediately, "I want to play this." But it was released, it received universal praise, and I didn't pick it up until much later. Why, I can't say for sure, but I think I couldn't quite believe in a reception so positive that it rivaled The Last of Us.
That's not an irrelevant example. The E3 trailer and subsequent marketing never tried to hide the fact that The Last of Us was a direct influence. An older, experienced man leads a younger, less-reserved child through a hellish world that is ready to eat both of them alive. That's fine, and that was appealing to me, but once the near-perfect scores flooded in, I believed less in God of War's ability to really have its own identity. I think I expected critics were giving it high scores because it reminded them so much of The Last of Us, rather than because it did anything interesting of its own.
And so I didn't prioritize it until late this very year, and rarely have I been happier to stand corrected. God of War is a front-to-back masterpiece. Layered, intelligent, exciting, bleak, creative, and full of some of the best performances in the medium. Even the writing — which some have criticized — stood out to me in ways I did not believe it could.
At the start of God of War, I expected the game to either deliberately invoke Joel and Ellie (the distant father figure gradually opening up and allowing himself to get closer to the child) or just as deliberately invert it (reinforce Kratos as a bad father who continually, probably intentionally, fails to connect with the child). After all, what other way could it have gone?
It went a very different way. Something that was so far off my radar several times over that I couldn't help but admire how masterfully the twists and misleads actually made the central relationship feel more honest and natural. It was a brilliant experience that married very human, very common themes to some of the best spectacle and most bombastic setpieces I've ever played through. I've finished many games having loved them. This is one of the few that I've finished having also admired it.
My 10 best games of 2019
10) Bloodstained: Ritual of the Night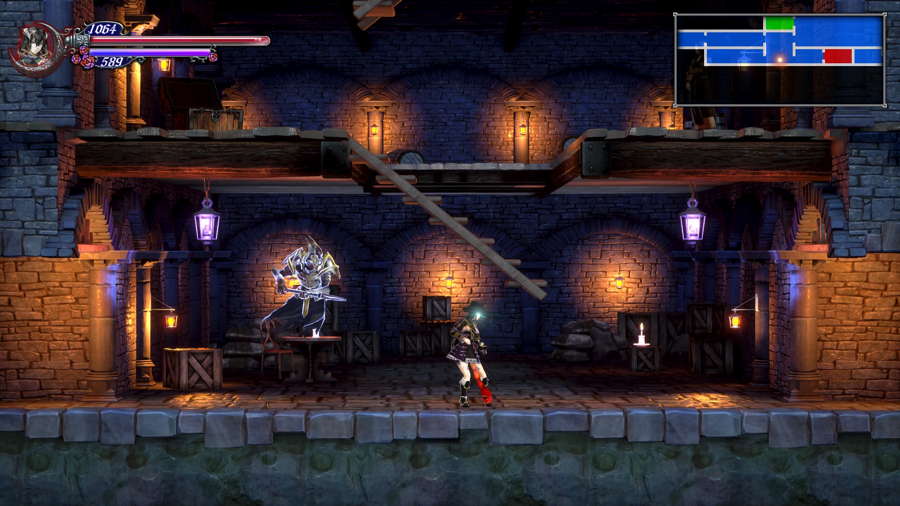 I'll speak properly about Mighty No. 9 at some point, I promise, but for now, I'll say this: Keiji Inafune's Kickstarter disaster has ten times the creativity and inventiveness of Koji Igarashi's Kickstarter success.
While Mighty No. 9 was meant to fill the Mega Man-shaped void left by that series' dormancy, it attempted a lot of new and genuinely interesting things. Did it do so successfully? No. Let me say that again: No. And to be totally clear: Jesus lord no. But it tried. By sharp contrast, Bloodstained: Ritual of the Night is terrified to take more than however many steps were necessary from Castlevania: Symphony of the Night to avoid a lawsuit.
As I said, this year hasn't really impressed me in terms of games, so it's probably not that surprising that I don't have much good to say about the game at the bottom of my list, but I think Bloodstained's lack of ambition is important to discuss. It isn't a bad game, but it's the same game we played 20 years ago with the serial numbers filed off.
Enemies here look very similar to their designs in that game. Items are very similar. Characters are very similar. Controls, powerups, and music cues are all very similar. Even the layout of the game's map is very similar, with Bloodstained keeping its equivalent areas in almost exactly the same place you'd find them in Symphony of the Night.
Why? Igarashi proved he could capture Symphony of the Night's spirit without joylessly repeating its exact beats with the Game Boy Advance and DS Castlevania games that followed it, so why he felt he needed to create a worse looking, less interesting, less fun retread this time is baffling. People bought it, critics mindlessly enjoyed it, and I played it without hating it. But that's somehow worse, in my eyes, than a bad game that at least tried.
9) Horizon Chase Turbo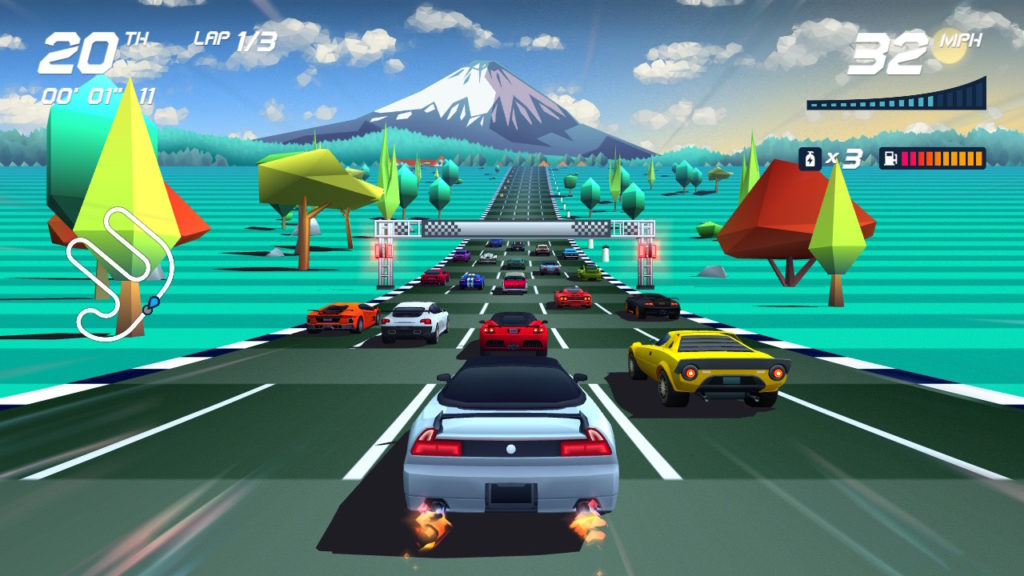 As much as many of us loved those "race into the distance" games from our youths – Out Run on the Genesis, Rad Racer on the NES – boy were they not very good.
They were fine, mind you, and impressive for their time, but it's a genre that has not aged well. Whereas other retro throwback games (including a couple on this very list) aim to recapture what made us fall in love with those classic titles, Horizon Chase Turbo gives us exactly the game we always wished those earlier titles were in the first place.
There's a real sense of speed and challenge to Horizon Chase Turbo, and its difficulty isn't determined by its limitations, as the games from which it takes inspiration were. Horizon Chase Turbo is responsive, well designed, and entirely skill based. It also scales its challenge nicely in the form of optional collectibles on each track. Going out of your way to grab them all while still finishing in first place — and often needing to grab gas canisters along the way — makes many of the tracks feel like puzzles to be solved in addition to races to finish.
There's also, without any question, a positively stellar soundtrack that is easily among the best I've heard in years. My main complaint with the game is that there isn't more music; the songs are all great, but you'll hear them often enough that you'll realize the soundtrack could be two or three times as big without feeling crowded. That might just be a selfish thing to wish for, though.
The AI opponents are absolute dicks, which works to the game's benefit. They know what you're doing and they'll stop you from doing it, trying hard to get a bump from your precious nitro boosts and relying on you to nudge them safely around sharp turns. They're ruthless, which makes it all the more satisfying when you finally catch on to their specific strategies and outwit them.
8) The Outer Worlds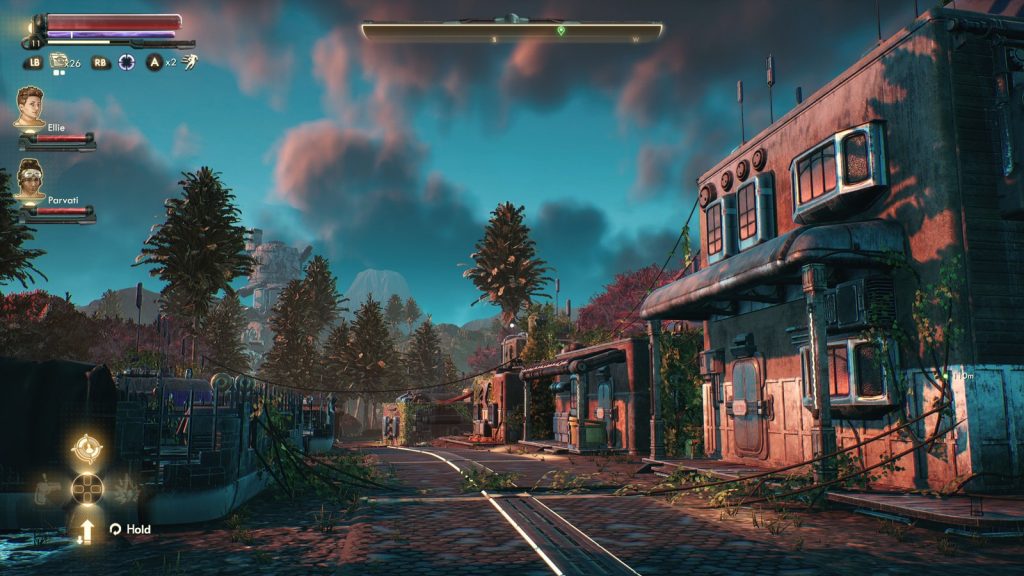 It's a fun swig of irony that Obsidian's The Outer Worlds mainly succeeds at reminding us of how well Bethesda makes games. For all it was positioned (mainly by critics and fans, mind you; not by Obsidian) as a 3D Fallout in everything but name that would surely show the world how that series should be handled, it handled it almost exactly the way Bethesda has been handling its worlds for about 15 years. Bethesda's particular approach to open-world questing has been subject to vast amounts of criticism, and yet The Outer Worlds corrects none of its problems.
Can Obsidian make a better game than Bethesda? Yes. Do Bethesda games get criticized for valid reasons? Oh my, yes. But with The Outer Worlds, with the entire fanbase's eyes on their product, Obsidian can't seem to think to do more than imitate Bethesda with a slightly (and I do mean slightly) fresher coat of paint.
There's still a slow-motion kill-cam. There are still idiotic AI companions who rush into danger and then sit on the ground crying until they're miraculously healed at the end of battle. There are still settlements that are bigger than they are alive. The choices still rarely boil down to more than who you decide to kill. There is still little incentive to consider your character's build as you will end up skilled in every category anyway. In a few cases, it's a big step backward, such as the fact that the game feel more level-based than open world, there is such a small variety of loot that every container starts to feel the same and you'll stop bothering to seek them out, and the fact that the story is difficult to get truly invested in as it barely seems to be interested in itself.
But the writing is surely better, right? Maybe. Even though writing is My Thing, I honestly don't see a clear winner. Bethesda's approach to writing tends to be short, direct, and obvious. Obsidian's tends to be long, meandering, and packed with characters who will never use six words where a twelve-page monologue would suffice. Everybody will have their own preference, but both approaches are flawed and aggravating in their own ways.
And yet I enjoyed it, because it's an enjoyable formula. Obsidian has managed to accidentally prove why Bethesda games are still enjoyed by those who can spend hours picking them apart: The framework is compelling, whatever you choose to drape over it.
7) Xenon Valkyrie+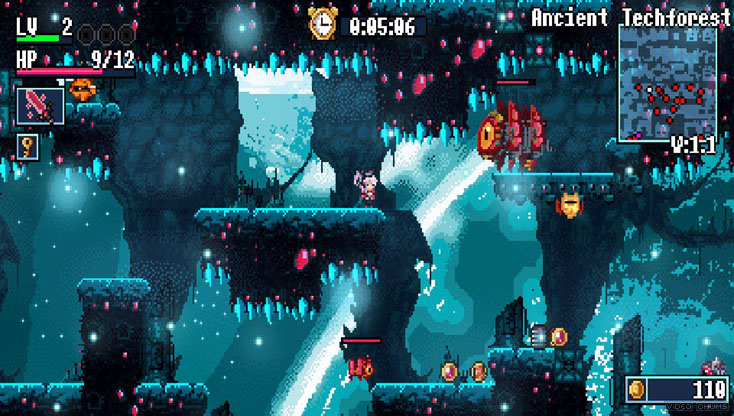 This one didn't really get any attention at all, and now that I'm looking it up I can see that the few reviews it did get were negative. I'm not sure why; perhaps the critics didn't stick with it long enough to get a sense of how to handle it. Xenon Valkyrie+ is not the most user-friendly game in the world, but it was one of my favorites of this year.
It's a roguelike platformer, which means I'm guaranteed to at least try it, but it's also one of the best I've played. It scratches my Spelunky itch without ever really feeling much like that game.
Xenon Valkyrie+ has a story, and despite it being one of my most-played games this year, I couldn't tell you what it is. That's okay, because what stuck with me instead was the intense moment-to-moment gameplay…the constant weighing of risk and reward as I pushed through levels, often on the brink of death. If your reflexes are good enough, you can maintain the upper hand whatever the game throws at you. Mine are not, and so I had to outthink the game instead…something I could far from do reliably.
Gradually, though, you get better. Even though the levels are randomly generated, you start to understand how the bits fit together. The first room or two would routinely grind me into paste until I learned how to deal with any combination of hazards they might throw at me, at which point they became breezy warm-up areas. And so on and so on, less of the game feeling impenetrable with every pass.
Multiple characters, randomized goodies, and the chance to permanently unlock upgrades if you play intelligently enough keep the game interesting even after several complete runs, and just writing about it makes me want to pick it up again for another spin. It's a good game that didn't seem to find its audience. Here's hoping it eventually does.
6) Katana Zero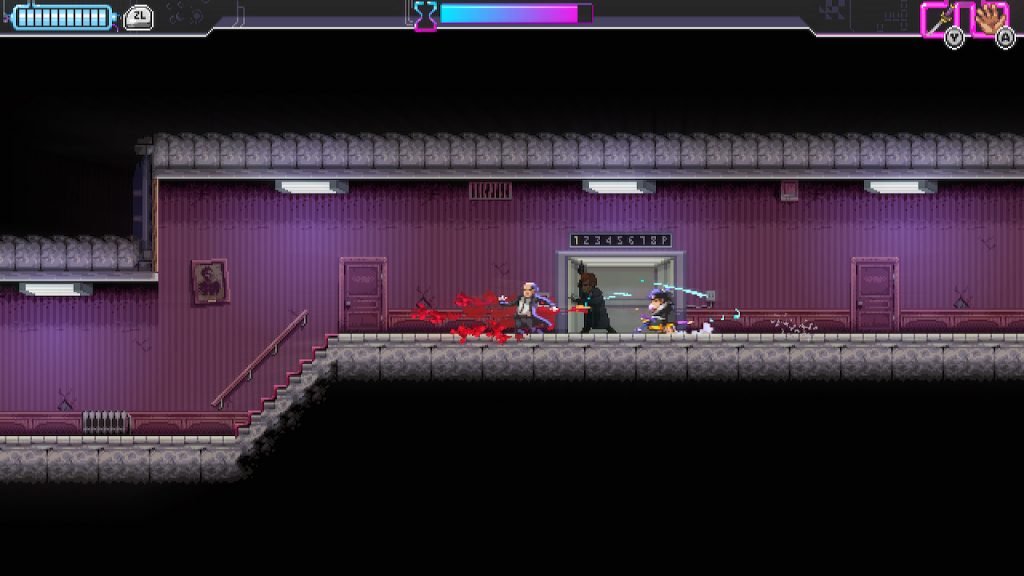 Like a few games on this list, Katana Zero does very well what other games have already done better. That's not a bad thing (it is actually A Good Thing), but it does contribute to the year feeling overall rather pedestrian.
Here, the point of comparison is Hotline Miami, with its pixel art, its lovingly rendered gore, its gradually revealed storyline, its twitch gameplay, and the spacey pulsing of its soundtrack. You even return home after your missions to reflect on what you've done. That's a lot of overlap, and on paper it can sound like an outright clone, but Katana Zero does have enough of its own ideas and personality to make it feel like a worthy successor instead.
Like Hotline Miami, Katana Zero requires precision while still offering a wealth of options. A number of times I only noticed the intended path through a level after I'd figured out how to execute my own path. The game never punished me for it or tried to steer me back on course; it just let me deal with things the way I chose to. It also, of course, helps to know that if you're getting frustrated with a certain situation, it's like one you don't actually have to be in.
There's an in-universe reason that you're able to attempt stages as many times as necessary, and that's nice, but one thing I've seen people criticize Katana Zero for is the fact that enemies won't necessarily behave the same way during each attempt. I have no way of knowing whether or not that's a bug, but it's definitely a feature. Katana Zero — deliberately or not — never lets you hone your approach to the point that you won't have to think on the fly, with enemy behavior always being just that side of predictable and the need for focus — even through repetition — never going away.
It does end on a cliffhanger, which hopefully means we'll have a sequel to look forward to soon. There aren't many rough edges to Katana Zero, which means an improved second installment has every chance of being something truly wonderful.
5) Shovel Knight: King of Cards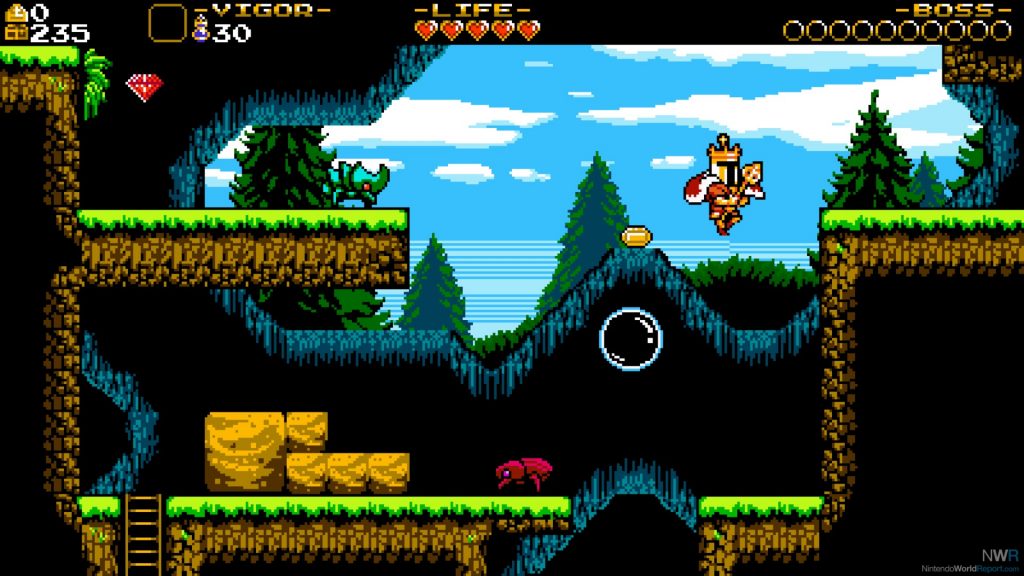 Shovel Knight was one of the best games of 2014 and it's reasserted itself as the best game for several years since. The additional campaigns Yacht Club Games have released are more like full-fledged sequels (and are, in fact, available as separate releases) and are far better than any "play as a boss" mode should ever be. Instead of different sprites with a token new move or two, we get completely different experiences, tailored from tip to tail for each character.
In King of Cards, we play as King Knight, and it's probably worth pointing out that I was a bit disappointed by the selection of bosses who got their own campaigns. If I remember correctly, the choices were made through a prerelease poll, so I'm certainly not holding anything against Yacht Club, but having the campaigns go to two spooky guys in cloaks and one guy with no personality beyond the fact that he appears to be rich was disappointing. I think there was more fertile ground than this, but Yacht Club definitely did everything they could to make these campaigns worthwhile.
This one follows King Knight's dishonorable ascent to the throne, as well as his parallel interest in the collectible card game Joustus. Joustus is no Gwent, but it's a fun enough diversion and it's nice that Yacht Club is constantly looking for ways to give us more content than what they promised.
Mainly, though, the adventure involves traversing stages, discovering new abilities, and beating down anyone who stands in your way. That's familiar Shovel Knight territory, but even moreso than with Plague Knight or Specter Knight, King Knight's movement is its own kind of puzzle. You'll see an enemy or a platform and know what you have to do, but figuring out how to do it with King Knight's decidedly graceless moveset isn't always easy. It makes for some admittedly tiresome trial and error, but overall it works quite well and gives some new spice to stage types we've now played through four times.
I'm certain I didn't enjoy this one as much as I enjoyed Specter of Torment, but I'm not sure if I liked it more or less than I did Plague of Shadows. (All three of these campaigns are good, but none of them rise to the level of Shovel Knight original recipe.) Even a relatively disappointing reason to return to the world of Shovel Knight, though, is a reason to return to the world of Shovel Knight. And that will never be a bad thing.
4) A Robot Named Fight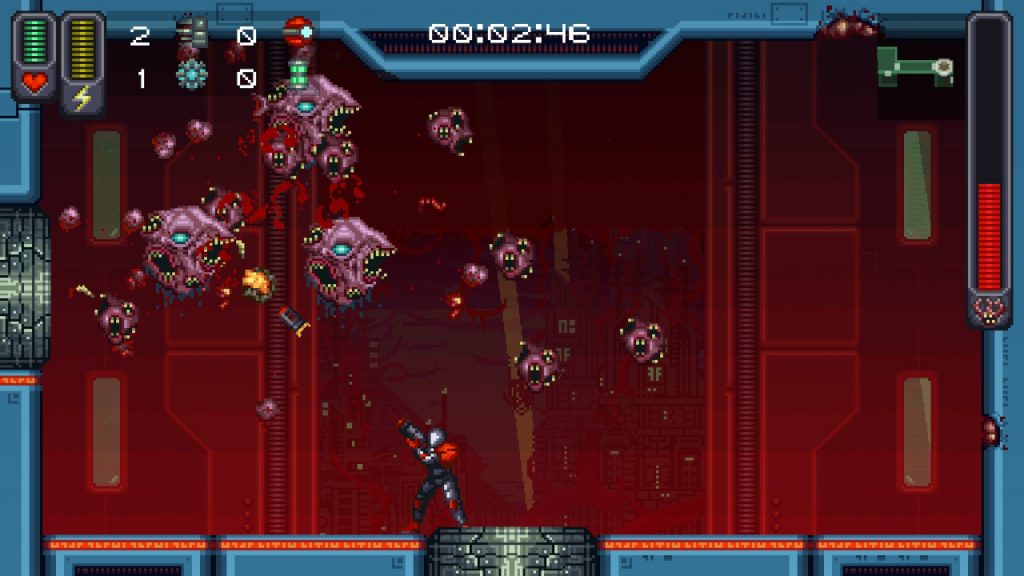 I spilled a decent amount of ink last year lamenting that Dead Cells proved that metroidvanias and roguelikes couldn't truly fit together. That game was, I felt, the closest the two genres could come to coexisting, or at least close enough that I felt comfortable dismissing any kind of natural fit.
Then A Robot Named Fight came along to prove me wrong, and I'm so very happy it did. The design of this game is miraculous in its simplicity. Instead of trying to fit the same set of upgrades and progression into every randomized run, this game randomizes the upgrades and progression and then builds a game world around them.
It's a remarkably effective solution that takes the best elements of each genre and combines them in a way Dead Cells did not. That game is destined to be the one people play and remember, but A Robot Named Fight deserves the attention.
Each run is an impressive challenge in ways I didn't expect. Typically roguelikes offer up a range of difficulty based on how much health / defense / power you stumble across, combined with some assortment of enemies that may go easy or tough on you. Here, though, the difficulty goes beyond that. It goes into the types of mobility you might find, into the ways in which you are able to navigate areas, into the specific types of challenges assembled around that particular run's moveset.
A lot of luck goes into a successful run — at least while you are still discovering and figuring out the items the game bestows upon you — but exploring an entire map never takes too long, and failure is rarely frustrating. The game always makes sure you are technically equipped to face whatever you find, and it's up to you to build up the skill from there. It's a simple concept executed brilliantly. It's what Dead Cells falsely gets credit for being. Give this one a try instead.
3) Ys VIII: Lacrimosa of Dana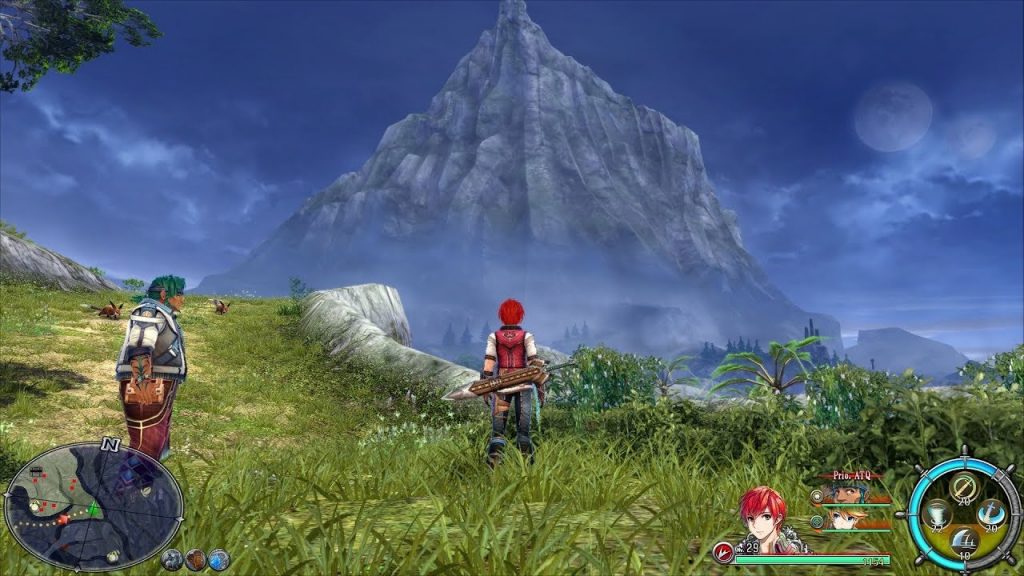 I'd played a few of the very early Ys games, and I enjoyed them, but I knew the series had changed a lot since then. For instance, there would be actual combat instead of two sprites walking into each other. I picked up Ys VIII more or less on a whim; I was in the mood for an RPG on my Switch, and this was on a shelf. That was pretty much my entire thought process. I would have been satisfied with one that was just okay.
Instead, I got one of the most pleasant surprises I've had all year. Ys VIII is deeply fun and interesting, and in very unexpected ways. The game opens with our protagonist Adol on a ship that is attacked and destroyed by a sea monster. That's not surprising. What is surprising is what happens next, and for the next dozen or so hours: Adol washes up on the shores of an island…and that's it.
In many RPGs, it's your job to save the kingdom, to defeat or halt the looming danger, to essentially serve as some degree of global savior. In Ys VIII, you're alone on an island. Survive.
It's such a remarkably simple premise it feels like something an indie game would do. It takes the mechanics and expectations of a classic RPG experience and applies them to one man's attempts to survive — and hopefully escape — an island full of beasts. You collect resources. You fortify your little dwelling area. You gradually expand the areas you can explore. It's a setup that has worked well with games such as Minecraft and its countless imitators, but it's handled entirely through the mechanics of a roleplaying game rather than a crafting / survival one.
The more you explore the more you find other survivors of the wreck, other castaways who help make the island hospitable. Your dwelling becomes a little town. Your chances of escape increase. You learn more about each other and create a new order with its own rules and dynamics. It's Gilligan's Island as told by Gary Gygax. Eventually the game does hit upon more comfortable RPG territory, narratively speaking, and that's okay. But Ys VIII is at its most interesting and most memorable when it's at its smallest and most basic. It's worth playing for that alone.
2) Hitman 2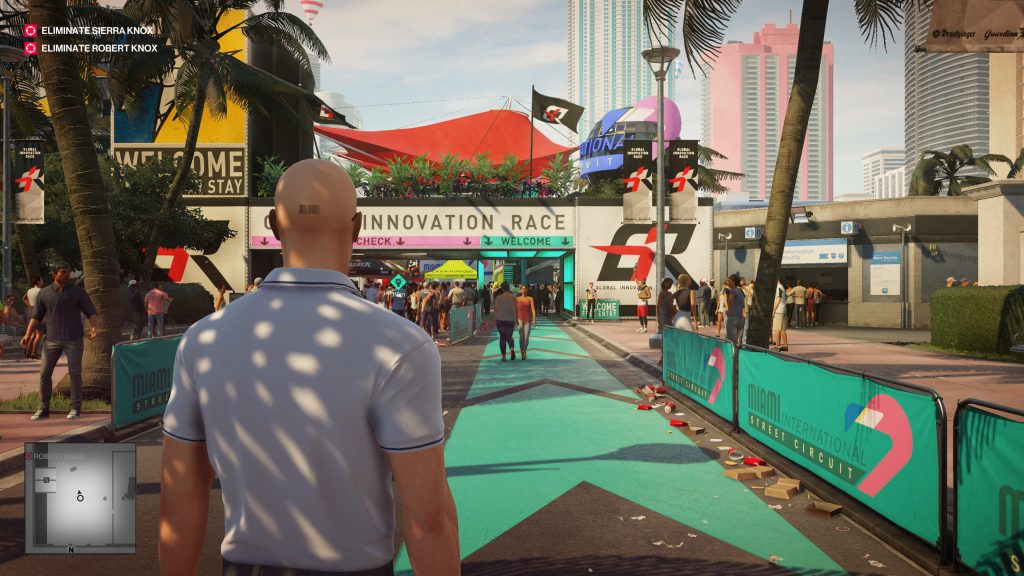 I was late to the Hitman party, I admit. But now that I'm at the Hitman party, all I want to do is run around shouting, "Why are more people not at this Hitman party?!"
The sequel to 2016's Hitman came out in late 2018, and I grabbed it quickly, knowing full well it couldn't possibly live up to that game. It lived up to that game. What's more, if you owned that game, it gave you free access to every single level and mission from it here, letting you replay the previous masterpiece with this masterpiece's tweaks to the mechanics. That's one of the most profoundly generous things I've seen any game do.
You take control, as ever, of Agent 47. You locate and then stalk and then dispose of your targets in large, complex areas packed full of obstacles, complications, and opportunities. The game is willing to give you a leg up — allowing you to save and reload however often you like, tracking relevant bits of overheard information — but you'll benefit from not using those features, because the game is actually at its best when things go wrong.
Deciding how you'd like to dispose of a target isn't (and should not be) the entire experience. Rolling with the cascade of unforeseen consequences of your plan is where the fun is. Restricting yourself from saving and reloading means you'll have to be extra careful as you plan, and then extraordinarily creative as you adjust on the fly. Failure is the best part of the game, which is good, because failure comes frequently. When it does, you're in the middle of a brilliantly escalating farce. When it doesn't — when you've planned your hit so perfectly there is no room for complication — it's a white-knuckle dance of graceful violence, bookended by elegant ingress and egress.
Hitman 2 never has one perfect solution. It has many perfect solutions and innumerable imperfect solutions. It's a game you can play every night for a week, choosing the same mission every time, and never have the same experience twice. Each level is a fascinating, extraordinary clockwork toy that impresses you more the closer you look at it. I don't know how such remarkably elastic experiences are designed while still retaining the mark of their creator. Play Hitman 2. Because I'm already worried we might not get a Hitman 3.
1) Resident Evil 2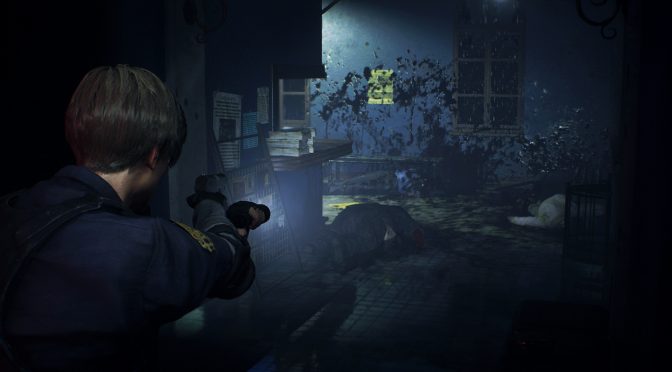 As I mentioned, it's been a year without many true standouts. So, hey, let's open our discussion of my favorite game of the year with a complaint! In 2006, Capcom remade Resident Evil. You'll have difficulty finding many people who don't consider that to be one of the greatest remakes in the history of gaming. It was true in spirit to the original, improving it in every aspect without stepping on its identity. Its greatest achievement, though, was the new material, of which there was a lot.
Specifically, there was Lisa Trevor, perhaps one of Umbrella's most unfortunate victims. Her story is woven through Resident Evil's original narrative, and rather than jostling for space with it, it coexists, as though poor Lisa were always shuffling around the Spencer Mansion; we were just fortunate enough not to cross paths with her the first time. Lisa's story wasn't just some extra content; it remains for me the best material in the series and in games period.
When Capcom announced this remake of Resident Evil 2, I was excited, mainly because I couldn't wait to see what their equivalent of Lisa Trevor would be. It turned out to be…nothing. Don't get me wrong; Capcom did a remarkable job of improving the Resident Evil 2 experience, and I'd be lying if I said there was nothing new, surprising, or unique about the game, but there wasn't any new material that elevated the game in any notable way from where it already was.
And yet…man, aside from my "I wish I had something I can't articulate" gripe, I could not ask for anything more from this remake. It's gorgeous, it's tough, it's satisfying, and it became one of the very few games I've finished in recent years and immediately started playing again. In fact, I've played it several times this year. I won't say it gets better each time, but I do appreciate a little more of it with every pass.
Some have complained that the remake has actually reduced the number of differences between its two campaigns and the order in which one plays them. That's correct, full stop, and I don't intend to argue against that. I wasn't really bothered by it, however. I admit that that's disappointing, but like my nebulous complaint above, the game does so much exactly right that I can't truly fault it for what it chose not to do.