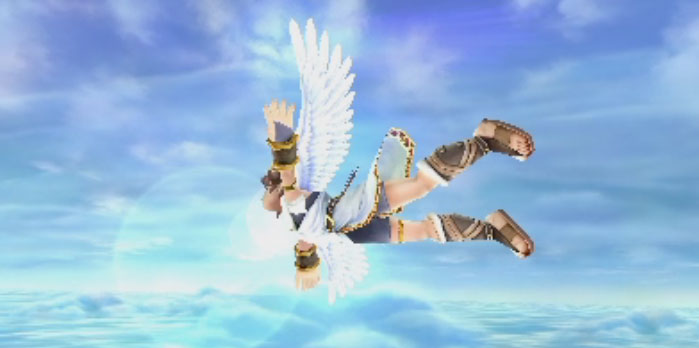 I picked up Kid Icarus: Uprising this Friday, its day of release. I've pre-ordered games before so there's nothing special about my immediate purchase, but I do think it's worth pointing out just how promising the game looked. For starters, it's the first entry in a long-dead — but classic — franchise in twenty years or so. That's enough to at least get me interested. Then the advertising materials started to surface, followed eventually by reviews, and everything seemed…well, everything seemed pretty perfect. It looked like a strong title and a safe bet, so I pre-ordered it…and I love it. It's great. It exceeded more or less every expectation I had, and my expectations were pretty high.
But there's one issue I do have with the game. Not a problem, but an issue.
See, the game is self-aware. And while this is not an issue exclusive to Kid Icarus: Uprising, the fact that even tried and true Nintendo franchises are becoming self-aware is really making me think that this self-awareness thing has gone too far.
By self-aware, I mean that the characters know they are in a video game. They keep referring to not having been around for twenty-odd years, they crack jokes about how — in previous installments — the gorgeous environments and characters we see now were much more pixilated, and they josh around regarding video gaming tropes, commenting ironically on characters who have titles like "Dark Lord" and writing off Pitt's flight limitations as being a result of "poor fuel efficiency."
Whether you find these jokes funny or not is beside the point. I haven't found many of them funny, but that's okay. Unlike Skyward Sword, you don't have to stop and sit quietly while a group of moronic NPCs crack wise around you; this all happens in the background, as you play, and it's easy to tune out if you're not interested. Also unlike Skyward Sword the tutorial is skippable and doesn't eat up the first six fucking hours of the God damned game but okay, okay, that's a rant for another time, so back to the issue at hand.
My issue is that we, as a culture, have gotten to the point that this sort of ironic self-awareness, this postmodern acknowledgment of a product's own shortcomings, this sidelong smirking at the audience to make us feel like we're all part of one big in-joke, is kind of destroying entertainment.
It's everywhere. My girlfriend and I discussed this recently when I was describing some Adult Swim show to her. (The fact that I can't remember which one says something in itself.) I was talking about how it's sort of an ironic undercutting of some genre or other, and she asked, "Aren't they all like that?" And she's right, more or less. An enormous portion of Adult Swim's original programs are ironic undercuttings of established genres, which tap into our expectations and then — humorously — stopping short of their fulfillment. I'm happy enough, though, that Adult Swim does that. I'm not upset that so much of their original material trods the same ground. (Or, at least, approaches an audience with the same intent.) We need an Adult Swim that we can turn to, somewhere. What I'm upset about is that this self-aware game of pulling the audience's expectations apart like taffy is infiltrating the mainstream. That's destructive.
It's destructive because it consumes itself. In order for expectations to be undercut, we need to have expectations. In order for us to have expectations, there need to be certain reliable tropes and facets of genre and type. Without that, the ironic commenting can't exist. Or, at least, it can't have any impact. When everything's ironic, can there be any more irony? We need sincerity, too. We can't have every piece of entertainment commenting humorously about its limitations. We can't have otherwise straight dramatic films mentioning that their villains can't shoot straight, or saying things like "Of course we'll be okay; we're the main characters." We can't have every commercial joking about how it wants to sell us something. And we can't have video games making fun of what makes them video games.
At least, we can't have that stuff all the time. And I honestly don't think I've seen much, lately, whether comic or dramatic, that didn't feel obligated to toss some broad wink at the audience. It's not funny anymore. It's not interesting anymore. Or, at least, you aren't doing anything interesting with it. We don't want you to be part of our in-joke…that defeats the purpose of it being an in-joke. When we watch a terrible movie and we laugh at it, that bonds us as an audience. When we watch a terrible movie and the movie laughs at itself for being terrible, it's over. There is no bond…it's just out of place and annoying, like a seventh grade teacher quoting Beavis and Butt-Head to try to find common ground with his students. It doesn't bridge any gaps…if anything, it just encourages us to push things further away.
I like you, Kid Icarus: Uprising. I think you're a great game. You're a lot of fun, you look beautiful, and you're already enticing me to replay earlier levels with a more difficult setting. You're everything a game needs to be. You don't need to be my ironic, smirking friend. That's not what I want from you. That's not the kind of bond I'd hoped we'd achieve.
You don't need to tell me how silly and contrived things are about the story you're telling. Because you know what, Kid Icarus: Uprising? If you really feel your story is contrived, then maybe you should have told a different one. Hanging a lampshade on these shortcomings is a way of humorously drawing attention to them, but it's not an excuse. If I have some problem with the story, I get to laugh at it. That's my right as an audience member. If you have a problem with the story, you need to fix it. It's the only respectable thing to do.
I know your story is about an angel fighting mythical Greek monsters. I know that. I know it's stupid. I know it's absurd. But it's a video game. By commenting on yourself ironically, you're not endearing yourself to me; you're only robbing me of the opportunity to enjoy the story in my own way. You may not guide the gameplay as much as Skyward Sword, but you sure are leading my interpretation by the neck.
Let us enjoy whatever story it is you have to offer. Video game, television show, film, novel, commercial, song…anything. Write a few sincere pieces. Reinforce some genre conventions. Stop tearing away at what's established; that is not constructive. Build upon it. Learn from it. Grow stronger.
Because until you start doing that again, there won't be anything sincere left to comment upon. The ironic outlook is self-defeating the moment it becomes universal. In fact, at this rate, it won't be long before a genuinely sincere work of art would look like an ironic undercutting, simply because it adheres to conventions without wanting to make us laugh at them.
And that, my friends, is irony.